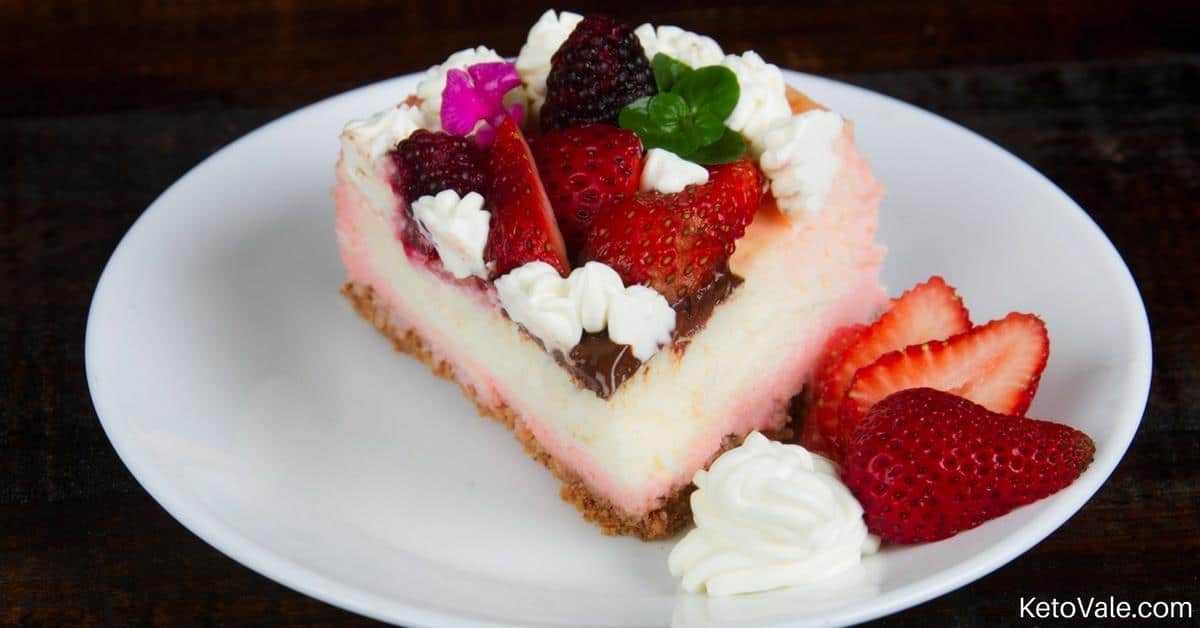 Keto Cheesecake with Almond Crust
There are many variations of low carb cheesecake and today we'd like to show you a perfect cheesecake recipe with almond crust that you can try.
We believe this baked cheesecake is going to become one of your favorite keto dessert recipes because it simply is delicious. The baked cake has a special texture; it's denser and with a lot of flavors.
This cake is actually very simple to make, if not one of the easiest. All you need is to bake the crust with almond flour, then whisk all ingredients to make fillings and simply let the oven do all the work.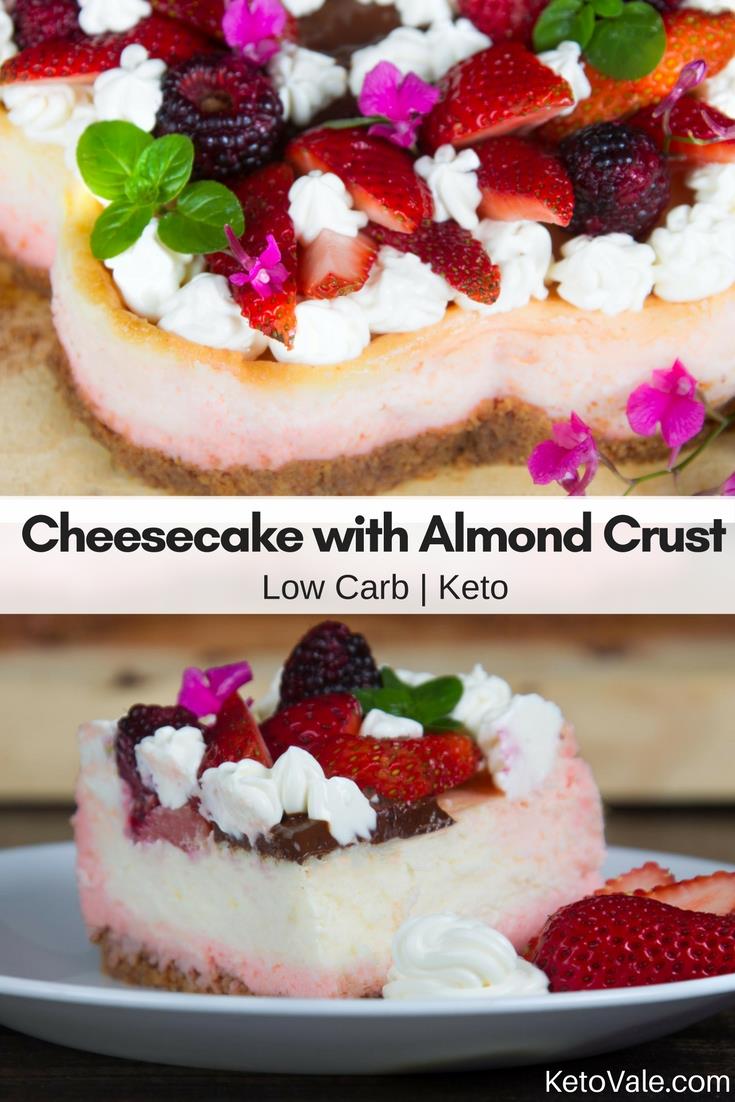 This recipe is very versatile and can be used for special occasions such as birthday cake and party. You can decorate with some fresh berries and cream cheese. In our case, we melt coconut oil and mix with cocoa powder, cover the center of the cheesecake with the mixture. Add cut berries, mint leaves and a little bit of cream cheese.
Be sure to save this recipe by pinning this picture to your Pinterest board for later use!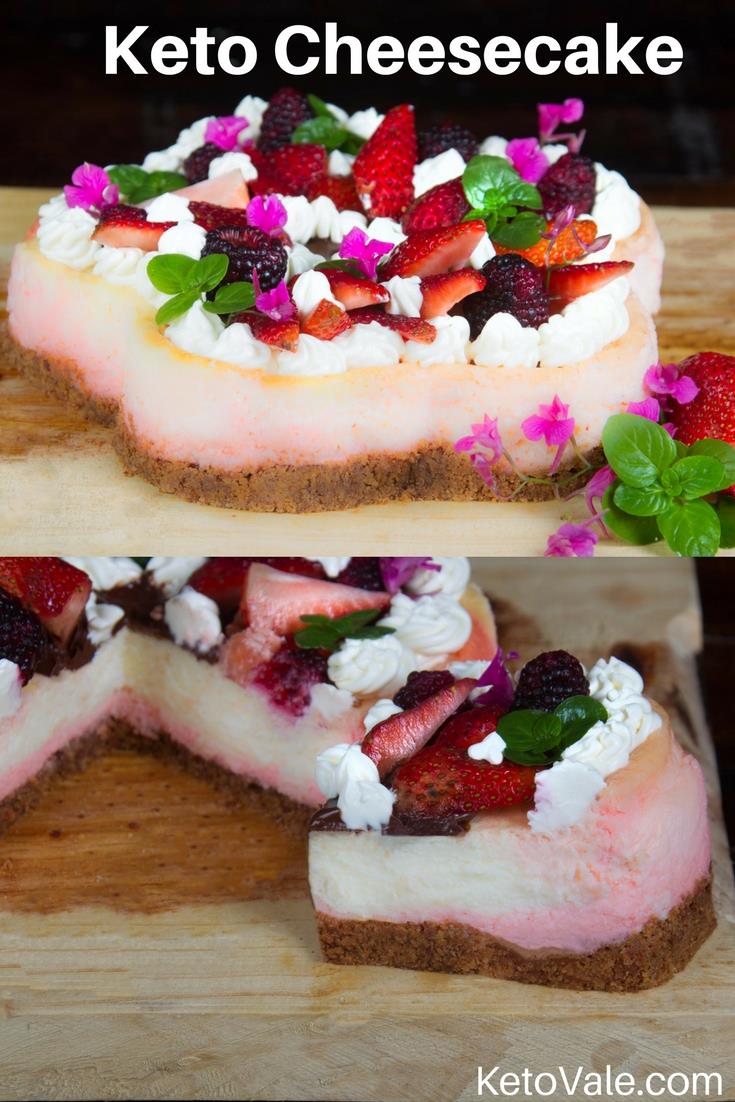 Related: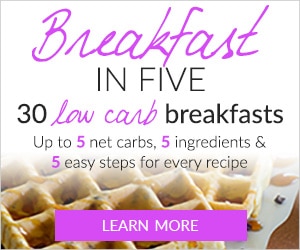 Receive Our Free 7-Day Keto Meal Plans + Weekly Recipes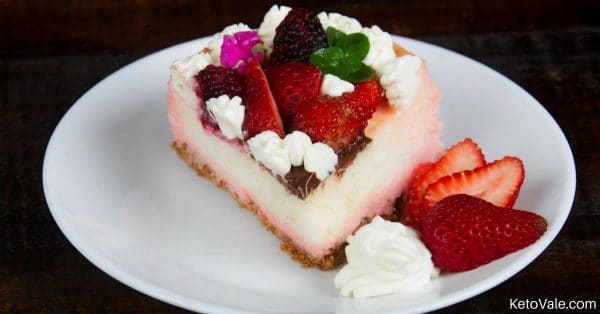 In a large bowl combine almond flour, melted butter, sweetener, and cinnamon. Mix together with a spoon, until the ingredients are homogeneous. Add the mixture into a springform pan and press this mixture evenly into a springform pan to make it crusty.

Baked the crust for 10 minutes until lightly golden browned and remove the crust from the oven. Let it cool while you make the filling.

In a bowl, combine the eggs, sweetener, cream cheese, sour cream and vanilla. Mix thoroughly with a hand whisk or blender and add this mixture to the pie crust and bake the cheesecake at 350 F for 30 min.

Remove and refrigerate for six hours.

You can add berries on the top to decorate (optional).
You can cut this cheesecake into 12 pieces. The serving size is 1 piece of cake. Here is the nutritional information of 1 serving (without topping):
Macros (per serving): Calories: 392– Fat: 38.9 g – Net carbs: 3.7 g (total carbs: 4.2 g, dietary fiber: 0.5 g) – Protein: 8 g
Here are the nutritional information including suggested topping of this recipe:
Macros (per serving): Calories: 435– Fat: 43.1 g – Net carbs: 4.5 g (total carbs: 5.3 g, dietary fiber: 0.8 g) – Protein: 8.9 g