Flaked Coconut Fat Bombs
We love the taste of the coconut. When it comes to making keto fat bombs, coconut is one of the best ingredients to use. Today we will show you how to make flaked coconut fat bombs.
We will be using desiccated flaked coconut, coconut oil and butter as the main ingredients. You can also use shredded coconut. To achieve better taste, we will also add a little bit of cinnamon, salt and sweetener.
As you already know, coconut is a great source of healthy fat and it contains MCT oil. You can read more about many health benefits of MCT oil here.
Another reason why we use coconut oil instead of other types of oil is that unlike other oils, coconut oil will solidify which help us mold our fat bombs.
Once you finish making it, remember to keep these coconut bites refrigerated. Coconut oil and butter will get very soft or even melt at room temperature. So always keep them in the fridge and only take it out when serving.
Feel free to save this recipe by pinning this picture to your Pinterest board for later use!
Related: No-Bake Coconut Fat Bombs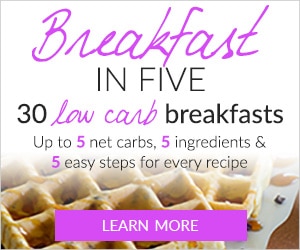 Receive Our Free 7-Day Keto Meal Plans + Weekly Recipes
Preheat the oven to 300F and cover a baking sheet with waxed paper.

Spread the shredded coconut on the tray and bring to the oven for 10 to 15 minutes until golden brown. Keep an eye on this and be careful and don't let the coconut burn.

Remove from the oven and put the coconut in a food processor. Add butter, cinnamon, salt, coconut oil and sweetener. Blend until well blended.

Put the mixture in a silicone mold.

Refrigerate for 2 hours and remove.
This recipe should make 15 pieces/servings. Here's the nutritional information per serving:
Macros (per serving): Calories: 99– Fat: 10.7g – Net carbs: 0.8g (total carbs: 1.6g, fiber: 0.8g) – Protein: 0.4g