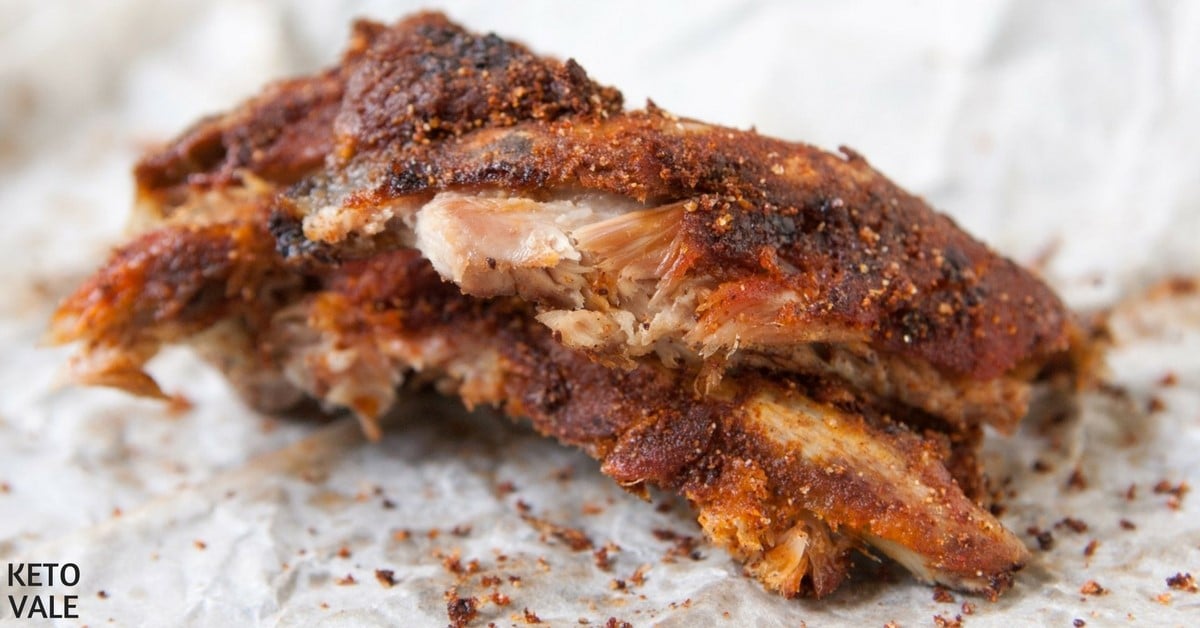 Easy Crispy Dry Rub Baked Pork Ribs
Who doesn't love eating tasty and a little bit spicy slow cooked BBQ pork ribs? In this recipe, we will show you an easy way to marinate those ribs to make sure they are low carb and still delicious.
While choosing your meat try going organic grass fed and avoid completely frozen meat, when you have variations of pork a pig from poultry farm is the best choice.
To make ribs more juicier and flavorful marinade them in dry rub mixture for a night, in that way after the cooking, meat will easily come of bones making it more presentable to eat.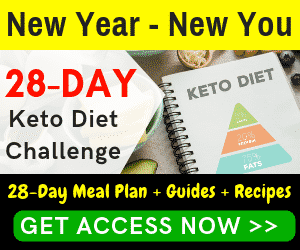 When you have about 40 minutes left in the oven add a bite sized  zucchini and bell paper – the vegetables will absorb all aromas and will be perfect side dish to serve with ribs.
If you'll have some leftovers, you can put them in a fridge and use later as a filling for egg or wraps such as these Pulled Pork Lettuce Wraps.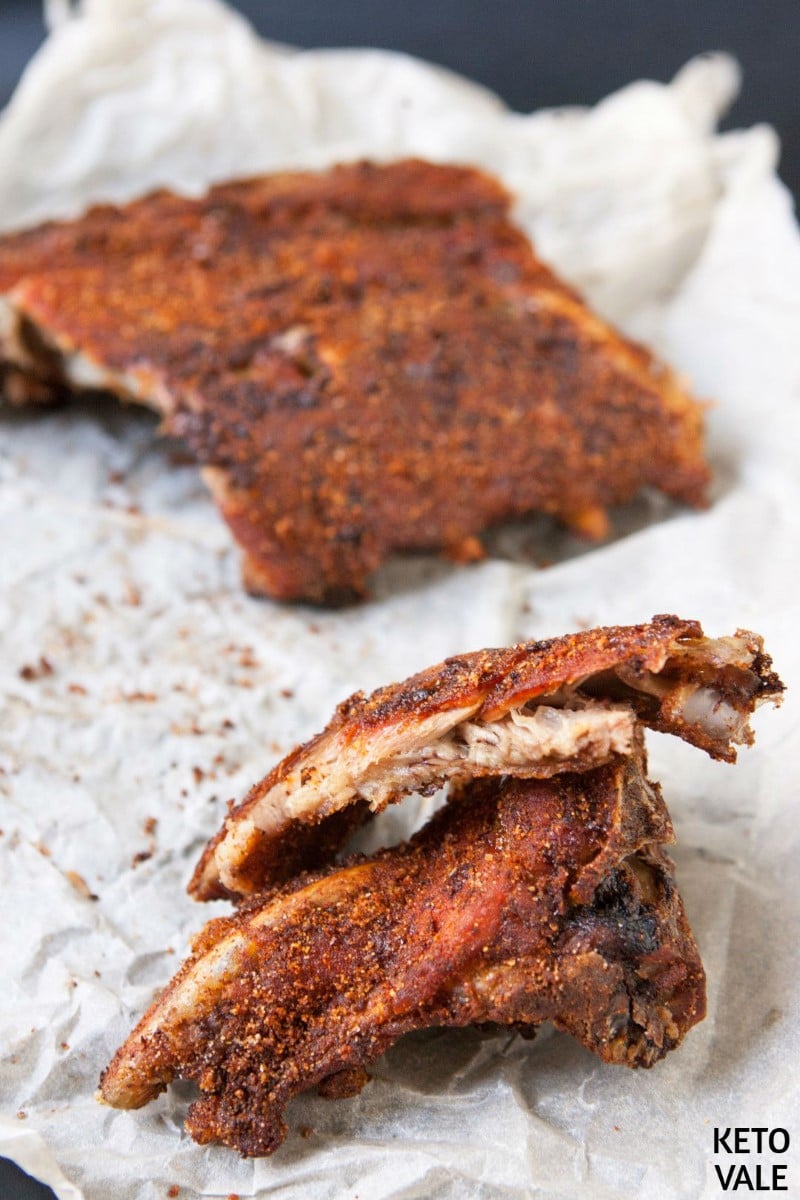 Note: If you want to keep the moisture and make it more juicy, you can wrap the ribs in aluminum foil before baking. This traps in the fat and steam released from the ribs which makes it tender and juicy. For this particular dry rub ribs recipe, we prefer it dry and a little bit crispy.
Watch how we made this here:
Save this recipe by pinning this picture to your Pinterest board for later use!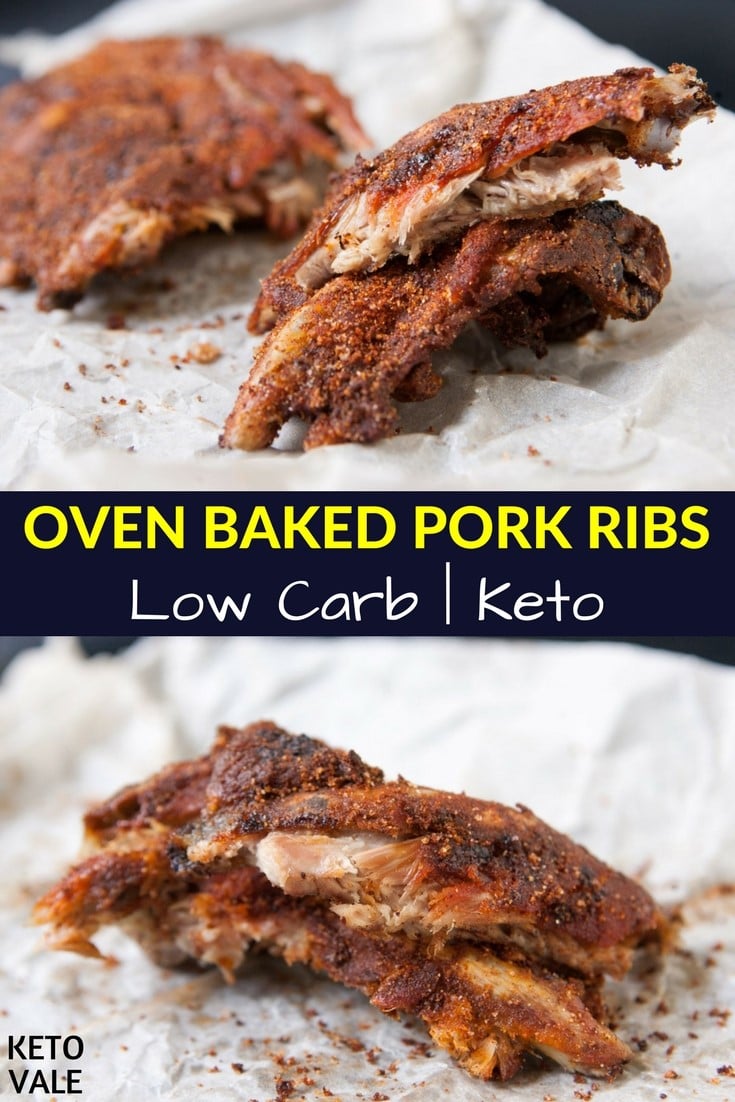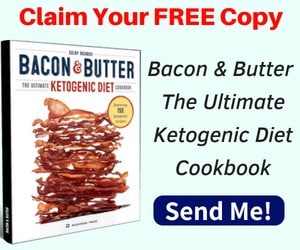 Related: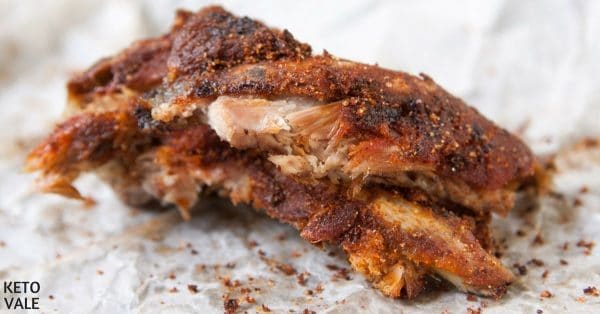 Place some parchment paper on a baking sheet while preheating the oven to 275°F.

Put all the spices in a small bowl and mix until they are combined thoroughly.

Prepare the ribs. Dry it off and remove the membrane on the back side. Dredge the mixture of spices on the ribs until it is completely covered on both sides.

Set the ribs on the baking tray. Bake for 3 hours. For more crispiness, grill the ribs on high heat for 3 minutes each side.
Macros (per serving): Calories: 440– Fat: 36.4g – Net carbs: 1.7g (total carbs: 2.6g, fiber: 0.9g) – Protein: 24.6g