Latest Update: Unfortunately Nui has gone out of business according to its founder Kristoffer Quiaoit on Linkedin.
Most people would agree that the ketogenic diet is very satisfying. However, it's one of the most restrictive diets out there. Wouldn't it be nice if you could still eat cookies, too?
That's where Nui (formerly known as Keto Kookie) comes in. The company was founded by Kristoffer and Victor, who felt great after adopting a ketogenic diet but missed eating cookies.

Together, they created a delicious keto cookie that allows you to enjoy a treat on the ketogenic diet while sticking to your low-carb needs.
We tried several flavors of Nui's original cookies. However, the cookies have since been given a makeover featuring a new and improved recipe. We'll review both the original and upgraded cookies in the article below.
Who is Nui?
Nui is a keto cookie company that was founded by Kristoffer Quiaoit and Victor Macias, who started following a ketogenic diet in 2016. They both experienced more energy due to giving up sugar and carbs. Victor even lost 40 pounds! But they missed eating cookies, which is their favorite dessert.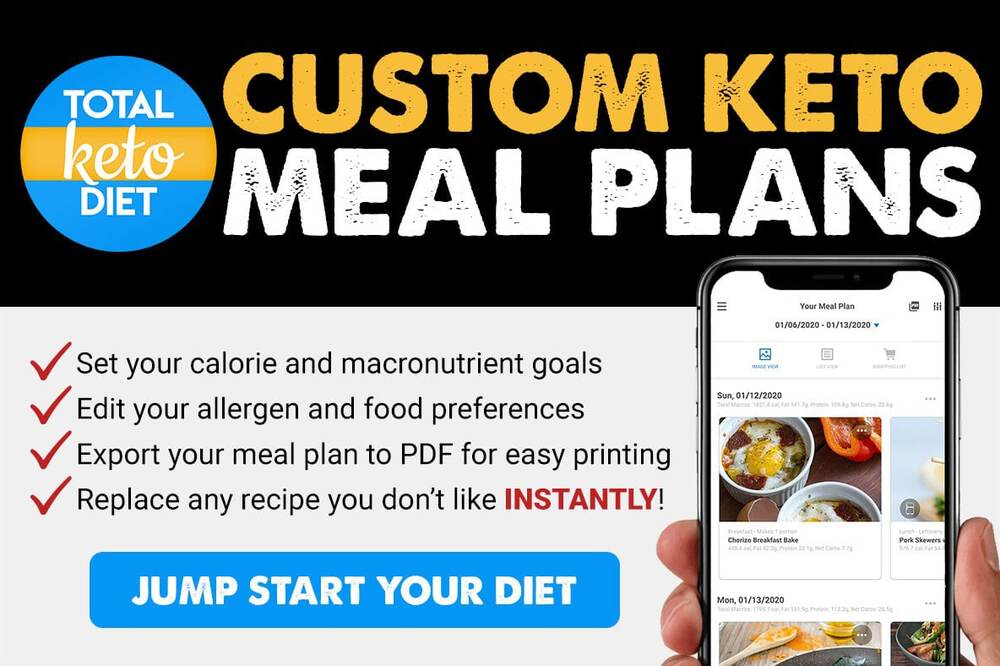 So they decided to make their very own cookie recipe that would taste just like the real thing without the consequences of sugar. After 20 tries, Kristoffer and Victor came up with the recipes you find today in their Nui cookies.

To get the funding they needed to get the ball rolling with their company, Kristoffer and Victor made an appearance on Shark Tank, which is a television show that encourages entrepreneurs to pitch their ideas to investors in hopes of gaining their partnership.

The keto cookie designers had one minute to pitch their business idea to investors and it worked! They landed a $300,000 investment deal from A-Rod himself, who admitted that his girlfriend (now fiance) J-Lo eats a cookie every night before bed.

Kristoffer and Marcus admit that they are no chefs. But after using Kristoffer's mom's oven for a few practice rounds (around 20 to be exact), they came up with a great tasting cookie that is also low in carbs.
What Do They Sell?

When Nui first launched, they sold five different flavors of keto cookies, which are listed below:
Snickerdoodle
Peanut butter
Cinnamon
Double chocolate
Chocolate chip
However, Nui has spent the last year and a half recreating their cookie and transforming their recipe into "the most delicious keto cookie ever." They only sell the chocolate chip and snickerdoodle flavors now.

You might be able to find some of the older flavors on Amazon, but it does not appear that these are being made anymore.
With the old recipe, each cookie contained one to four grams of net carbs. The new recipe features three grams of net carbs for the chocolate chip flavor and two grams of net carbs for the snickerdoodle. They are made with healthy fats from butter, heavy cream, MCT oil, and coconut oil, which helps ensure that you're getting enough fat in your diet to stay energized.
The cookies are also naturally sweetened with allulose and monk fruit extract, which are derived from plant extracts. These sweeteners contain very few (if any) calories and do not raise blood sugar, which makes them a perfect snack for the ketogenic diet. (You can read more about allulose and other keto sweeteners here).
The company uses organic and non-GMO ingredients whenever possible. They also use a blend of nut flours and vegetable fibers to keep the carbs down. All bars are grain and gluten free.

Here are the ingredients in the chocolate chip flavor: blanched almonds, tapioca fiber, chocolate chips (natural unsweetened chocolate, allulose, cocoa butter), egg yolk, coconut oil, allulose, unsalted sweet cream butter, heavy cream, coconut flour, water, egg whites, natural flavor, pure Bourbon vanilla extract, vegetable fibers, MCT oil, sunflower lecithin, cellulose gum, baking soda, konjac, xanthan gum, sea salt, stevia leaf extract.
Here is the nutritional information for one of their newly improved chocolate chip cookies:
200 calories
17 grams of fat
16 grams of carbs (3 grams net carbs)
8 grams of fiber
5 grams of Allulose
4 grams of protein
2% RDV vitamin A
4% RDV calcium
4% RDV iron
These cookies are a great keto snack because they contain a good amount of calories and are filling. With only two or three grams net carbs per cookie, you can add them to your list of keto-friendly snacks and don't just save them for dessert time.
What We Got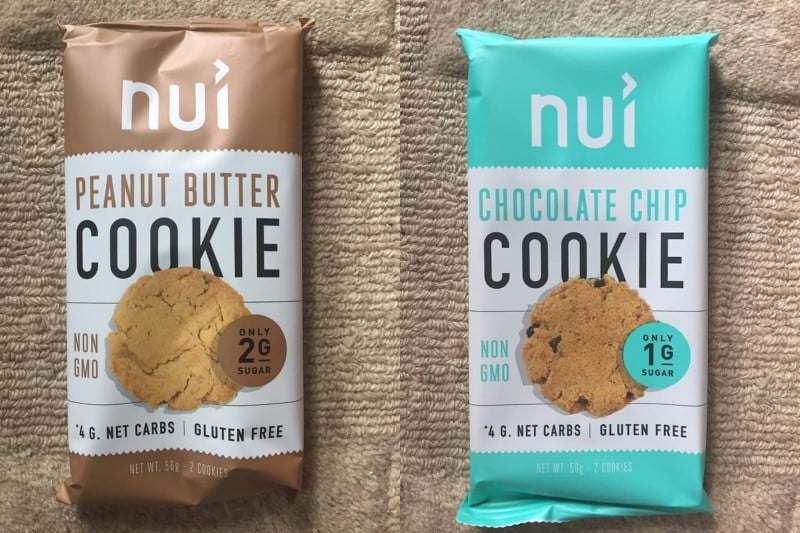 We tried four different flavors of the original recipe Nui cookies. The flavors we received were double chocolate, snickerdoodle, peanut butter cookie, and chocolate chip.

*These cookies have been updated since our review and are not offered in all of these flavors anymore. They also feature a different recipe than the ones we tried!

Each pack of cookies came with two small cookies. One serving size of the original recipe was two cookies. However, the new cookies come individually wrapped so that you get one per serving instead of two.

Here is what we noticed about the cookies:
The cookies had a great smell as soon as you took them out of their packages. If you miss the smell of freshly baked cookies, then you will enjoy unwrapping these keto cookies!
Convenient travel packages
We love that they come in travel size containers. You can throw a pack of cookies in your bag or store them in your desk at work and you have a keto-friendly snack whenever you need it.
The taste was sweet and tasty, like a cookie should be
Overall, the flavor of each cookie was spot on. They tasted great and completely satisfied our cravings for something sweet.
The ingredients were high-quality
Nui uses high-quality ingredients instead of cheap alternatives that could bring the cost of the cookie down but would ultimately be a sacrifice in terms of quality.
Coconut oil, butter, heavy cream, egg yolks, and MCT oil provide healthy fats so that you can meet your high-fat needs, which is used as energy when you're on the keto diet.
Nui keeps the carbs down by using natural sweeteners such as stevia and allulose. They also use vegetable fibers to aid in digestive health.
The preservatives are kept to a minimum and sourced from non-GMO, organic substances. All ingredients in the Nui cookies are top notch.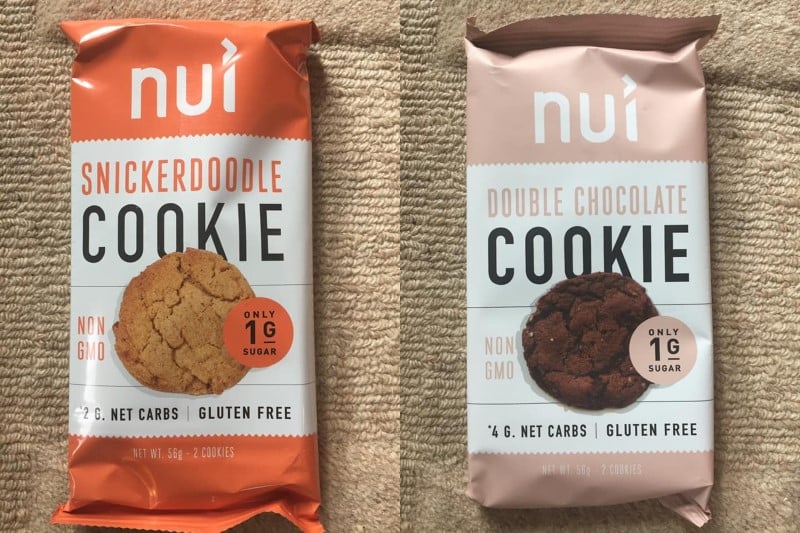 The almond flour gives each cookie a delicious, nutty flavor. We also like the use of real peanut butter in the peanut butter cookies.
The original cookies were a bit hard in terms of texture. This can be disappointing if you're expecting a soft, fresh cookie fresh from the oven like you used to eat when you were a kid.
We also noticed that one serving of the cookies (two cookies) contains around 13 or 14 grams of erythritol, which may cause digestive problems if you're not used to eating it.
However, the new recipe claims to be softer and chewier than ever! The creators of Nui received feedback from several sources that their cookies were too hard and decided to give them a softer upgrade. They also got rid of the erythritol completely and switched to a lower dose of 5 grams of allulose.
Keep in mind that the keto diet plan has strict requirements and making a cookie to fit these needs is no easy task. Nui cookies need to be shelf stable so that they don't go bad before you eat them. They also need to contain a certain amount of sweeteners so that you enjoy eating them!
Pros and Cons of the Original Cookie
We recommend eating these cookies as is or crumbling them on top of your favorite keto dessert recipes for an occasional crunchy treat.

Here's what we liked and did not like about the original cookies.
Pros

No artificial sweeteners
Each single cookie contains 2 grams of net carbs or less
They are easy to travel with or bring with you during the day for a snack
You get to eat TWO cookies per serving!
Ingredients are organic and non-GMO when possible
Cookies feature grass-fed butter, MCT oil, whole eggs, and coconut oil, which are keto-friendly fats to help keep you energized
Sweeteners used are completely keto-friendly, such as stevia, monk fruit extract and erythritol
We like the use of vegetable fibers to keep carbs down and add to the overall fiber content
Preservatives are kept to a minimum
All ingredients are keto-friendly with no cheap alternatives
They can easily be added to other dessert recipes
Cons

The cookies were a bit hard and crumbly compared to regular cookies, but the taste was great!
We thought the use of 13 or 14 grams of erythritol was a bit much per serving especially if you're not a fan of erythritol. Nui could have stuck with stevia and monk fruit sweeteners, which tend to be easier on the digestive system. If you aren't sensitive to sugar alternatives, then you shouldn't have a problem. But if you are concerned about adverse digestive symptoms such as gas or bloating, then you may want to minimize your intake of these cookies
Review of the New Recipe
We like the upgrades that were made to the original Nui cookie. It shows that the creators of the cookie listened to their customer's feedback and wanted to deliver a better product!

The new cookies claim to be softer and chewier, which is a nice change from the hard texture of the original recipe. We also like that they reduced the amount of sweetener used. The original cookie had great flavor, but the erythritol was hard to digest.

For a limited time, you can request a free sample of the new and improved keto cookies by visiting Nui's Facebook page. The company also gives away coupons and special offers, so be sure to check the page often.
How To Eat These Cookies
You can eat these cookies plain or add them to your existing keto dessert recipes. They would be great when crumbled on top of your favorite keto ice cream recipe.

These cookies are also great to pair with a cup of tea or coffee. If you don't have time to brew some fresh coffee, try these keto-friendly instant coffee brands.

You can also add them into baked goods or incorporate them into your fat bomb recipes. The texture of these cookies is hard and a bit crunchy, which makes them a perfect topping to just about any dessert.
Where To Buy
You can buy these cookies directly on their website. You can use our coupon code KETOVALE for 10% OFF.
---
Conclusion
If you're in the mood for something sweet but don't want to spoil your keto diet, then we recommend trying a cookie from Nui.

The original cookie came in five different flavors and we tried four of them. However, Nui has since upgraded their recipe and only two flavors are offered now: chocolate chip and snickerdoodle. Our review is based on the original cookie recipe.

Overall, the taste of the cookies was excellent. They were a bit on the hard side, but we didn't expect a soft batch of cookies due to the lack of gluten.

The new recipe yields a softer cookie with a chewy texture. The company got rid of the erythritol and uses allulose as a sweetened instead.

The cookies contain 100% keto-friendly ingredients with nothing cheap. We loved the use of butter, heavy cream, whole eggs, MCT oil, and coconut oil for their healthy fats.

These cookies will completely satisfy your craving for something sweet without the carbs. One of the chocolate chip cookies contains three grams of net carbs while the snickerdoodle contains two grams.

You can enjoy these cookies with your morning coffee, or you can take them with you as a travel snack.