Chicken doesn't have to be boring. A good way to shake things up is to vary the cut of meat that you buy. Try using chicken breasts, drumsticks, fillets, wings and more.
Chicken must be different in order for you to eat it several times per week. That's why we have made many keto-friendly chicken recipes for you to try.
If you need a reason to continue eating chicken, then may we mention it's low-calorie, has a pleasant texture, is nutrient dense, and has low allergic chances. Plus, it's high in protein to fill you up and support a lean body while providing several minerals that are necessary for enzyme functioning. 
This chicken recipe calls for you to break out the instant pot. If you don't have one, we highly recommend investing in one. It will save you time and effort when it comes to cooking just about anything.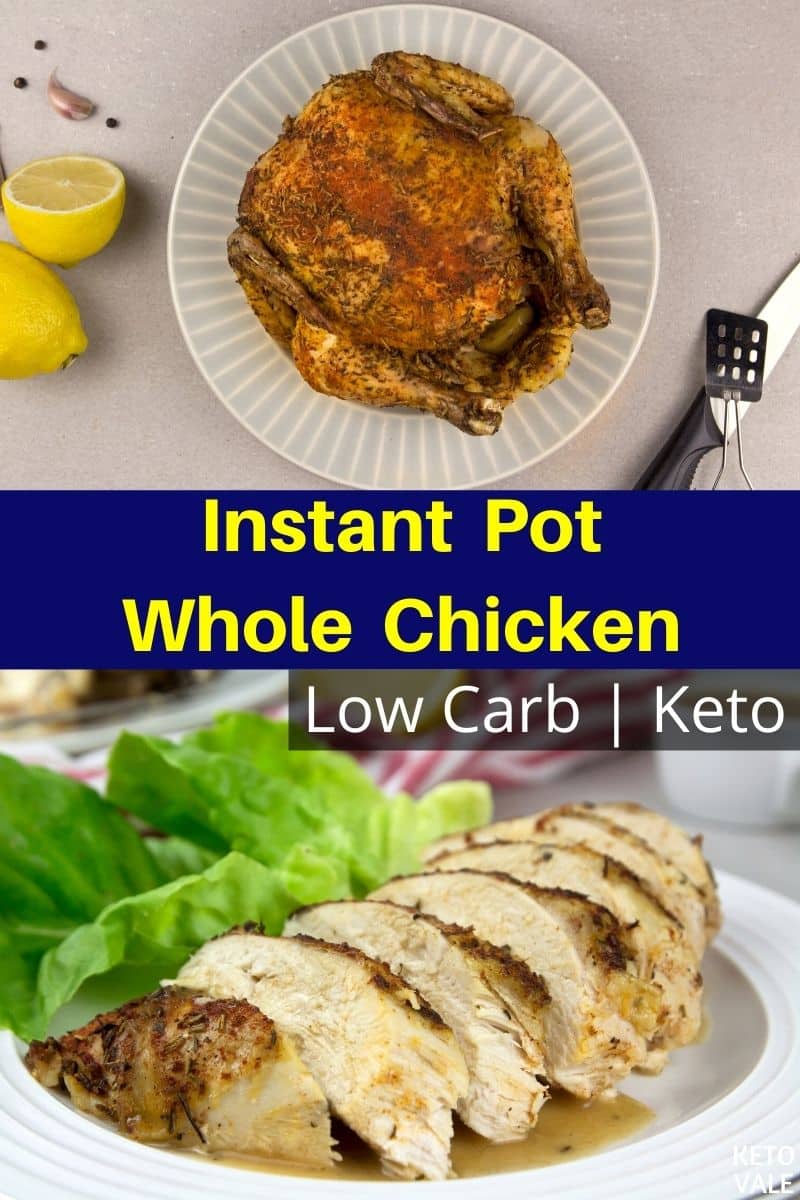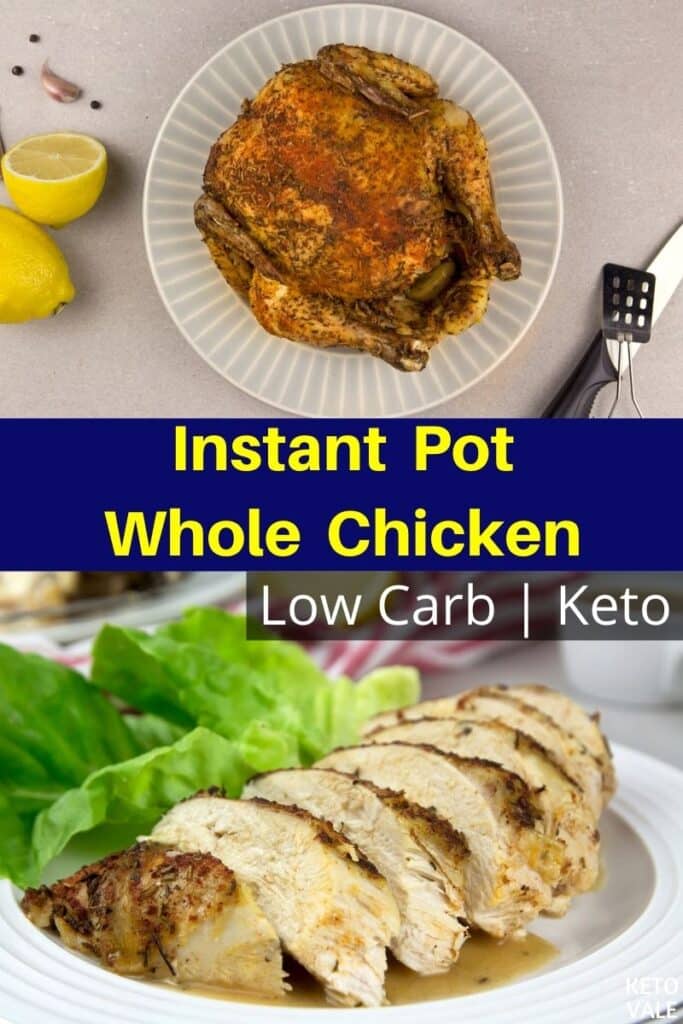 For this recipe, we season our chicken with a blend of herbs. Herbs are known for their noteworthy health benefiting phytonutrients, antioxidants, and essential oils.
They possess powerful antiseptic and antibacterial properties. Cooking with herbs is valued for its ability to help increase healthy fats throughout the cells.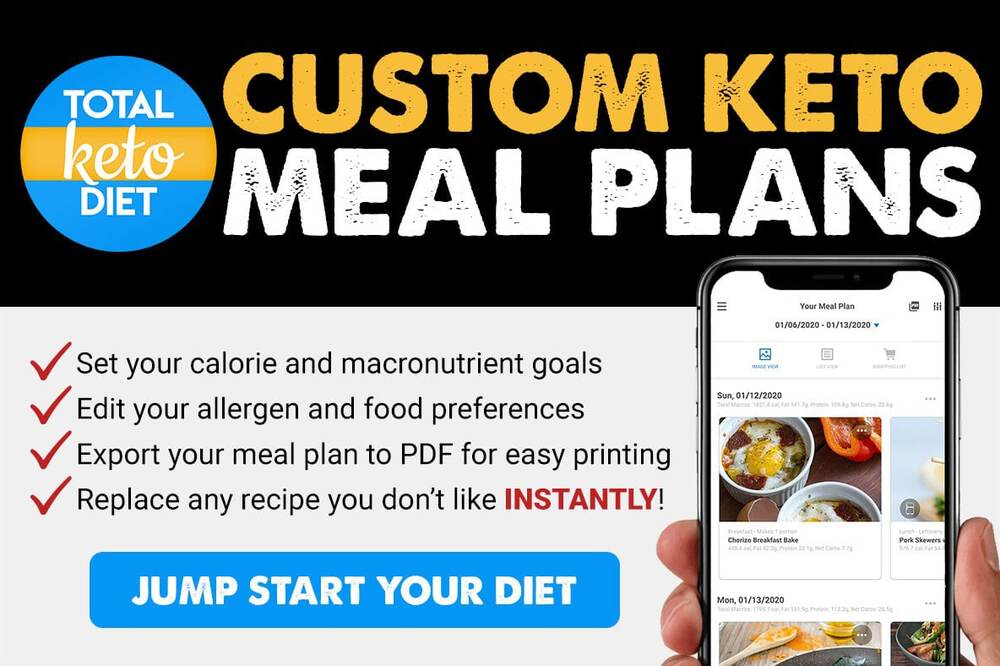 Our recipe also calls for lemon and garlic. This will add not only flavour and taste, but it will contribute vitamin C and stimulate your metabolism.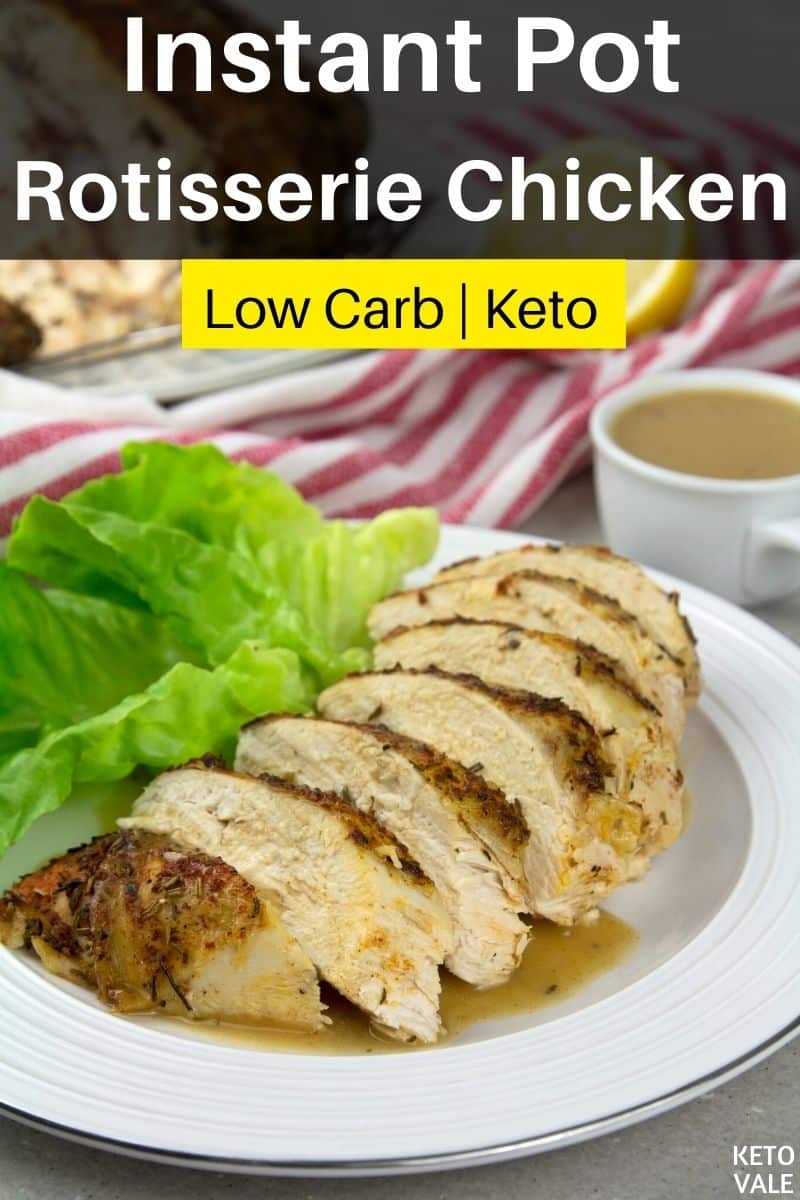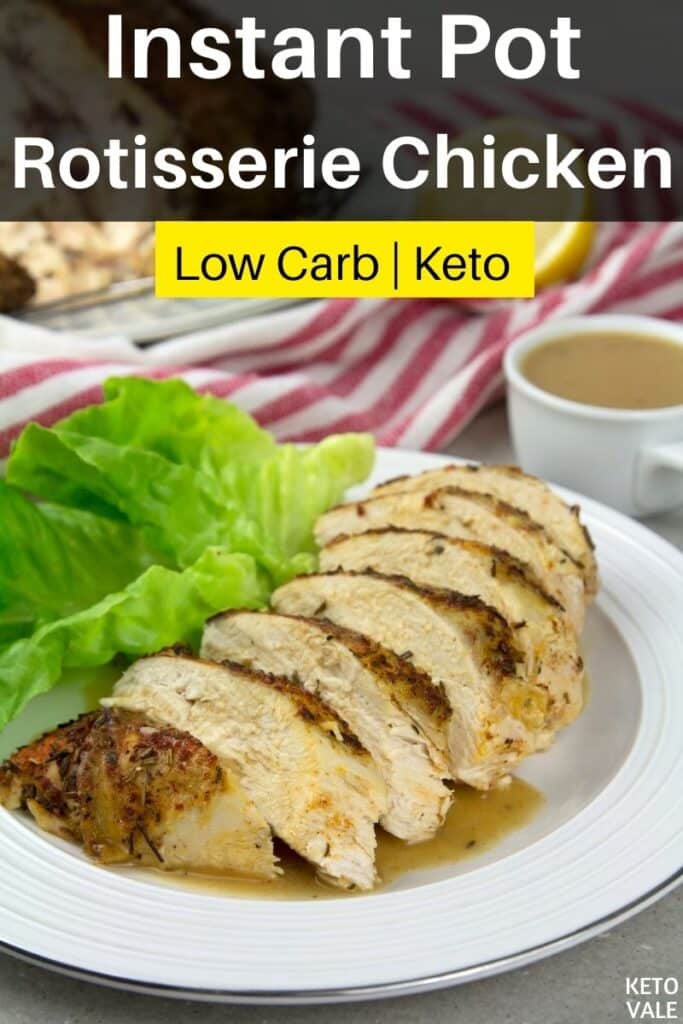 To finish properly, our recipe uses a gravy made out of butter and keto xanthan gum. Regular gravy is made with enriched flour, which is not a keto-friendly food.
Our version will save you the carbs and potential stomach problems! You can serve this Rotisserie chicken dish with a salad or just about any low carb vegetable you can think of. 
---
Let's Do It!
Mix all spices in a small bowl.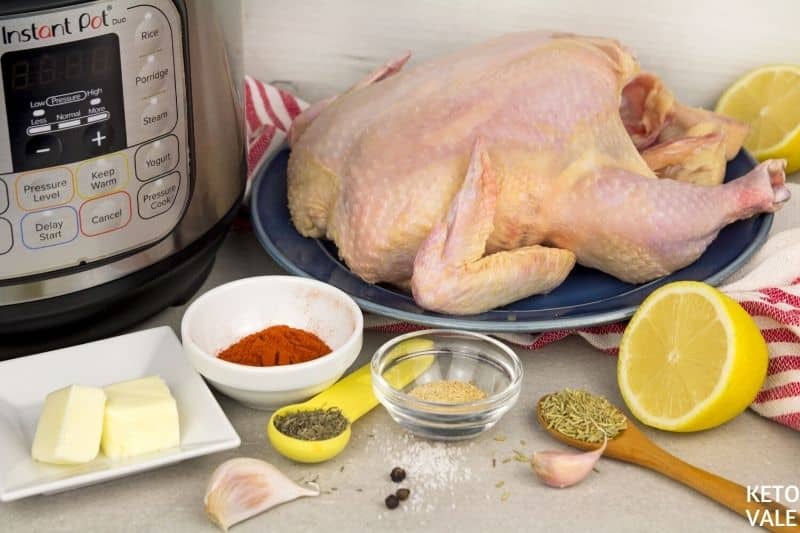 Season the chicken with the spices.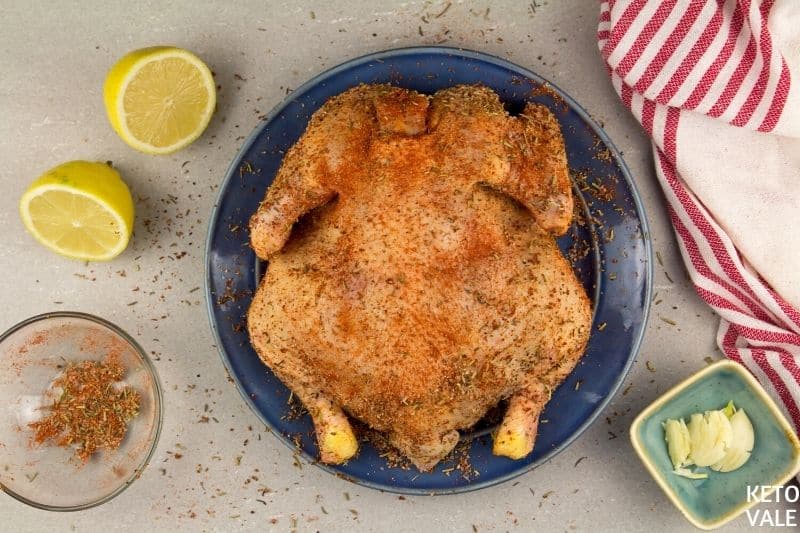 Put half a lemon and smashed garlic inside the cavity.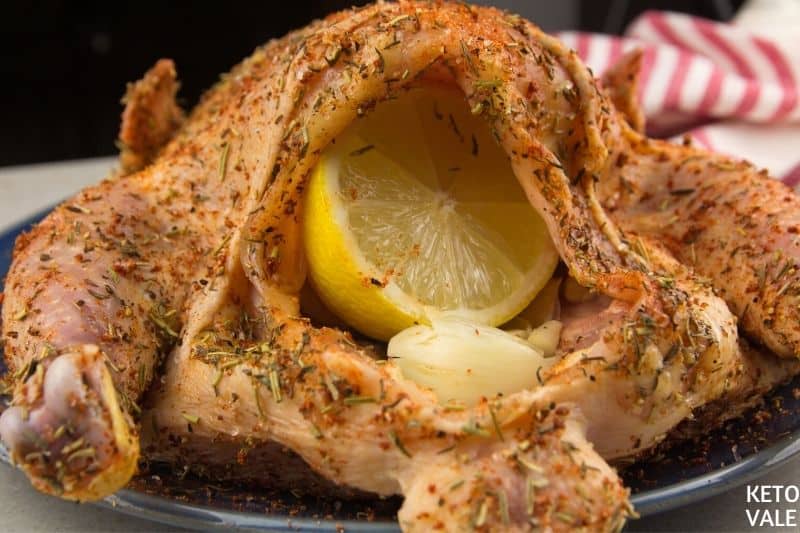 Put a trivet inside the instant pot and add water. Add the chicken with the breast side up and cook for 24 minutes. We use the Instant Pot 3-Quart Duo Mini 7-in-1 model. You can use other models that work for you.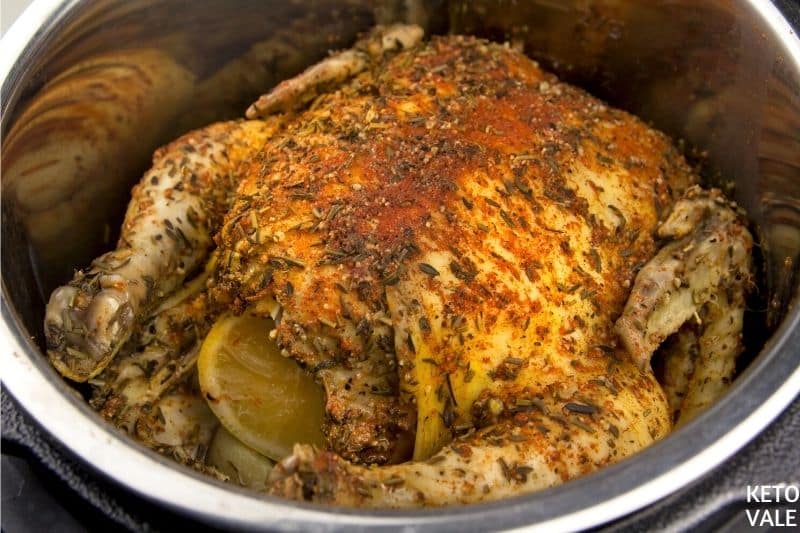 Set the oven to broil. Remove the chicken from the instant pot and transfer to the oven on a baking tray lined with foil. Bake for about 5 minutes or until crispy. Set aside for 10 minutes before slicing.
Make the gravy while the chicken is in the oven by adding xanthan gum to three tablespoons of the cooking juices in the crock pot. Stir and turn "saute" mode on.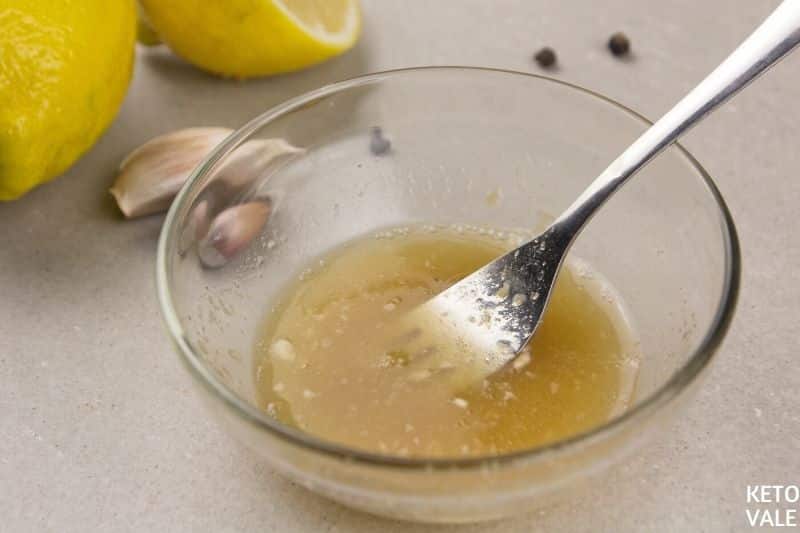 Add two tablespoons of butter to the instant pot and allow to melt. Add the xanthan gum mixture and whisk while simmering.
Turn the pot off, take chicken out of the oven, and serve with gravy and salad or low-carb veggies.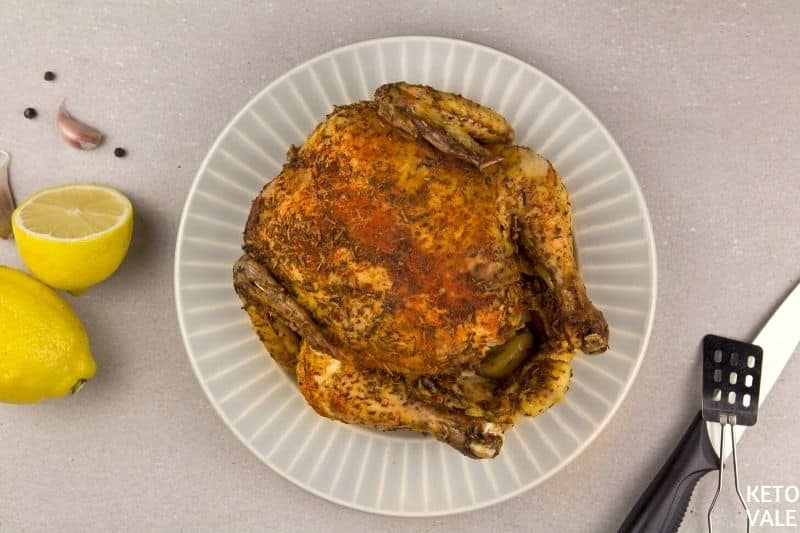 More Low-Carb Chicken Recipes You Can Try:
Instant Pot Whole Chicken
Try our roasted whole chicken using an Instant Pot. It's tender, juicy and packed with herbs and flavor, perfect for a family dinner.
Instructions
In a small bowl, combine all spices: sea salt, black pepper, dried thyme, dried rosemary, paprika, onion and garlic powder.

Remove giblets from the chicken cavity if present. Pat dry the skin and inside with paper towels. Season chicken and chicken cavity with spicy mixture. Place half of a lemon and smashed garlic cloves into the cavity.

Place metal trivet into the instant pot and pour the water in. Add chicken breast side up and pressure cook for 24 minutes (for 3 pound chicken, add additional 8 minutes per each additional pound). When finished cooking, naturally release pressure for 15 minutes and make quick release of the remaining pressure.

Turn the oven to broil. Open the lid, remove the chicken and transfer it to the baking sheet lined with foil. Broil until the chicken is golden and crispy, about 5-7 minutes. Let rest 10 minutes before slicing.

While the chicken is broiling, prepare the gravy. Whisk xanthan gum with 3 tablespoons of cooking juices from the pot until well blended. Turn "saute" mode on the instant pot. Add 2 tablespoons of butter to the pot with juices and let melt. Add xanthan gum mixture and whisk until simmering. Turn the instant pot off.

Arrange chicken slices on a serving plate, pour the gravy over, and enjoy!
Nutrition/Macros
Nutrition Facts
Instant Pot Whole Chicken
Amount Per Serving
Calories 355
Calories from Fat 234
% Daily Value*
Fat 26g40%
Cholesterol 109mg36%
Sodium 927mg39%
Potassium 294mg8%
Carbohydrates 2g1%
Protein 27g54%
Vitamin A 534IU11%
Vitamin C 7mg8%
Calcium 26mg3%
Iron 2mg11%
* Percent Daily Values are based on a 2000 calorie diet.
Pin To Save This Recipe