Devil eggs, also known as stuffed eggs, are extremely popular all over the world and served as an appetizer or as a side dish of turkey, chicken or meat. They are exquisite, easy and quick to prepare. I will show you how to make a funny version for Halloween deviled eggs recipe so your family and friends can enjoy.
The egg we use should be at room temperature. If they are very cold (ie. you store them in the fridge) the shell can break in the pot when boiling.
For mayonnaise, you can make your own using this homemade mayonnaise recipe I have.
Take a photo of your keto deviled eggs and share it with your friends on social media. Don't forget to tag us @KetoVale. We'd love to see your result!
Feel free to save this recipe by pinning this picture to your Pinterest board for later use!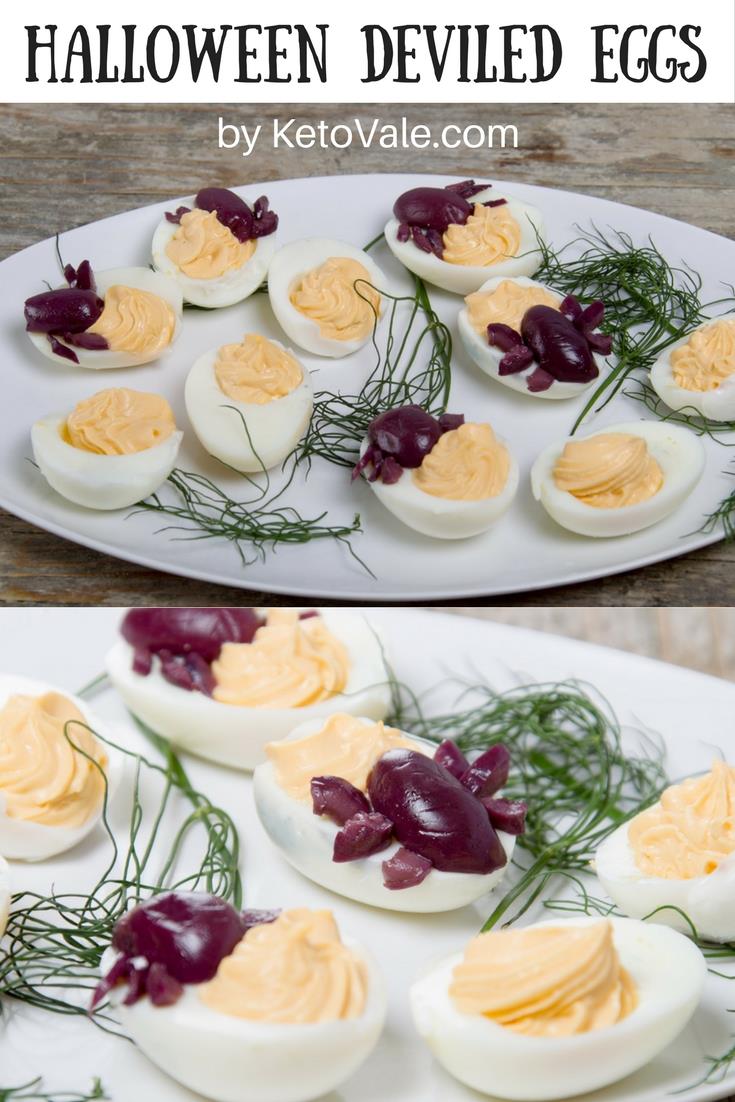 How to Make Spider Web Deviled Eggs
Boiling the Eggs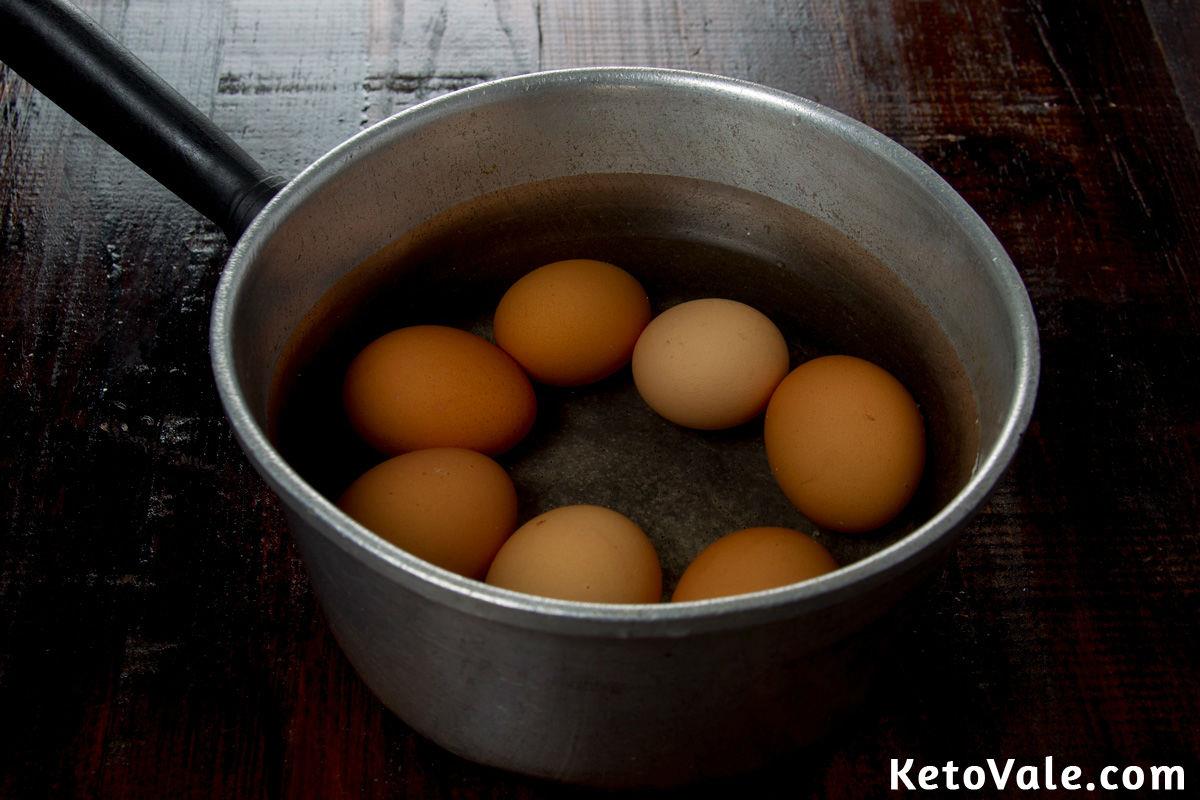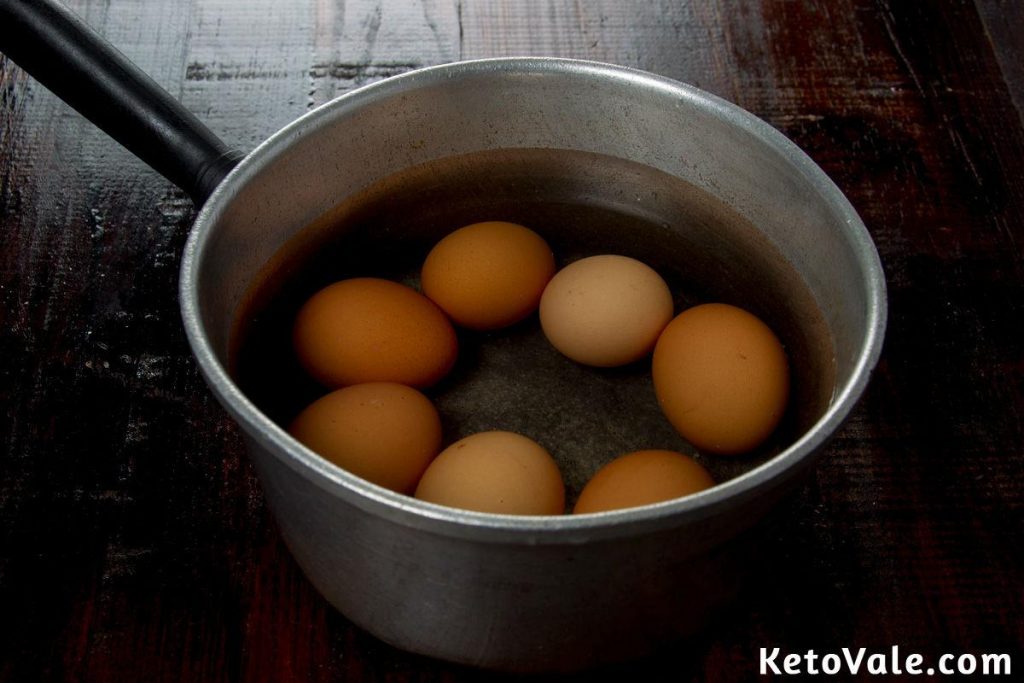 Fill a deep pot halfway with water and add a teaspoon of salt. Bring to a boil.
Carefully lower the eggs into the boiling water using a spoon and boil for 8-10 minutes.
Transfer the boiled eggs to a bowl of ice water to cool. Once cooled, peel the shells carefully.
Preparing the Filling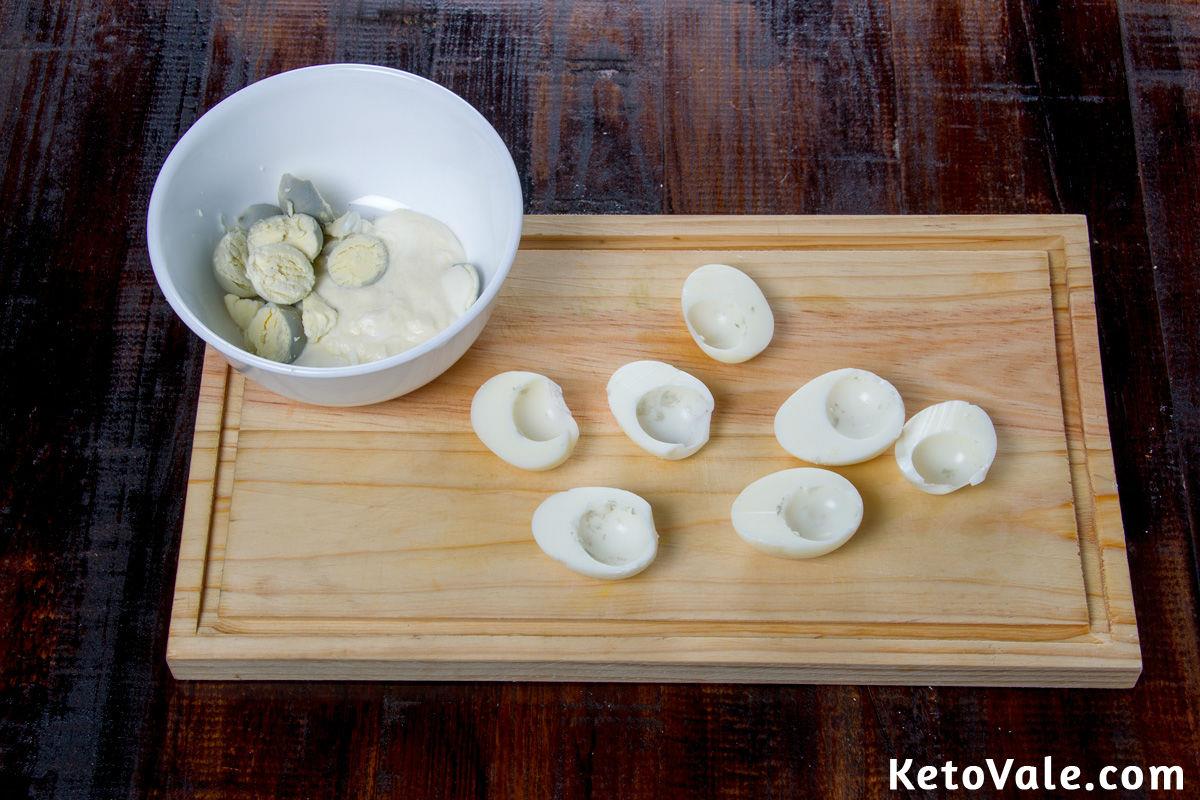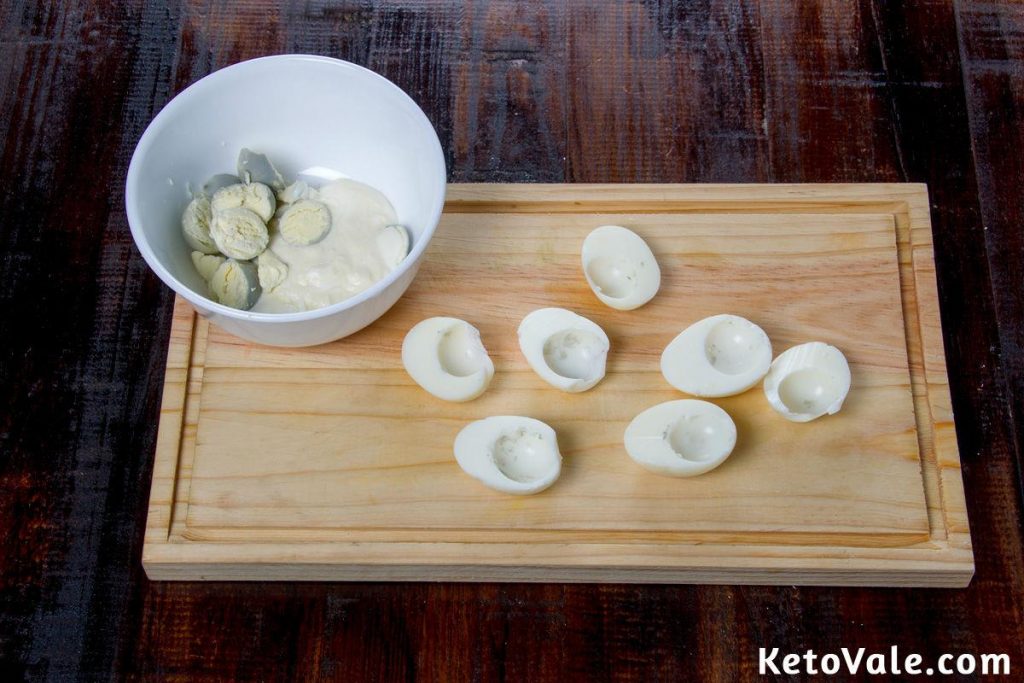 Cut the eggs in half lengthwise and gently scoop out the yolks.
In a bowl, mix the yolks with mustard, sour cream, mayonnaise, cayenne pepper, and minced onion until smooth.
Assembling the Eggs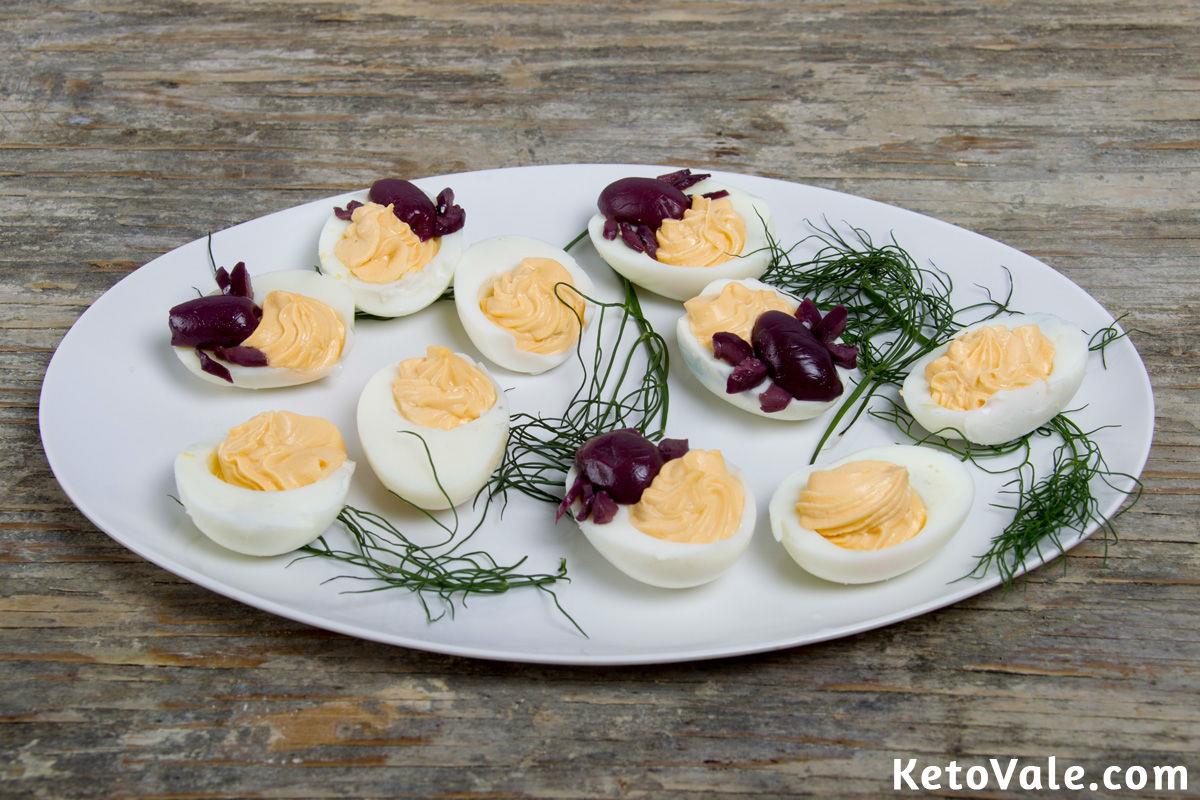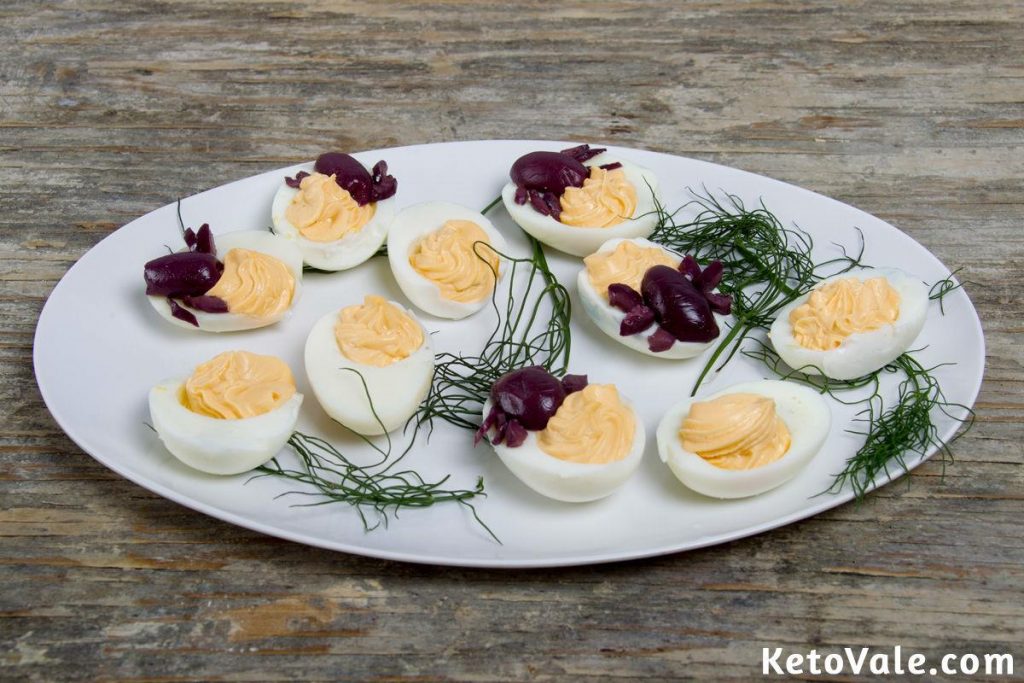 Fill the egg white halves with the yolk mixture using a piping bag or a teaspoon.
Slice olives in half lengthwise. Use one half as the spider's body and slice the other half for the legs.
Place the olive "spiders" on top of the eggs.
Enjoy your creative spider eggs!
Related:
Halloween Deviled Eggs
A keto-friendly devilled eggs recipe for Halloween season.
Instructions
Toss a teaspoonful of salt in a deep pot with water, filled halfway through. Let it boil.

Using a spoon, gently drop the eggs into the boiling water. Leave to boil for only 8-10 minutes.

Prepare a bowl with ice water. Transfer the boiled eggs to this bowl to cool the eggs. Break off the shell with extra care.

Slice the eggs into a lengthwise motion to make two halves. Spoon out the yolks in each egg.

Transfer the removed yolks to a small bowl. Combine them with the mustard, sour cream, and mayonnaise. Season with the cayenne pepper and minced onion. Mix to combine entirely.

Stuff the halved egg whites with the produced yolk mixture. Use a piping bag (or pastry bag) or simply a teaspoon to do this.

Slice the olives in half, lengthwise. Get creative with the olives to make a spider. One half is the body while the other half should be the tiny legs.

Lay these spiders on the eggs and enjoy eating!
Nutrition/Macros
Nutrition Facts
Halloween Deviled Eggs
Amount Per Serving
Calories 116
Calories from Fat 90
% Daily Value*
Fat 10g15%
Cholesterol 169mg56%
Sodium 129mg5%
Potassium 68mg2%
Carbohydrates 1g0%
Protein 6g12%
Vitamin A 283IU6%
Vitamin C 1mg1%
Calcium 30mg3%
Iron 1mg6%
* Percent Daily Values are based on a 2000 calorie diet.
Pin To Save This Recipe
FAQ
How many carbs are in keto deviled eggs?
Keto deviled eggs typically contain minimal carbs, often less than 1 gram per serving, depending on the ingredients used. My recipe contains less than 1 gram of net carb per serving.
Can I make deviled eggs a day in advance?
Yes, you can make deviled eggs a day in advance; store them in an airtight container in the refrigerator and assemble or add toppings just before serving to maintain freshness.
Is it OK to boil eggs the day before making deviled eggs?
Yes, it's perfectly fine to boil eggs the day before making deviled eggs. In fact, slightly older boiled eggs often peel more easily than fresh ones, making the preparation process smoother. Just ensure they're stored in the refrigerator until you're ready to use them.
How do you store boiled eggs overnight for deviled eggs?
To store boiled eggs overnight for deviled eggs, peel them (or leave them unpeeled if you prefer) and place them in an airtight container or a bowl covered with plastic wrap. Store them in the refrigerator to keep them fresh and safe for consumption.