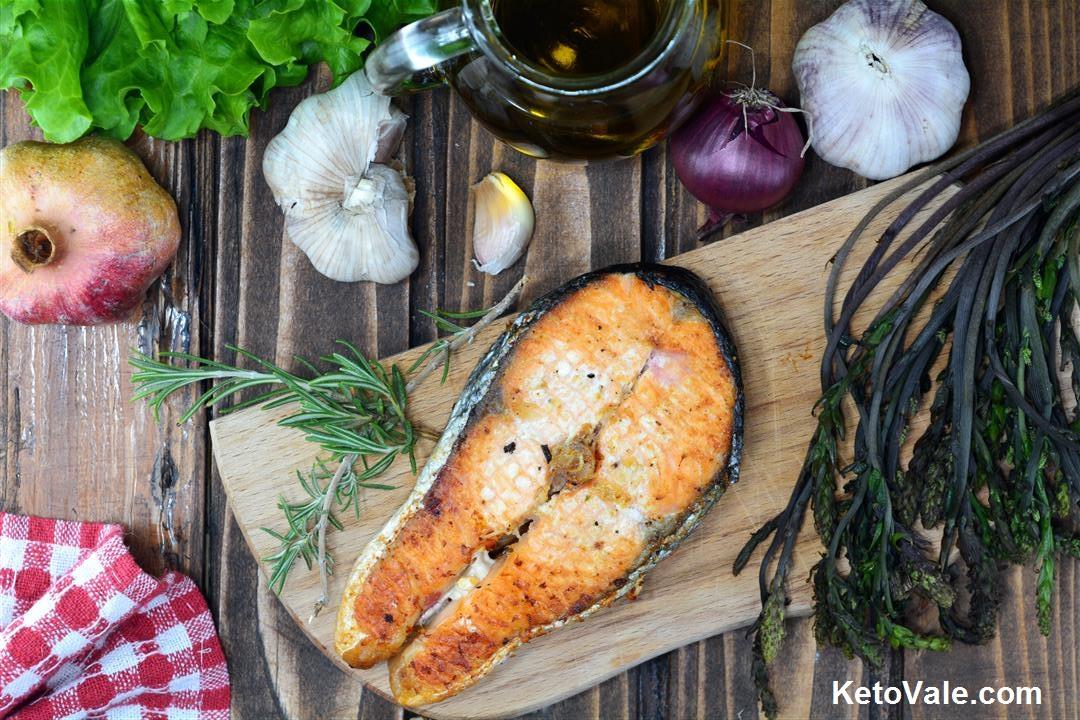 Grilled Salmon Steak with Olive Oil, Garlic and Herbs
This recipe combines pure olive oil with healthy garlic, rosemary, and lime juice to get the most out of your salmon steaks. This basic fish marinade will work perfectly for every fish you're preparing. It's great for grilling, frying, or baking. Optionally, spread some of the marinade mixture over the fish before serving and enjoy!
Receive Our Free 7-Day Keto Meal Plans + Weekly Recipes
Grilled Salmon Steak
Instructions
Wash the salmon steaks under cold running water and pat dry with a kitchen towel. Set aside.

In a large bowl, combine garlic, rosemary, olive oil, salt, pepper, parsley, and lime juice. Mix until well incorporated and soak the steaks in this marinade. Using a spoon, coat well and refrigerate for 30 minutes.

Preheat the grill to a medium-high heat. Drain the steaks and place on a grill.

Grill for 3-4 minutes on each side.

Remove from the grill and serve immediately.
Notes
Nutrition information per serving:
Kcal: 304, Protein: 32g, Total Carb: 2g, Net Carbs: 1.7g Fats: 18g If you have some time to spare, you might want to prepare a delicious homemade pesto for your salmon steaks. You'll need:
1 cup fresh basil leaves, finely chopped
1 garlic clove, crushed
¼ cup pine nuts, toasted and crushed
¼ cup cream cheese
4 tbsp extra virgin olive oil
½ tsp salt
Whisk together the ingredients until fully incorporated. Spread the mixture over salmon before serving.