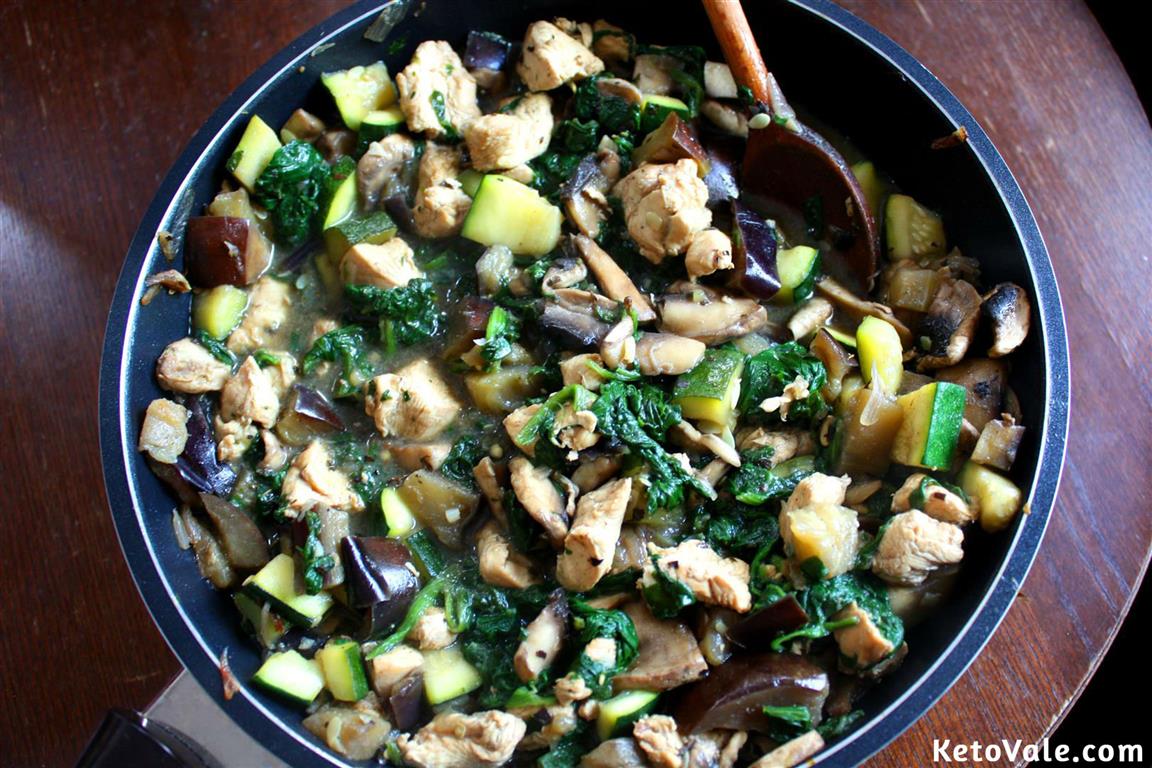 Chicken Breast with Eggplant, Zucchini and Spinach
This recipe has an excellent balance between protein (the chicken breast), fat (the olive oil used for marinating the chicken and the ghee used for cooking) and fiber, vitamins, and potassium (in the vegetables). For best results, we'd recommend marinating, however, if you are in a hurry, you can skip this step and still have a very satisfying and tasty dish.
Receive Our Free 7-Day Keto Meal Plans + Weekly Recipes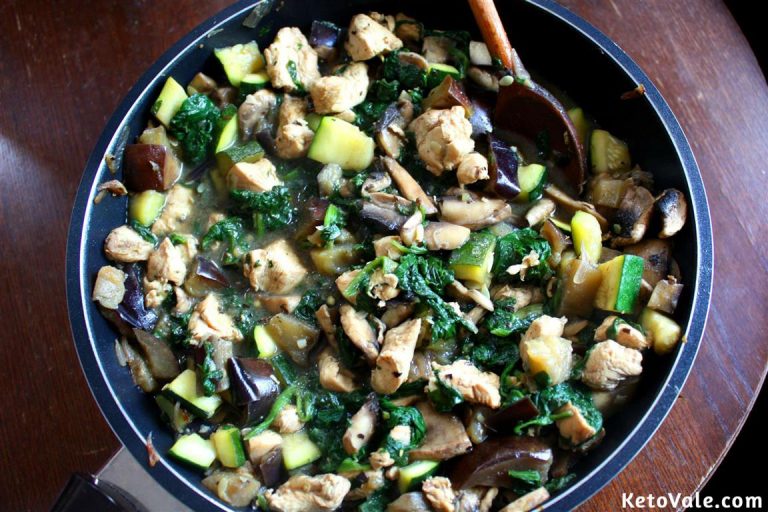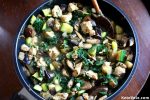 Chicken Breast with Eggplant, Zucchini and Spinach
Print Recipe
Pin Recipe
Ingredients
400

g

chicken breast

skinless

1

medium zucchini

diced, unpeeled

½

medium eggplant

diced, unpeeled

2

cups

spinach

cut in pieces

150

g

mushrooms

sliced

1

clove

garlic

minced

1/3

in

medium onion

choppedsmall pieces or sliced

1

tbsp

ghee
for the marinade (optional):
Instructions
If you like to marinate the chicken, combine the ingredients for the marinade together in a bowl. Stir well.

Dice the chicken. Place in a bag or plastic box along with the marinade. Leave in the fridge for 3 hours.

Heat a tablespoon of ghee in a large pan. Sauté the minced garlic and onion in the oil for 2-3 minutes. Stir occasionally.

Slice the eggplant into cubes and toss these into the pan. Cook for another 2-3 minutes.

Cut the mushroom into slices and then dice the zucchini. Add them into the pan as well. Leave to cook. This may take an additional 2-3 minutes.

Stir the chicken into the vegetable mixture for 6-7 minutes to cook thoroughly.

Put the spinach in and leave for 5 minutes more. When the leaves wilt, remove from the heat.

Serve in a bowl and enjoy.
Notes
Macros (per serving): Calories: 369 kcal – Fat: 20.4g– Net carbs: 8.54 g (total carbs: 13.84 g, dietary fiber: 5.3 g) – Protein: 35.06 g
You can substitute the eggplant and the zucchini with other low-carb vegetables, for example broccoli, green beans, green pepper, Brussels sprouts, tomatoes, etc. – there are plenty of different combinations that you can experiment with. If you do that, you'd need to adjust the cooking time for the different vegetables, as some of them take much less time to cook – for example, depending on how you like them, the tomatoes would probably need to be added last.
Instead of ghee you can use coconut oil or another cooking oil that you enjoy. If you'd like to up the fat content, you can add more than 1 tbsp. of oil when cooking.