Today we're excited to share with you another ketogenic diet success story from Annamarie Sampson. Annamarie used to struggle with her pregnancy weight gain just like many women and thanks to keto, she has been able to get back to her ideal shape and have more energy. In this article, you will learn her tips and how she was able to achieve her goal.
If you're new to the keto diet, feel free to read our keto guide and keto meal plans to get started.
If you have a success story to share with our community, please get in touch and let us know about it. We'd love to read your success story!
Without further ado, here's Annamarie's story:
---
Please tell us your story:
I have struggled with my weight for as long as I can remember. Low carb and high protein (such as Atkins) has always worked well for me. I would meet my goal or become tired of being restricted and begin a binge/restrict cycle.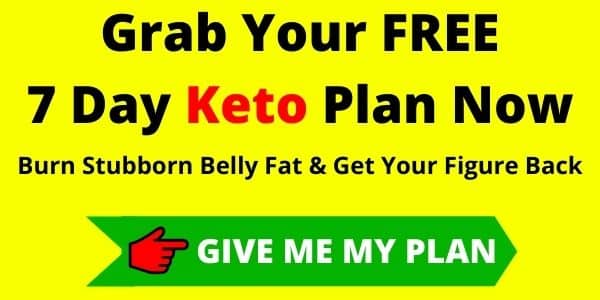 I gained 70 lbs with my third pregnancy (per my usual) but this time I didn't shed the pregnancy weight. At my daughter's first birthday, I tipped the scales a whopping 100lbs more than my pre-pregnancy weight. I felt completely hopeless. I had lost 100 lbs TWICE before and felt it was impossible to do it again. Who does that? So I started most days on a diet but found myself bingeing after nightfall. Keto has broken that cycle for me!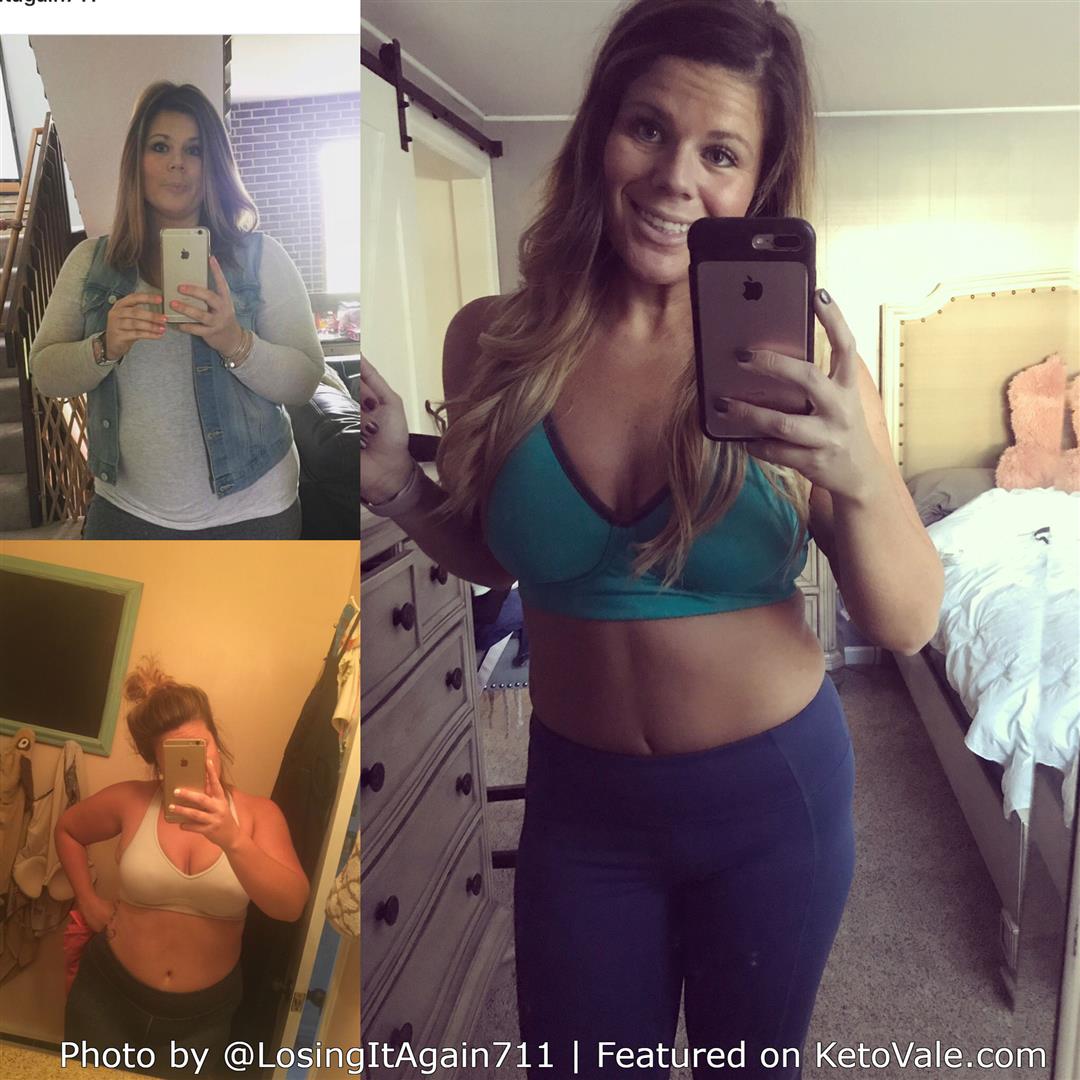 I started Keto in May of 2017. I had lost about 50 lbs prior but put 25 back on extremely quickly due to binge eating. I have lost 45lbs since May. I have learned to eat in a balanced way. I don't ever feel restricted and I feel in control of my food choices.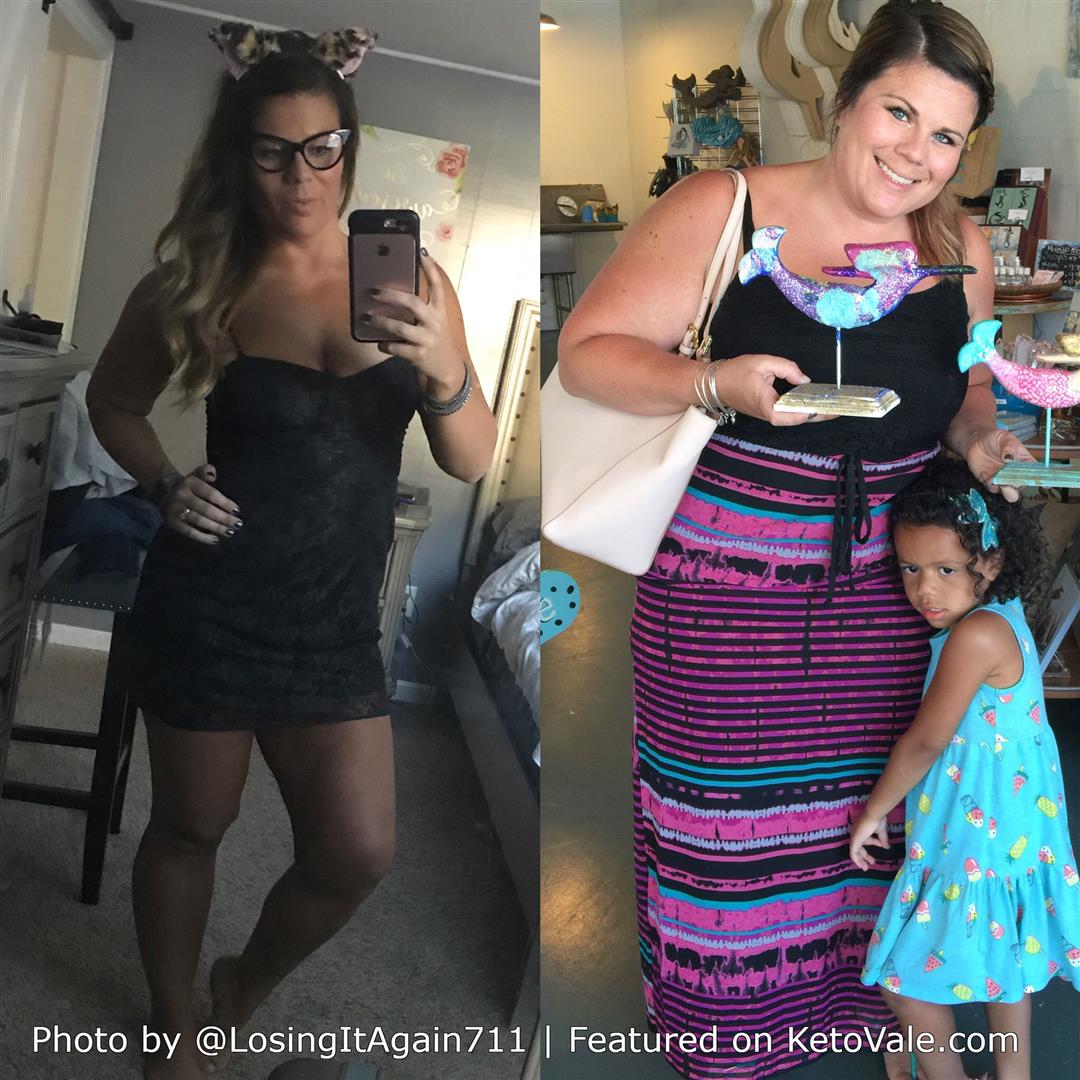 How has your life changed since going keto?
Since adopting the Keto lifestyle, I have more energy! I don't get sluggish after meals because I'm not loading up on carbs. Another bonus is that my cravings for sugar and carbs have decreased tremendously. I have tackled cravings, broken up with binge eating and overeating.
Do you count and track macros strictly?
In the beginning, I strictly counted macros using My Fitness Pal. I highly recommend it. It is a great accountability tool. I do not track my macros as regularly now.
Do you exercise?
I started weight training about 5 days a week when I started Keto. 6-7 days a week I lift, spin, run, or do plyometric workouts. I enjoy variety!
Have you ever encountered a plateau?
I have not hit a plateau. My body is constantly changing even when the scale isn't moving.
What is your WHY (your drive/motivation) to keep on track and stay focused?
My biggest "why" for staying on track is that I know how sluggish and bloated I will feel after too many carbs. I don't like that feeling. Also, in the past with other diets, I have fallen off the wagon and I know how hard it can be to get back on. I don't want to do that to myself again. I am happy eating Keto and I feel proud to honor the promise I made to myself.
What are your favorite ingredients to prepare keto meals?
I recently discovered how many uses almond flour has. I make "fathead dough" into pizza crust and bagels. These are yummy treats that keep me on track. I have found many delicious recipes on Pinterest.
What does your meal plan look like?
I keep my meals simple for the most part. Bacon and eggs. Protein and an array of veggies sautéed in extra virgin olive oil.
Is there any book or resources that you would recommend to our readers?
Pinterest has plenty of Keto recipes including crock pot meals, meal prep ideas, and desserts!
In one or two sentences, why do you think you are successful in this keto way of eating?
I have been successful because Keto helped me to break my carb addiction. I have learned to eat in a way that has my body feeling its best and I couldn't be happier.
Finally, What advice would you give someone who is just starting out on keto?
My best advice is simple: stick with it! Your body will stop craving sugar and carbs. Your energy will skyrocket. You will want to continue on the Keto eating plan to keep feeling great.
---
We'd love to thank Annamarie for sharing with us her amazing story. You can follow her journey on Instagram @LosingItAgain711 for more inspiration from her!