Keto dieters know that there is no reason to avoid pork in your diet. It's surprisingly lean and provides a good source of potassium, riboflavin, zinc, vitamin B6, thiamin, phosphorus, niacin and protein.
If you've never used meat in an air fryer, then this is going to be your new favorite recipe. Cooking in the air fryer is much quicker than the oven and the meat will turn out perfectly crispy. It works especially well for a drier meat, such as pork. This recipe for breaded pork chops in an air fryer is a must try!
To enhance this recipe, we use lots of delicious spices, including paprika, basil, cumin, chili powder, and garlic powder. These spices provide lots of healthy anti-inflammatory nutrients, such as vitamins, minerals, and phytocompounds.
For example, research shows that basil helps protect tissues and organs against stress from industrial pollutants and heavy metals. It also protects against physical stress due to prolonged physical exertion and exposure to cold and excessive noise (*).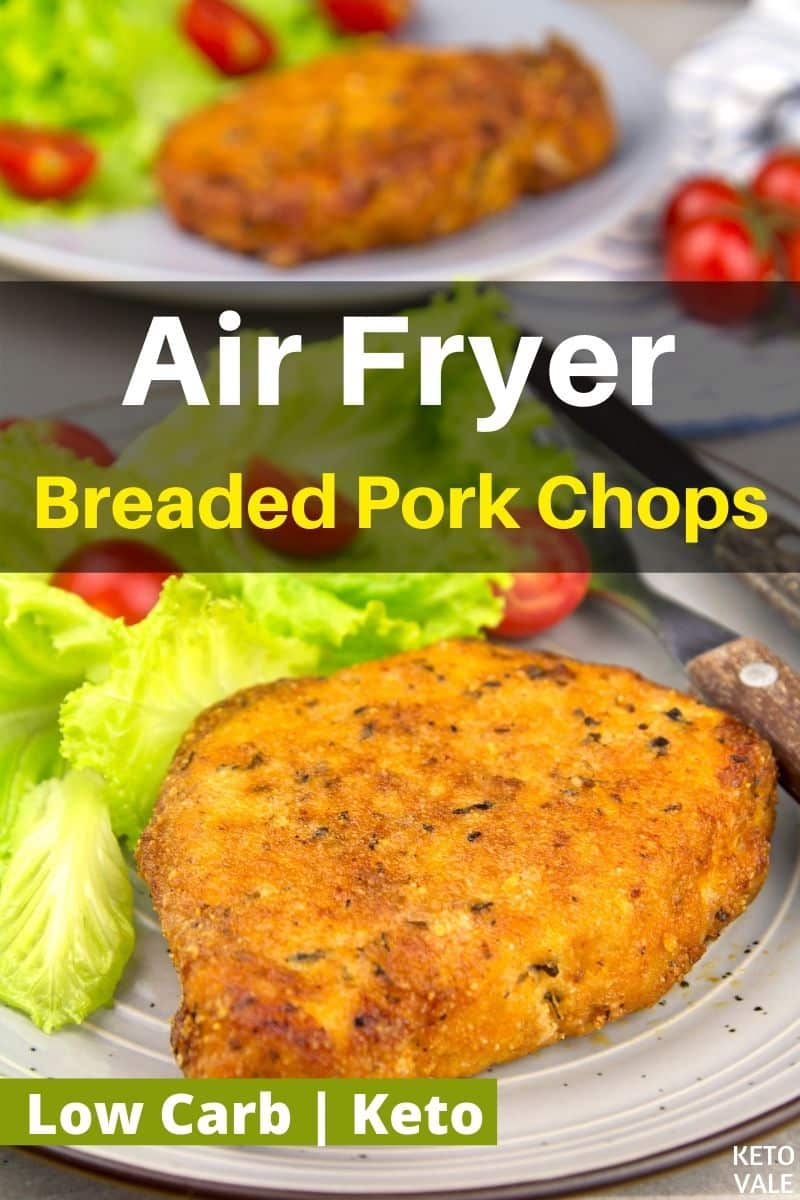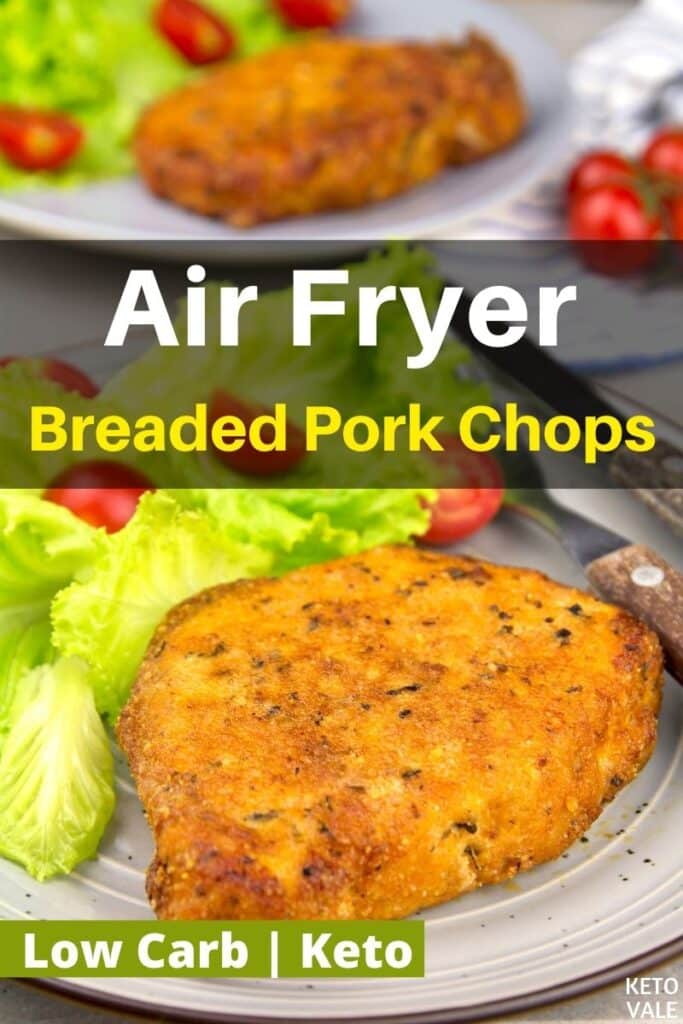 The same study indicated that basil helps normalize blood pressure and lipid levels, improves psychological stress through its ability to produce positive effects on memory and cognitive function, and contains antidepressant properties (*).
Lastly, basil contains anti-microbial properties that can be used to promote wound healing. When combined with other spices in this recipe, which have similar healthful compounds, this pork is practically transformed into a superfood!
Not to be forgotten, the fat from the cheese in this recipe helps you absorb all of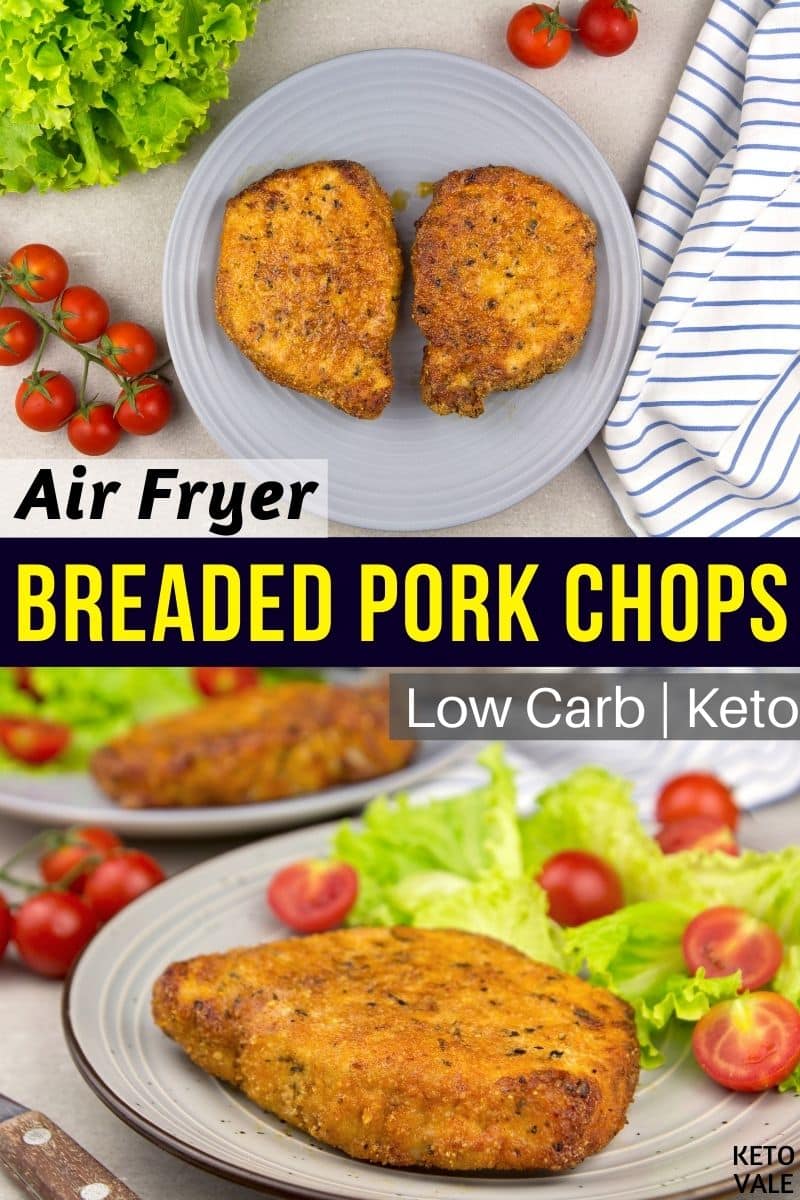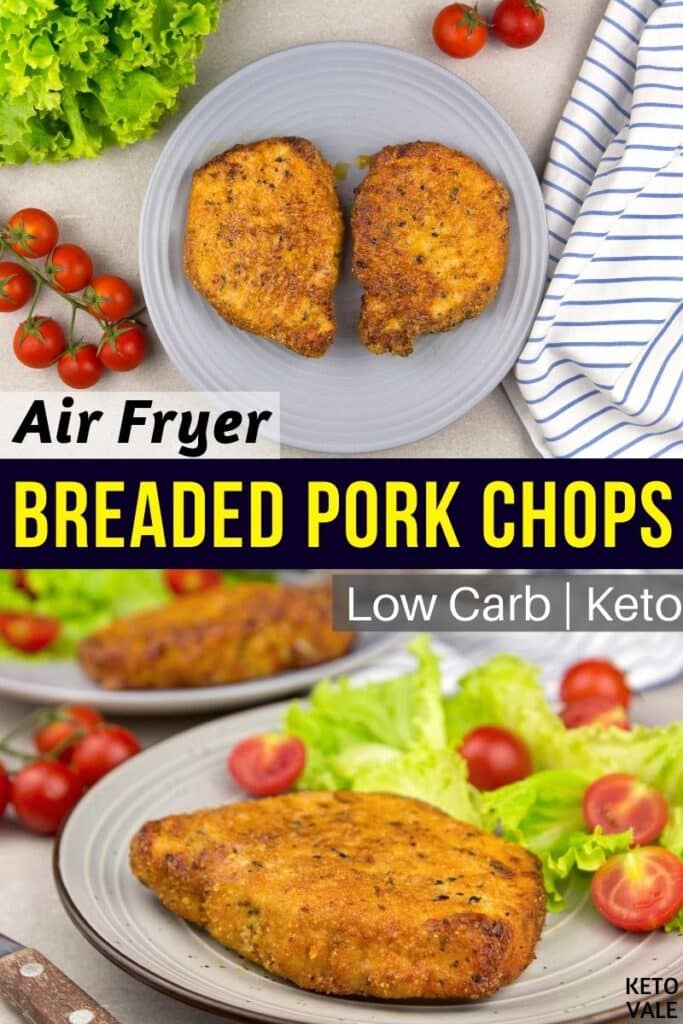 You can serve this recipe with your favorite low-carb vegetables, such as steamed broccoli, sauteed asparagus, or a side salad with olive oil and vinegar dressing.
---
Let's Do It!
Pat the pork chops dry and season with salt on both sides.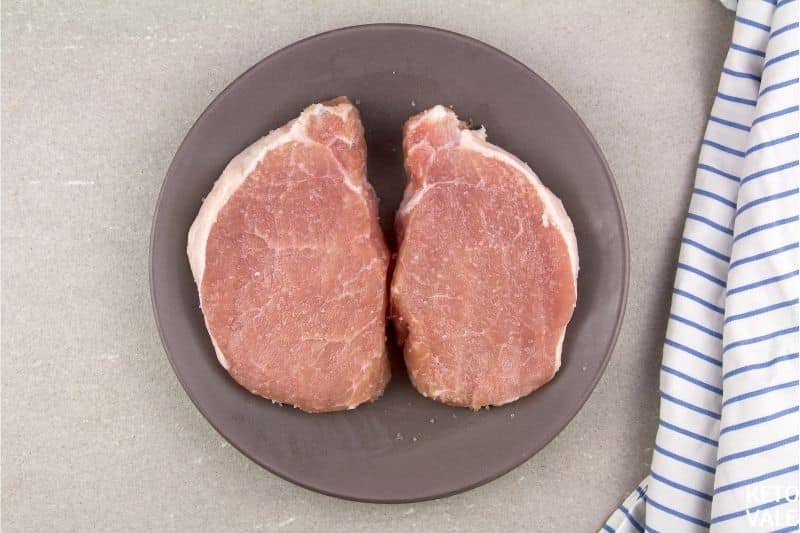 Mix the grated Parmesan, almond flour, and all seasonings in a bowl. This will be your low-carb breading substitute.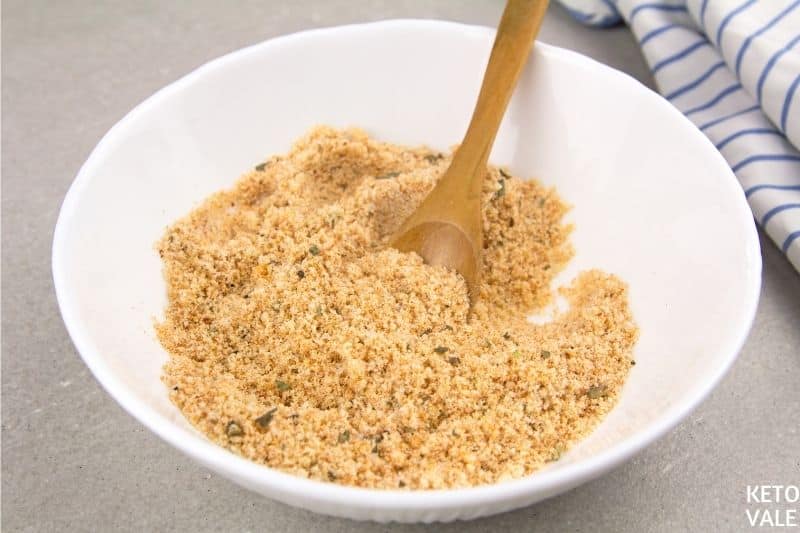 Beat the egg in a separate bowl. Dip each pork chop in the egg mixture and then coat with the seasonings mixture.
Set the pork on a plate and spritz with olive oil.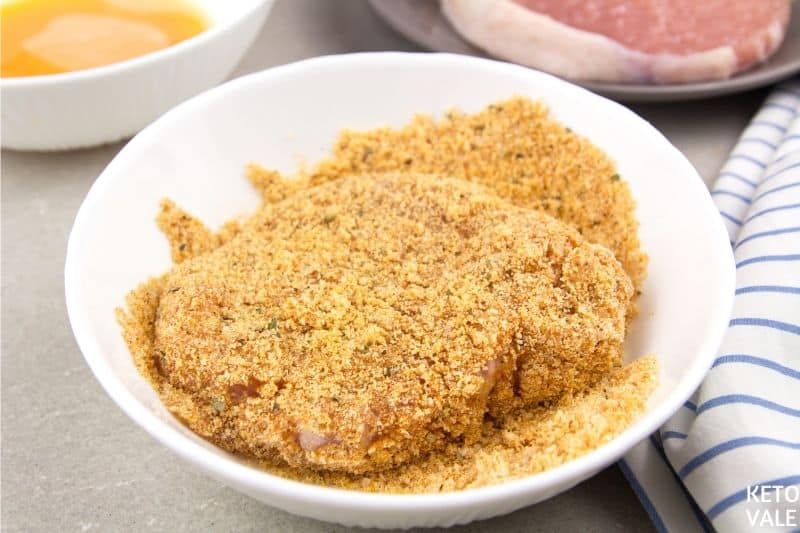 Cook for 10 to 12 minutes and flip the pork chops halfway through. Spritz with more olive oil when you flip them.
Serve warm with your favorite low-carb veggies.
More low-carb pork chops recipes you can try:
Keto Air Fryer Breaded Pork Chops
Try this low-carb and keto-friendly breaded pork chops coated with Parmesan and almond flour, cooked using an air fryer – a perfect meal for lunch and dinner.
Instructions
Pat the pork chops dry with paper towels and season with sea salt on both sides.

In a shallow bowl, combine grated Parmesan, almond flour, and all seasonings. Mix well.

In a separate bowl, lightly beat an egg.

Dip each pork chop into the egg then coat with seasoned Parmesan mixture and set on a plate. Spritz each pork chop with olive oil.

Preheat your air fryer to 375F. Grease or spray an air fryer basket with olive oil and arrange pork chops inside.

Cook for 10-12 minutes, flipping halfway through. Spritz with more olive oil when flipping.

Serve immediately with some steamed broccoli, leafy greens, or your choice of a low-carb side.
Nutrition/Macros
Nutrition Facts
Keto Air Fryer Breaded Pork Chops
Amount Per Serving
Calories 337
Calories from Fat 162
% Daily Value*
Fat 18g28%
Cholesterol 180mg60%
Sodium 1464mg61%
Potassium 530mg15%
Carbohydrates 4g1%
Protein 38g76%
Vitamin A 513IU10%
Calcium 201mg20%
Iron 2mg11%
* Percent Daily Values are based on a 2000 calorie diet.
Pin To Save This Recipe