Today we'd love to introduce you to Rehn Fell and her keto journey. Rehn started keto since April 2017 and now she has lost over 44 pounds and still counting. In this article, you will learn Rehn's story and many useful tips from her.
If you have a success story to share with our community, please let us know about it. We'd love to read your success story!
If you're new to the ketogenic diet and looking to get started, please check our guide and meal plan.
Without further ado, here's Rehn's story:
---
Please tell us your story:
I first heard about the keto diet through a coworker. I played around with the Atkins for a while in 2016, losing about 30 pounds but not really being too serious about it. A few months after losing the weight it piled right back on and even more so. During this time, I worked as a CNA (nurses aid) and had to be put on leave because my back hurt so bad. I began 2017 so incredibly unhappy about my body and how I was feeling. So I started to research again about ways to heal my body and drop some weight because I was so tired of how I was feeling and looking. I had seen so much success through my coworker with her keto diet that I researched and studied, made notes, watched videos, made lists, etc. Until I knew how to go about properly with the keto diet.
In April 2017 I began a 90-day keto diet challenge that I found on Facebook. I posted pictures and asked my friends to keep me accountable. I joined the gym again as well during this time. When the first week passed and I had lost 7 pounds I knew I could do this time. I meal prepped each week so that I wouldn't be tempted to eat what I shouldn't. I kept grocery trips simple and bought basic things within my budget to cook for the week. I began at weighing 274, and in one month had lost 30 pounds. There really was no magic trick. It took a lot of believing in myself, mind over matter, researching any chance I got in order to continually be motivated and have ideas, and keeping things super simple.
In August 2017, I weighed in at 230 pounds, and currently, I am hanging right around that mark while I continue to look for ways to improve the lifestyle.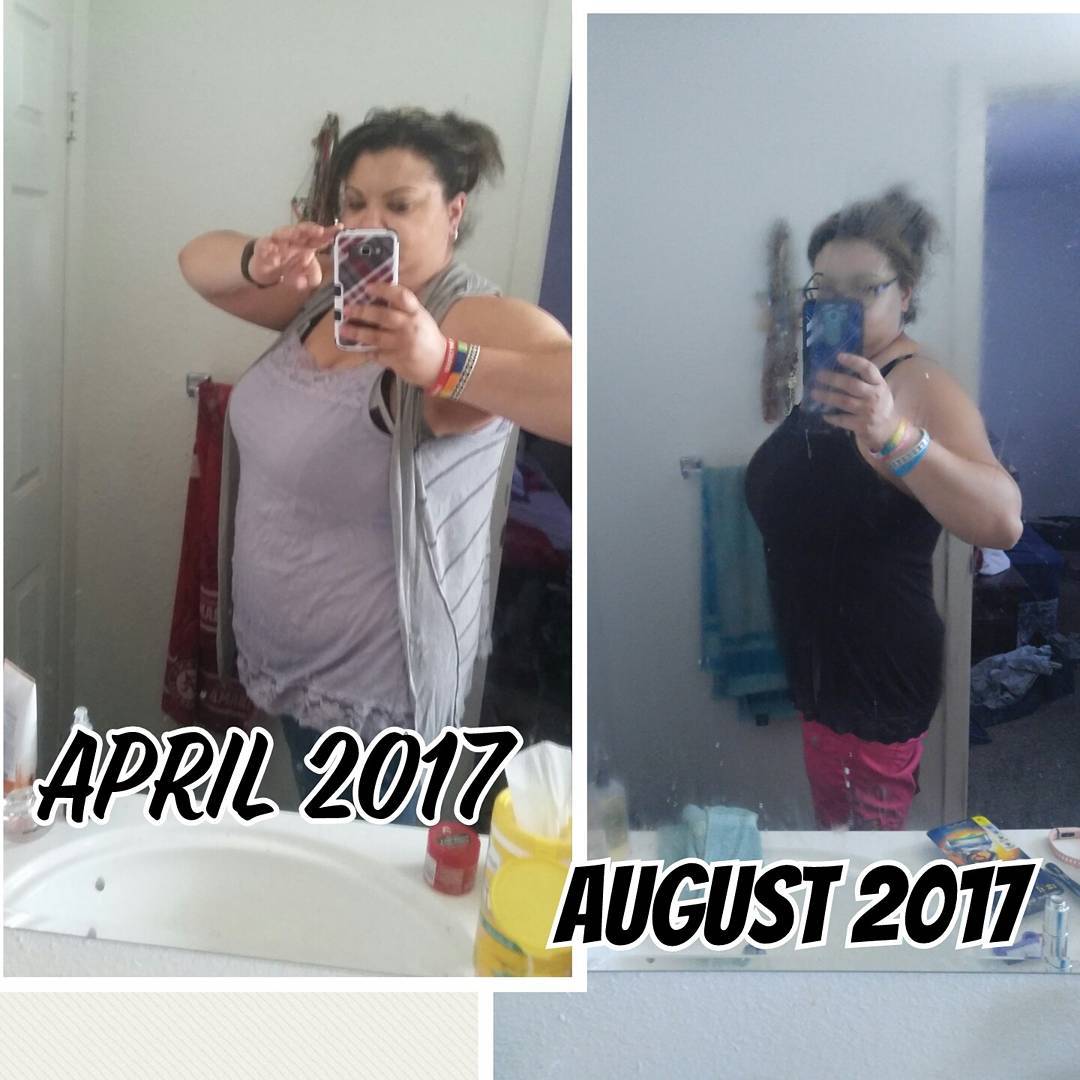 How has your life changed since going keto?
My life has changed so much for the better. Besides weight loss, I've gained some self-esteem back that was long lost. Digestion issues have improved. Skin issues like acne have improved. My overall mood is better and the energy I have is like I'm a kid again. I also have noticed a dramatic decrease in back pain and inflammation which was part of my reason for starting this lifestyle in order to get back to doing what I love as a CNA.
What did you personally do in your first 10 days of keto?
I drank lots and lots of water. I ate 3 meals and 2 snacks between the meals, and I actually wrote out how much water I drank throughout the day and kept it beside me. I kept track of macros in My Fitness Pal, walked for exercise and wrote on my hand "mind over matter" because I knew this would be hard mentally.
I drank lots and lots of water. I kept meals really simple: eggs for breakfast a snack of nuts and cheese or tuna salad with an egg, lunch was chicken and broccoli and dinner was some red meat and veggie. I curbed sweet cravings by flavoring my water. Or chewing sugar-free gum. The first few weeks are always the hardest but when I saw 7 pounds gone in one week I knew this would work.
Do you count and track macros strictly?
Yes. I keep track in my fitness pal and have it set to my goals. I'm still learning and some days I may be a little less strict but that is one way to hold my self-accountable.
Do you exercise? If yes, what's your workout routine like?
Yes. I do a warm-up of 5 to 10 mins of cardio usually the stair stepper and then have my days split into a routine, legs one day, shoulders one day, etc. I aim for 3 to 5 times a week. Of at least 1 hour of lifting and toning and some HIIT cardio.
Have you ever encountered a plateau? If so, how did you get over it?
Yes. I had heard so many people ate a few more carbs than normal and they had their fat whoosh. I did too, I had a burger with bread and fries and I noticed a few days later I was down a few pounds. It's not how I wanted to lose but it did help. Plus it made me realize how I don't miss that kind of food anymore.
What is your WHY (your drive/motivation) to keep on track and stay focused?
I don't give up because I see results daily. Once I started to live this lifestyle, the back pain I was experiencing practically vanished, which allowed me to work again as a CNA. And that keeps me going, because I don't want to feel how I did before, and I want others to be able to see that anyone can do this, no matter what is going on, and be successful.
What are your favorite ingredients to prepare keto meals?
Eggs, bacon, cheese, sour cream, ribs, steaks and broccoli.
What are your favorite keto meals/recipes?
If I'm not intermittent fasting in the morning, I'll do eggs and bacon or an omelet. Lunch consists of a meat and veggie, usually 3 oz of chicken and broccoli, and dinner a red meat and veggie. Any snacks I need during the day are nuts, beef sticks, or cheese or sugar-free jello if I'm craving something sweet. I stick to green tea, coffee with HWC, Iso amino creamer and MCT oil, and water, or flavored waters.
Is there any book or resources that you would recommend to our readers?
Keto Clarity by Jimmy Moore. I have learned so much throughout the book and I still listen to it almost daily in my car for tips, and just to soak in all the good nuggets he has from different people that specialize in keto.
Finally, What advice would you give someone who is just starting out on keto?
Don't give up. The first week or so is by far the hardest, but it is completely 100% worth it. The energy you will have and the mental clarity, weight loss, etc, far outweighs feeling horrible about yourself. Keep yourself accountable by a journal or log or family or friends.
---
We'd like to thank Rehn again for sharing her story with our community! You can find Rehn on Instagram at @rehn_1989 for more tips and inspiration.