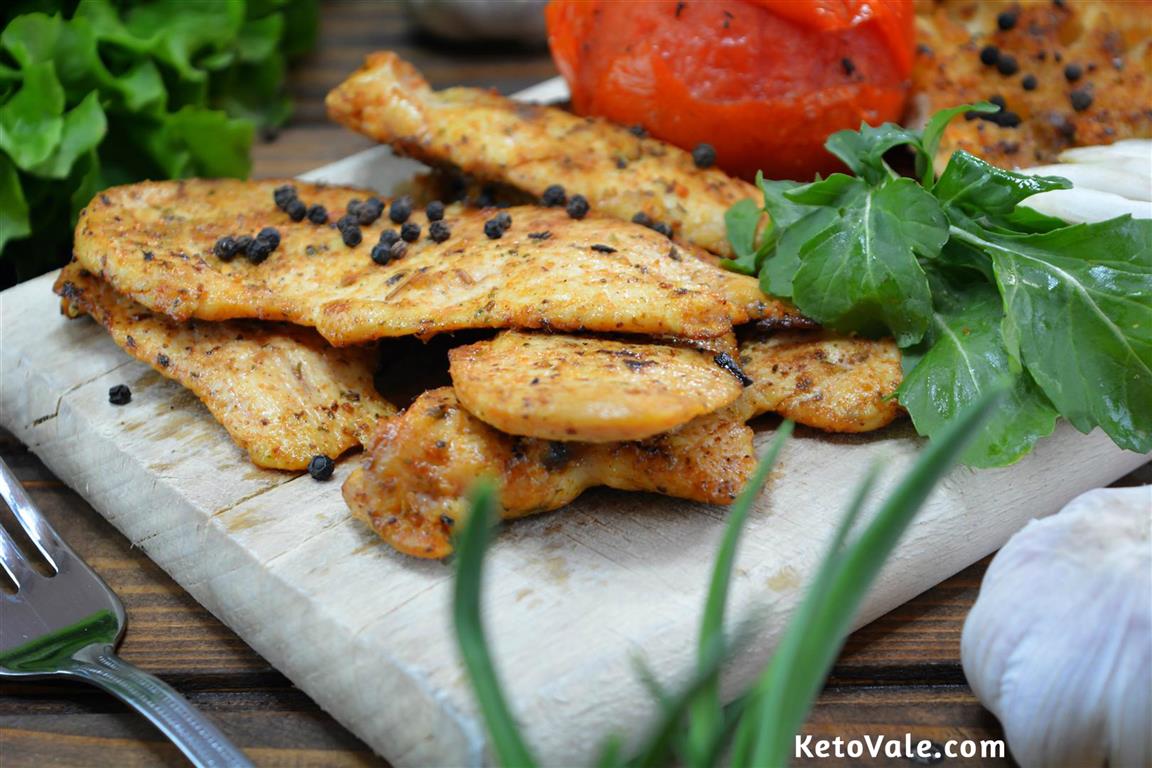 Roasted Pepper Chicken Fillets
These vibrant and somewhat spicy chicken fillets are a perfect opportunity to try something new and exciting. Thinly sliced fillets are marinated in the finest olive oil, herbs, and spices, and then roasted in its own marinade. Serve them warm or chill to a room temperature and use as a base for a wonderful chicken salad. Enjoy!
Receive Our Free 7-Day Keto Meal Plans + Weekly Recipes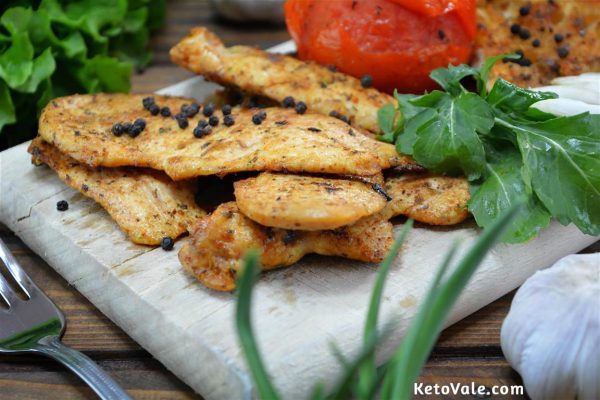 Rinse the meat under cold running water and pat dry with a kitchen towel. Using a sharp cutting knife, slice into approximately half-inch thick slices. Set aside.

In a medium-sized bowl, combine olive oil with lemon juice, chili powder, cumin powder, peppercorn, dried oregano, and sea salt.

Submerge fillets in this mixture and cover. Refrigerate for at least 30 minutes (up to two hours).

Preheat the oven to 350 degrees. Line some parchment paper over a baking sheet and set aside.

Remove the fillets from the refrigerator and transfer onto a baking sheet. Drizzle with the remaining marinade and bake for 10-15 minutes. Turn over and continue to cook for five more minutes.

Remove from the oven and serve immediately. Keep the leftovers in the refrigerator and use for your favorite chicken salad recipe. Just make sure to wrap them tightly in aluminum foil before refrigerating. This simple trick will prevent them from drying out.

Enjoy with your choice of law-carb salad!
Nutrition information per serving:
Macros: Kcal: 567, Protein: 24g, Total Carb: 0.9g, Net Carbs: 0.4g Fats: 53.5g
If you're not a big fan of spicy foods, or you simply avoid it, there are dozens of different but equally delicious marinade recipes.
1 cup oil
¼ cup apple cider vinegar
2 tbsp freshly squeezed lemon juice
1 tbsp salt
½ tsp freshly ground black pepper
2 tbsp thyme
1 tbsp garlic powder
3 tbsp Greek yogurt
Whisk the ingredients together and use to marinate the meat.