Today we are so delighted to share with you another keto success story from Mina Johnson. Mina has lost over 160 pounds, reversed diabetes, lowered her cholesterol and balanced her thyroid. Her life has completely changed thanks to keto!
In this article, you will learn Mina's story and how she was able to transform her life.
If you're new to the keto diet and wondering how it works, feel free to check this keto guide for beginners here and sample meal plans here to learn more about keto.
If you have a success story to share with our community, please get in touch and let us know about it. We'd love to read your story!
Without further ado, here is Mina's story:
---
Please tell us your story: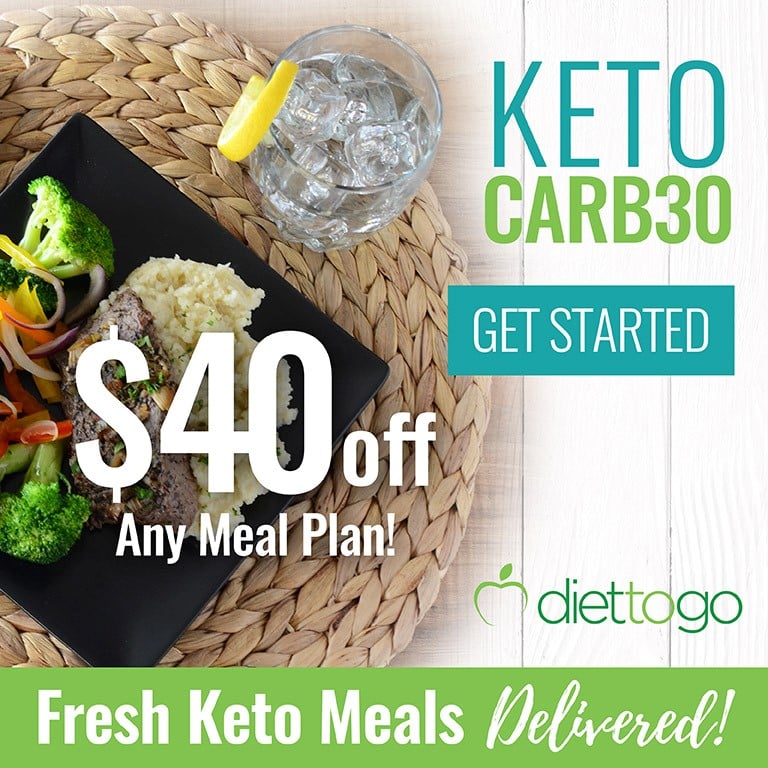 I have been obese since my 20s but last summer was difficult for me. I was struggling. I was barely sleeping, had anxiety and felt as though each day I was trying to dig out of a black hole.
In September 2016 I was diagnosed with Hashimoto's disease, high cholesterol and pre-diabetic. I was placed on meds and began to feel better when I took a leap of faith and began my journey to a healthier me on February 6, 2017, at 412 pounds.
I needed to find a way I could eat that made me feel good but that I could sustain as a lifestyle. I never wanted to "diet" again! So, for the month of February, I did the Whole30 plan where I just ate real food, nothing processed as I knew my body needed a reset until I could figure out all my next steps. By the end of the month, I started to feel better and I began to figure out what my body liked and didn't like.
I continued to do more research and that's when I stumbled across the Keto diet. So I started slow because it was a completely different concept then I was ever taught. It felt "off" to eat more fat but I continued to explore. I did then see a naturopath who talked to me about good fats, MCT oil, bulletproof coffee, and vitamins.
It was a turning point for me when I had my first bulletproof coffee. I liked the way my body felt eating while on the Whole 30 (clean) and so I wanted to continue that and incorporate it into a keto lifestyle. Today, I eat a fat-fueled, grain free, mostly dairy free keto diet. It works for me and my body. I began to exercise at the end of March 2017. It was a very slow start but I kept at it and did what I could.
At exactly 8 months into my journey, I lost 100 pounds. It was surreal. On February 6, 2017, at 412 pounds if you had told me that I would have lost 100 pounds, reversed diabetes, lowered my cholesterol and balanced my thyroid, I wouldn't have believed. In Dec 18, 2017 I was down 124 pounds and still going.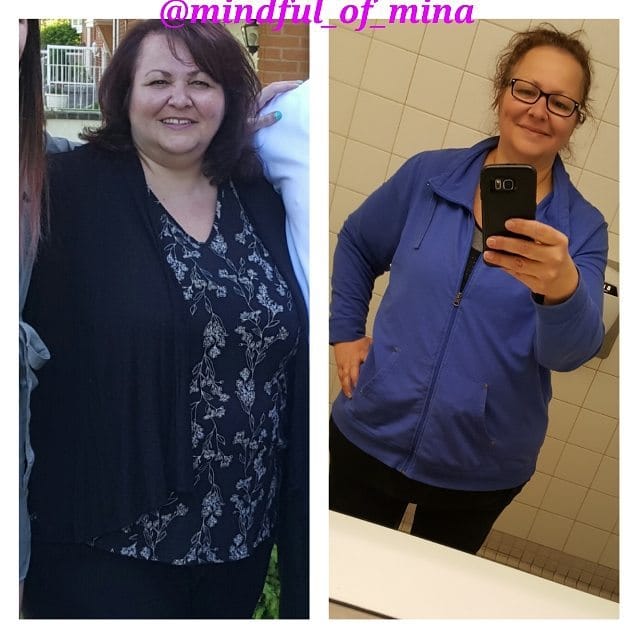 Currently I'm down 160lbs from starting weight at 412 lbs (Feb 2017) to now at 251.4lbs. Here's my latest before and after comparison: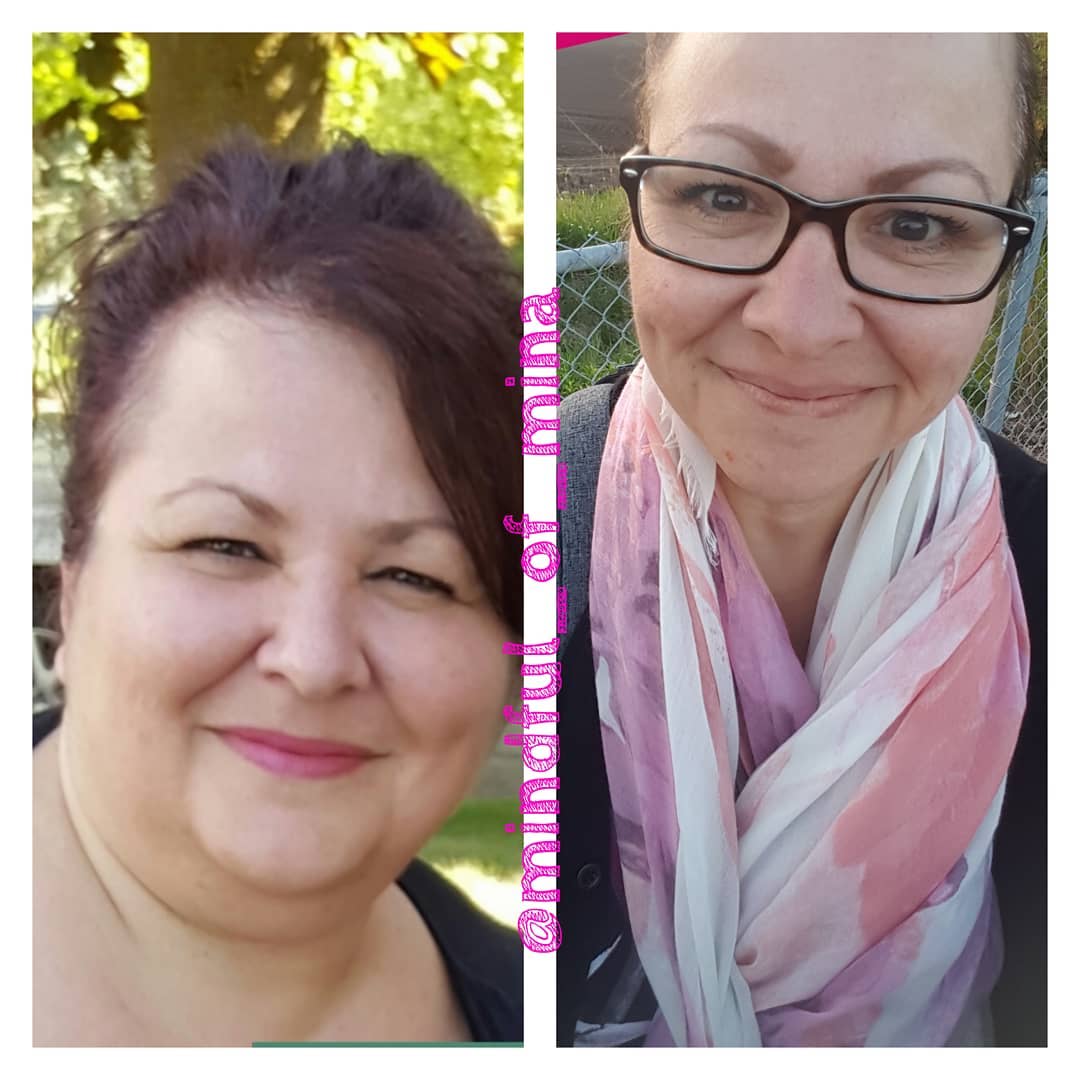 How has your life changed since going keto?
So much has changed. Yes, I look different and feel different. It is just easier to do normal tasks we take for granted like laundry or getting out of the car. I have more stamina to keep up with my family. I am so thankful to have my health back. My doctor and I danced when my A1C1 blood work came back normal. But I am super happy to have "me" back. I am now happier, more confident, willing to face my fears and take on challenges. I also suffer from anxiety but now I'm more mindful of me and my feelings and my reactions.
What did you personally do in your first 10 days of keto?
The first few days of keto, I read a lot. I searched online, I looked at social media and I read what I could to figure this all out. I also know I had a problem with food so I started tracking my food in My Fitness Pal. I did a lot of souls searching as well those first few days and knew that in order for me to be successful I needed to change a lot of things, not just eating.
Do you count and track macros strictly?
Yes, I do. I do track my calorie intake using My Fitness Pal and I do track my macro's however, I use the macros as a guideline. Meaning, I'm not bothered if I don't hit my fat macros or protein macros or whether I eat 200-300 calories more on a particular day, but I am very careful to never go above 20 net carbs a day.
Do you exercise?
Yes! I joined my town's leisure center in March 2017. I started really slow. At 412 pounds, I could barely walk around the track when I first started. But with the help of the gym trainers and my families support, I slowly began to do more.
Now I do go to the gym at least 5x a week and to be honest with you I love taking classes! I love bootcamp, kettlebell, Zumba, cycling, Pilates, yoga etc. there really isn't a class I don't like. I like exercising in a group both to be social but because it pushes me. At first, I was so afraid to just start, but with the wonderful trainers at my gym, they modified what I couldn't do and slowly I kept getting better.
Have you ever encountered a plateau?
I haven't hit a plateau yet. But one thing I learned is that you need to learn and listen to your body. Everyone's body is different and especially for women, I think our hormones play a huge part in our weight loss and how we feel. I have also learned that stress for me, causes me to hold on to weight as well as inflammation. But there are some weeks where I will lose 5 pounds and there are other weeks that I will lose 0. It wasn't easy, but I had to learn to be okay with it.
I have learned to trust the process. If you are eating right and exercising and truly being honest with yourself then I keep telling others, just stay the course, the weight will follow. Also, stay away from the scale. It was messing with my head, so I gave myself a weigh-in day. I now only weight every Friday morning. I like to weight in as a guide to make sure I'm still on track but weighing in every day was stressing me out so I had to stop that immediately.
What is your WHY (your drive/motivation) to keep on track and stay focused?
There are so many WHYs that help me keep on track and stay focused. Just before I was diagnosed with thyroid disease, I went through a very difficult time. I was unaware that the thyroid can affect so parts of your health. My anxiety was so high and I was struggling so much, that I never want to feel that way again. I think my success in staying motivated and focused has been my journey of mindfulness. I have spent a lot of time during this journey working on myself, figuring out what triggers me to eat, what makes me happy and what doesn't.
My drive comes from "seeing" what I have accomplished to date. My favorite quote is "she remembered who she was and the game changed". Taking the time and continuing to take the time to find me is what has helped me a lot.
I also think it's a mindset. I never viewed KETO as a diet. By that I mean, restricting myself until a certain timeframe etc… I really took this on as a lifestyle change. So for example, when I go out to dinner, I don't do cheat meals. I don't do cheat meals because I don't eat grains, because they don't make me feel good, so why would I eat rice so I feel bad. So I may splurge and eat more then I should (like at an all you can eat Japanese restaurant) and that means eating more calories for the day, but it doesn't involve me eating off keto.
Having a support system has been critical to my success. This journey is not easy when you are a wife and mother and working long hours. I could not have done this without the support of my husband and daughters. I also found a wonderful support system through Instagram.
I started my own page (@mindful_of_mina) to capture my journey and through that have met some wonderful people that I have learned from and shared with and finally, I really cannot thank all the trainers at leisure center enough. From those that I have personally trained with or taken their classes or just those that offer a friendly smile or high five while walking past me – their encouragement and support is something that I will always be so grateful for.
What are your favorite ingredients to prepare keto meals?
Being Keto, and eating more fat a few of my favorite ingredients are:
Fats: avocado, olives, MCT oil power, olive oil as my go-to fats.
Protein: any meats, eggs, collagen
Veggies: big salads and zoodles
What are your favorite keto meals/recipes?
A few of my favorite meals are big salads topped with protein, olives, avocado, veggies and ranch dressing. I would be completely dairy free if it wasn't for ranch and Caesar dressing.
My breakfasts always consist of coffee with MCT powder and collagen. Although I am the only one Keto in my family it was easy to transition. I cook 1 meal for all of us – but for them, I may make a side of rice or any other starch. I keep meals simple – usually meat, veggies, and fat. A few of my favorites are taco salads, chili, chicken wings, and "zoodles" and meatballs of course with a big salad.
Are there any books or resources that you would recommend to our readers?
I would highly recommend Leann Vogel's, Healthful Pursuit "The Keto Diet" book.
I also would highly recommend Instagram. There is a wonderful Keto community there where you can learn from others, share your journey and ask questions (you can find me at @mindful_of_mina)
In one or two sentences, why do you think you are successful in this keto way of eating?
I learned that success comes from consistency and that it is important to truly believe that every little baby step forward will lead to big change.
Finally, what advice would you give someone who is just starting out on keto?
My advice would be to start where you are, take your time, and listen to your body when finding the keto that works for you as a lifestyle change and move as little or as much as you can. It will all add up. Believe you are worth this change.
---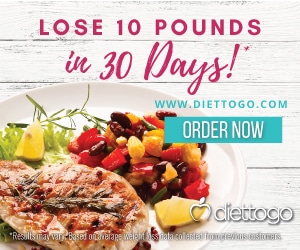 We'd like to thank Mina again for sharing with us her keto journey and tips. You can follow Mina on Instagram at @mindful_of_mina for more tips and inspiration from her!