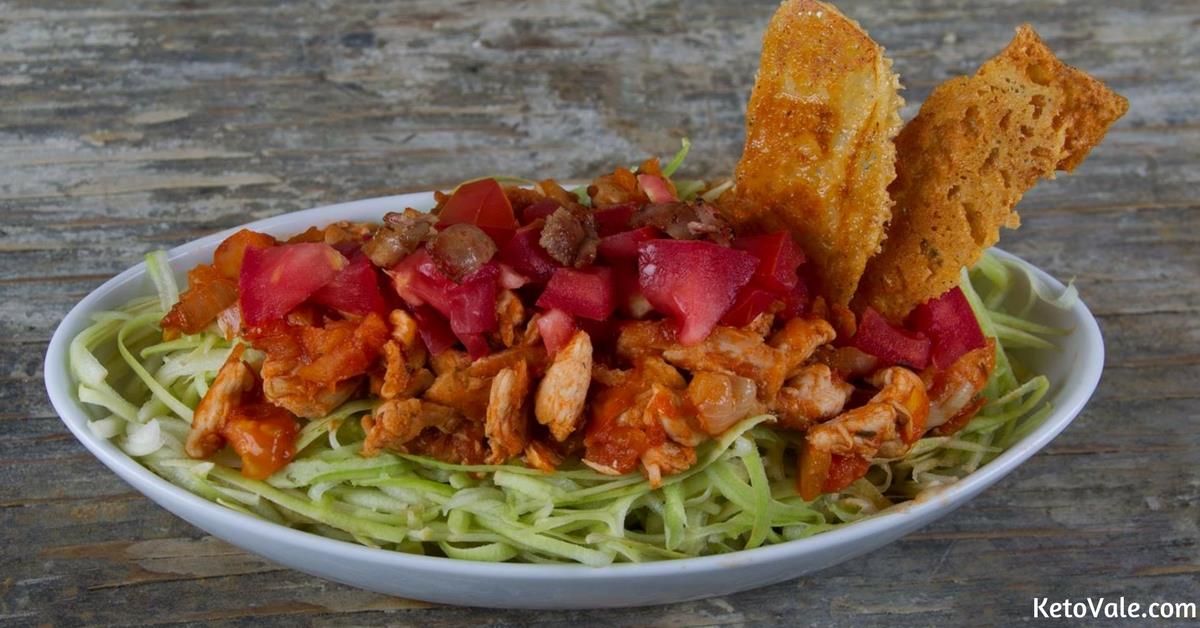 Zucchini Pasta With Chicken
If you need a healthier and grain-free alternative to standard pasta, you can use zucchini noodles. These noodles (zoodles) are very low carb, easy to make and taste excellent.
In this recipe, we will serve the zucchini pasta with chicken meat. To make the chicken saucy, you can add fresh tomato cubes and stir-fry it with the chicken until the tomato breaks down and releases juice. Altenatively, you can use marinara sauce any low carb tomato sauce to add to this pasta.
Be sure to save this recipe by pinning this picture to your Pinterest board for later use!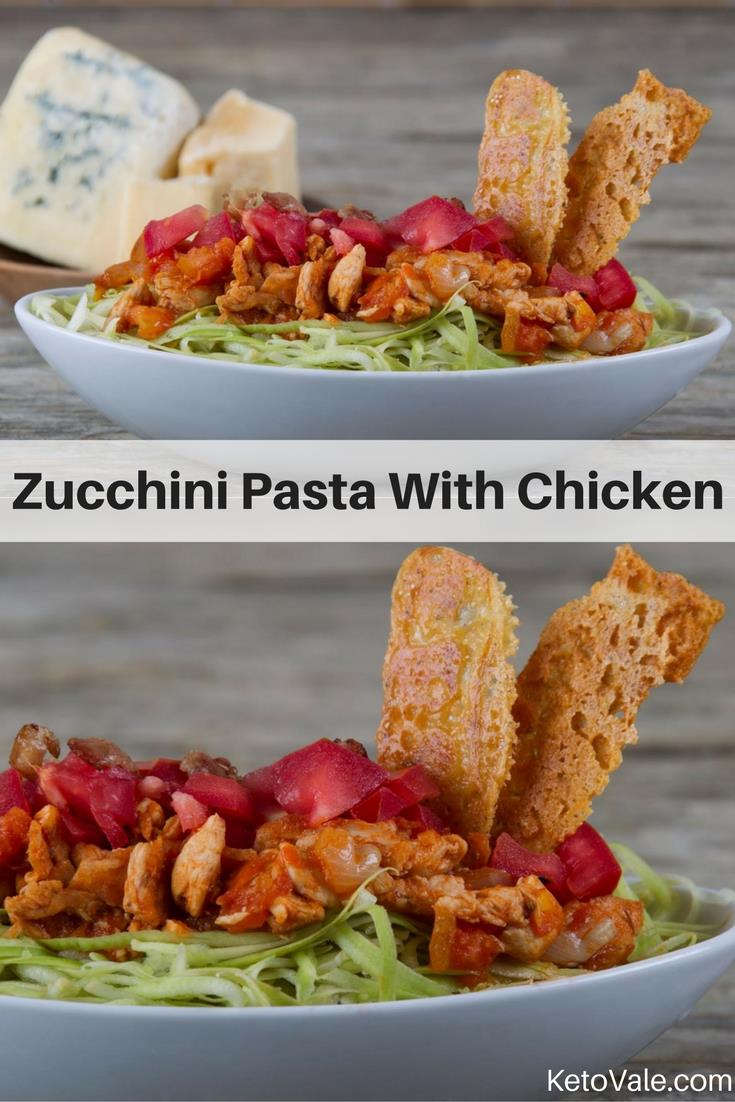 Don't have tomato sauce or fresh tomato either? No problem! It still tastes delicious without the sauce. You can keep it simple by having fried chicken on a bed of zoodles.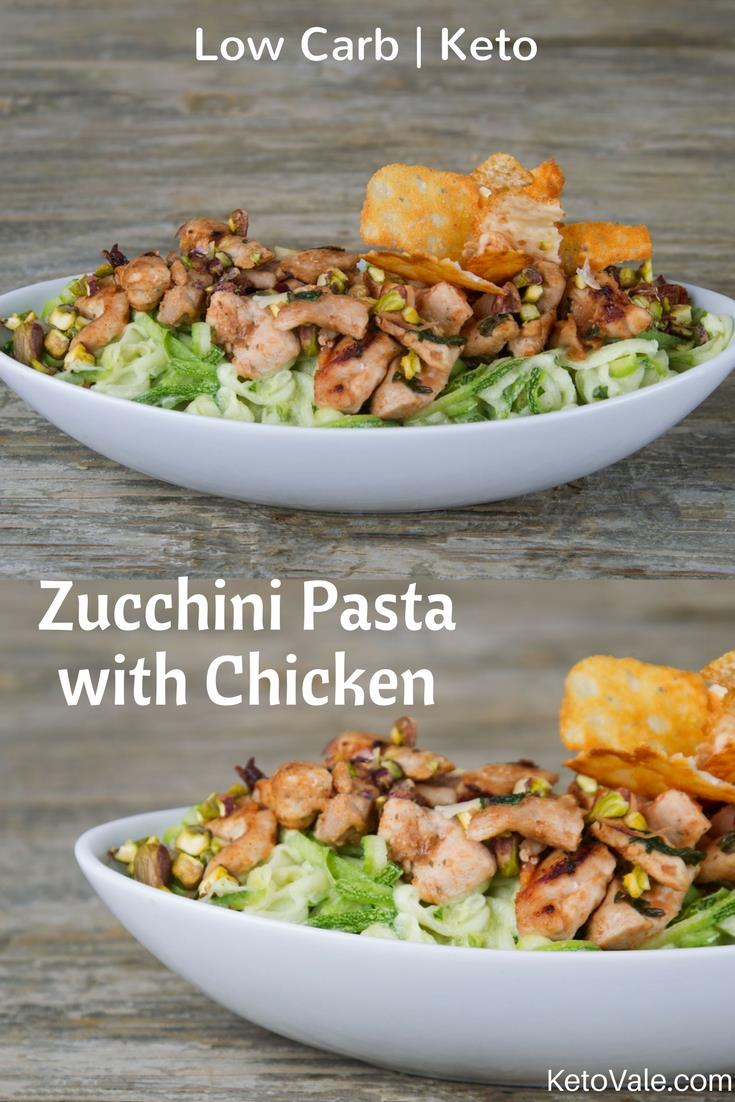 You can also cook the zucchini noodles in the chicken mixture and stir until the noodles are coated evenly. You can also add mix the noodles with pesto sauce.
Related: Zucchini Noodles With Meatballs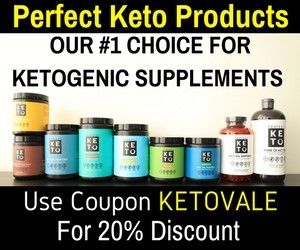 Receive Our Free 7-Day Keto Meal Plans + Weekly Recipes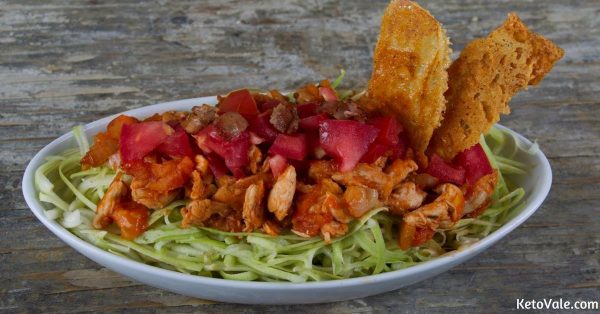 2

oz

chicken breast

1

large zucchini

2

slices

cheddar cheese

1/2

small onion

1

tomato

2

cloves

garlic

minced

2

tbsp

olive oil

1

tsp

black pepper

1

tbsp

chopped cilantro

salt

to taste
2

oz

chicken breast

1

large zucchini

2

slices

cheddar cheese

1/2

small onion

1

tomato

2

cloves

garlic

minced

2

tbsp

olive oil

1

tsp

black pepper

1

tbsp

chopped cilantro

salt

to taste
Cut chicken breast into small strips and marinate with salt, pepper and garlic minced.

In a large skillet over medium heat, sautee the chicken in olive oil until it's cooked and tender (5 to 7 minutes).

Add the onion and tomato and cook for another 3 minutes to make it saucy and juicy then remove from heat.

Cut the ends off the zucchini then push along the top of grater in order to create long, thin ribbons of zucchini. Turn zucchini over and continue slicing it until finish without using the seeds. (You can also spiralize your zucchini using a spiralizer).

Put the zucchini spaghetti in a pot with boiling water for a minute and drain. You can also stir-fry the zucchini in olive oil for 2 minutes instead of boiling it.

To make cheese crisps, fry cheese in a heated skillet until it melts and the edges turn golden brown

Add the spaghetti on a plate then add the chicken, cheese crisps and chopped cilantro as well as tomato slices (optional)
Macros (per serving): Calories: 409 kcal – Fat: 26.5 g – Net carbs: 7.8 g (total carbs: 10.9 g, dietary fiber: 3.1 g) – Protein: 33.6 g