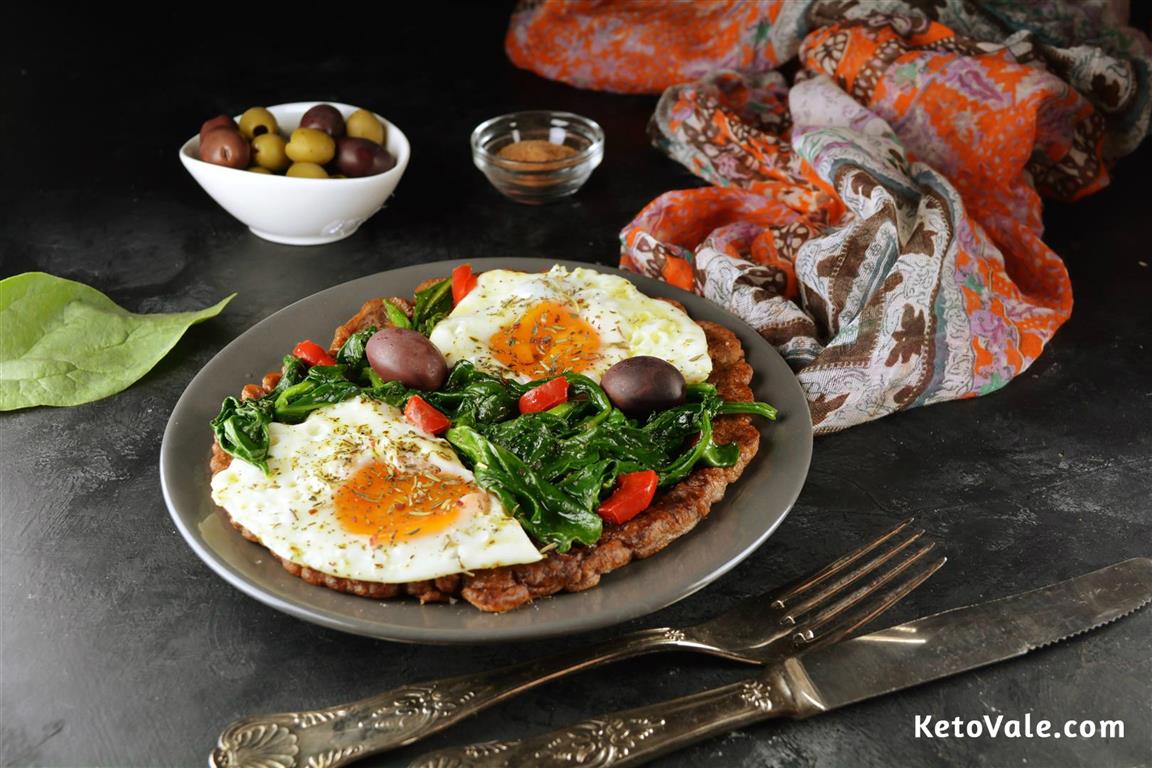 Poached Eggs with Spinach and Pancake
I wanted to turn this somewhat typical breakfast option into a true culinary delicacy. Healthy spinach with a gentle garlic touch is combined with vibrant Italian recipe for poached eggs. Optionally, serve with some kalamata olives or red bell peppers. However, there is another way of serving these eggs. Top with some Greek yogurt and cream cheese and chill in the refrigerator. As you will see from the final product, I also serve it with a pancake. I will show you how to make those pancakes below. I promise you'll enjoy it!
Receive Our Free 7-Day Keto Meal Plans + Weekly Recipes
Poached Eggs with Spinach
Instructions
Heat up the oil over medium-high heat. Add chopped spinach and season with some salt and garlic powder. Give it a good stir and cook for 5 minutes.

Gently crack eggs and season with dried oregano, dried rosemary, and the remaining salt. Cook until completely set, for 5 more minutes.

Remove from the heat and optionally serve with a couple of kalamata olives or chopped red bell peppers.
Notes
Nutrition information per serving:
Kcal: 269, Protein: 8.5g, Total Carb: 4.7g, Net Carbs: 2.3g Fats: 25.2g I'm obsessed with different keto pancake recipes. They are my number one serving option for eggs, sautéed vegetables, or grilled meat. For this pancake in the photo, you'll need:
2 oz cream cheese
3 eggs
1 tsp salt
¼ tsp freshly ground black pepper
1 tsp garlic powder
1 tbsp almond flour
¼ tsp powdered stevia
5 tbsp oil
Preparation:
Whisk together eggs and cream cheese. Transfer to the mixing bowl and season with salt, pepper, and garlic powder. Add almond flour and stevia and beat well on high speed – for three minutes. Grease a large pancake skillet with some oil. Preheat over medium-high heat and add about two tablespoons of the batter. Cook until completely set on one side, for 2 minutes. Flip carefully with a thin spatula and cook for one more minute. This mixture will give you 4 pancakes with 1.1 grams of net carbs per pancake. These are really worth your time! Enjoy!