For some people, one of the hardest things about following a diet is finding the time to shop and cook. Work, school and family obligations can often prevent you from shopping when you need to.
And even when you do find the time to shop, there are endless temptations that may influence you to buy something you shouldn't. This is where a meal delivery service comes in handy.
Meal delivery services are designed to make grocery shopping convenient by bringing your food directly to your front door, so you get the right keto-friendly groceries you need without stepping foot in the store.
As you can imagine, this type of service has tons of benefits, especially if you're new to the ketogenic diet and don't necessarily know what to buy.
In this guide, you will learn why you need to try a keto delivery service as well as a list of the best ones we've found so you can pick which one is best for you.
In a rush? Check out our #1 choice here!
Benefits of Meal Delivery Service
A keto meal delivery service is a bit like ordering food and having it delivered to your house, only the food doesn't always come cooked or ready to eat, and you are still responsible for preparing your own meals, usually by heating in the microwave or baking in the oven. This varies from company to company.
With these services, it doesn't take time and effort to head to the grocery store every week and stock up, which allows you to be more productive in other areas of your life.
If you've never tried keto before and want to learn what it's all about, then a keto meal delivery service can take all of the guesswork out of your shopping.
You won't have to worry about what's allowed on the keto diet because it will be hand-picked for you and delivered right to your door.
Here are some of the best reasons why you need to try a keto delivery service today:
It frees up the time you usually spend grocery shopping. No long lines or frustrating wait times.
You'll be more likely to utilize the food you buy, which means you'll waste less.
No temptations to buy something that isn't keto-friendly.
No more guessing whether or not a food is keto-friendly.
Many services come with keto recipes to help expand your menu so you'll never get bored.
Great for anyone who is time restricted or doesn't want to shop with kids in tow.
You'll have access to all the latest and greatest keto products to help you stay in ketosis.
Did we mention that you can have everything you need delivered right to your house so you never have to step food in a grocery store again?!
A List of Low Carb and Keto Meal Delivery Companies
Meal delivery services are still a relatively new idea, so there might be some kinks that need to be worked out. For example, you might find a service you like but then find out that it doesn't deliver in your area. Or they do deliver, but you have to make the recipes yourself.
Some of the meals provided by these services are low carb and might not be strictly keto. It's best to read the ingredients listed on the menu and contact them if you need to personalize your meals or talk to them about your allergies and preference.
Here are the list of keto delivery services we've found and everything you need to know about them.
---
Diet-to-Go
Diet-To-Go offers a meal delivery service for several different meals, so you'll want to make sure you're checking out the ketogenic section when you visit the website.
To get started, the website asks for your height and weight, which is a bit on the personal side- but hey, we get it. The Keto-Carb 30 plan is the one you want. It features a classic, carb-restricted menu plan with meals that include meat, cheese, and eggs.
The website claims that all meals are designed to provide you with only 30 grams of carbs each day. You'll be avoiding fruit, bread, sugar and pretty much all carbohydrates on this menu, which is perfect for a low carb diet.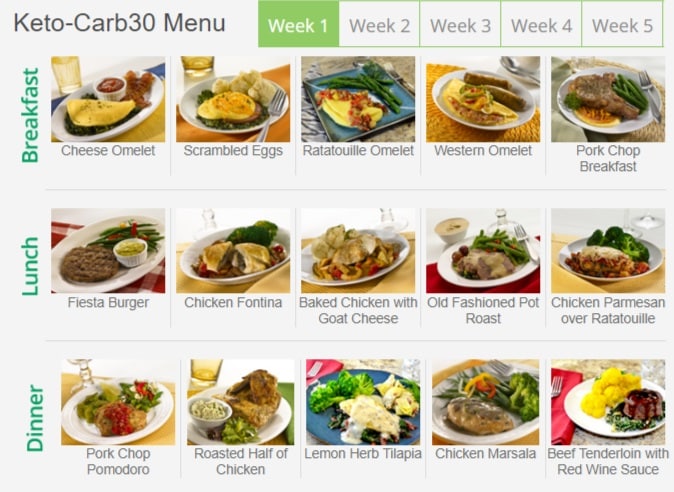 How It Works
To get started on the Keto-Carb 30 plan, you can pick your breakfast, lunch and dinner meals for up to five weeks. After you pick your meals, the website gives you a chance to customize them. Pricing depends on your zip code due to delivery charges, but the website offers 15 percent off with your first purchase.
You can enter your zip code to see if the service delivers in your area. If it does, it will give you an estimate of how soon the food will arrive after you place your order. The meals usually ship the day after you order them and you can expect to get them within three days of shipping.
Again, this depends on where you live. There is also a shipping fee assigned to your area code that ranges right around $20 per shipment. But remember that you're paying for the convenience of cooked food that is being delivered right to your door. Not to mention, they have a team of nutritionists and health coaches that will help you with your diet advice and planning to achieve success.
After being asked a few initial questions about your preference, the website will throw out an estimate for one week's menu based on three meals a day.
When we tried it, this number was $204.59 for the entire week or a total of $9.74 per meal, which doesn't sound too bad. This includes 21 meals, including sides. After you input your address and other personal information, you'll be able to pick your menu items.
Here are some perks of the service:
You can switch menu plans or pause whenever you like
All meals arrive at your door ready to heat and serve; no cooking required
They offer flexible delivery so you can schedule a delivery when you're home when the meals arrive
10 percent off your first order
Suitable for those who want to lose weight
A team of health coaches and nutritionists available and ready to help you customize your plan to achieve faster results
Popular Keto Dishes
Here are some of the examples of food they offer on their meal plan:
Ratatouille Omelet
Pork Chop Breakfast
Baked Chicken with Goat Cheese
Beef Tenderloin with Red Wine Sauce
Old Fashioned Pot Roast
Andouille Sausage
Indian Turkey Tenderloin
Spicy Salmon and Spinach Salad
Turkey Steak in Lemon Herb Sauce
Kale & Swiss Frittata
Veal Parmesan
Boston Cod in Lemon Herb Sauce
Beef Short Ribs
Tilapia Veracruz
Chimichurri Salmon
Spicy Ham and Egg Sofrito
Chipotle Flat Iron Steak
Delivery Area: United States of America
Current Special Deals: Click here for $40 OFF! ($40 Coupon Discount Applied Automatically At Checkout!)
If you want to learn more about their service, don't forget to read our Diet-to-Go review!
---
Green Chef
Green Chef is a USDA organic food delivery service that offers a few different menu plans, so you'll want to make sure you're ordering from the keto section when you visit the website. This service provides premium, delicious ingredients and chef-inspired recipes delivered weekly to your door.
You can get a two-person plan with three dinners for two people (six meals total) delivered weekly starting at $12.99 per meal. All meals can be prepared in 30 minutes or less.
The website offers a new menu every week, and you can skip weeks or cancel anytime you want. All packages are delivered in an insulated box, so you don't have to be home when they arrive. The website also offers two free meals within your first week, which is a nice sign-up perk. Here's what you need to know about Green Chef.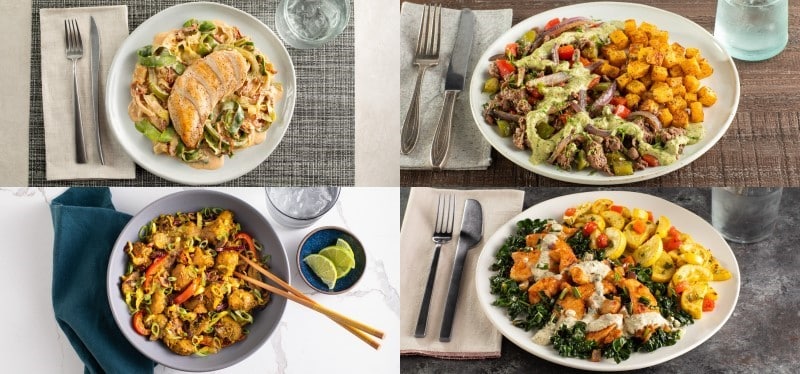 How It Works
Green Chef is a weekly delivery service, but you can also get shipments every two weeks or four weeks depending on what setting you choose. All recipes come with instructions and everything you need to make your own meal.
Unlike the other keto services on this list, the dishes are not already cooked, and you'll have to make it on your own, but this means they will be fresher as a result.
Once you sign up, the website claims that you can cancel anytime hassle-free, so it sounds like you'll be charged for your weekly (or bi-weekly or monthly) deliveries, depending on what service you have.
Each time you get a shipment, it will come in a box that includes all organic ingredients. None of the meats or veggies that you get will contain pesticides, GMOs, antibiotics, growth hormones, or steroids.
All ingredients are prepped and proportioned for you, so you won't waste a thing (like you would if you went to the store and got everything you needed to make a recipe). Sauces, spice blends, and marinades are pre-made, so you don't have to worry about those.
Each recipe comes with step-by-step instructions, and all meals can be made in 30 minutes or less, which allows you to learn how to cook your keto recipes. You can get a two-person plan or a family plan. The family-plan contains two dinners for a family of four served family-style for kids and parents. There are eight meals total per box. Meals on the keto plan start at $12.99 per meal, and this doesn't include a $5.99 shipping fee.
You can have Green Chef delivered anywhere in the continental United States. They don't deliver to Hawaii, Alaska or certain parts of Louisiana. Before you sign up, make sure the website can reach you. Boxes are delivered Monday through Friday.
You can choose when you want to have your shipment arrive. They don't deliver on weekends, and you can expect to get your shipment by 8:00 pm, depending on the carrier.
Here are a few examples of meals on the keto plan:
Chicken "pappardelle" alfredo made with zucchini noodles, bell pepper, sun-dried tomatoes
Roasted sausages & sauerkraut made with caramelized mushrooms and onion, kale slaw
Seared cod with creole aioli made with bacon, red bell pepper & grape tomato hash
Merguez Chicken
Mustard Pork
Sesame Tuna
Delivery Area: United States of America
Current Special Deals: Click here!
---
True Fare
True Fare is a meal delivery service that specializes in the Whole30 diet, but they do have a low-carb, keto-friendly meal delivery service as well. The ordering process is pretty straightforward. You can pick your Whole30 approved meals and then customize them to the keto diet by picking your favorite meals and snacks.
This service only uses grass-fed beef, free-range turkey and chicken, heritage-breed pork and organic vegetables. They never use any fillers and their meals are delivered to your door frozen. All you have to do is heat and serve! Additionally, they ship anywhere in the US. Here is what you need to know.
How It Works
True Fare delivers nationwide from Tuesday through Saturday at residential address and Tuesday through Friday to business addresses. You can request express two-day shipping (we assume this costs more) or use their standard shipping option.
As the delivery service is based in the Atlanta, Georgia area, you can enjoy same day deliveries every Monday through Thursday at home or Tuesday through Friday at your work if you live in the area at no additional charge.
The farther you live from Atlante, the longer your shipment will be. For example, if you live in Michigan, expect your food to arrive two days after you order it. If you live in Oregon, then you can expect a five day shipping period. This service also delivers to Alaska, Hawaii, and Puerto Rico via two-day air, but the rates may vary.
For all orders on the east coast whose total is $295, your shipping is free. Any orders below this will experience a charge of around $15. Shipping prices go up if you live on the west coast or if you have a really big order ($800 or more).
The company comes up with a new menu every week so you don't get bored. Meals range from 300 to 500 calories for regular sized portions. Snacks are less, obviously. You can check out the nutritional information of any meal you order on the website.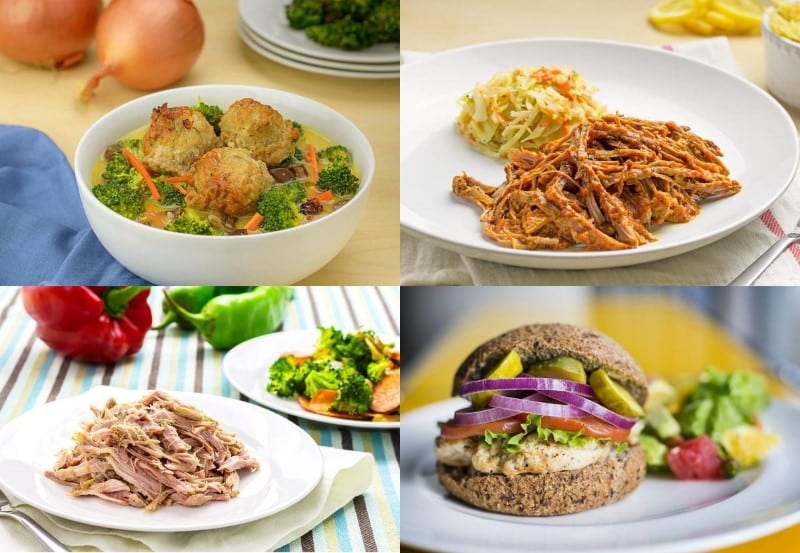 Menu Options
The menu options for the keto-friendly service vary in price. You can get a five-day meal plan for $189.98 or a ten-day meal plan for $375. You can also change your settings so that you can make a one-time purchase or you can subscribe for a weekly service.
This means your credit card will be charged weekly if you choose this option. If you choose the ten-day meal package, you can expect to get the following:
Ten breakfast meals
Ten lunch meals
Ten dinner meals
Ten almond butter snack pouches
You can also customize your meals so that if you don't like pork, you can make your meals with chicken instead and vice versa. Main entrees come with a five-ounce size of protein and a six-ounce keto-friendly organic vegetable that can be prepared however you like.
Breakfast meals are five to six ounces each, and all plans use grass-fed beef, organic chicken, and heritage-raised pork. Their meals do not include any seafood, but you can order seafood off different menus and customize them so that they are keto-friendly. This service also offers keto buns, hog skins, and bone broth that can be purchased separately.
Here are some popular keto-friendly meals:
Smoked Pulled Pork with Organic Cabbage and Kale Slaw
Buffalo Chicken with Organic Broccoli and Peppers
Keto-friendly Beef Burger with Keto-friendly Vegetables
Grass-Fed Beef Burger Sampler
Delivery Area: United States of America
Current Special Deals: Click here!
---
Factor 75
Factor 75 is a meal delivery service that features grass-fed products with no hormones, GMOs or antibiotics, and organic produce. While the service doesn't advertise itself as a ketogenic meal delivery service, there are ketogenic-friendly meals that you can choose from.
The company also offers customized meal plans to fit your needs, so this is a good way to make sure all meals are keto. Finally, you can make sure the meals that you choose are keto by the signature "K" located at the bottom of each recipe. Here's what you need to know about this service.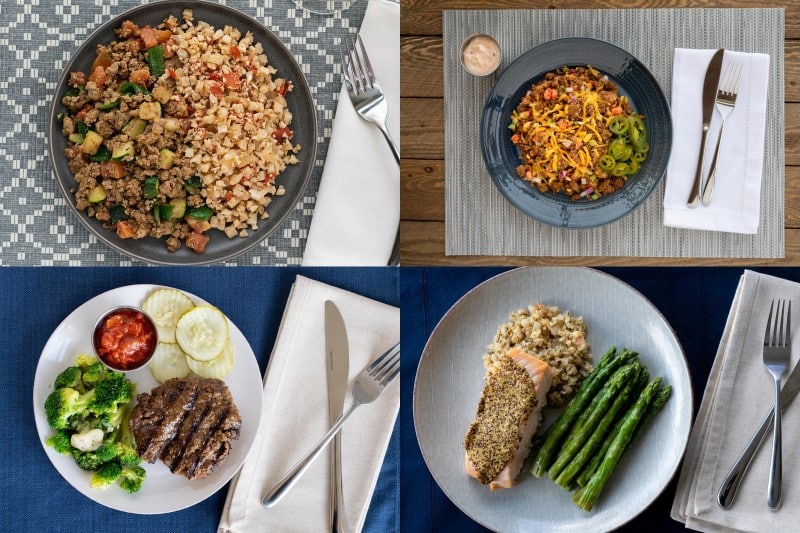 How It Works
Factor 75 allows you to choose a meal plan with no commitments. They claim that you can cancel or pause your subscription at any time. Here is a breakdown of the pricing plans:
Four meals per week at $60
Six meals per week at $77
Eight meals per week at $99 (most popular)
12 meals per week at $138
18 meals per week at $198 (best value)
You can customize your meals every week, but the menu changes automatically so you'll always have a variety to choose from. The service offers dozens of breakfast, lunch and dinner options. Meals are always delivered fresh, unlike other services that are frozen, which is a nice perk. They are also fully cooked, so all you have to do is heat them up.
The service is based in Chicago and can deliver to any of the 48 continental states. They don't deliver to Alaska or Hawaii. As mentioned above, all meals arrive fresh and come in an insulated container, but you can always freeze them if you don't eat them right away.
Deliveries are scheduled on Monday through Wednesday, and you aren't expected to be home when they arrive (although if they are fresh, you'll want to get them in the fridge as soon as possible).
Here are some popular options on their keto meal plan:
Steak w/ Tomato Basil Salsa
Taco Bowl
Lamb Burger
Italian Sausage and Peppers
Chicken Parmesan
Factor Burger with Parsnip Fries
Meatlover's Frittata Cups
Pumpkin Pancakes
Delivery Area: United States of America except Alaska or Hawaii.
Current Special Deals: Click here!
---
Keto Fridge
Keto Fridge is a keto meal delivery service that delivers nationwide throughout the United States. One of the neat things about this service is that they have their own bakery so you can order keto-friendly bagels, scones, and biscuits and have them delivered to you with your meals. They even offer keto ice cream and milkshakes to help satisfy your sweet tooth!
They also don't make you sign up with a subscription or commitment. This means you can order what you want and you won't be charged every month.
Like the previous service, Keto Fridge meals arrive already cooked so all you have to do is heat them up. There is no cooking or preparation needed. Here is what you need to know about this service.
How It Works
The ordering process is pretty simple. You order from a selection of ketogenic meals (the order total must be at least $69), then it's delivered to your door and all you have to do is heat it up. Follow the directions on each package to heat them up.
Keto Fridge's menu changes weekly so you can enjoy different meals every week or you can customize your own menu plans by creating your own menu. They offer a wide variety of different foods, such as breakfast, pizza, coffee, ice cream, milkshakes, dinner rolls, and of course lunch and dinner meals.
Orders are due by 11:59 PM EST every Thursday. Then, your order will be delivered that Tuesday or Wednesday depending on where you live. The menu for the next week is updated every Thursday at 11:59 PM EST so you can choose new foods for next week.
Meals will arrive at your house in a container with recyclable gel packs to keep them cold until you get there, so there is no need to rush home.
Popular Dishes
If you have a sweet tooth, then this keto meal delivery service is definitely for you! Prices vary but tend to stay around $9-$18 for most entrees. Desserts will cost you around $6-$12 but they often come in a pack of two.
Here are some popular keto meals we suggest you try:
Pepperoni Lovers KeDough Pizza
Lemon KeTea
KeDough Cheddar Cheese Bagel Sandwich
Chocolate Frosted Keto Donuts
Blueberry Muffin Keto Scones
Crispy Slow Cooked Duck Confit with Quick Braised Rainbow Chard, Green Beans, and Dijon-Garlic Sauce
Cajun Chicken Pot Pie with Roasted Vegetables, Crawfish-Andouille Gravy & a Keto Cheddar-Scallion Biscuit
Wild Mushroom and Goat Cheese Sous Vide Egg Bites with Hass Avocado Guacamole and Chicken Apple Sausage
Sriracha Glazed Salmon with Zucchini-Patty Pan Squash Stir Fry and Zesty Ginger Bok Choy
Keto Peanut Butter Cups
Keto Cookie Dough Ice Cream
Cotton Candy Keto Milkshake
Delivery Area: United States of America
Current Special Deals: https://www.ketofridge.com
---
Kettlebell Kitchen's Complete Keto Menu
As the name implies, Kettlebell Kitchen is a meal delivery service that caters to the fitness minded. When you visit the company's website, you'll see pictures of fit people working out. You'll also see lots of delicious looking meals.
The company began in a small rental kitchen located in the Bronx. The founders began to eat healthier by switching refined sugar for healthy substitutes. It wasn't long before five different gyms signed up for their services and the company was born.
Although you don't have to be an exercise junkie to enjoy prepared keto meals, you'll get the best results from your weight loss program by pairing the two together.
The company offers several different prepared meal options, including slim, burn, build, pure paleo, perform, vegetarian, flexitarian, endure, and Whole30.
The meal plan that you'll want to focus on is the complete Kettle menu. This program was designed to replace carbs with high-quality fats, and help you prepare to use fat as fuel to achieve the best weight loss results.
How It Works
Kettlebell Kitchen works by delivering ketogenic meals right to your door. They offer four different pricing plans to choose from, which are listed as follows:
Six meals a week (lunch and dinner six days of the week) starting at $11.95 per meal or $71.70 for the week
12 meals a week (lunch and dinner six days of the week) starting at $11.35 per meal or $136.20 for the week (this is a savings of 5%)
18 meals a week (breakfast, lunch and dinner six days of the week) starting at $10.75 per meal or $177.30 for the week (this is a savings of 10%)
You also have the option to customize your meal plan. You can select the number of breakfast, lunch and dinner meals you get every week and your invoice will depend on the number of meals you select.
To use the Kettlebell Kitchen meal delivery service, you'll first need to sign up. The company will have you start by telling them your goals so that they can pick a meal plan that helps you reach them.
These goals can be either fitness or nutrition related. Then the company will create a meal plan for you based on your specific preferences and goals. They use registered dietitians to create these meal plans or you can pick from one of the custom meal plans mentioned above.
The meals will be delivered right to your home, office, or wherever you decide to have them delivered. They will arrive ready to eat so all you have to do is heat them up and enjoy.
Keep in mind that the Kettlebell Kitchen meal delivery system only offers meals six days out of the week. This means you'll need to fend for yourself one day of the week or use a custom plan to get meals all seven days if needed.
You'll also need to decide if you need breakfast included in your meal plan. If so, this may cost you extra money.
Popular Keto Dishes
Here are some of the examples of food they offer on their meal plan:
Grilled chicken with mustard greens and bacon ranch dressing
Huevos rancheros with coconut cream
Bison beef sliders with cilantro lime
Delivery Area: United States of America
Current Special Deals: https://www.kettlebellkitchen.com/
---
Terra's Kitchen
Terra's Kitchen is a meal delivery service that specializes in healthy, sustainable and easy meals.
Standard menu options include paleo, gluten-free, low-calorie, vegan, Mediterranean, Pescatarian, low-carb, lean and green, keto and vegetarian, or you can custom order your breakfast, lunch or dinner meals.
You can also schedule your preferred delivery date so you know exactly when your food is expected.
According to the company's website, Terra's Kitchen uses meal plans that are sourced from clean and sustainable ingredients.
They tend to follow the lifestyle of the Mediterranean diet, but you can pick from a variety of options that includes the keto diet.
The company uses products that are hormone and antibiotic-free. They also use organic and non-GMO ingredients whenever possible. They take the term "clean eating" seriously.
The company was inspired by Dr. Lisa Davis, who is the nutrition director at Tara's kitchen.
Dr. Davis is a nutrition expert, farm animal rescuer, mom, and wife, which means that she knows how to put together sustainable meals that are also quick and family-friendly.
Her team helps her put together the right balance of vitamins, minerals, nutrients and other important dietary needs to propel your health.
How It Works
Terra's kitchen works by delivering your food to you in a reusable, climate-controlled container that is up to 100 times recycled. It has built-in insulation to keep your food fresh until you get home and can be stored in the refrigerator.
It contains reusable ice blocks, interior doors, and individually sealed containers to make sure your meals are fresh and do not arrive damaged.
It also comes with recipe cards that offer step-by-step directions so that you can prepare your food easily.
Terra's kitchen also partners with GrapeFriends to help you make the best wine and beer pairing with your meal.
The company promises that everything on their menu can be prepared within 15 to 30 minutes. These include salads, snacks, smoothies, and more.
All meals arrive ready to eat. The company promises that their ingredients are delivered to you three times faster than they are to the grocery store.
Pricing plans are based on the type of meal you choose. Most meals are designed to feed two people and range from about $23 to $35. You can choose from individually priced meal kits, healthy snacks, and ready-to-eat lunches.
You can also customize your orders each week. Meal plans start at $72 each week. To start custom ordering your meals, visit the website and choose from a variety of options.
Popular Keto Dishes
Here are some of the examples of food they offer on their meal plan:
Buffalo pizza with cauliflower crust
Spicy cod with burst tomatoes and wilted spinach
Fajita burgers
Sheet pan sesame and bok choy
Caprese chicken
Mediterranean turkey patties with grilled vegetables
Creamy cauliflower soup with bacon
Garlic mushroom smothered chicken
Dijon chicken and garlic broccoli
Delivery Area: United States of America
Current Special Deals: take $35 off your first order at https://www.terraskitchen.com/our-menu/
---
What If You Can't Afford A Meal Delivery Service?
Finding the right meal delivery service is worth the time and physical and mental effort that it takes to do the prep work yourself. However, not everyone can afford one.
If you're looking to cut back on money while still enjoying the convenience of a meal service, then you can try to meal prep yourself every other week or so.
Try alternating weeks so that you're doing a meal delivery service for one week and then prepping your food at home next week. Doing so can help you save money as well as alleviate some of the mental and physical prep work that it takes to do it every week.
Start by hitting up your local bulk food store and stocking up on essentials. Costco, Sam's Club, and Gordon Food Service (GFS) are all good places to buy in bulk.
Consider keeping the recipes from the meal service you received in the mail and repeating your favorites ones.
We recommend loading up on keto essentials and meal prepping on a Sunday afternoon so that all you have to do is throw your meals together and serve them during the week.
Here are some keto essentials we recommend buying in bulk for the week:
Chicken
Beef
Steak
Hamburger patties
Salmon
Cheese
Bacon
Avocados
Spinach or kale
Cucumber
Antibiotic-free deli meat (no nitrates or added sugar)
Berries
Eggs
Ghee or butter
Olive oil or coconut oil
Mixed nuts
Head of lettuce
Almond or coconut milk
Try preparing 12 different pieces of meat or fish on a Sunday afternoon and let this be the base for the majority of your meals (you may need more if you're cooking for a family).
You can throw them on the grill or in the oven to cook them quickly. You may also want to cook your bacon ahead of time, too.
From here, you can pair your meat with low-carb veggies, cheese, avocado and bacon for the week.
You can prepare eggs ahead of time by hard boiling them and keeping them in the refrigerator. These make great snacks in between meals or you can turn them into bacon wrapped egg stuffed avocado for breakfast.
Try preparing bowls of salad with your favorite low-carb toppings and place them in tupperware containers. Top spinach or kale with a cooked piece of meat or fish, cheese, hard-boiled eggs, cucumber, and bacon crumbles. Toss with an olive oil and lemon juice dressing.
Grab a head of lettuce and make your own low-carb sandwiches for the week by rolling them with deli meat and cheese. Top your sandwiches with homemade low-carb mayonnaise. Store these in foil and label each for lunches and dinner during the week.
You can also prep your snacks ahead of time by portioning out mixed nuts, berries, and cheese in small containers. Use almond or coconut milk to make low-carb smoothies in the morning.
Again, if time is not on your side, we can't stress the importance of a meal delivery service. This takes the prep work out of grocery shopping in bulk and making a trip to the grocery store. There is no price you can put on the convenience of having your food delivered right to your door!
---
Conclusion
A good keto meal delivery service can help make your ketogenic lifestyle that much easier. You'll skip the long lines at the grocery store and won't ever have to deal with going to the grocery store again, but be prepared to pay for the cost of the convenience of having meals delivered to your door.
We made a list of the best low carb and ketogenic meal delivery services around and all of them help take the guesswork out of what's keto and what isn't.
You can opt for a service that delivers the meals already prepared or find one that delivers the ingredients and instructions so that you get to make them yourself. Be sure to check each company yourself to make sure they deliver to you and get to the know the rates they charge before signing up.
If you prefer cooking your own meals from scratch, check these keto meal plans and food list to get started.
Save this list to Pinterest for later use!