What could you do with an extra 37 hours of free time per month? According to the Fresh N Lean website, that's how much time the average person spends on food each month.

Most people would love to get this time back. After all, it's almost a full week of work, which is about the amount of time you spend at a full-time job.

Fresh N Lean takes the hassle out of grocery shopping and food prep by delivering fresh, organic meals to your door every week. Check out our Fresh N Lean delivery service reviews below. 

Quick Summary:

100% keto meals are delivered fresh to your door
Choose from weekly, bi-weekly, or one-time orders
Meals can be stored in the refrigerator for up to 10 days and are ready within 3 minutes
No cooking, prep or cleanup required
Ingredients are organic, non-GMO, grass-fed and all natural
Change your plan or cancel anytime
Current special deals: Check Best Price Here!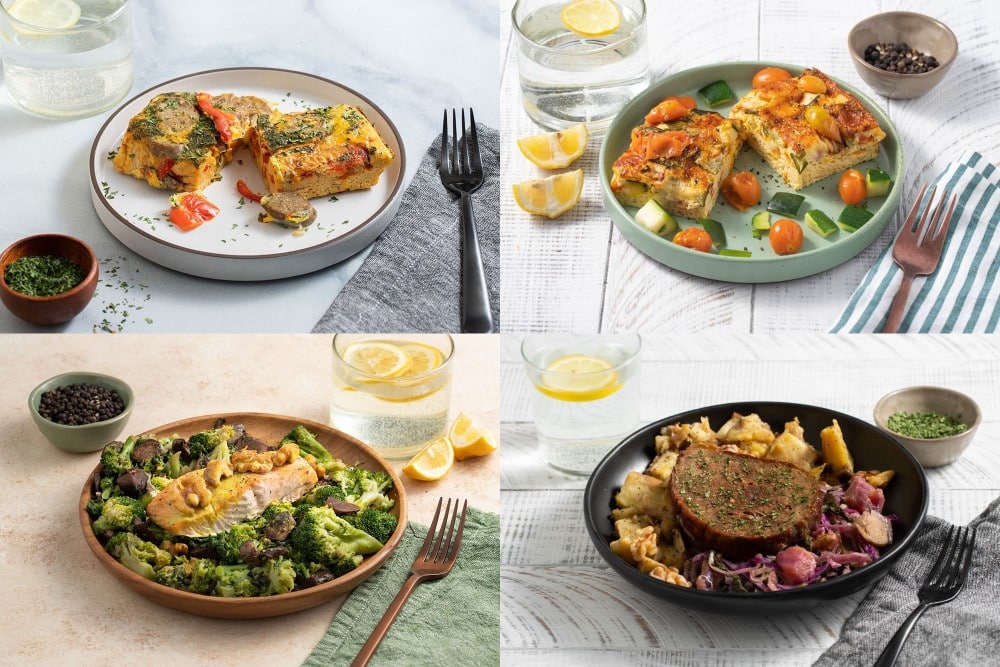 Who is Fresh N Lean?
Fresh N Lean is a meal delivery service that focuses on organically grown non-GMO meals with no artificial ingredients.

They use free-range, certified-humane animal proteins as the foundation for their recipes, including grass-fed beef and all-natural poultry.

Meals start at $9.33 per meal (depending on your plan) and orders are delivered weekly. You can cancel your membership at anytime.

Delivery is nationwide. You can elect to have your meals delivered bi-week or opt for a one-time order if you don't want to commit to a weekly plan.

Unlike other services, your meals arrive to your door fresh and not frozen. You will need to unpack them immediately and put them in the refrigerator or freezer to keep them fresh.

All meals are shipped with several ice packs to keep them fresh. They also have expiration dates on every package so that you know which ones need to be eaten first.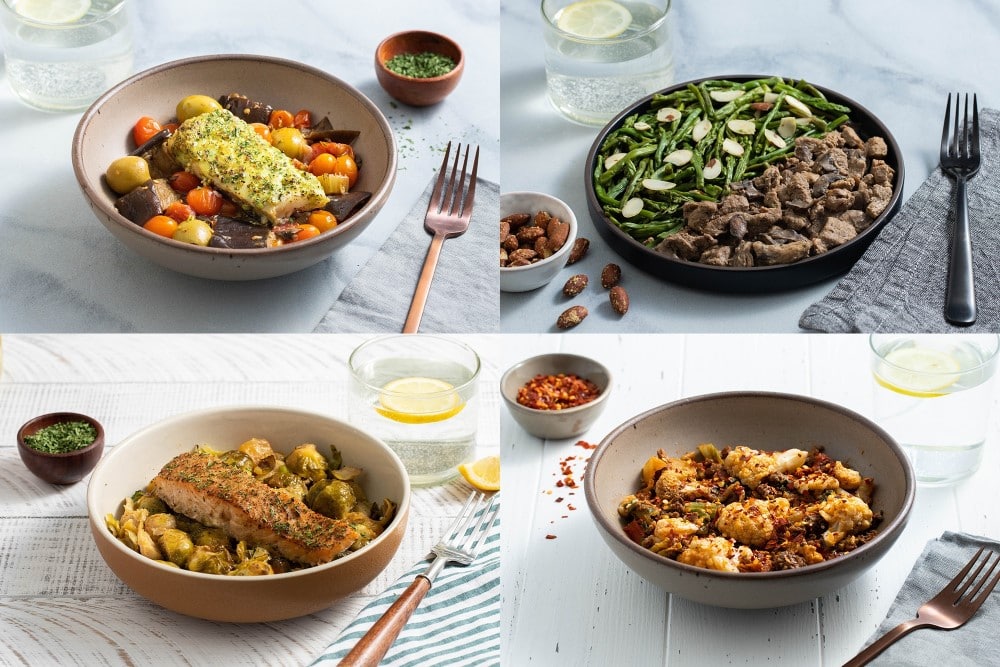 What Do They Offer?
You can build your own meal plan or choose from one of their standard meal options. Here are the standard meal plans that they offer:
Protein
Paleo
Vegan
Low carb vegan
The standard keto meal plan is described as having tender meat with clean fats and very few carbs. Meals contain meat, vegetables, nuts, healthy oils, and cheese.

Fresh N Lean allows you to customize your meal plans by picking breakfast, lunch, and dinner options. You can pick from plans that include 5 or 7 days. Each meal is ready in 2 to 3 minutes in the microwave.

You can also select up to three ingredients that you want excluded from your meal from the following list:

Cilantro
Bell pepper
Elk
Eggplant
Mushroom
Shrimp
Squash
Curry
Turkey
There is a text box where you can list your food allergies and other foods to avoid while ordering your customized meal plan. This is a good place to let them know if you have food allergies that are not mentioned on the above list.

You can also have additional snacks or meals added onto your plan. At the time of this writing, all keto snacks are sold out. These include:

Smoky BBQ almonds
Garlic rosemary almonds
Cinnamon maple almonds
Lemon chili almonds
Ordering in bulk is a good way to stock up on high-quality unique meat and fish that you might not be able to find at the grocery store, such as elk, bison, venison, and basa.

Here is a list of bulk and side orders you can get:

16 ounces of beef, salmon, turkey, cod, bison, basa, elk, shrimp, venison or chicken
32 ounces of seasoned salmon or chicken
4 cups of mixed vegetables or cauliflower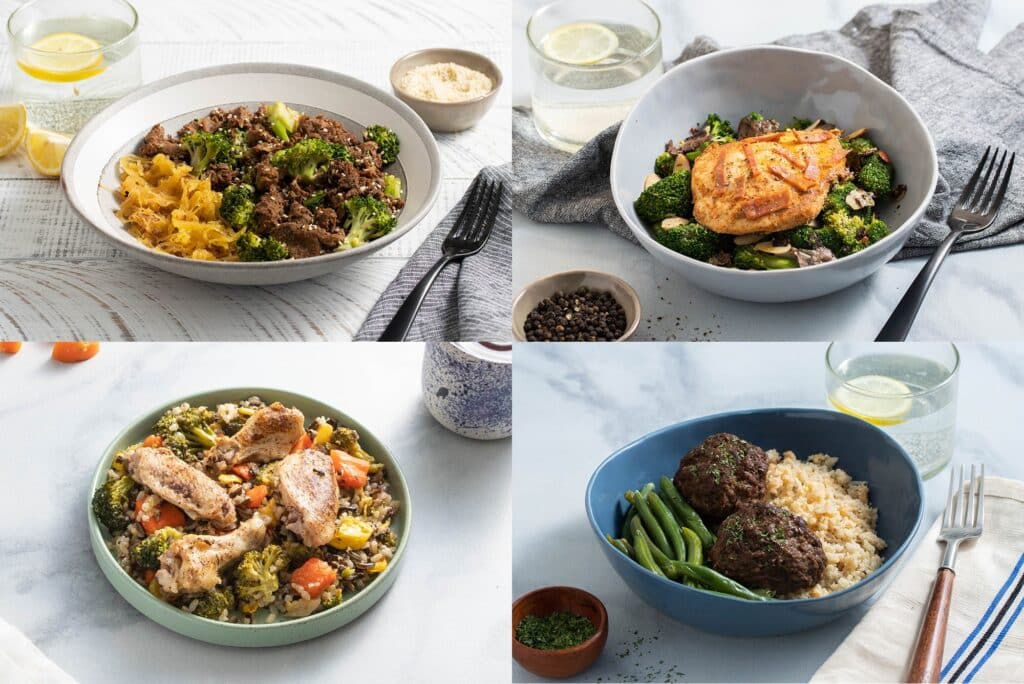 How It Works
There are three primary steps to go through if you want to try Fresh N Lean. First, pick your meal plan. This can be done in just a few minutes.

You get to choose from keto, vegan, vegan low-carb, paleo, or protein packages. Next, you'll need to pick how many meals you want each day (1, 2 or 3). You will also want to decide if you want snacks.

Finally, you will need to pick how often you want your meals delivered. This includes weekly, bi-weekly or one-time orders. You can elect to enjoy a single meal plan or two plans for families.

Here's how it works:

Your meals are cooked from scratch after you select your customized plan
Meals are sent to you every Friday
Choose from the a la carte menu if you want a one-time order instead of weekly meals
Change your meal plan, pause your subscription, or cancel anytime
Keto meals cost around $11.42 per meal. Shipping is always free and the company delivers anywhere in the United States.
The menu changes every week because the chefs at Fresh N Lean like to use organic ingredients that are in season. This is a great way to enjoy a variety of fresh, healthy foods.
For all standard meal orders, Fresh N Lean will choose your meals for you. However, you can always tell them what ingredients you don't want and they will customize your dishes.
If you don't want your meals decided for you, then choose from the a la carte section. You can also choose from bulk meat/fish and snacks.
Once your order arrives, your meals will need to be refrigerated within 24 hours. Meals will last in the refrigerator for up to ten days. All meals are ready within 3 minutes.
Meals can be delivered to your home or work. The company will send you a tracking number as soon as your order ships so that you know exactly when to expect it.
Our Fresh N Lean Sample Package and Review
We've tried a few different meal delivery services and Fresh N Lean was by far the best. The meals were incredibly tasty and focused on high-quality meats and vegetables.
Here's our unboxing video:
Unlike other keto meal delivery services, Fresh N Lean did not hide lower-quality ingredients behind heavy cream-based sauces that are hard to digest.

All meals were nutritionally-balanced, which can help prevent vitamin deficiencies associated with low-carb diets. Our package showed up on time and was well insulated.

Here is what we got:

Almond crusted cod
Beef stroganoff
Coconut-turmeric salmon with broccoli
Mexican bowl
Mushroom and tomato frittata
Beef and broccoli bowl
Beanless chili con carne
Ginger sesame glazed salmon
We loved that each meal came tightly wrapped to preserve freshness without added chemicals. The package also came with several ice packs on top and bottom of the meals.

To heat, all we had to do was remove the label, poke holes in the plastic wrapping with a fork, and pop in the microwave for 3 minutes. There was no prep or cleanup involved.

We also liked that the nutritional information was listed right on each meal. This is a great way to double check what you're eating before you consume it.

Unlike other keto meals we have tried, Fresh N Lean meals were light, tasty, and did NOT overly use heavy cheeses and greasy oils.

There were even dairy-free keto options available, which is ideal as many people need to eat low-carb but can't have dairy.

Pros
You can switch plans, pause or cancel anytime
There is no prep, cooking, or clean up required
Meals are shipped in an insulated, vacuum-sealed box with reusable ice packs
All containers and packaging are BPA free (they encourage you to recycle!)
Meals arrive fresh and not frozen, and can be ready within 3 minutes
Meals can be stored in the refrigerator for up to 10 days
All meals come with an expiration date to preserve freshness
There are no heavy oils, preservatives, added sugars, or artificial ingredients
Meals are perfectly portioned, nutritionally-balanced, and easy to digest
Perfect for easy weight loss
Menus change every week and use in season produce so you can enjoy a variety
Customize your meals by subtracting ingredients or listing food allergies
Dairy-free keto options available
Tastes better than other delivery services
Bulk meat options contain a wide variety of meats and fish that other services don't offer
All meals contain organic, non-GMO foods
The beef is grass-fed and the poultry is all-natural
Cons:
Meals tend to be expensive as they start around $11.42 per keto dish. Keep in mind that you are paying for organic foods to be prepared and delivered to your door. You'll be saving time by not having to go to the grocery store, prep your foods, or clean up. Time is money! For this reason, we feel that this is a small price to pay for good health and time management.
---
Should You Try Fresh N Lean Delivery Service?
This service is ideal for anyone who is looking to save time grocery shopping, cooking, and cleaning up. All meals are sent in recyclable packaging.

They can help you reach your nutrition goals by providing you with everything you need to eat for the day without putting too much thought into it.

Compared to other meal delivery services, Fresh N Lean meals are perfectly portioned if you are looking to lose weight or succeed on the keto diet. The calorie and nutrition information was listed right on the package, which makes it easy to count calories or carbs.

You can tailor your freshly prepared meals to fit your specific needs. Fresh N Lean will accommodate your requests if you tell them what you like and don't like or are allergic to.

We especially like the keto options that do not have cheese. You can ask them to withhold certain ingredients from your food.

You are also in control of how much food you order. Unlike other services, you can cancel anytime or order a la carte if you're not ready to commit to a weekly schedule.

However, the meal delivery service can get expensive if you have a family to feed. The meal kit we received was excellent for one person with special nutritional needs.

It might be better to buy in bulk if you have more than one or two people to feed every week. You may also want to order one or two meals per day and supply the other on your own to save money.

We recommend using Fresh N Lean if you:
Have tried other meal kits and did not care for the taste or found them hard to digest
Do not like or do not have time to grocery shop, cook, clean up and meal prepping.
Have special nutritional needs and have to eat differently than other members in your family
Need healthy breakfast, lunch, or dinner ideas that are easily transportable during the week for work or travel
Need help getting started on the keto diet or have hit a plateau and need new ideas
Need a meal delivery service that is customizable and flexible with orders
Current Special Deals
At the time of this writing, you can get $20 off your order and free shipping. For latest special offers, click here!
---
Conclusion
Fresh N Lean is a meal delivery service that offers five different plans: keto, Paleo, vegan, vegan low-carb and protein. We had the pleasure of trying a week's worth of their keto meals.

The meals at Fresh N Lean tasted better than many of other keto meal delivery services that we have tried. They were also easier to digest and weren't overly doused in heavy sauces.

We recommend Fresh N Lean to anyone who is in need of a customizable meal delivery service that won't lock you into a contract. You can change your plan, frequency, or cancel any time.

You'll enjoy that you can personalize your meals by letting the chef know your preferences and what you're allergic to.

Meals come tightly packaged and never include gluten, sugar, preservatives or other chemicals. They use organic, non-GMO, in season produce and grass-fed, all-natural meats.

They also come with an expiration date and can be stored in the fridge for 10 days. The ingredients and macronutrients are listed on the front of every meal.

Fresh n Lean offers free shipping all across the United States. Check the latest special deals here!