Having some quality snacks with you when traveling or on the road is a great way to satisfy your hunger without ruining your diet. The trick is to choose healthy snacks that fit your ketogenic lifestyle without filling you up on junky ingredients.

Some ketogenic dieters will tell you that they become bored with eating the same snacks every day. For this reason, it's important to switch things up from time to time.

We had the pleasure of trying out a sampler box from Keto Farms.
In addition to providing three great snack options, Keto Farms also makes the best keto coffee and matcha green tea you've ever tasted.

Their products are completely free of sugar and sugar sweeteners. They are also portable and contain high-quality keto ingredients such as grass-fed butter and coconut oil to make your busy ketogenic lifestyle easier. Not to mention, they taste great!

Here's what you need to know about Keto Farms and why their products will be your new favorite go-to healthy keto snacks.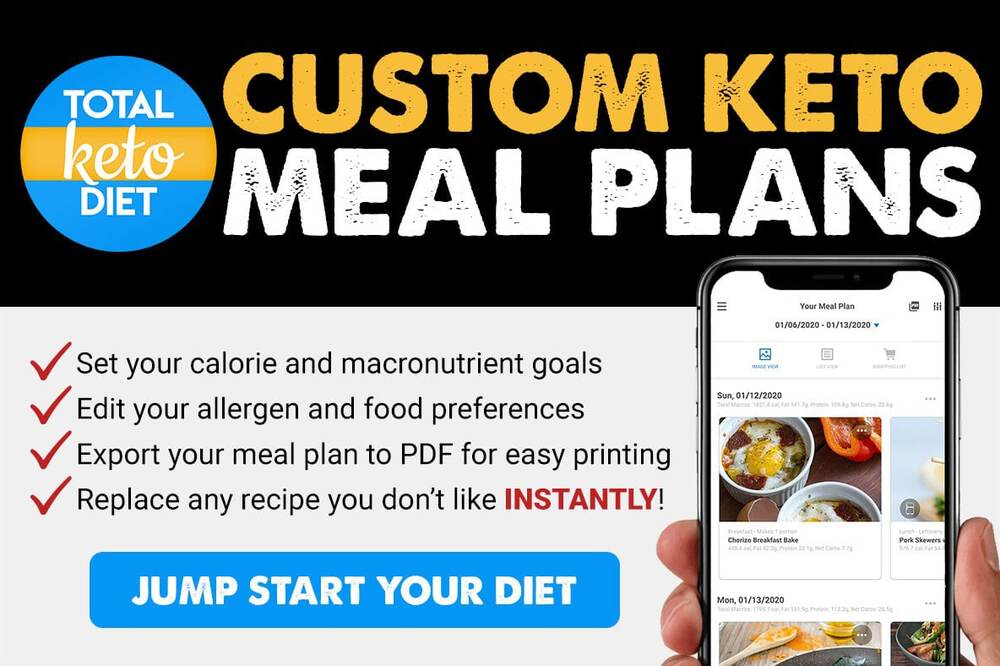 About Keto Farms
Ben and Brandon are the brains behind Keto Farms. They came up with the idea for the company after adopting the keto lifestyle and becoming fed up with the lack of available food options.

According to their website, Ben and Brandon spent 25 minutes in the salad dressing aisle at Whole Foods one day looking for a bottle of salad dressing without sugar. They couldn't find any.

This is a common problem many of us have experienced while at the grocery store. Sugar seems to be in everything.

The partners have been on the keto diet for three years. Within that time, they claim that they have been burned by every sneaky so-called "keto" product out there. They even worked for food companies who used the same misleading ingredients in their products.

Ben and Brandon decided to come up with a food company that focuses on ingredients, and it shows in their products. They quit their jobs and started Keto Farms with their own money. They had no investors or venture capital. We're so glad they took the plunge.
What Products Do They Offer?
Keto Farms sells keto snacks, coffee, and matcha green tea. The company is internet based, so you'll need to place your orders online at Amazon.com.

Snack Mix
Each snack is made with real food ingredients and no fillers. They arrive in portable packages that are completely recyclable and perfectly portioned.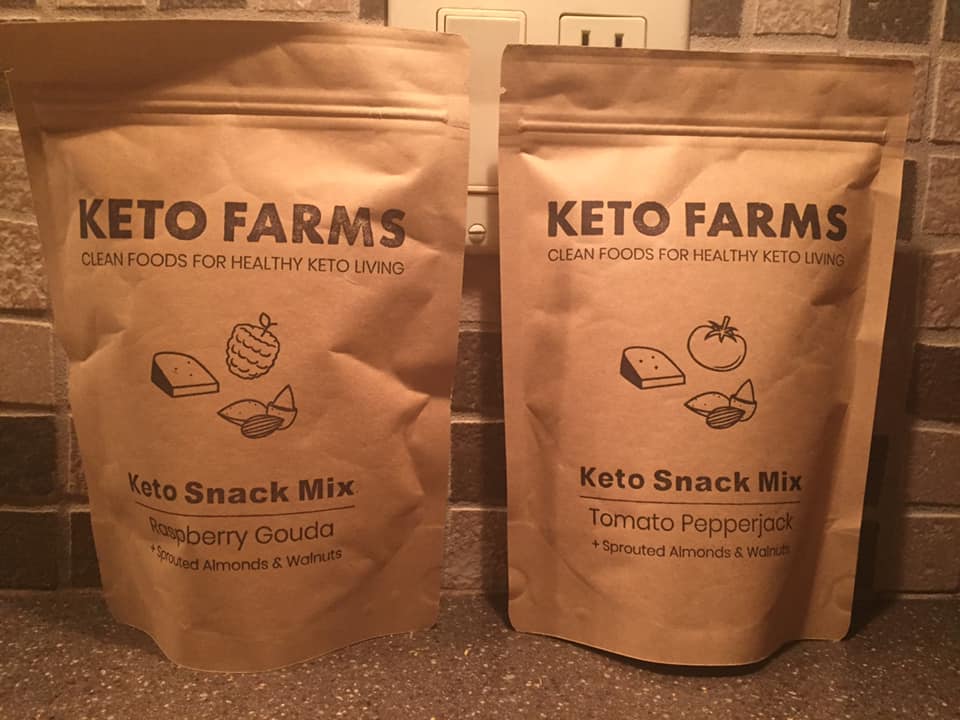 The snacks contain freeze-dried gouda cheese, low-carb fruits such as raspberries and strawberries, and high-fat, low-carb, keto-friendly nuts like sprouted pecans, walnuts, and almonds.

Currently, the company offers three different snack options:

Tomato pepperjack (contains Monterey jack cheese with jalapeno peppers, sprouted almonds, sprouted walnuts, grape tomatoes, MCT oil, cold water sea salt)
Raspberry gouda (contains gouda cheese, sprouted almonds, sprouted walnuts, raspberries, MCT oil, cold water sea salt)
Strawberry gouda (contains gouda cheese, sprouted almonds, sprouted pecans, strawberries, MCT oil, cold water sea salt)
The freeze-dried gouda and fruit mean that you can take these snacks anywhere and you don't have to worry about refrigerating them.

They will also last longer than other snacks, which means that you can throw some in your purse or gym bag and they will stay fresh. You can even stash some in your desk at work or in the car for satisfying your hunger while you commute.

Keto Farms uses gouda cheese, which has a delicious smoky and creamy flavor. It's also high in healthy fats and low in carbs.

They could have gone with a cheaper cheese to keep the cost of their products down, but they know that Gouda is the perfect cheese to go with nuts and fruits.

Monterey jack cheese is used in the tomato-based snack to enhance the spice profile and give it a bit of a kick.The fruits used in the Keto Farms snack mixes are raspberries, strawberries, and tomatoes.

Getting more low-carb fruits and veggies in your diet is important, especially if you're on a low-carb and keto diet.

Many keto dieters focus on meats and cheeses and don't get enough plant-based foods in their diet. This means they are missing out on key antioxidants and fiber.

Keto Farms snacks contain the perfect amount of low-carb fruits so that you can safely stay in ketosis.

Read more about the benefits of low-carb fruits and veggies for the ketogenic diet.

Finally, Keto Farms uses sprouted nuts, which are more nutritious than regular nuts because the sprouting process deactivates certain compounds in nuts known as anti-nutrients that prevent you from absorbing important nutrients (1).
Sprouted nuts are also easier to digest. Many people who have problems digesting regular nuts find that they can easily handle sprouted nuts (2).

Instant Coffee and Matcha Tea
Keto Farms also offers keto coffee and matcha green tea. Here are the ingredients:

Keto coffee: instant African coffee blend, coconut oil powder, Madagascar bourbon vanilla extract powder, grass-fed butter powder, MCT oil powder, heavy cream powder, cold water sea salt
Keto matcha green tea: MCT oil powder, coconut oil powder, organic ceremonial matcha powder, grass-fed butter powder, madagascar bourbon vanilla extract powder, heavy cream powder, cold water sea salt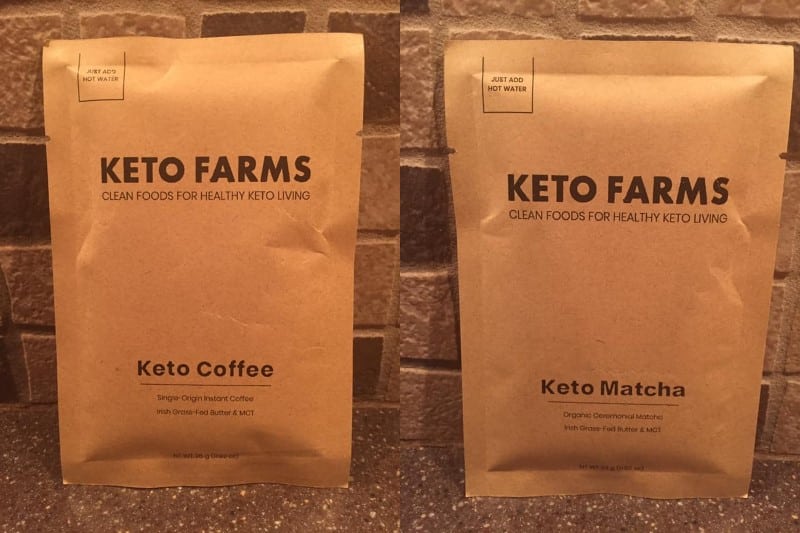 The use of high-quality fats in the coffee and green tea aids in the absorption of its antioxidants. It also aids in the delicious flavor and texture of the drink.

The grass-fed butter isn't just creamy. It also contains more nutrients than conventional butter, such as conjugated linoleic acid (CLA), omega 3 fatty acids, elevated precursors for vitamins A and E, and cancer-fighting antioxidants such as superoxide dismutase and glutathione (3, 4).

MCT oil has numerous health benefits, such as better cognitive performance, weight control, and increased energy.

The heavy cream powder used in the beverages is rBST-free, which is a type of hormone commonly used in many cream products.

You'll notice that none of the ingredients in any of the Keto Farms products contains added sugars or sugar substitutes.

Other keto products contain no-calorie sweeteners to aid in the sweetness of the product. These sweeteners might not contribute to your overall carb content, but they can be hard to digest.
We love that Keto Farms uses the natural sweetness of fruit to sweeten its snack products and madagascar bourbon vanilla extract powder to flavor the coffee and matcha.

They also use matcha in place of regular green tea, which may contain a higher nutrient profile because you are consuming the entire green tea leaf and not just part of it.

Research shows that matcha restrains the spread of stem breast cancer cells by suppressing oxidative mitochondrial metabolism. In other words, it may have the therapeutic potential to cause cancer cells to starve and die (5)
Matcha contains three times the amount of caffeine, but thanks to the calming effects of L-theanine, you won't get the jitters.
What We Got
We were lucky enough to receive the following sampler box from Keto Farms:

Raspberry Gouda keto snack mix
Tomato Pepperjack keto snack mix
Strawberry Gouda keto snack mix
Mini blender
Keto coffee and matcha variety pack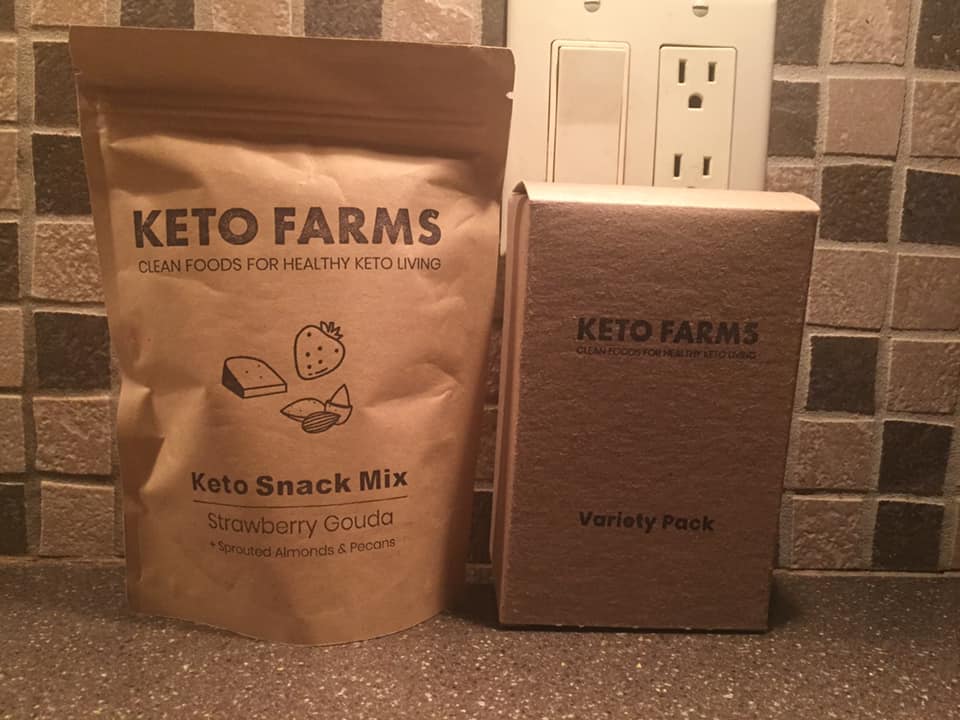 The sampler box arrived in a recyclable container. All products were also enclosed in a recyclable, easy-to-open pack. We enjoyed the perfectly portioned snack sizes, which contained the right amount of cheese, low-carb nuts, and fruits.

What the snack mixes look like inside: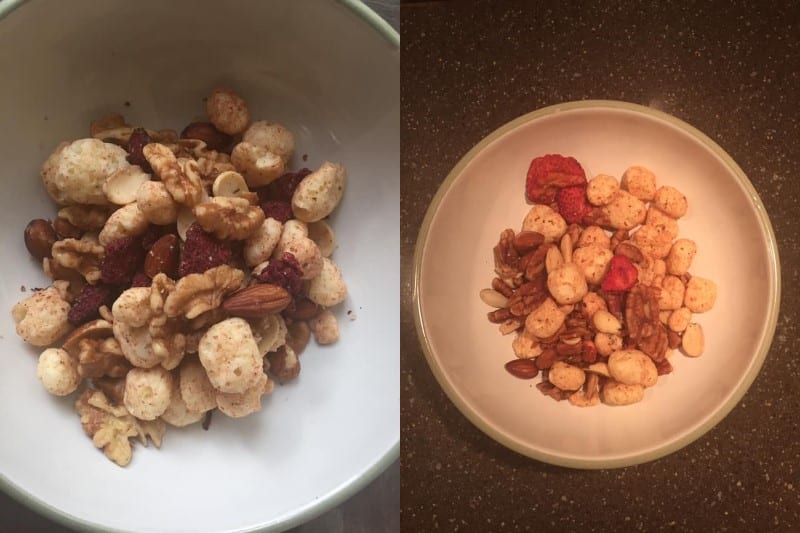 We liked that the cheese and fruits in the snacks were freeze-dried because it made them easier to travel with. Keto Farms took it one step further by using sprouted nuts in place of roasted nuts, which are normally covered in vegetable oil and salt.

We love that the sampler pack came with a mini blender to help incorporate the healthy fats into the coffee and matcha. It was very convenient and time-saving to enjoy a cup of coffee or tea.
Our cups of their coffee and tea: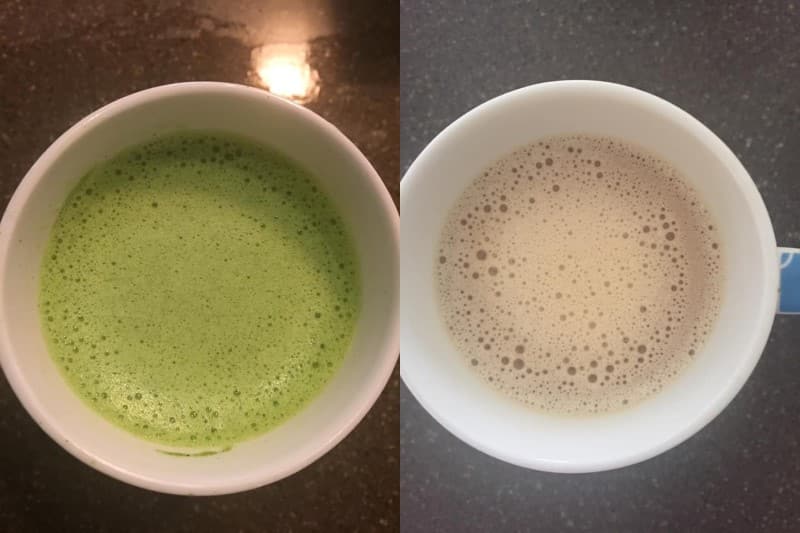 Instead of making your regular BPC by brewing a pot of coffee and adding the grass-fed butter, cream, and MCT oil to it, all we had to do was heat water, dump the contents of the packet in, and blend.

Here is a list of what we liked and did not like about Keto Farms:

Pros

They offer free shipping on all of their products
There are no artificial sugars or sweeteners used in any of the products, which can be hard to digest despite being calorie-fee
Keto Farms uses grass-fed butter instead of conventional butter
The coffee and matcha green tea come in an instant powder packet for easy use
The snack packets are freeze-dried and can be easily transported without needing refrigeration
Keto Farms uses sprouted nuts, which are easier to digest and contain more nutrients
The company also uses matcha green tea in place of regular green tea, which may contain more nutrients because it uses the entire green tea leaf
Each product contains MCT oil to enhance ketone production and provide instant energy
The heavy cream used in the coffee and green tea is rBST free
The sampler pack comes with a mini blender to incorporate the contents of the beverage packets
The healthy fats found in the beverage packets help with the absorption of antioxidants
All products contain 100% ketogenic compliant ingredients with no fillers, preservatives, or additives
Money back guarantee
Keto blog and recipes offered on the website to teach you about the ketogenic diet
Cons

The products can be pricey. Keep in mind you are paying for high-quality ingredients and no fillers. Most snack mixes that you will find at the grocery store contain some type of sweetener. Many keto companies use zero-calorie sweeteners to enhance their beverages, such as stevia. Keto Farms does not. Instead, they use high-quality grass-fed butter, MCT oil, and heavy cream to enrich the flavor of their coffee. These ingredients cost more than processed ingredients. Keto Farms also uses sprouted nuts and matcha green tea, which are more expensive because they are more nutrient-dense than ordinary forms.
These products are only available online, which means that it may take a few days to receive them. If you visit the Keto Farms website, you can sign up to become eligible to receive discounts. We recommend stocking up if you like a particular product so you don't run out and have to wait several days to get more
Conclusion
Many keto companies claim that they use only the best ingredients in their products. Keto Farms actually does. The company was founded by keto-enthusiasts Ben and Brandon, who quit their jobs and started the company after becoming fed up with the lack of truly sugar-free products at the grocery store.
We received a sampler box of all Keto Farms products, including three different keto snacks, a variety pack of instant keto coffee and matcha green tea, and a mini blender to incorporate the contents of the beverages.
Every ingredient in each of these products was carefully selected and contains the highest quality possible. Ben and Brandon took the time to make sure the flavor profile was spot on in each product. The snack packs are freeze-dried so you can take them anywhere and the coffee and green tea is instant so that all you need to do is add hot water.

These products truly make the ketogenic diet easier and more enjoyable to follow. We highly recommend giving Keto Farms a try, especially if you love snack products such as crunchy cheese mix packs, butter toffee peanuts, cocoa dusted almonds, maple candied pecans and other keto snacks.