Ah, the humble Brussels sprout. For many, it's a vegetable that brings back memories of childhood dinners where the green mini-cabbages were the last thing left on the plate.
But what if I told you there's a way to transform this often-misunderstood veggie into a mouth-watering delicacy? Enter the Bacon Wrapped Brussels Sprouts – a low carb dish that combines the earthy goodness of Brussels sprouts with the crispy, savory delight of bacon. It's a match made in culinary heaven!
Brussels sprouts are a powerhouse of nutrients. They're rich in antioxidants, which help combat oxidative stress in the body. They're also an excellent source of vitamin K, which plays a crucial role in bone health and blood clotting. Plus, they contain a good amount of fiber, which aids in digestion and keeps you feeling full.
On the other hand, bacon, often considered a guilty pleasure, brings its own set of benefits to the table. It's a good source of protein and essential vitamins and minerals, particularly B vitamins. And let's be honest, its rich flavor and crispy texture can elevate any dish!
These two ingredients, bacon and brussels sprouts, are perfect for a party. They are tasty, healthy and simple to make!
Save this recipe by pinning this picture to your Pinterest board for later use!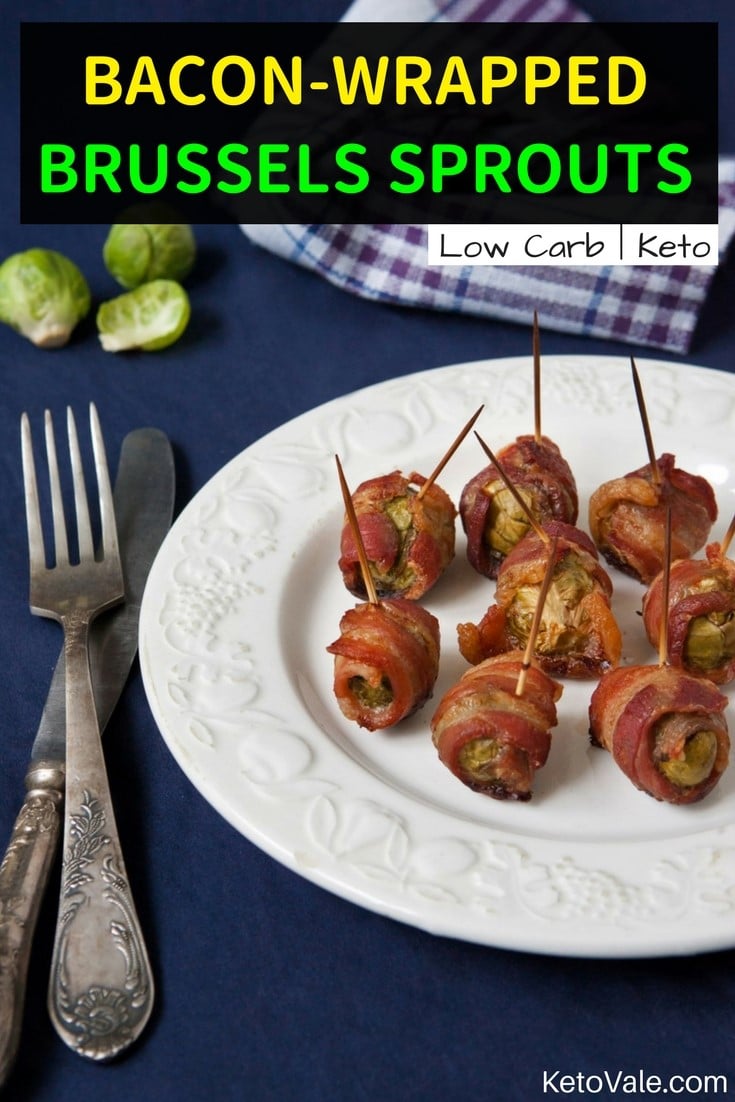 When to Serve Bacon Wrapped Brussels Sprouts
This dish is versatile and perfect for various occasions. Hosting a game night or a casual get-together? These make for a fantastic finger food that guests can munch on. Planning a fancy dinner? Serve them as an appetizer that's sure to impress.
They're also a great side dish for holiday meals, adding a touch of elegance to the table. The combination of the earthy Brussels sprouts and the crispy bacon is not just a treat for the taste buds but also a conversation starter!
How to Make Bacon Wrapped Brussel Sprouts Keto Friendly
Preparation: Start by preheating your oven to 400°F. This ensures that once your sprouts are wrapped and ready, they can go straight into the oven without any delay.
Bacon Prep: Take your bacon slices and chop them into two. This size is perfect for wrapping around the Brussels sprouts without overwhelming them.
Wrap 'Em Up: Now, for the fun part! Individually wrap the half bacon strips around the sprouts. Use a toothpick to hold them together, ensuring that they stay wrapped while cooking.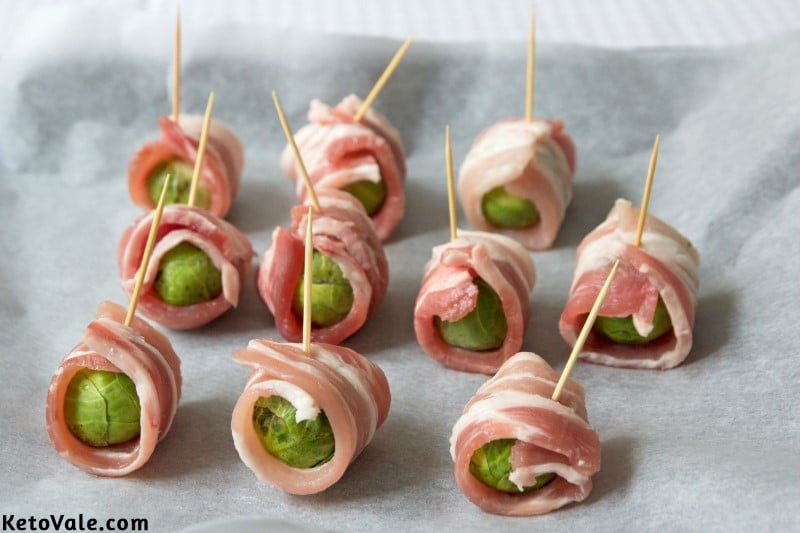 Baking Time: Arrange the bacon-wrapped sprouts on a baking sheet lined with parchment paper. This not only ensures they don't stick but also makes for easy cleanup. Pop them in the oven for about 15 minutes. Keep an eye on them, and once the bacon reaches your desired level of crispiness, they're ready!
Serve and Enjoy: Transfer your crispy delights to a serving plate. They're best enjoyed hot, so serve immediately and watch them disappear!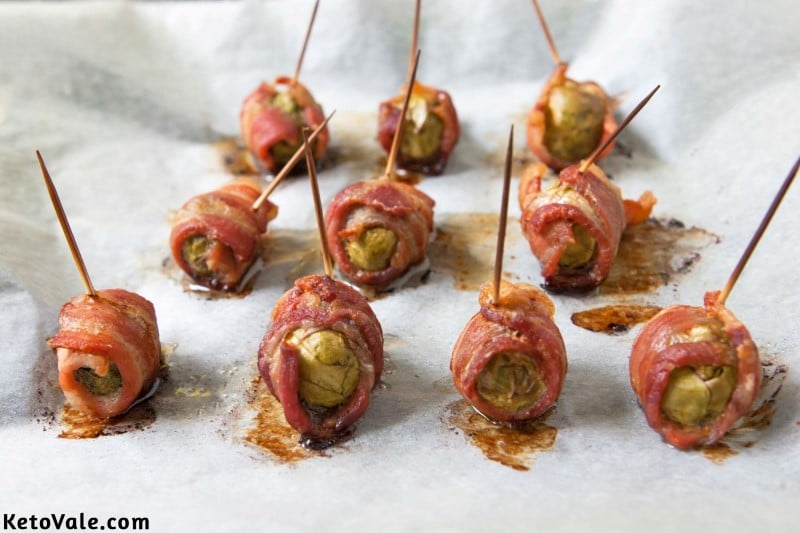 Related:
Bacon-Wrapped Brussels Sprouts
A healthy and easy to make bacon wrapped in brussels sprouts recipe are rich in Vitamin C & K.
Ingredients
12

Brussel Sprouts

trimmed

12

wooden toothpicks
Instructions
Preheat your oven to 400°F.

Chop the bacon strips into two. Individually wrap the half bacon strips in the sprouts and use a toothpick to hold them together.

Arranged the sprouts on a baking sheet lined with some parchment paper. Leave in the oven for 15 minutes and remove once the bacons become crispy to your liking. Transfer to a serving plate and enjoy while hot.
Nutrition/Macros
Nutrition Facts
Bacon-Wrapped Brussels Sprouts
Amount Per Serving
Calories 216
Calories from Fat 162
% Daily Value*
Fat 18g28%
Cholesterol 29mg10%
Sodium 310mg13%
Potassium 383mg11%
Carbohydrates 7g2%
Protein 8g16%
Vitamin A 573IU11%
Vitamin C 65mg79%
Calcium 32mg3%
Iron 1mg6%
* Percent Daily Values are based on a 2000 calorie diet.
Pin To Save This Recipe