Everyone gets worn down from time to time. When you start to feel broken and frustrated inside, it's time to rejuvenate and destress with a super booster smoothie. We've got just the thing.
Try our Avocado Green Smoothie with Chia and Spinach. This super smoothie includes super ingredients to help reduce inflammation and restore your energy levels.
Let's consider avocado. It is a nutrient-dense fruit. However, it's low in sugar and is one of the most keto-friendly foods around. Avocados contain many vitamins and minerals, such as potassium, folate, and lutein.
It's also high in fiber and provides a good source of antioxidants, such as the carotenoids lutein, zeaxanthin, and carotenes. Research shows that the avocados contain more lutein than any other fruit, which makes up for about 70% of its total carotenoid content (1). 
Lutein is best known for its ability to keep your eyes healthy. Research shows that lutein may also improve cognitive functions and prevent the risk of chronic diseases, including cardiovascular disease and cancer (2).
A 68 gram serving of avocado contains approximately 57 mg of phytosterols. In comparison, other fruits usually only have about 3 mg per serving. Research shows that the phytosterols in avocados may help reduce the risk of coronary heart disease (3).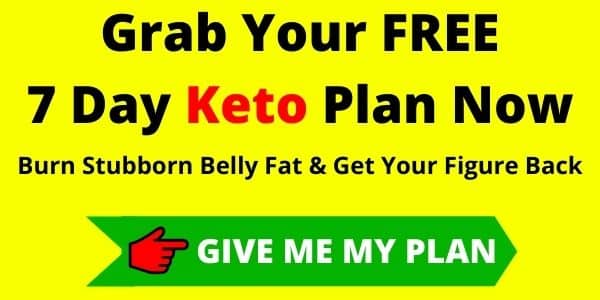 Next, our recipe smooth features ginger. This herbal root consists of many essential nutrients and vitamins, such as vitamin B5 and B6 that are required for optimum health.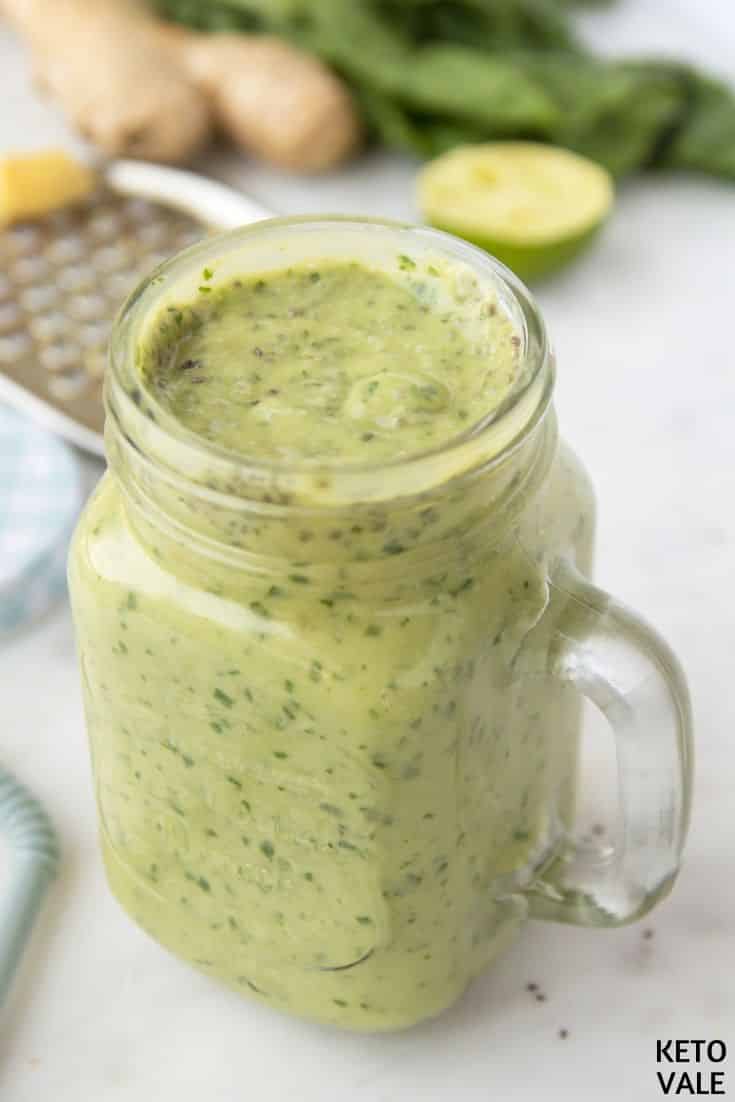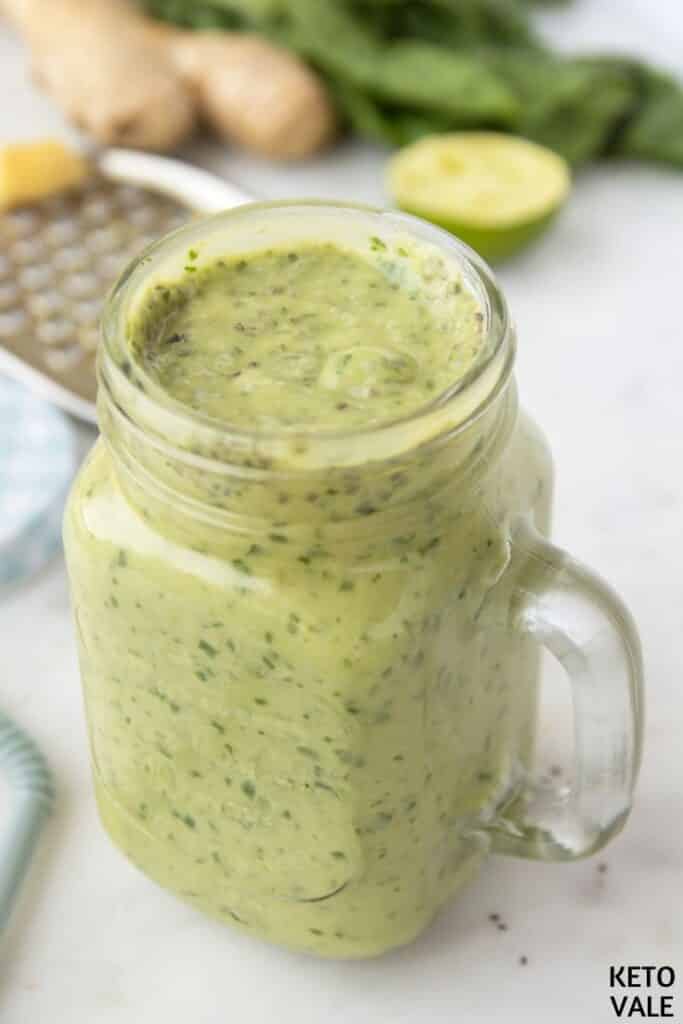 We don't stop there! We use some spinach leaves, which are rich in iron, manganese, magnesium, folate.
Don't forget and appreciate coconut milk, which supports your weight loss goals and lowers cholesterol (4). To crown it all, we finish our recipe with chia seeds, which are second to none in a healthful dietary pattern.
Chia seeds are a great source of omega 3 fatty acids and fiber. Both of these nutrients are needed to reduce inflammation, restore gut and brain health, and keep your heart healthy.
You can use the keto-approved sweetener of your choice in this recipe, but you may find that you don't need it. This is because the recipe calls for freshly squeezed lime juice, which is refreshing and naturally sweet.
The ginger also adds a nice flavor that you may find to be enough without added sweeteners.
---
Let's Do It!
To make, you'll need a high-speed blender. Add all ingredients to the blender and mix on high until the mixture is smooth.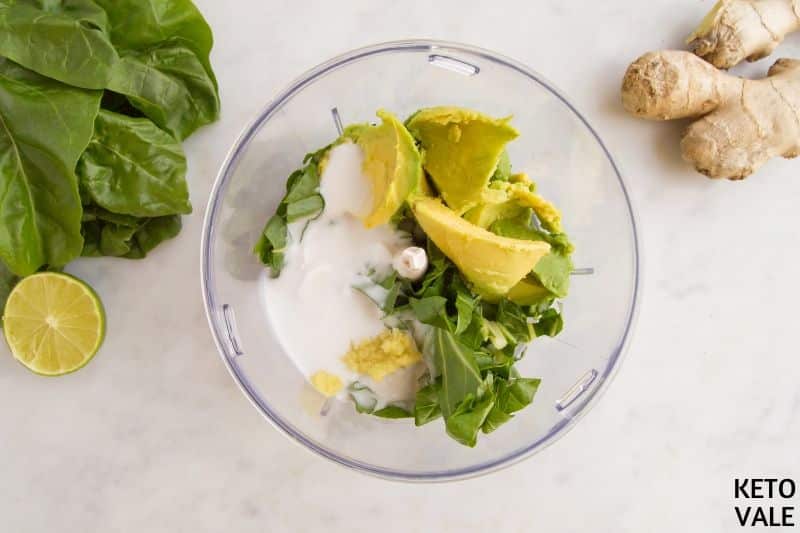 For a thicker smoothie, add more ice and less water. For a sweeter smoothie, use more lime juice in place of water and reduce the keto sweetener.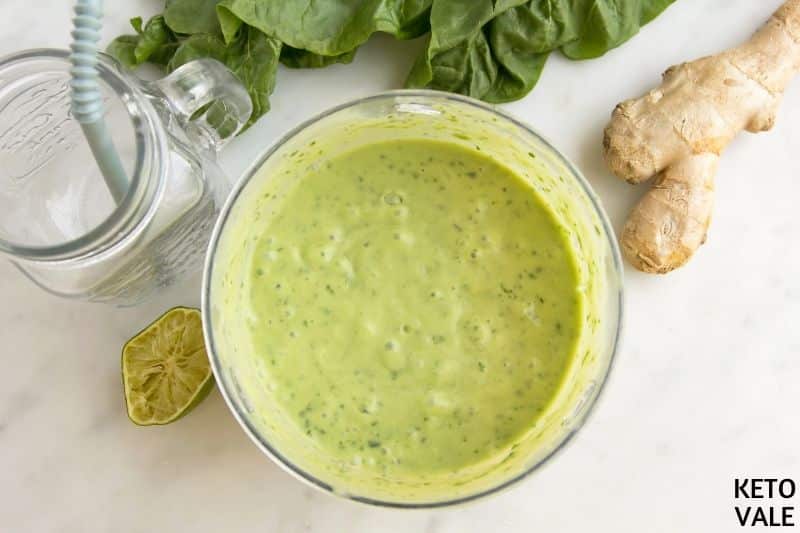 You can use frozen spinach to help make sure the smoothie is cold!
Serve with chia seeds sprinkled on top. Enjoy for breakfast or a snack.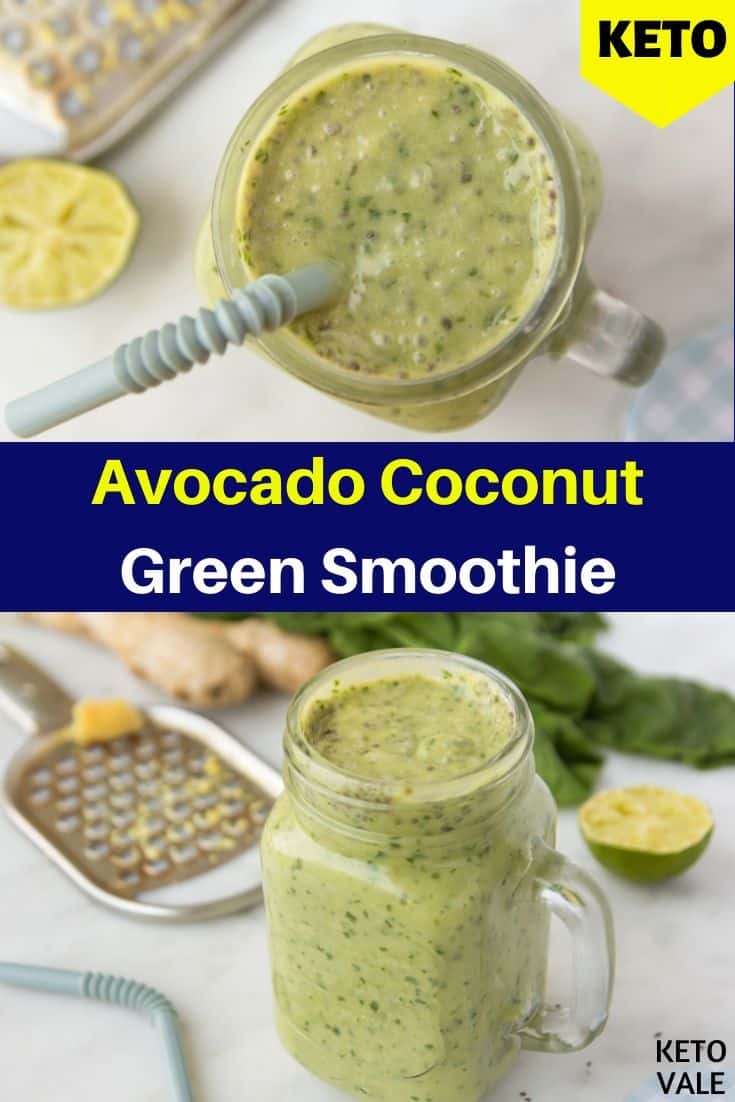 You'll also enjoy these smoothies:
Keto Avocado Coconut Green Smoothie
This is an easy and delicious keto-friendly smoothie with avocado, spinach, coconut milk, and chia seeds.
Ingredients
1

cup

coconut milk

unsweetened

1

tsp

ginger

fresh and grated

1/2

avocado

5

leaves

spinach

1

tsp

lime juice

freshly squeezed (optional)

1

tsp

erythritol

(or any sweetener of your choice)

1

tsp

chia seeds

1/2

cup

water

ice cubes
Instructions
Wash your ginger and spinach thoroughly.

Peel and grate the ginger, scoop out the avocado flesh, and chop the spinach leaves.

Using a blender, mix all of the ingredients (except chia seeds and stevia) for a minute to obtain a smooth and uniform mixture. Optionally, pour some water and lime juice into the blender to produce the desired thickness.

Include some ice cubes and the sweetener into the mix just to flavor it up. Transfer to a glass and garnish with a teaspoon of chia seeds on top. Give a stir and serve immediately.
Nutrition/Macros
Nutrition Facts
Keto Avocado Coconut Green Smoothie
Amount Per Serving
Calories 175
Calories from Fat 135
% Daily Value*
Fat 15g23%
Sodium 92mg4%
Potassium 244mg7%
Carbohydrates 9g3%
Protein 1g2%
Vitamin A 308IU6%
Vitamin C 6mg7%
Calcium 19mg2%
Iron 1mg6%
* Percent Daily Values are based on a 2000 calorie diet.
Pin To Save This Recipe