Remember when you were a kid and Saturday morning rolled around? You couldn't wait to wake up early, grab a bowl of sugary cereal, and watch your favorite cartoons.

Then you waited until all your friends were awake and you played outside until it got dark. Those were the days!

Kids today will never know the true bliss of mixing together your favorite cereals, such as Frosted Flakes, Fruity Pebbles, and Count Chocula, and then drinking the milk from the bowl once you ate all the cereal out.

But that's not exactly a bad thing. Those cereals are basically poison in a bag. They're full of sugar, refined carbohydrates, and artificial colors and flavors, which is the perfect recipe for childhood obesity. Some research even links these sugary cereals to attention deficit disorders in children (1, 2).

If you crave sugary cereal as an adult but don't want your health to suffer as a result, you're not alone. Most commercial cereals are highly processed and should be avoided on any diet, but they are especially bad for low-carb dieters because they contain way too many carbs.

We've put together a list of low-carb cereals that you can eat on the keto diet as long as you enjoy in moderation. You'll also want to pair them with low-carb milk in place of regular cow's milk.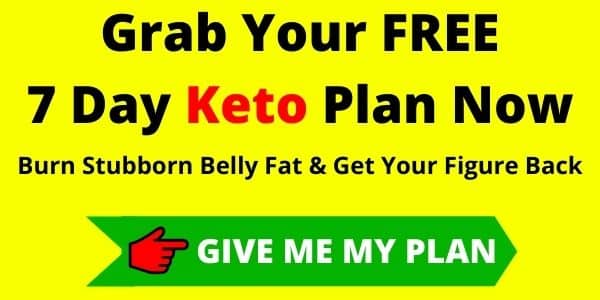 Here's why traditional cereal is not suitable for a low-carb high-fat diet and what to eat instead.
What Is Cereal?
Traditional cereal is a breakfast staple in many countries, but it's not a good one. It consists of a starchy base such as wheat, corn or rice and is mixed with cow's milk for a glorified bowl of sugar and empty calories.

Cereal is a go-to option for many adults and children alike because of its convenience. You pour the contents of the bag or box into a bowl, add milk, and BAM- breakfast is served!

The problem with traditional cereal is that it often contains highly refined grains and added sugar. When paired with cow's milk, you're left with a highly inflammatory meal that spikes blood sugar levels and leaves you hungry an hour later.

In addition to containing empty calories, cereal is often a trigger food for many people. This means it's easy to eat a lot of. It lacks healthy fat to keep you full and it's easy to keep pouring more cereal into your bowl without even realizing you're doing it.

Some cereal grains are fortified with vitamins and minerals, which means that they have been stripped of their nutrients and then have them added back in later. But your body knows the difference. It doesn't absorb fortified nutrients as well as it absorbs nutrients from whole food sources such as fruits and vegetables.

So to sum it up, traditional cereal is nothing more than highly processed refined grains with added sugars, artificial colors, and preservatives and fortified vitamins and minerals that your body barely absorbs anyway.
Nutrition Of Cereal
Over the years, many top cereal brands have done their best to make a healthier product. They switched to whole grains instead of enriched flour and reduced the amount of sugar and artificial colors used.

But the truth is that even these so-called healthier versions of cereal brands contain more carbohydrates than most people need for the entire day, especially if you're on a low-carb diet.

For example, here is the nutritional breakdown of a one-cup (28g) serving of Kellogg's Corn Flakes cereal:

100 calories
0 grams of fat
24 grams of total carbs
1 gram of fiber
3 grams of sugar
2 grams of protein
Adding a half cup of skim milk contributes 40 calories, 6 grams of total carbohydrates (6g sugars) and 4 grams of protein to the mix. This means that one small bowl of this certain contains 30 grams of carbs in total.

Ingredients in Corn Flakes includes milled corn, sugar, malt flavor, BHT, and an enriched vitamin and mineral blend. As you can see, the first two ingredients are corn and sugar, which is a recipe for disaster when it comes to the development of obesity and type 2 diabetes.

Breakfast cereals that are targeted towards children are often worse. This is because they contain even more sugar and artificial colors to appeal to children's senses.

Here is the nutritional breakdown of a ¾ cup serving of the popular children's cereal Lucky Charms from General Mills:

110 calories
1 gram of fat
22 grams of carbs
2 grams of fiber
10 grams of sugar
10 grams of other carbs
2 grams of protein
Ingredients in Lucky Charms include whole grain oats, sugar, oat flour, corn syrup, modified corn starch, corn starch, dextrose, salt, gelatin, trisodium phosphate, yellows 5&6, red 40, blue 1, and other color added, natural and artificial flavor, and vitamin E.

Foods that contain artificial colors shouldn't be on any diet plan because they have been linked to behavioral problems in children (3, 4, 5).

The worst part is that when marketers target children with this junk, it works. One study found that when children watch TV ads for sugary cereal, it increases brand-specific high-sugar breakfast cereal intake (6).

This is problematic because eating more sugar increases the risk of obesity and type 2 diabetes at a young age.
Children who struggle with childhood obesity are more likely to struggle with their weight for the rest of their lives. It even increases the risk of adult cardiovascular disease and cancer (7).  

As you can see, there are many reasons aside from the high carbohydrate intake why you should avoid commercial cereals. Luckily, you can make your own cereal at home or buy low-carb versions to fill that void in your Saturday mornings.
Homemade Keto-friendly Cereal Recipe
When it comes to enjoying low-carb cereal, you have two options. You can either make your own homemade low-carb cereal at home, or you can buy some online.

You might be able to find some low-carb brands at your local health store, too.

The following is a low-carb cereal recipe for keto oatmeal you can make at home. Just be sure to use low-carb milk in the recipe, such as unsweetened almond or coconut milk.

Traditional oatmeal contains oats, which are not allowed on a low-carb diet because they contain too many carbs. This low-carb version of the classic breakfast dish replaces oats with nuts, seeds, coconut flakes and MCT powder to keep it keto-friendly.

Here is what you'll need:
1 cup unsweetened nut milk such as almond milk or coconut milk
1 scoop of MCT powder
1 tsp cinnamon
1/2 cup hemp hearts
1 tbsp flaxseed meal
1 tbsp chia seeds or flour
1 tbsp unsweetened coconut flakes
To make, add all ingredients to a pan on the stove and simmer for several minutes until the flavors combine.
You can play around with this recipe to make other low-carb cereal recipes. Try using different kinds of nuts, seeds, low-carb flours, and keto-friendly sweeteners.
You can find the full recipe here.
A List of Low-carb Sugar-free Cereal Brands To Buy
If you get tired of making your own low-carb cereal at home, then you can purchase some online.

Important Note: these brands are low carb but some of them might not be strictly keto-approved because of containing some non-keto ingredients.

Here are some of our favorite brands:

#1. Keto Hot Breakfast

This keto hot breakfast cereal pack only contains coconut flour, psyllium husk, natural flavors, guar gum, and stevia. That's it!

All you need to do to enjoy this cereal is to add hot water. You could also add coconut or almond milk to make it a bit creamier.

Here is the nutritional breakdown of the unprepared mix:

50 calories
2 grams of fat
13 grams of carbs
8 grams of fiber
5 grams of net carbs
3 grams of protein
Where to buy: Shop now!
#2. Diabetic Kitchen Cinnamon Pecan Granola Cereal

The cinnamon pecan granola cereal from Diabetic Kitchen contains 3 grams of net carbs per serving. It also has no added sugar, gluten, artificial sweeteners or sugar alcohols.

Almost all of the ingredients in this cereal are keto-friendly except for puffed brown rice. The cereal is sweetened with monk fruit extract and organic stevia.

A ⅓ cup serving contains the following:

160 calories
14 grams of fat
8 grams of carbs
5 grams of fiber
3 grams of net carbs
4 grams of protein
Here are the ingredients:

Sunflower seeds
Pumpkin seeds
Pecans
Chicory root fiber
Coconut chips
Puffed brown rice
Organic coconut oil
Natural flavor
Cinnamon
Organic stevia extract
Monk fruit extract
Where to buy: Shop now!

#3. HighKey Snacks Keto Instant Hot Cereal Breakfast

This instant hot breakfast cereal isn't the same as the cold breakfast cereal you knew as a kid, but it's completely keto-friendly. It contains 2 grams of net carbs per serving and all ingredients are keto-compliant.

A ⅓ cup serving contains the following:

170 calories
13 grams of fat
11 grams of carbs
4 grams of fiber
5 grams of sugar alcohol
2 grams of net carbs
8 grams of protein
Ingredients include:

Hemp seeds
Coconut
Natural sweetener (erythritol, monk fruit extract, stevia extract)
Almonds
Sunflower seeds
Milk protein isolate
Flax seeds
Chia seeds
Cocoa powder
Sea salt
The best thing about this hot cereal is that all you need to add to it is water. It's perfect for taking to the office with you.

Where to buy: Shop now!

#4. Elan Nut Granola Paleo Mix

Normally, granola is loaded with sugar, which makes it a problem for anyone who wants to eat healthy!
This nut granola Paleo mix from Elan is loaded with healthy nuts and seeds with a touch of maple syrup. It contains no artificial sweeteners or no-calorie sweeteners and has 4 grams of net carbs per serving which is one of the lowest carb cereals.
We like that this mix contains a lot of keto-friendly nuts and seeds, such as macadamia nuts, Brazil nuts, and flaxseed. It's also tossed in coconut oil to help incorporate all ingredients.

Because of the maple syrup, you'll want to make sure you keep your portions minimal so that you don't overindulge in carbs.

Here is the nutritional breakdown of a ⅓ cup serving:

180 calories
15 grams of fat
7 grams of carbs
3 grams of fiber
4 grams of net carbs
5 grams of protein
Ingredients include cashews, sunflower seeds, Brazil nuts, pumpkin seeds, coconut, macadamia nuts, maple syrup, milled flaxseed, and organic coconut oil.

Where to buy: Shop now!

#5. Organic Coconut Crunch Cereal

We like this cereal because it contains three ingredients and that's it! This cereal contains organic coconut water, organic coconut meat, and organic palm starch.

We assume that the coconut water gives this cereal a naturally sweet taste. It's a great option if you don't want any sweeteners in your cereal, even keto-approved sweeteners like monk fruit or stevia.

The best part is that this cereal contains 2 grams of net carbs per serving, so you can enjoy it on a strict keto diet.

One serving size contains the following:

110 calories
10 grams of fat
5 grams of carbs
3 grams of fiber
2 grams of net carbs
1 gram of protein
Where to buy: Shop now!

---
Conclusion
Traditional commercial cereals are not allowed on the keto grocery list because they contain too many carbs. Most are made with highly refined grains, sugars, and artificial colors. These are especially dangerous to children because artificial colors are linked to behavioral problems.

If you miss eating cereal on a low-carb diet, then there are several options. You can make your own homemade keto-friendly cereal at home using nuts, seeds, low-carb flours, and keto-friendly sweeteners. You can also buy low-carb cereal online or at your local health food store.

We provided several low-carb cereal options that use keto-friendly ingredients to keep the net carbs down. Be sure to pair any low-carb cereal with low-carb milk such as unsweetened coconut milk or almond milk.

Enjoy this post? Share to save for later!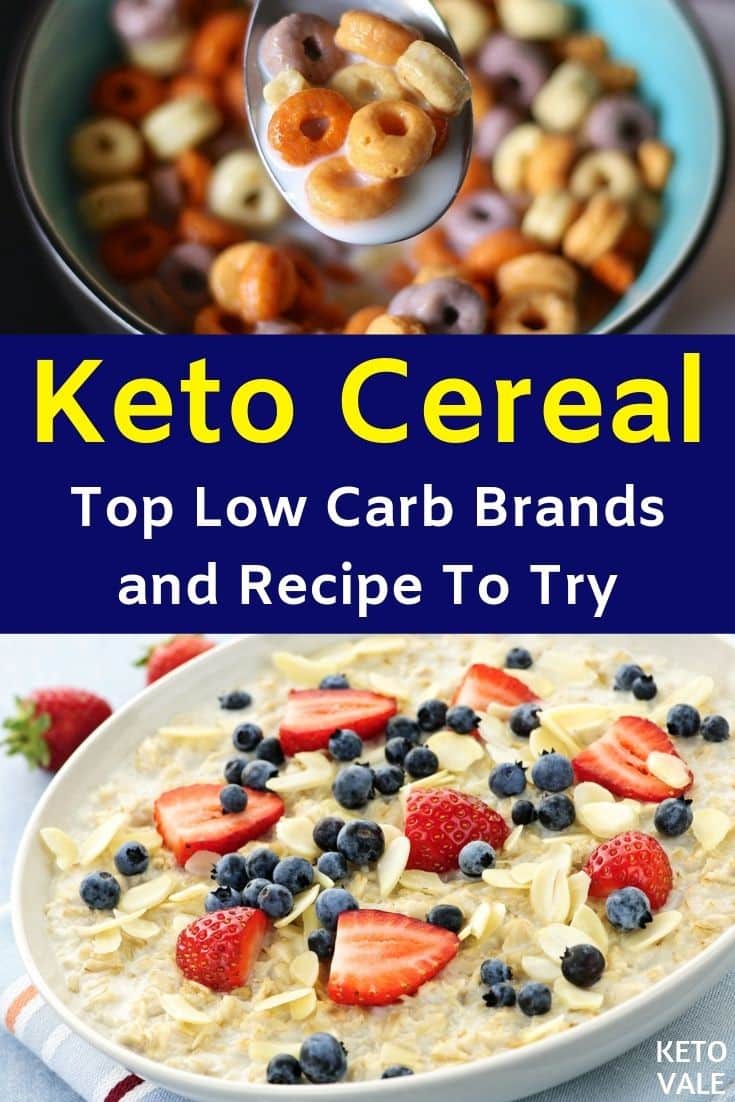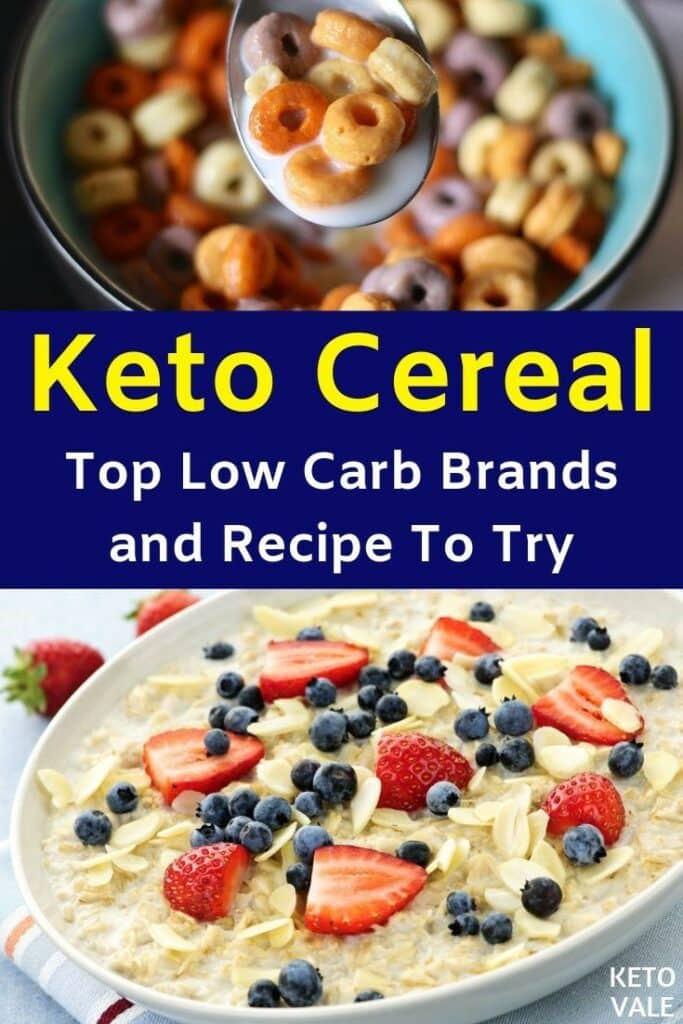 Photo credit: © Can Stock Photo / Elenathewise