While we definitely don't recommend visiting IHOP frequently on a keto diet, there are ways to make it work as long as you order carefully. Most of all, staying keto at IHOP will require you to take your self-control with you.
Some of the best low carb IHOP options include T-bone steak and eggs without pancakes or bacon, sausage, and fried eggs. If you want an omelet, make sure to order egg white omelets since their regular omelets are likely not keto friendly.
Here are some tips for ordering at IHOP to ensure you don't ruin your diet. We'll also offer a list of dishes to avoid.
Tips For Ordering Low Carb at IHOP
The best thing you can do for your ketogenic diet or low-carb diet is to eat at home as often as you can. This allows you to have complete control over what and how much you eat.
Following a strategic meal plan, eating the right keto-friendly foods and sticking to your macros are the surefire way to succeed with keto.
Also, keep in mind that a low carb diet isn't always the same as a ketogenic diet. You can order a meat and cheese omelet, but the meat might contain added sugars for extra flavoring and the dish might be cooked in vegetable oil because it's cheaper. This means that the meal won't be entirely keto compliant.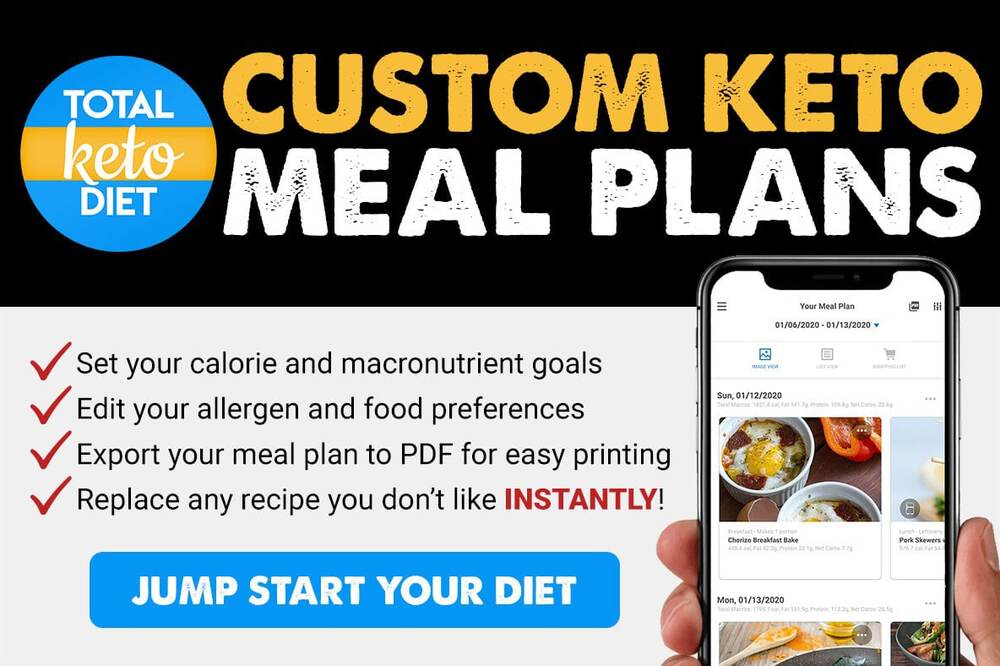 Lowest Carb Dishes at IHOP
Here are the some of the lowest carb dishes at IHOP that you can order based on the website's nutrition information:
Big three egg breakfast with pork chops or turkey sausage patty (0 grams carbs)
T-Bone steak and pork chops (0 grams carbs)
55+ grilled chicken dinner (<1 gram of carbs)
55+ grilled tilapia dinner (2 grams carbs)
Egg white omelette with cheese, bacon, and ham (3 grams carbs)
House salad without dressing (5 grams carbs)
We recommend avoiding IHOP and other chain restaurants whenever possible, especially if you're just starting out on a low-carb or ketogenic diet and haven't found your rhythm yet.
However, if you're traveling or even out with friends who insist that you join them for a meal, then you can follow these tips to make it work.
#1. Know what you want before you go in
Some people simply can't say no to pancakes. If you're one of them, then stay far away from IHOP. After all, they aren't just named the International House of Pancakes for nothing.
IHOP offers several different types of pancakes to be exact, and they are available 24/7. They also offer a wide variety of waffles, French toast, and crepes.
You'll need to be extra disciplined if you plan to visit IHOP while on a low-carb diet. We recommend taking a look at their menu and picking out what you want to eat beforehand.
Be sure to stick to your guns when it's finally time to order. You can always make your own keto pancakes at home using one of our many recipes!
#2. Order breakfast no matter what time of day it is
Most IHOP locations are open 24 hours a day or at least until 11 PM. They also serve breakfast all day long. This means that no matter what time of day you walk in there, you can get something low-carb.
Stick with a meat and egg dish and hold the starchy extras. You can get a T-bone steak and eggs minus the pancakes or try an omelet with chicken, bacon, avocado, and shredded cheddar cheese (ask for no pancake batter in the omelet).
Top it with sour cream and ask to have some low-carb veggies added in, such as spinach, broccoli, mushrooms, and onions. Ask to swap out the hash browns and toast for a side of fruit or tomato slices.
Note: most fruit cups are not keto-friendly and should be avoided if you need to stay in ketosis. You may even want to hold the tomato slices and just stick with the eggs and meat to be on the safe side.
#3. Try a steak burger or sandwich
Despite being a house of pancakes, IHOP also offers a nice selection of sandwiches, salads, and steak burgers. This is good news if you don't want eggs or already had them that day.
We recommend asking for a steak burger or sandwich minus the bun and any sauce that comes on it.
Swap out the French fries for a side house salad with oil and vinegar dressing. If they don't offer this, then ask for a side of oil and squeeze the juice of a fresh lemon over your salad.
#4. Order fresh eggs
IHOP mentions in their menu that their scrambled eggs and omelets are made with a splash of buttermilk and wheat pancake batter. Because of this, it's best to avoid their scrambled eggs and ask for fresh eggs instead. You can get them over-easy, over-medium, fried, or poached.
Bonus tip: if you're over the age of 55, then order off the 55+ menu for a discount with your AARP card. Just because you're eating low-carb doesn't mean you don't deserve a discount!
#5. Be wary of the gluten-free menu
IHOP has a gluten-free menu, but it contains a lot of items that are not keto-friendly, such as gluten-free waffles, pancakes, fruit, hash browns and French fries. These foods might be gluten-free, but they are not low carb!
Instead, check out the combo section of the menu where you can get various combinations of meat and eggs.
What To Order at IHOP
IHOP appears to be pretty flexible in terms of what you order. If you don't see something you like on the menu, then ask to have something custom made to ensure you get a keto-friendly meal.
They offer some great low-carb ingredients, such as lots of meats, cheese, eggs, avocado, sour cream, bacon, and low-carb veggies.
We'll show you what dishes are safe to order off the menu and how to customize them to fit your low-carb needs.
Breakfast Options
Ultimate waffle stack (order this without the waffles and sweet maple glaze)
Create your own melt (order this with eggs, cheese, and bacon or shredded corned beef; hold the bread)
IHOP signature pancake sliders (hold the silver dollar pancakes and sweet maple glaze; get fresh eggs in place of scrambled)
Southwest scramble (order this without the red potatoes, toast, pancakes, or tortilla)
Breakfast sampler (get this without the buttermilk pancakes and hash browns)
Split decision breakfast (no French toast or pancakes)
2 x 2 x 2 (ask for no pancakes and get extra meat if you can)
Sirloin tips and eggs (hold the pancakes and hash browns)
Simple and fit two egg breakfast (hold the toast; if you're on the keto diet, then don't eat the fruit either)
T-bone steak and eggs (hold the pancakes)
Smokehouse combo (no pancakes or hash browns)
Quick two egg breakfast (no hash browns or pancakes; ask for extra meat instead)
Omelettes (order all omelettes without hash browns, toast, or pancakes; if you're on the low carb diet, then hold the fruit cup as well):
Spicy poblano omelet
Big steak omelet
Chicken fajita omelet
Green chile omelet (hold the sauce)

Colorado omelet

Spinach and mushroom omelet (order without the hollandaise sauce in case there is sugar or flour in it)

Bacon temptation omelet (hold the cheese sauce and ask for shredded cheese instead)

Important note: For a strict keto diet, you need to be careful as we heard that IHOP puts pancake batter in all scrambled eggs and omelettes to make them look fluffy! So ask them if they can skip the pancake batter. Otherwise, just order fried, over, or poached eggs instead.
Lunch Options
Order all steak burgers and sandwiches without the bun and any sauce that comes on it; get a side house salad made with oil and vinegar or lemon in place of fries):
Slider trio (no buns)
The classic steak burger (no signature IHOP sauce)
The classic steak burger with bacon (no signature IHOP sauce)
Mega monster steak burger (no signature IHOP sauce)
Big brunch steak burger (order this without the hash browns on the sandwich)
Cowboy BBQ steak burger (no onion rings or BBQ sauce)
Jalapeno kick (no jalapeno mayo)
Mushroom and swiss steak burger (no mayo)
Patty melt (no sauce)
Turkey, bacon and avocado wrap (no ranch or flour tortilla)
Philly cheese steak stacker (no roll; add avocado)
Roasted turkey sandwich (no bread or mayo; add avocado)
Double BLT (no bread or mayo; add avocado)
Grilled chicken and veggie salad (ask for oil and vinegar instead of honey balsamic vinaigrette dressing)

House salad (ask for oil and vinegar dressing)
Dinner Options
Sirloin steak tips (hold the corn and mashed potatoes and ask for a side salad and steamed broccoli instead)
Roasted turkey and fixings (order this without the turkey gravy, stuffing, cranberry sauce, and mashed potatoes; get a side salad instead)
55+ menu:
Grilled chicken dinner (hold the red potatoes and ask for more steamed broccoli or sauteed spinach)

Turkey and swiss sandwich (no mayo or bread; ask for a side salad in place of fries)
Roasted turkey dinner (hold the mash potatoes, gravy, and cranberry relish; ask for double broccoli instead)
Foods To Avoid at IHOP
It goes without saying that you can't eat the following foods on a low-carb diet.
Here's a list of foods to stay away from due to their high carbohydrate and sugar content.
All pancakes (try our almond flour flaxseed pancakes instead)
All waffles
All French toast and crepe dishes
All dishes on the limited time offers menu
Buttermilk crispy chicken
Homestyle corned beef hash (you could order this without the hash browns, caramelized onions, and mustard aioli, but it's easier to order something else off the menu)
Buttermilk biscuits and gravy
Crispy chicken strips and fries
Appetizer sampler
Chicken and three cheese quesadilla
Spicy chicken ranch sandwich
Bacon crusted chicken breast with potato hash (we can't tell if the bacon crust breading also contains flour so it's best to avoid this dish and order something else)
Country fried steak
Crispy fish and chips
Grilled cheese sandwich
Macaroni and cheese
Chicken and waffles
Chicken nuggets
All flavored coffee drinks, fruit juices, splashers, milk and soda
All burrito and bowl meals
Conclusion
Eating low-carb at IHOP might be too torturous for some, especially those with a severe weakness for pancakes. But if you're determined enough, there are plenty of ways to eat low-carb at IHOP.
You just have to stick with an omelet (make sure to ask for no pancake batter), burger or steak dish with a few special adjustments. We recommend taking a look at the menu and having a plan before you go into IHOP.
If you get an egg-based dish, make sure to ask for fresh eggs and not scrambled. We noticed that the IHOP menu mentions that they add wheat and buttermilk to some of their scrambled eggs to enhance the flavor.
Choose poached, fried, or over-easy eggs to go with your side of bacon or sausage. If you're getting an omelet, ask for low-carb veggies to get a boost of fiber and antioxidants. IHOP has plenty of sandwich and burger options.
Just be sure to order them without the bun or any sauce that comes on it. If you're really hungry, try one of their many steak options and get a side salad with steamed broccoli.
Enjoy this post? Share to save for later!
Photo credit: jetcityimage2/Depositphotos.com