Did you know that you can still enjoy your low-carb pancakes with maple syrup as long as you use a sugar-free and keto-friendly syrup brand?
If the keto maple syrup part sounds too good to be true, then you need to check out this list of the best ketogenic, low-carb, and sugar-free maple syrup. They are guaranteed to take you back to the Sunday morning breakfasts mom used to make.
| Brands | Net Carbs Per 2 Tbsp Serving | Sweetened with |
| --- | --- | --- |
| Lakanto | 1g | Non-GMO erythritol, monk fruit extract |
| So Nourished | 1g | Monk fruit extract, stevia leaf extract, erythritol |
| ChocZero | 2g | Monk fruit extract |
| Walden Farms | 0g | Sucralose |
| Pyure | 3g | Organic stevia and organic erythritol |
| All-u-Lose | 3.7g | Allulose |
| Good Good | 2g | Stevia extract |
| Sukrin | 2g | Sorbitol, erythritol, molasses, steviol glycosides |
Out of these brands, our favorites are Lakanto Maple Flavored Sugar-Free Syrup and So Nourished Keto Pancake Syrup.
What is Maple Syrup?
Most of us know where to find maple syrup in the grocery store, but what exactly is it? By definition, maple syrup is a sticky, sugary substance made from the sap that comes from certain trees, such as the maple tree.
According to the National Agricultural Statistics Service, there are more than 1.3 million gallons of maple syrup produced in the United States each year (1).
Because regular maple syrup is made mostly from sugar, it's not allowed on the ketogenic diet.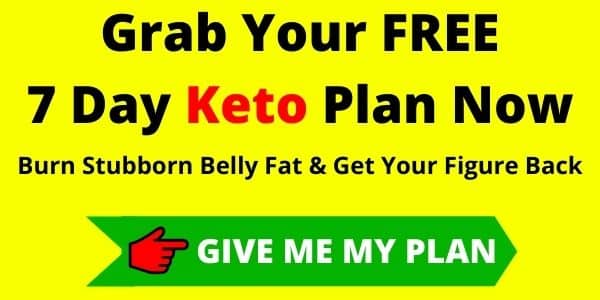 How Is Regular Maple Syrup Made?
Most maple syrup is made by following these steps:
Tree taps allow the sap to flow from the tree into buckets. Once the sap is collected, it needs to be evaporated and boiled.
The heating of the sap involves using an "arch," which can refer to a stove or concrete blocks and a smokestack. Sap needs to be boiled at the same temperature as water.
Boiled the sap causes it to roll and foam, but some maple syrup manufacturers add a defoaming agent to this process to make the syrup smoother.
The sap is then boiled until it reaches a concentration of 66% sugar (now you can see why it's not keto-friendly).
Once the sap is boiled and evaporated, it is filtered for impurities and bottled.
Research states that one of the most important aspects of making syrup is growing healthy trees each year. Maximizing the tree's health means that the syrup will taste better. In the northeastern part of the United States, trees are tapped for maple syrup in late January or early February. This process continues into March and sometimes April.
The temperature has to be just right for the sap to start flowing from the tree. Warm days that range above 40°F and cold nights with temperatures below 32°F start off the tap for the year. The beginning of the seasons usually brings lighter syrup while the harvest during the late season brings a richer, deeper colored syrup.
How Many Types of Syrup Are There?
There are three different grades you can choose from, which must conform to the United States Department of Agriculture (USDA) grade and classification standards:
U.S. Grade A light amber
U.S. Grade A dark amber
U.S. Grade A medium amber
---
What to Look For When Choosing Maple Syrup for Keto Diet
As mentioned above, regular maple syrup contains at least 66% sugar, which is a big no-no on the ketogenic diet.
Luckily, there are many keto-friendly syrups available that allow you to enjoy the taste of maple syrup without the sugar crash. The first thing you'll want to pay attention to are the ingredients.
Of course, you want a product that looks and tastes as much like the real thing as possible. Use these tips to help you make a decision.
Maple Syrup Extract or Natural Maple Flavor
Look for a maple syrup that uses 100 percent maple extract if you can so that you get the flavor of the maple syrup minus the calories and sugar.
Some extracts add sugar to their product for better flavoring, so make sure the one you buy doesn't have any of this. Remember that the fewer ingredients the product has, the better!
The next thing you'll want to look for is a high-quality type of no-calorie sweetener. Erythritol is a good option because the consistency matches that of real maple syrup.
Monk fruit sweetener and stevia are also good keto sweeteners that you can use because they are calorie and sugar-free and come from natural sources.
Try to avoid artificial sweeteners, such as aspartame and sucralose, as these contribute to digestive upset.
Lastly, you'll want to make sure there are no preservatives, artificial food dyes or any other chemical-laden ingredients that contribute to inflammation in your keto syrup.
Some companies will add coloring to get the desired look of real maple syrup, so be sure to avoid these whenever possible by reading the ingredient labels.
Check out our guide to the best keto sweeteners and sugar substitutes when looking for a product that contains the best natural sweeteners.
---
Best Low Carb, Keto-friendly and Sugar-free Maple-Flavored Syrup Reviews
Still not sure what kind of keto-friendly maple syrup to get? We've done the research for you and come up with some pretty great options. Take a look at our top list and get ready to break out the keto pancakes for breakfast!
---
#1. Lakanto
Our #1 choice for Keto Diet!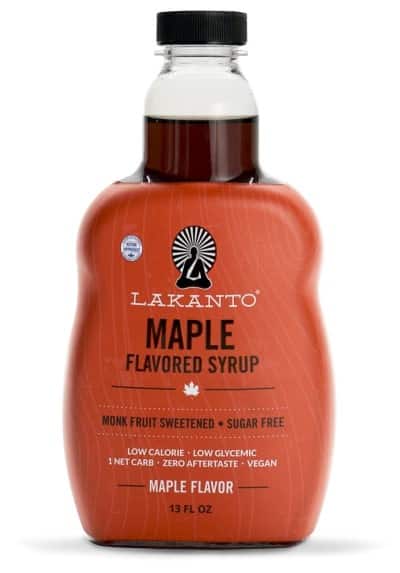 Where to buy: Shop Now!
Lakanto Maple Flavored Sugar-Free Syrup has one net carb per serving, which is a pretty great way to douse your pancakes without feeling guilty about it (or getting kicked out of ketosis).
It's sweetened with monk fruit sweetener, which is a preferred sweetener among keto folk because it's naturally sourced, tastes great, and is calorie free.
It also contains natural flavoring so that you get the taste of real maple syrup without any unpleasant aftertaste. Plus, it has plant-based preservatives, which are safer than the chemical-laden ones.
This means that the product can sit on your shelf longer without going bad or needing to be replaced as often.
Here is a breakdown of the ingredients:
Purified water
Vegetable fiber
Lakanto monk fruit sweetener (non-GMO erythritol, monk fruit extract)
Vegetable glycerin
Natural flavorings
Sea salt
Vitamin B 35b (plant-based preservative)
Guar gum
Pros
Contains one net carb per serving
Looks, tastes and smells just like real maple syrup
Sweetened with monk fruit
Contains plant-based preservatives instead of chemical-laden ones
Free full refund if you're not happy with the product
100% keto-friendly
No aftertaste
Contains 5 grams of fiber per serving
Cons
Some people might not like its taste.
#2. So Nourished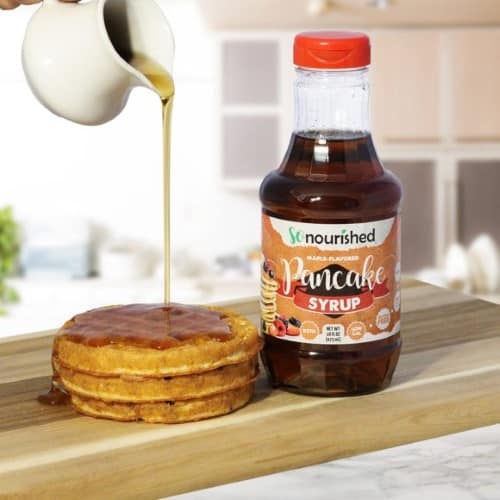 So Nourished keto pancake syrup contains 1 gram of net carbs, 9 grams of fiber, and 25 calories per serving. It's made in the USA and comes with a 100% money-back guarantee.
We like that this product uses stevia, erythritol, and monk fruit as sweeteners and has very few preservatives. It's gluten-free, low-glycemic and vegan.
All other ingredients are also keto compliant, including water, chicory root fiber, natural flavors, caramel color, cellulose gum, salt, phosphoric acid, potassium sorbate and sodium benzoate.
Pros
Contains 100% keto-approved ingredients
Contains 1 gram of net carbs and 25 calories per serving
Provides 9 grams of fiber per serving for digestive health
No artificial colors, flavors, or sweeteners
Made in USA
Cons
Some people might not like the taste.
---
#3. ChocZero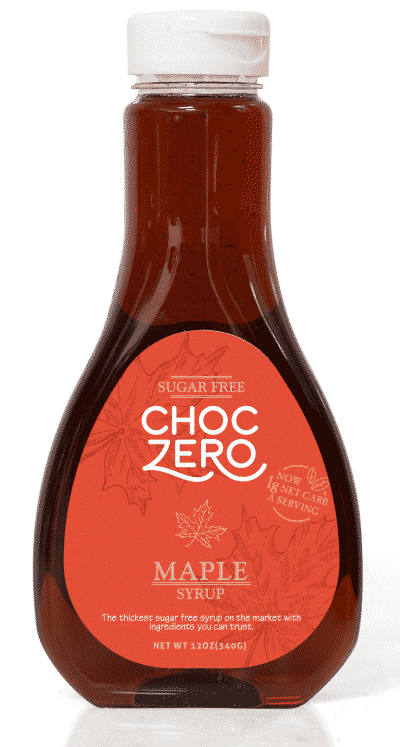 Where to buy: Shop Now!
ChocZero is a keto-friendly, sugar-free maple syrup that claims to have the thickest syrup on the market. So if you like a nice, thick syrup to coat your favorite foods, then this one's for you.
We also love the simplicity of this product. Just like with the first syrup on the list, this product only has one net carb per serving.
We like that it has fewer ingredients than the first product and that it uses monk fruit extract as its sweetener of choice.
Not to mention it contains pure maple in its ingredients, so you can bet that this tastes like the real thing, too.
It also contains more fiber per serving than the first product, which is a great way to help keep you regular and improve digestive health.
Here is a list of its ingredients:
Liquid vegetable fiber
Natural maple flavor
Monk fruit extract
Caramel color
Pros
11 grams of fiber per serving
Sweetened with monk fruit
Contains natural maple flavoring
Claims to be the thickest sugar-free syrup on the market
Contains one net carb per serving
Made in the USA
Free of sugar alcohols
Features non-GMO ingredients
Cons
It uses caramel color as one of its ingredients, and since it is not listed as a plant-based coloring agent, we can only assume that this product uses some sort of artificial coloring or dye to get the desired look of maple syrup. This isn't a big deal if you don't plan on using a lot of it, but we would like to see one that gets its coloring from natural means.
---
#4. Walden Farms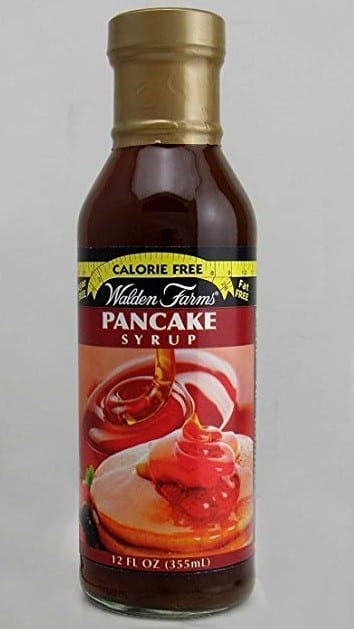 Where to buy: Shop Now!
The third product on our list is from Walden Farms. While it's a sugar-free syrup, it isn't strictly keto. If that's OK for you, read on because this product still has a lot of great features!
Walden Farms calorie-free maple syrup is made with real maple flavor and pure vanilla extract, so it certainly tastes like the real thing. It contains no calories, no sugar, no fiber, and no fat. Here is a breakdown of the ingredients:
Triple filtered purified water
Cellulose gum
Maple flavor
Sucralose
Salt
Natural flavors
Lactic acid
Sodium acid sulfate
Potassium sorbate (to preserve freshness)
Sodium benzoate
Caramel color
Beta carotene color
Pros
Sugar and calorie free
Most reasonably priced out of all three products
Contains no gluten
Sweetened with real maple flavor and vanilla extract (according to the product's label)
Can be used on various different foods, not just pancakes
Cons
This product is not as keto-friendly as the first two options as it contains sucralose instead of monk fruit sweetener. It also contains a good amount of preservative, such as potassium sorbate, sodium benzoate, sodium acid sulfate, and caramel color. We'd like to see a product without these chemicals, or at least one that contains plant-based preservatives (like the first product).
No fiber content (unlike the first two products)
Not strictly keto-friendly
---
#5. Pyure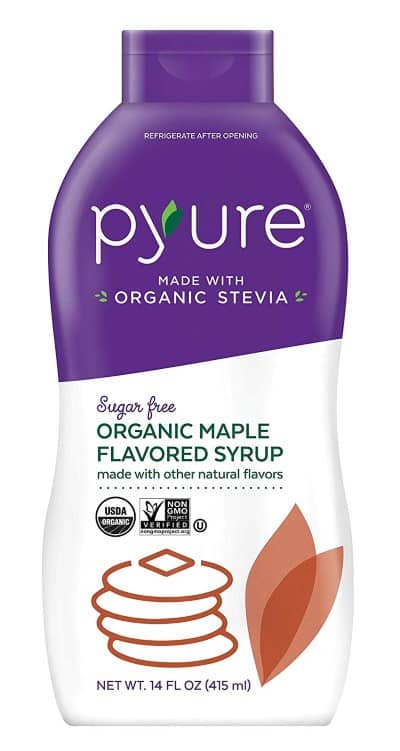 Where to buy: Shop Now!
Pyure makes an organic maple flavored syrup that is sweetened with stevia and erythritol. We like that water is the first ingredient listed on the bottle.

Other ingredients include organic soluble tapioca fiber, organic erythritol, organic stevia, organic caramel color, and some stabilizers.

A ¼ cup serving contains 50 calories, 0 grams of fat, 4 grams of net carbs, and 0 grams of protein.
Pros:
Contains certified non-GMO organic ingredients
Sweetened with stevia and erythritol
Contains 4 grams net carbs per ¼ cup serving
No sugar alcohols or artificial flavors
Contains 13 grams of fiber
Cons:
Contains 10 grams of erythritol, which can be hard to digest if you're not used to it
---
#6. All-u-Lose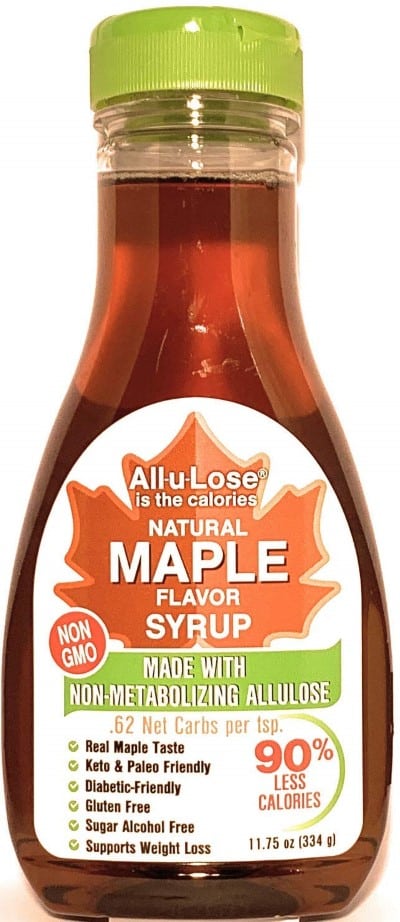 Where to buy: Shop Now!
All-U-Lose maple syrup is a sugar-free syrup that is sweetened with allulose, which is a low-calorie sweetener that has some proven health benefits. You can read more about our thoughts on allulose in this sugar alcohols article.

We like that this product only contains two ingredients: non-GMO allulose and natural maple flavor. A one-teaspoon serving contains 4.15 calories, 0 grams of fat, 5.11 grams of carbs (0.62 grams of net carbs), and 0 grams of protein.

Pros:
Only two ingredients listed (not a ton of preservatives like other products)
Features natural maple flavor
Uses non-GMO allulose as a sweetener
Contains less than 1 gram of net carb per serving
Low calorie
Has a great flavor with no aftertaste
Cons:
Reviewers claim that the consistency is thinner than real maple syrup
---
#7. Good Good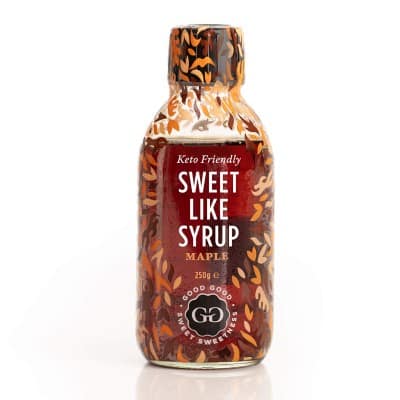 Where to buy: Shop Now!
This Sweet Like Syrup product is made by a company called Good Good. It contains four simple ingredients, including isomalto-oligosaccharide, natural flavor, stevia, and natural coloring.

Isomalto-oligosaccharide or IMO is a low-calorie carbohydrate that acts as a prebiotic in the body and is naturally occurring in some foods. It has a sweet taste and minimal, if any, impact on blood sugar.

According to the product label, a two-tablespoon serving contains 50 calories, 0 grams of fat, 2 grams of carbs, 21 grams of fiber, and 0 grams of protein.

Pros
Suitable for a diabetic or keto diet
Provides an excellent source of fiber
Contains 2 grams of carbs per serving
Uses stevia as its sweetener
Does not contain loads of preservatives and other artificial ingredients
Cons
At 21 grams of fiber per serving, this product may cause digestive upset
---
#8. Sukrin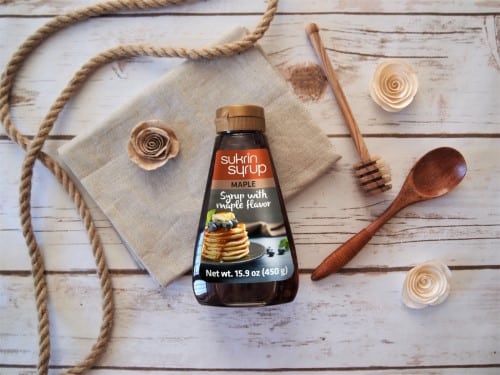 Sukrin maple syrup is a low-carb alternative to maple syrup. It contains 60 calories, 0 grams of fat, 28 grams of carbs, 20 grams of fiber, 6 grams of sugar alcohols, and 0 grams of protein per serving.
This product only contains 2 grams of net carbs per serving, but it contains ingredients that are not completely keto-friendly.
Ingredients include soluble corn fiber, sorbitol, erythritol, molasses, stevia, flavoring, and salt.
It's best to use a product that does not use artificial sweeteners (sorbitol) and sticks to erythritol and stevia. We also recommend staying away from soluble corn fiber and molasses if possible.
However, if you only plan to use it every once and awhile (like for Saturday morning pancakes), then this product could work for you!
Pros
Contains only 60 calories and 2 grams net carbs per serving
Looks and pours just like real maple syrup
Provides a good source of fiber
Cons
Uses artificial sugars and other ingredients that are not encouraged on the keto diet, such as soluble corn fiber and molasses
---
Homemade Low Carb Pancake Syrup Recipe
If you prefer making your own sugar free pancake syrup recipe, feel free to use the recipe below:
Ingredients:
How to: Add everything to a sauce pan and bring to boil. Stir well until everything is well incorporated. Remove from heat and let it cool then store in a jar for later use.
---
Conclusion
Using a sugar-free maple syrup is a great addition to any ketogenic diet, especially if you have a bit of a sweet tooth and miss the taste of maple.
The process of making real syrup involves tapping a maple tree and letting the sap run out of it. From here, the sap is boiled and evaporated until it reaches a sugar content of 66%. You can see why this isn't a keto friendly food!
Luckily, there are many different keto-friendly syrups you can buy that look and taste just like the real thing without all the sugar or calories.
We've provided our top choices in this article and we recommend going with option number one for strict keto followers.
This is because it sweetened with monk fruit and no artificial colors. It also contains the fewest amount of preservatives. You can always make your own syrup at home by following the directions provided in this guide if you want total control over what goes in your product!
Save this post on Pinterest for later reference!