Stocking up on the keto diet can be hard, but it's a good way to ensure that your food supply lasts longer if you can't make it to the grocery store, or if you only shop once a week or if there aren't a lot of options in your area.
If you live in rural areas, or if you're stuck in the house for days or even weeks at a time, then consider stocking up on these low-carb essentials to get you through while sticking to your diet as best as you can.

Here are the top low-carb food items that have an extended shelf life or are easily stored in your pantry, fridge or freezer.
The best part? You can order most of these online right now!
Ready-To-Eat Keto Meals
When it's not possible to get out of the house to grocery shop or when you're trying to avoid crowds, it may be a good idea to invest in a meal delivery service that sends healthy meals to your door.

These can seem expensive, but keep in mind that you are paying for the convenience of someone else grocery shopping for you, cooking your meals, and then delivering them (ready to eat) right to your door.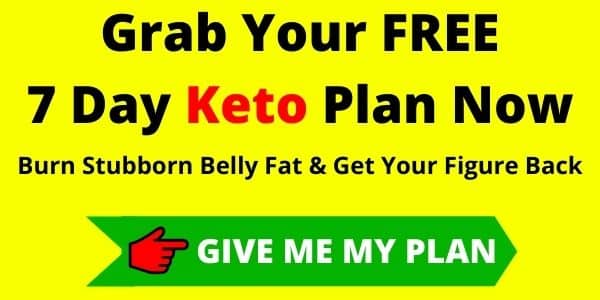 Some of these services offer one-time order, while others ask you to subscribe weekly.

For example, Fresh n' Lean offers a one-time order which you can purchase as many meals as you want. Their meals are freezable and last around 6 weeks after freezing if you don't eat them all straight away.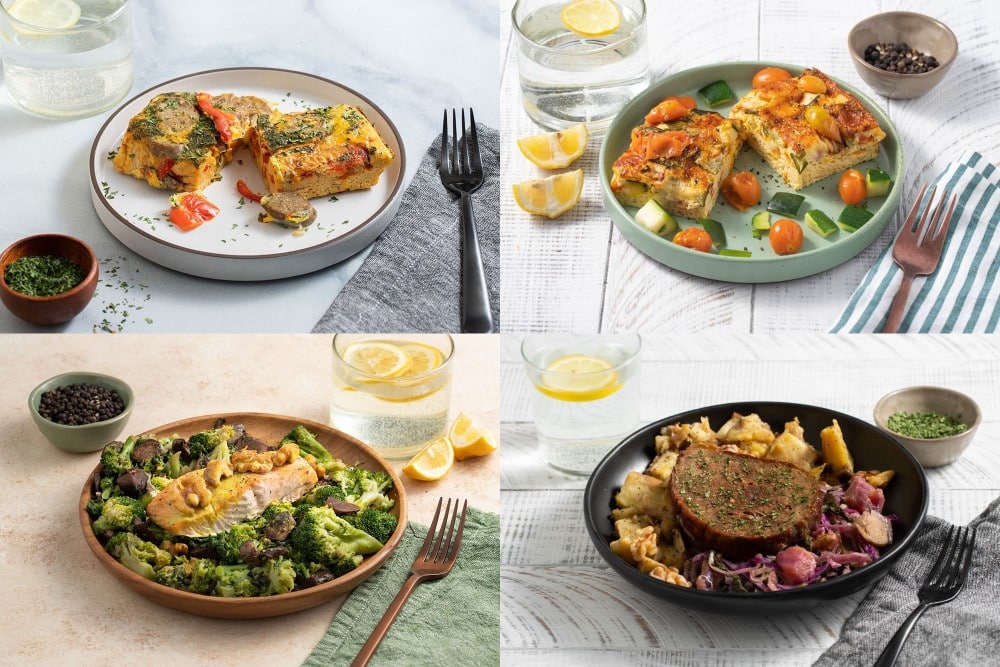 We've tried several keto meal delivery services that you can check out for current special deals:
Frozen Meat
Frozen meat is an excellent item to stock up on because it keeps in your freezer for several weeks, depending on when it was packaged.

We recommend ButcherBox, which is a meat-delivery service that specializes in the highest-quality meat and fish available.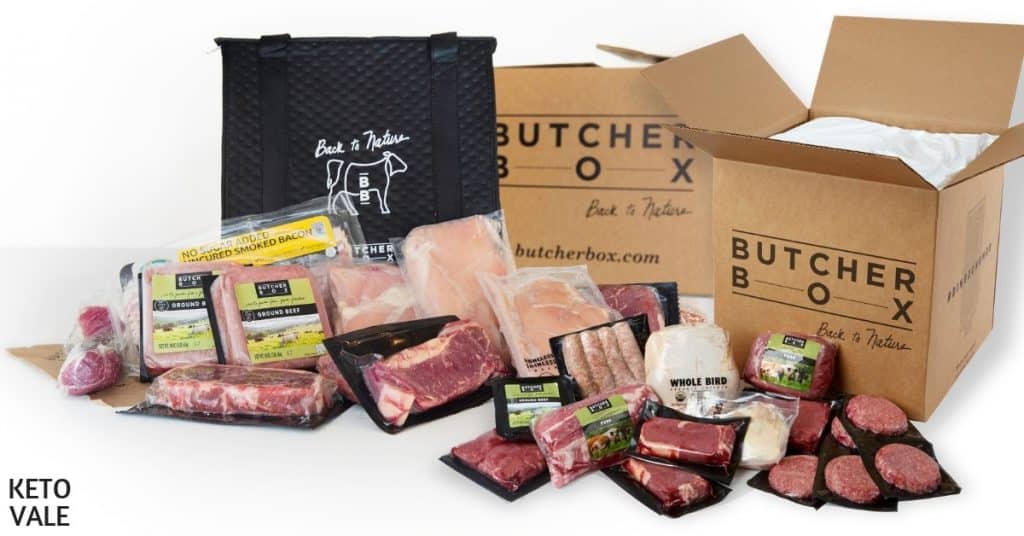 They offer organic, grass-finished, and hormone and antibiotic-free beef, chicken, pork, and salmon. You can place an order online and the meat will be sent right to your door.

Where to buy: Check this month's special offer here!
Keto Soups
Instead of canned soup, which tends to be full of sodium, preservatives, and starchy ingredients, try stocking up on keto soup that contains low-carb ingredients and fewer preservatives.

We recommend Kettle and Fire soups because they are sourced from high-quality, organic ingredients, including grass-fed bone broth, organic herbs, low-carb veggies, and cheese.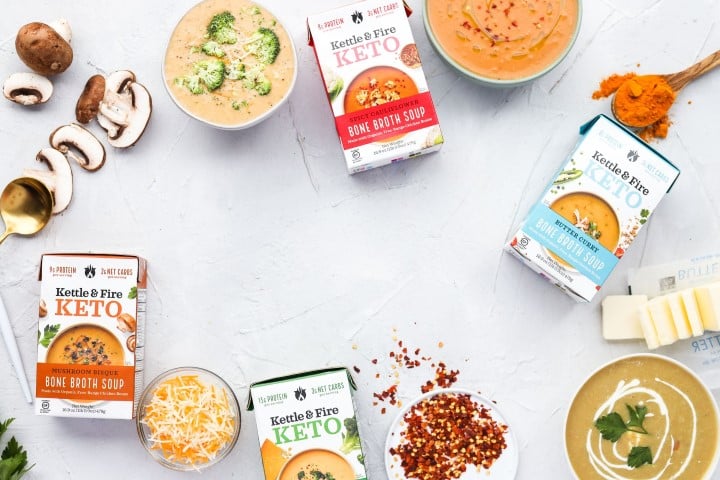 Plus, they taste great and are ready within five minutes. Kettle Fire soups contain 15 grams of fat, 12 grams of protein, and 1 gram of net carb per serving.

Where to buy: At the time of this writing, you can get 30% off when you order the ultimate bundle package by going to this page!
Bone Broth
Bone broth provides an excellent source of vitamins, minerals, and protein to help fill in nutritional gaps if food is scarce in your area. Plus, it can be used in a variety of ways.

You can sip on it like tea or use it as a base for soup. You can also use it in place of oil to cook your meat and vegetables in. Read our list of the best bone broth for keto diet here.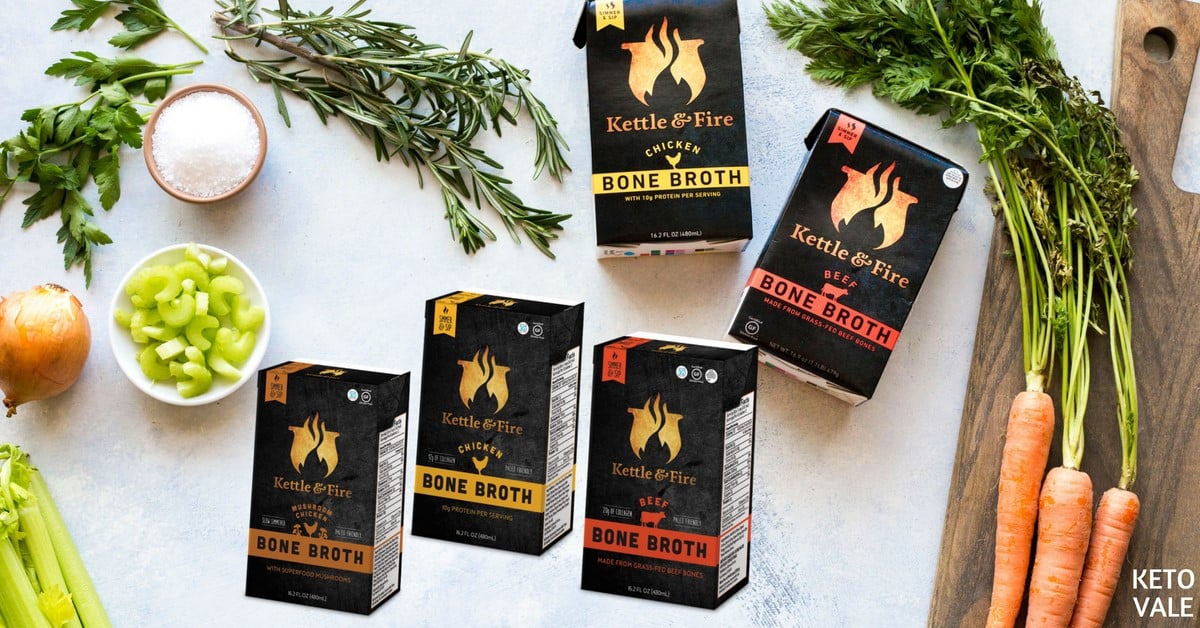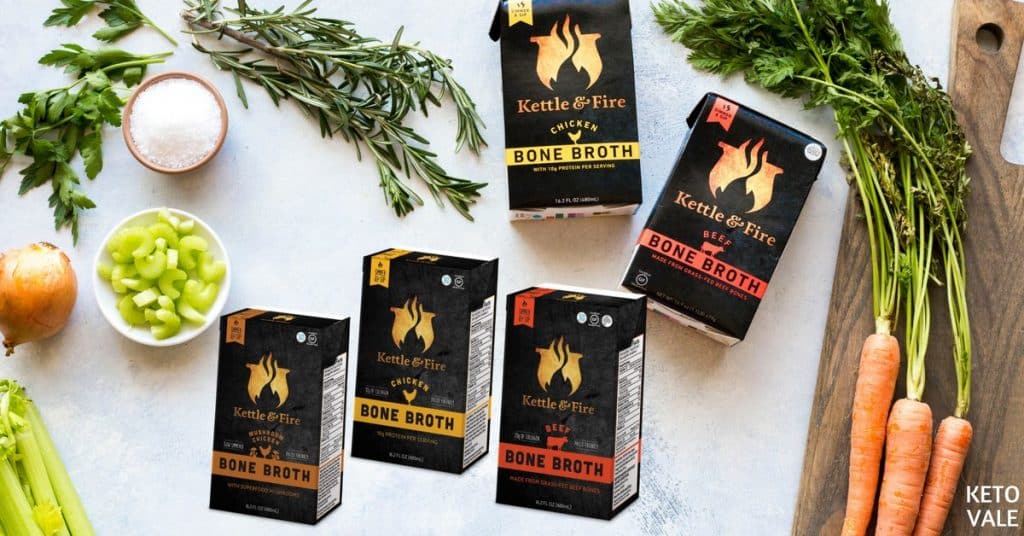 Where to buy: check out this bone broth variety pack from Kettle and Fire.
Canned Fish and Meat
Canned meats, such as tuna, salmon, and chicken, are ideal if you can't get any fresh meat in your diet. Choose brands that are low-sodium and do not contain added sugars, colors, or artificial flavors.

Look for organic brands of chicken that do not contain antibiotics. Canned fish should contain low levels of mercury and come from wild-caught sources if possible.

Add canned tuna or salmon to your salad or mix a can with mayonnaise and celery or cabbage for a low-carb salad that keeps well in the fridge for a few days.

Where to buy: Shop now!
Collagen Protein Powder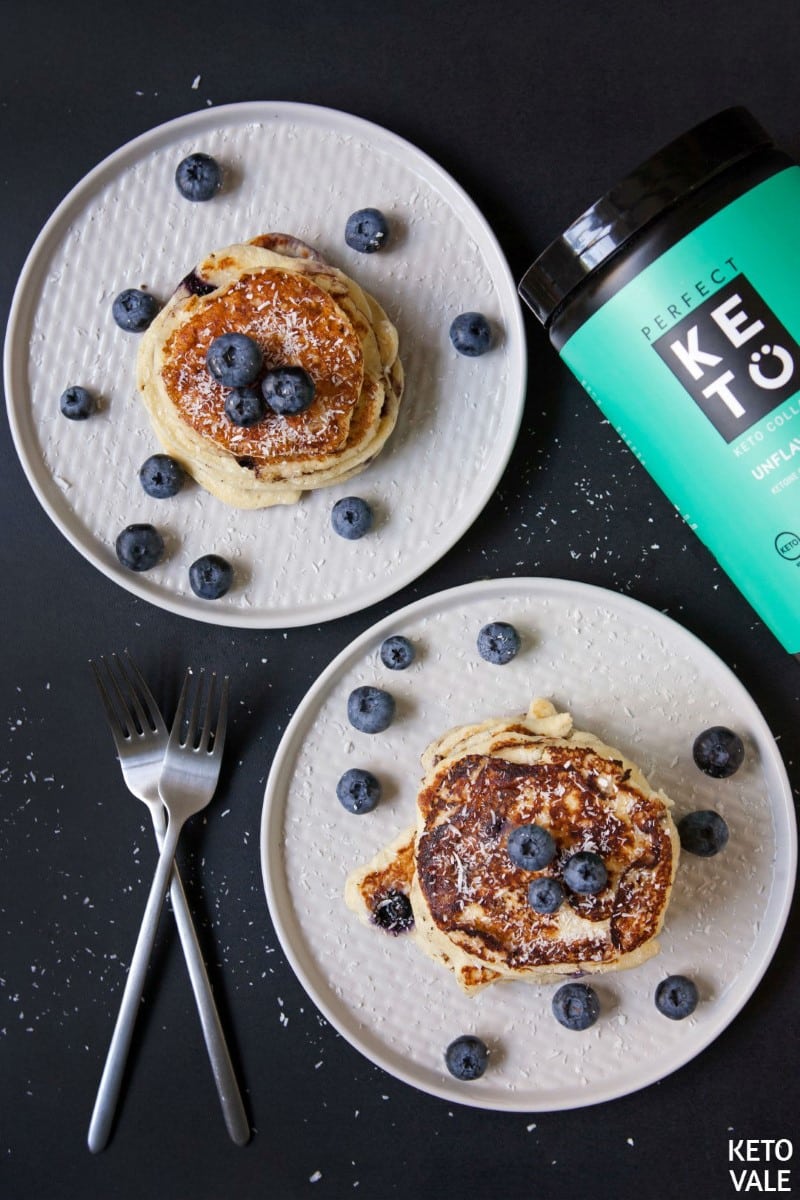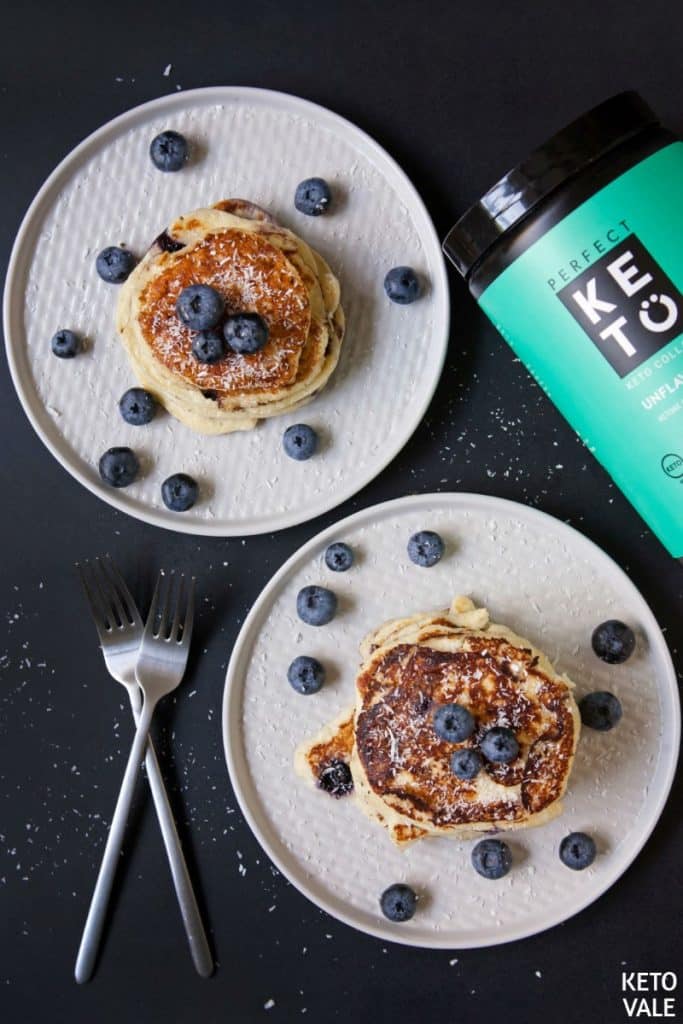 When meat, eggs, cheese, and other sources of protein are not available, we recommend investing in a high-quality collagen powder to meet your protein requirements.

Collagen is the most abundant protein in the body. It has been shown to help improve joint pain and support hair, skin, and nail health.

Look for a collagen protein powder that comes from organic, grass-fed bovine, which contains more complete sources of collagen than marine collagen.

We recommend Vital Proteins, and Perfect Keto.
Keto Instant Coffee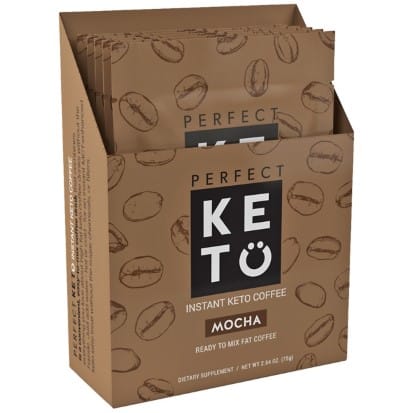 Instant coffee is a great item to have in your pantry even if you have access to fresh coffee. It's portable, convenient, and does not require a coffee pot.

Many instant coffee brands contain added sugars, preservatives, and other unwanted additives.

For this reason, we recommend Perfect Keto instant coffee which contains no artificial ingredients and is naturally sweetened with stevia.
Keto Bars and Cookies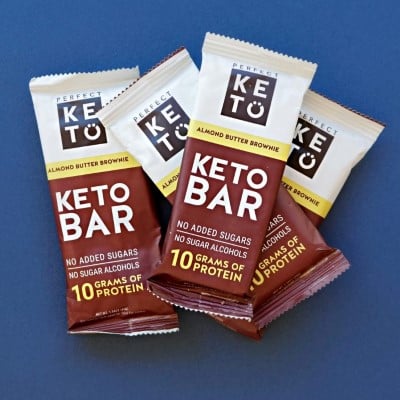 Protein bars and cookies are handy to have around so that you always have something to snack on. They also travel well and can be stored in your pantry for long periods of time.

We recommend Perfect Keto bars because they contain an ideal macronutrient ratio for keto dieters, including 3 grams of net carbs or fewer and 10 grams of protein from collagen and nuts.
Where to buy: you can buy Perfect Keto Bars from their online store.
Frozen Vegetables
Frozen vegetables are the perfect accompaniment to your frozen meat. Look for low-carb vegetables, such as broccoli, spinach, cauliflower, asparagus, peas, and Brussels sprouts.

Where to buy: you can buy frozen vegetables online by ordering your food through your favorite grocery store's website, such as Shipt, Instacart, or AmazonFresh.
Nuts and Nut Milk
Nuts are a great food to snack on in between meals. You can usually buy them in bulk. Go with raw nuts that do not contain added sugars or vegetable oils.

Nut milks, including almond and coconut milk, can be added to coffee or used in a smoothie along with collagen powder and frozen veggies. You can make protein shakes using nut milk and protein powder.

You should be able to order canned unsweetened coconut milk online, but you may have to buy fresh unsweetened almond milk at a store.

Where to buy: check on Amazon.com and other online stores for almond milk and coconut milk.
Nut Flours
Nut flours are perfect for all of your low-carb baking needs. We recommend stocking up on almond and coconut flours.

You may also want to stock up on low-carb sweetener, such as stevia or erythritol.

Where to buy: check on Amazon.com and other online stores for almond flour and coconut flour.
Beef Jerky
Beef jerky is a great low-carb snack that keeps well in your pantry for weeks. Look for a brand that comes from clean sources and does not contain added sugars or nitrates.

We recommend People's Choice beef jerky because it contains no sugar, 0 grams of carbs, and 16 grams of protein per serving.

Where to buy: Shop now!
Cheese
Cheese can be eaten as a snack or added to your favorite low-carb foods. If possible, opt for hard cheeses as they tend to be lower in carbs.
Where to buy: Shop now!
Cooking Oils
You can stock up on cooking oils easily because they can last for many months. Try avocado oil, olive oil and coconut oil. Unlike butter, you don't need to keep it in your fridge.
---
Conclusion
Stocking up on essentials can be hard if you can't leave the house or there are barely any resources nearby, especially when you live in the rural areas. Meats and veggies are keto must haves.
You can stick to your low-carb needs by getting creative and ordering shelf-stable foods online. If you're confined to the house, try ordering frozen meat or investing in a meal delivery service.

It also helps to stock up on beef jerky, collagen powder, low-carb bars, cheese, and keto soups that keep well in your pantry.
Other essentials include instant coffee, canned meat or fish, frozen vegetables, and low-carb baking items, such as nut milk and flour.
*Featured Photo by Vera_Petrunina/depositphotos