Picture this. It's mid-morning (or mid-afternoon), and you're in between meals when hunger strikes. You just had a bacon, avocado, and egg boat for breakfast, so you don't want avocado or eggs. Your next meal is a good one, but it's hours away. So you need something filling to snack on to tied you over until your next big meal. What do you grab?
Beef jerky sticks, of course! They are high in protein and low in carbohydrates. However, most store-bought brands are full of added sugar and preservatives, which means they are off limits on the ketogenic diet.
We've done the research and picked out several brands of keto-friendly beef jerky that you can feel good about snacking on.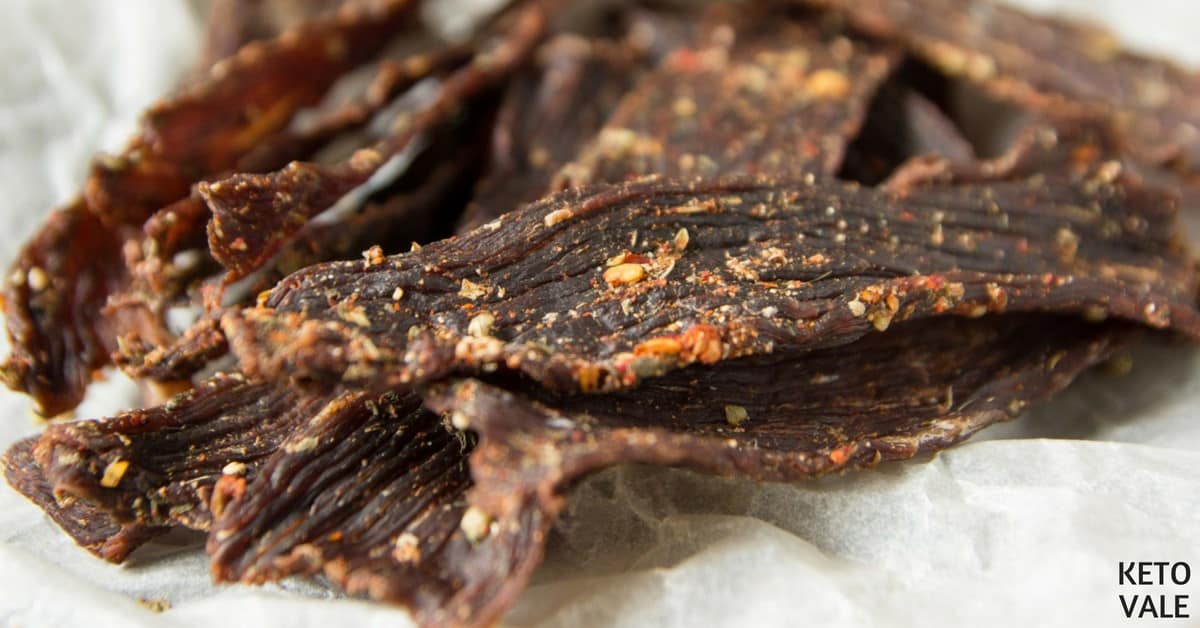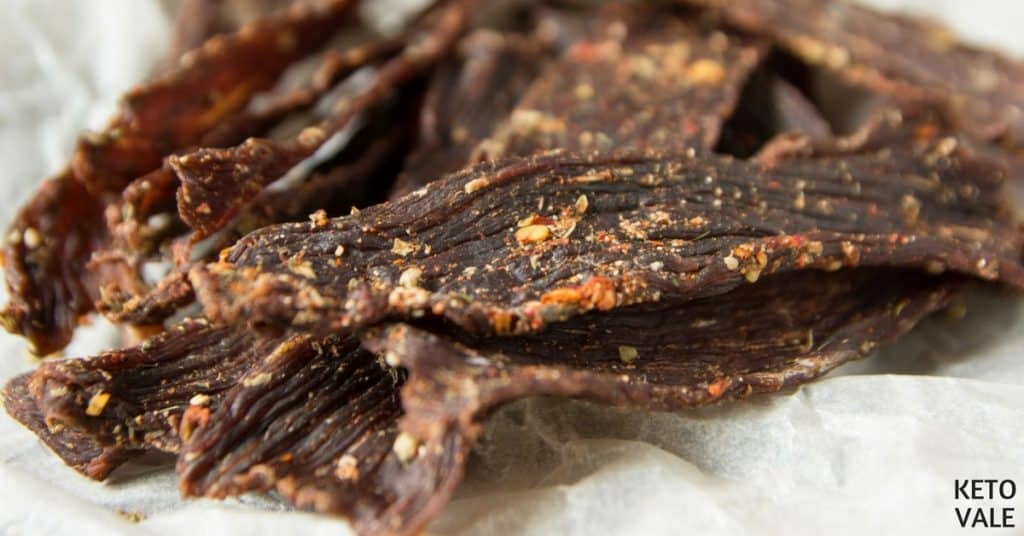 What is Beef Jerky?
Beef jerky is a nutrient-dense meat that is dried and turned into a lightweight meat. Normally, a pound of meat weighs around four ounces after it is turned into beef jerky. This makes it the perfect lightweight keto snack to take just about anywhere with you.
Additionally, because the jerky has been stripped of its moisture content, it's shelf stable. This means you can store it without being refrigerated. Throw some in your gym bag or purse and call it a day.
Research shows that beef jerky has been around since the times of ancient Egypt. Back then, humans dried meat that was too big to eat all at once so that they could carry it with them.
Examples include whales, buffalo, or bears. In some cases, ground dried meat was mixed with suet or dried fruit to create something called pemmican.
In many African countries, they made dried game meat that was referred to as biltong. The word that we use today (jerky) comes from the Spanish word 'charque'.
The process of drying meat is one of the world's most common and oldest forms of preserving food. It even goes back further than canning, which was only invented about 200 years ago and didn't become popular until electricity was widespread.
Drying meat involves removing the moisture from it, which prevents harmful enzymes from coming into contact with your food, causing it to go bad. It's a much better way to preserve food than adding a bunch of chemicals to it!
How is Beef Jerky Made?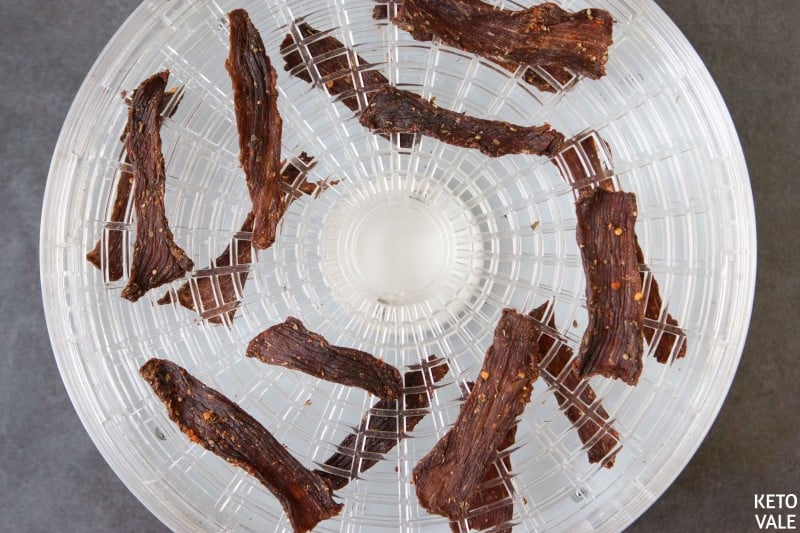 There are several ways to make beef jerky. The two types of natural drying are sun drying and shade drying (otherwise known as adiabatic drying). These two forms of drying occur in the open air.
Shade drying does not involve heat. Sometimes solar drying occurs in which the meat is placed in a special container that traps the sun's heat and strips the meat's moisture content naturally.
But these types of drying are used more for fruits and not meats. Sun drying doesn't work well for animal products because they can become contaminated if they aren't exposed to direct heat.
Because of this, most beef jerky is made through a warm oven or a food dehydrator where the meat is constantly exposed to heat, air flow to circulate the air, and protection against coming in contact with outside bacteria.
You can try our low carb, sugar free and keto beef jerky recipe.
Why Should You Try Beef Jerky?
Snacking on the ketogenic diet can be hard. Your food choices are more limited than other diets, and this means that you'll likely find yourself eating the same things over and over again.
Beef jerky is high in good protein and contains no sugar or carbohydrates as long as you buy the right brand (we'll show you our top picks soon). It's the perfect snack because it travels well and doesn't require refrigeration.
We recommend finding a brand that you like and stocking up so that you always have a keto snack available when you're tempted to eat something that might kick you out of ketosis.
You should especially try beef jerky if you're tired of eating the same snacks every day or if you find that your snack food ingredients are the same as the ones in your main meals. It's all about mixing it up!
Beef Jerky Vs. Processed Meat
Most beef jerky falls under the category of processed meat, which should be avoided due to its inflammatory response in the body. Some research even suggests that processed meats contribute to cancer and other chronic conditions, such as heart disease and diabetes.
Because of this, it's important to look for a brand of beef jerky (or make your own!) that does not include inflammatory ingredients, such as preservatives, added sugars, nitrates, and artificial flavorings.

Grass-fed beef itself is high in many nutrients, such as omega 3 fatty acids, precursors to certain vitamins, and antioxidants that fight cancer. However, processed meat has been stripped of many nutrients during processes that are intended to make the meat last longer.

Beef jerky does not need to use preservatives to keep it shelf stable. This is because the process of reducing the meat's moisture is a natural preservation method that doesn't need chemical enhancers.

The trick is to buy high-quality meat without preservatives, sugars, and other inflammatory ingredients. We'll show you how next.
What to Look For When Choosing Jerky
Unfortunately, it's hard to find a good brand of beef jerky. Most of them are highly processed and contain preservatives, MSG, soy sauce, honey or added sugar to keep them shelf stable and enhance their taste.
The natural process of drying meat takes away the need for chemicals, so there is really no need to buy a brand with ingredients that extend shelf life. So be sure to get a brand of beef jerky that contains 100 percent beef and sea salt, and some spices. That's it.
The other thing you want to keep in mind is the quality of meat. If you can, look for organic, grass-fed and antibiotic and hormone free beef to make sure your jerky comes from a clean source that contains more good fats and fewer additives.
Best Beef Jerky Brands for Low Carb and Keto Diet
Good beef jerky is hard to find. Luckily, we've done the research for you and come up with several excellent choices that you can stockpile and add to your ketogenic meal plans.
We've also added some pros and cons so you can pick the one that's best for you.
---
#1. People's Choice Beef Jerky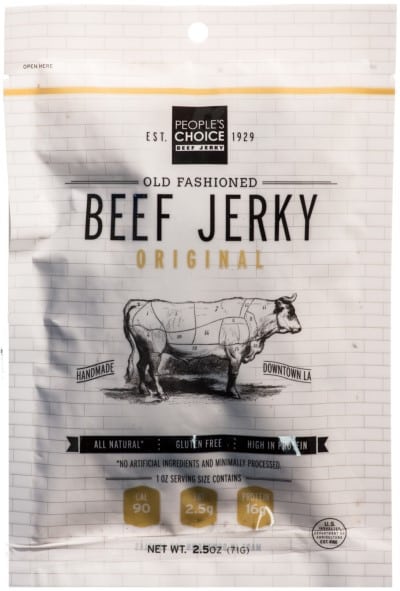 People's Choice Beef Jerky is authentic, old-fashioned jerky just like nature intended it to be. You won't find any soft chews in this package!
It features whole, thick pieces with a steak-like texture that allows you to taste the natural flavors of the meat.
The brand advertises itself as the original keto jerky. It's sugar and carb free and high in protein, just the way we like it.
Plus, it's gluten-free and doesn't contain any nitrates, nitrites, MSG, artificial ingredients or preservatives.
The family behind the brand has been in business for 90 years and all batches are made by hand.
A one-ounce serving size contains 90 calories, 2.5 grams of fat, no carbs and 16 grams of protein. Not to mention 10 percent of your daily iron needs and two percent calcium.
Here are the pros and cons:
Pros
Small business owners have been around for 90 years and four generations
All batches are handmade in Los Angeles
100% Premium USA Beef
Contains no gluten, sugar, carbs, preservatives, nitrites or nitrates
Features thick, steak-like pieces
Ingredients are beef, water, seasoning (sea salt, spices, garlic) and nothing else
Has a good flavor due to the addition of spices (it's not just meat and nothing else)
Cons
Label doesn't say grass-fed beef
Where to buy: Shop Now!
---
#2. Keto Carne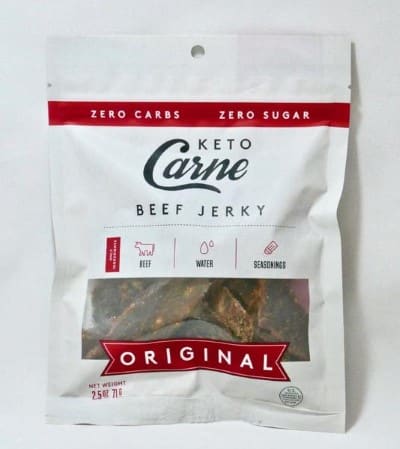 Keto Carne offers a brand of beef jerky that contains no carbs and is sugar-free, which makes it the ideal keto snack.
The only ingredients you'll find in this bag are beef, water, and seasonings.
We like that this product (as well as the one above) contains seasonings to help bring out the flavor of the meat. Otherwise, it would be pretty boring just eating meat with no flavor!
This product does not contain any preservatives and is made in the USA in small batches using 100 percent USA beef.
Here's what we like and don't like about it:
Pros
Contains three ingredients only: beef, water, and spices
Contains no gluten, sugar, preservatives, or added sugars
Made in the USA in small batches
Comes in two flavors: original and spicy
Travels well- just stick the bag in your purse, car, gym bag or desk, and you have a snack whenever you need it
Cons
Just like with the first product, we can't help but notice that although this product doesn't contain any bad stuff (like preservatives or added sugar), it isn't made with organic, grass-fed meat. That's the only way this product would be truly 100 percent amazing!
Where to buy: Shop Now!
---
#3. Ayoba-Yo Biltong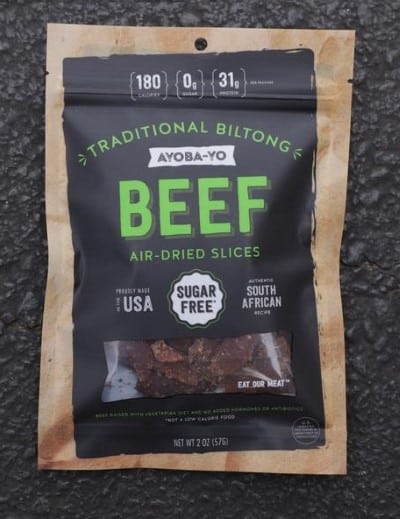 This Ayoba-Yo Biltong jerky puts a nice twist on an old classic.
If you're bored with regular beef jerky and want something with a bit of a kick, then this is the product for you.
It's air dried, which is not a form of drying that meat usually goes through.
The company stated that this beef is dried for 14 days, unlike most brands who use low heat.
The result is a juicier flavor that doesn't taste like you're biting into a brick. It's completely sugar-free and made in the USA.
It also comes in a handy bag that's easy to travel with so you always have a snack handy when you need it.
Pros
More flavorful than other brands of jerky for a nice kick
This product is air-dried, so it tastes more like steak and not so much like a brick
Contains no gluten, sugar, or carbs
Grass-fed beef is available as an option
Made in the USA
Authentic South African recipe
Easy to chew
Cons
Use within 4 days after opening
Where to buy: Shop Now!
---
#4. Mission Meats Beef Sticks
Ingredients include grass-fed beef, water, salt, encapsulated citric acid, celery juice, black pepper, red pepper, garlic powder, coriander, and onion powder.
It's got a nice blend of spices to go along with the celery juice for a hint of sweetness.
According to the company's website, this beef contains no antibiotics or hormones, which is great.
Pros
Features 100 percent grass-fed beef that was raised without antibiotics or hormones
Meat is as clean as you can get!
Contains no gluten, sugar, nitrates, nitrites, antibiotics, hormones, or MSG
Flavored with spices, celery juice, and salt
The company supports other organizations (your purchase means something!)
Money back guarantee offered
If you check out their website, they offer deals and price cuts
Cons
Where to buy: Shop Now!
---
#5. Sogo Snacks Beef Sticks
We also like that they come in individually packaged sticks so you can throw a few in your bag or car for the day and call it good without dragging a whole bag around.
Remember that if you're more likely to eat the entire bag if it's in front of your face, so it's a good idea to grab one or two sticks (one for a morning snack and one for the afternoon) and get on with your day.
Pros
Features 100 percent grass-fed beef with no antibiotics or hormones ever
Cows were never confined to a feedlot
Contains no sugar, MSG, soy, artificial ingredients or nitrates
Conveniently wrapped in individual packaging
Choose from three different flavors: barbeque and pineapple, buffalo wing, or chimichurri (grass fed)
Boxes come in 12, 24 or 48 count
If you sign up at the company's website, you can get 10 percent off
Cons
Where to buy: Shop Now!
---
#6. Country Archer Original Beef Sticks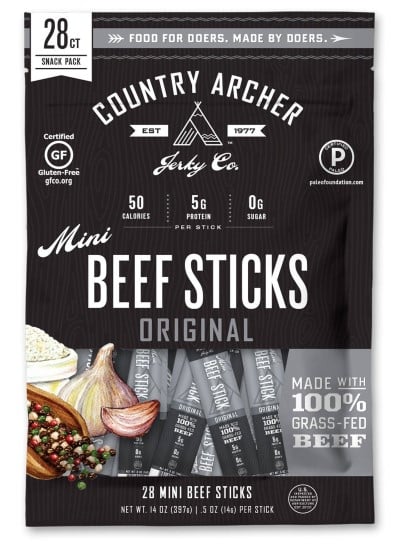 We had the pleasure of trying the Country Archer Original Beef Sticks. We like that these beef sticks are made with 100% grass-fed beef and contain no carbs.
They also have a great, clean flavor and bold taste, thanks to the addition of several spices, such as garlic, different peppers, coriander, onion powder, cherry powder, and nutmeg.
This helps give the beef sticks a hearty feeling to fill you up.
One stick contains 50 calories, 3.5 grams of fat, 0 grams of carbs, and 5 grams of protein. We like the smoky flavor of the meat without the addition of nitrates or nitrites, which have been linked to cancer.
Here are the ingredients: grass-fed beef, water, sea salt, encapsulated lactic acid, cultured celery powder (celery powder, sea salt), garlic powder, red pepper, black pepper, cherry powder, coriander, onion powder, white pepper, ground nutmeg, parsley, colored beef collagen casing (paprika, beta-carotene).
Pros
Made in the USA
Contains 100% grass-fed beef and no sugar
Individually wrapped in single packets for on-the-go snacking
Contains unique spices for additional flavoring
Gluten-free
Contains no nitrates/nitrites, MSG, hormones or antibiotics
Cons
The plastic wrappers are hard to open and often require a knife or scissors, which you might not have if you're hiking or eating these on the go
We also like that these beef sticks come in mini packs. They are perfect for snacking and conveniently fit in gym bags, purses, and backpacks. If you're extra hungry, then grab two of them as one might not fill you up.
Where to buy: Shop Now!
---
Conclusion
If you're not familiar with beef jerky and beef sticks, then allow us to introduce you. These products are the perfect keto snack. It's high in fat and low in carbs/sugar to help you stay in ketosis.
Most store-bought brands are full of added sugar and preservatives, so we've broken down a list of the top beef jerky sticks out there that don't contain these nasty ingredients.
Take your pick between grass-fed jerky, jerky seasoned with your favorite spices, or individually wrapped jerky that you can take along with you.