As the most abundant protein in our bodies, collagen is needed to help provide structure and strength to our skin, hair, nails, bones, ligaments and tendons. It has also been shown to boost metabolism, energy output and muscle mass, and helps keep you young by regulating functions in both the digestive tract and nervous system.
For these reasons, many people on the ketogenic diet take a collagen daily in supplement form, but not all products are keto-friendly.
In this article, we'll be reviewing Physician's Choice Collagen, which is a keto-friendly collagen supplement designed to fully support your keto lifestyle and goals.
Why Should You Give This Product A Try?
One of the main differences between keto-friendly collagen and ordinary collagen supplements is that the keto-friendly kinds come from clean sources. Because collagen is found in the skin, tendons, and ligaments of animals, it's important to get a product from animals that are as healthy as possible. This means no use of antibiotics or hormones.
Physician's Choice Collagen delivers a high-quality keto-friendly product that we can't say enough about. The first thing that sets this product apart from other collagen supplements is that it is extremely bioavailable, which means that you're guaranteed to absorb as much of the product as possible.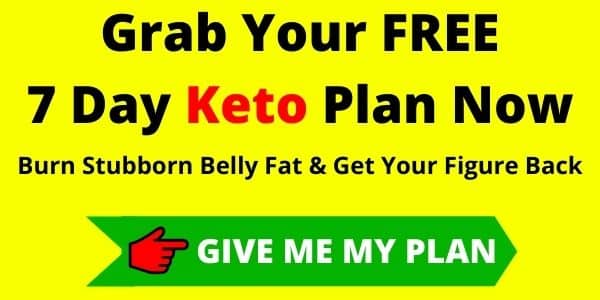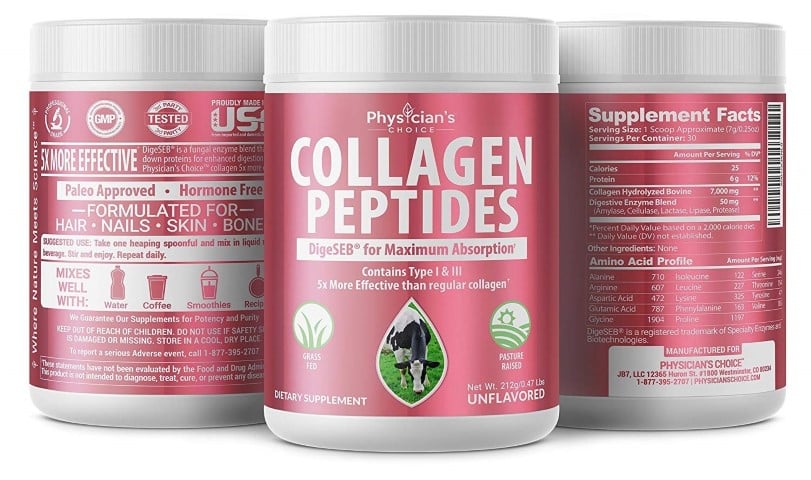 You can spend as much money as you want on supplements, but if you're not absorbing them properly, then you might as well be flushing your money down the toilet.
Physicians Choice Collagen contains 50 mg of the following digestive enzymes:
Amylase
Cellulase
Lactase
Lipase
Protease
The reason why digestive enzymes are so important is because they help break down the nutrients you ingest, which makes them easier to absorb.
Because collagen is protein based, it's essential to have a product that contains enzymes that help break down protein so that you can absorb as much of the collagen as possible! But this product doesn't stop there. It provides additional enzymes that are needed to help break down the types of food you would normally eat on the ketogenic diet.
Another thing that stands out about this product is that it contains two types of collagen, which makes it six times more effective than other collagen supplements. There are at least 28 distinct types of collagen, but the three primary forms are known as types I, II and III (1).
This product contains types I and III, which makes it more potent than other brands. Keep in mind that you won't find a product that contains 28 different kinds of collagen. Marine collagen, for example, usually only contains type I collagen while beef collagen contains at least types I and II.
Adding a variety of types of collagen to your diet is a good way to ensure that you're getting the most benefits from your product as it covers all primary benefits, including hair, skin and nail health as well as improved joint and connective tissue health.
Here is a quick breakdown of the different types of collagen:
Type I is found in high concentrations in the body, and it's needed for hair, skin and nail health (2, 3).
Type III is primarily found in the bone marrow and is needed to help reduce inflammation (6).
Last but not least, Physicians Choice Collagen contains 14 essential amino acids for optimal muscle support, and it's sourced from non-GMO, grass-fed, gluten-free and pasture-raised cows. This is the cleanest source of collagen available on the market.
It's also gluten-free and third-party tested, so you can trust this manufacturing process of this supplement. Finally, Physician's Choice Collagen is hydrolyzed to further help your body absorb it.
Here is a breakdown of the pros and cons of this product:
Pros
Features clean and ethically sourced organic ingredients
Made from grass-fed, all natural, hormone-free and non-GMO bovine
Contains 14 different essential amino acids for optimal muscle and tissue repair
Keto-certified and third-party tested and approved product
Contains 50 mg of five different digestive enzymes per serving to help enhance digestion and absorption
Contains types I and II of collagen for a more effective product than other brands
Contains collagen that is enzymatically hydrolyzed into low molecular weight peptides for optimal utilization by the body
Contains no binders, soy, gluten, egg, wheat, GMOs, peanuts, shellfish, color additives, binders or preservatives
Made in the USA
Money back guarantee
Cons
Does not contain MCT oil, which is added to some keto-friendly collagen supplements to enhance ketone production and further support the keto diet. This is by no means a deal breaker though as you can work around this!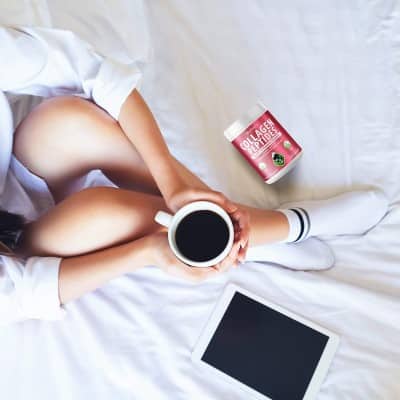 How To Use It
As mentioned above, using Physicians Choice Collagen is relatively easy because it mixes with just about anything. We recommend adding a scoop to your morning coffee daily.
If you're not a coffee drinker, you can add it to water, baked dishes, or smoothies instead.
You can also use Physician's Choice Collagen along with MCT oil in your coffee for a quick keto boost to support all of your diet needs.
Conclusion
Adding collagen to your diet is a great way to support muscle growth and recovery. It also helps keep your hair, skin, and nails healthy, too.
Many people when going on a new diet find that their hair starts to thin out or they get skin problems. Collagen can help, but you have to be picky about the type of collagen you take. Not all supplements come from clean sources.
Physician's Choice Collagen is one of the highest quality collagen supplements on the market. It contains 14 different essential amino acids, two types of collagen for maximum effectiveness, and 50 milligrams of digestive enzymes per serving to make sure you absorb every bit of it.
It's also made from pasture-raised and hormone free bovine for the cleanest source possible. We recommend adding a scoop to your morning coffee along with some MCT oil to support all of your keto needs.