Culver's is a frozen custard stand, but they also sell snacks, "butterburgers," sandwiches, and dinners that might tempt you if you're hungry enough.
Unfortunately, the majority of these foods are breaded or covered in sauce, so they don't make the list of low-carb foods that you can eat on the ketogenic diet.

If you can avoid indulging in a sweet treat, then you might be able to salvage your low-carb diet the next time you need to grab a quick bite and Culver's is the only food place around.
Follow these tips and ordering guidelines the next time you need a low-carb meal at Culver's.
Tips For Ordering at Culver's
After studying the ingredient information at Culver's, it's pretty clear that most items on the menu are full of carbs and sugar and other things that you shouldn't eat on a low-carb diet.

We like that the ground beef patty is made of 100 percent ground beef seasoned with salt and pepper, but you can still get a better cut of organic, grass-fed meat at the grocery store if you care about premium quality.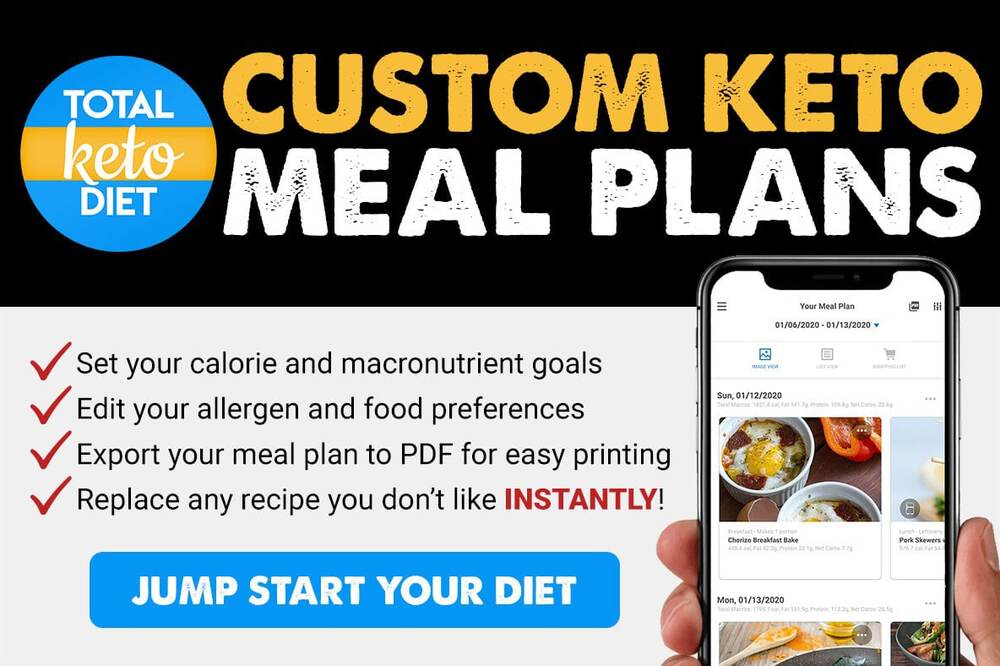 With so much potential for error and so few healthy options available, it's best to avoid eating at Culver's and stick to a scratch-made keto meal at home if you're following a strict keto plan.

Lowest-carb Dishes
Here are the best low-carb dishes at Culver's:

Culver's bacon deluxe (no bun or mayo)
Chicken cashew salad with grilled chicken (no dressing)
Grilled chicken sandwich (no bun or mayo; add bacon)
Wisconsin Swiss melt (no bun)
Cheddar butterburger with bacon (no bun)
When that's not possible or when you forget your perfectly homemade ketogenic meals, use these tips for keeping it low-carb at Culver's.

#1. Go with a grilled chicken sandwich or salad

According to the website, Culver's uses chicken that is raised without antibiotics and fed a high-quality diet. We like the fact that the chicken appears to be cleaner than their beef. But the only chicken on the menu that isn't deep fried is their grilled chicken sandwich and salad. The chicken tenders and crispy salad are off limits to low-carb dieters.

You'll have to eat the salad dry and ask for no croutons as all the dressings (even though they could be low carb dressings) at Culver's contain sugar. For the sandwich, hold the bun and eat the insides only. You can even ask for double chicken if you're really hungry.

#2. Reconsider the pot roast
We noticed that Culver's lists pot roast on their nutrition menu, but not on the menu listed on the website. This could mean it's only offered in some locations, or it has been discontinued. If the Culver's you are visiting offers this dish, then we suggest that you reconsider ordering this dish.

Pot roast is a great keto dish because it's high in dietary fat and low in carbs. But we were disappointed to learn that the pot roast at Culver's contains so many nasty ingredients, such as dextrose, sodium phosphate, sugar, dextrose, hydrolyzed corn gluten, and caramel color.

For the record, there are plenty of healthy ways to make pot roast. Check out our keto instant pot pulled pork or keto beef crack slaw for inspiration on how to make similar dishes at home.

While we're on the topic of not-so-friendly keto additives, we noticed that the bacon at Culver's contains sugar and nitrates. So while this is OK to add to your burger as a topping occasionally, don't make a habit out of it. Even the cashews that come on the chicken cashew salad are doused in vegetable oil.

#3. Be mindful of the mindful choices

Culver's has a mindful choices section on the menu that is supposed to be better for you than other areas of the menu. While some suggestions are OK, others are not.

For example, a beef pot roast sandwich with mashed potatoes and gravy might only come to 550 calories, but there is no way you could eat this on a low-carb or keto diet. You can also get a garden fresco salad and soup basket for only 515 calories, but the raspberry vinaigrette dressing and tomato florentine soup will put you well over your daily carbohydrate limits.

We recommend sticking with the suggestions on this list and don't pay attention to what the Culver's website tells you is healthy. Keep in mind that your needs as a low-carb eater are different than someone who is simply trying to keep their calories down.

#4. Stay away from the snackpak and value baskets

Culver's has a dedicated snackpak section and value basket section on their menu where you can get a signature classic with a drink and French fries for around five dollars. The problem is that you can't eat the French fries and the only drink option that's low-carb at Culver's is an unsweetened iced tea.

Just like many low-carb restaurants, we recommend staying away from any "deals" where you get more food than you need (and can't eat) and stick with ordering an option that will work for your low-carb needs. If you decide to go with a bundle food option, stick with a grilled chicken breast sandwich minus the bun, a side salad minus the dressing, and a small unsweetened iced tea.
What To Order at Culver's
We've looked through every item on the menu at Culver's and put it on one of two lists. There aren't many safe low-carb food options at Culver's, but we'll list them here for you as well as how to order them to make sure they are truly low-carb.

Butterburgers
For all butterburgers, hold the bun and any sauce that comes on the burger; get a side salad without croutons and dressing instead of French fries or onion rings:

Pretzel haus pub burger available as a single, double, or triple (hold the bistro sauce)
The Culver's deluxe (hold the mayo)
The Culver's bacon deluxe (no mayo)
Butterburger cheese
Cheddar butterburger
Cheddar butterburger with bacon
Mushroom and Swiss burger
Sourdough melt
Wisconsin Swiss melt
Bonus tip: when ordering a burger at Culver's, don't put ketchup on it. Mustard is your only safe low-carb choice in moderation.

Chicken
Grilled chicken sandwich (order this without the bun and get a side salad in place of French fries)
Chicken cashew with grilled chicken salad (hold the dressing)
Garden fresco with grilled chicken (hold the dressing and croutons)
Cranberry bacon bleu salad with grilled chicken (hold the cranberries and dressing)
Sandwiches
Beef pot roast sandwich (as we mentioned, the beef is doused in sugar and preservatives so order this in moderation; hold the bun and add cheese)
Grilled Reuben melt (order this without the bread and thousand island dressing)
Sides
Dinners
Beef pot roast dinner (order this as a last option only without the bread and gravy; choose a side salad as your only side dish)
Chopped steak dinner (hold the gravy and dinner roll; order a side salad as your only side and hold the mashed potatoes and beans)
Foods To Avoid at Culver's
We made a list of all of the not-so-healthy foods at Culver's and placed them here so you know what NOT to order if you're following a low-carb diet.

All frozen custard
Chicken tenders and buffalo chicken tenders
Crispy chicken sandwich (get a grilled chicken sandwich instead)
Pork tenderloin sandwich (this is OK to order if you can get it grilled instead of fried; hold the bun and sauce)
Butterfly jumbo shrimp value basket and dinner
North Atlantic cod sandwich (this is OK to order if you can get it grilled instead of fried; hold the bun and tartar sauce)
North Atlantic cod dinner
All side dishes are off-limits except a side salad, including fries, coleslaw, green beans, mashed potatoes and gravy, sweet potato fries, onion rings, Wisconsin cheese curds, chili cheddar fries, and a dinner roll
All shakes, malts, and floats
All soups (including chicken noodle soup) and chili
All sauces and dressings
Conclusion
Eating low-carb at Culver's is definitely a bit of a challenge. If you manage to make it past their frozen custard section, then you're still left with lots of fried meats that are drizzled with sauces such as Wisconsin cheddar cheese sauce. We noticed a lot of the ingredients at Culver's contain sugar and preservatives, which means that your best bet is to eat at home and don't even bother with Culver's.

You can also get a burger, but be sure to hold the bun and any sauce that comes on it. Culver's has a single, double, and triple option on their pretzel haus pub burger, so you can load up on the meat if you're really hungry. The only low-carb side dish offered at Culver's is a side salad, which you'll need to get without the croutons and dressing.
We don't recommend trying to make a value combo work as you'll end up getting French fries or a side dish that you'll have to throw out anyway. Stick with unsweetened tea as your drink of choice and don't even look at the frozen custard menu!
Enjoy this post? Share to save for later!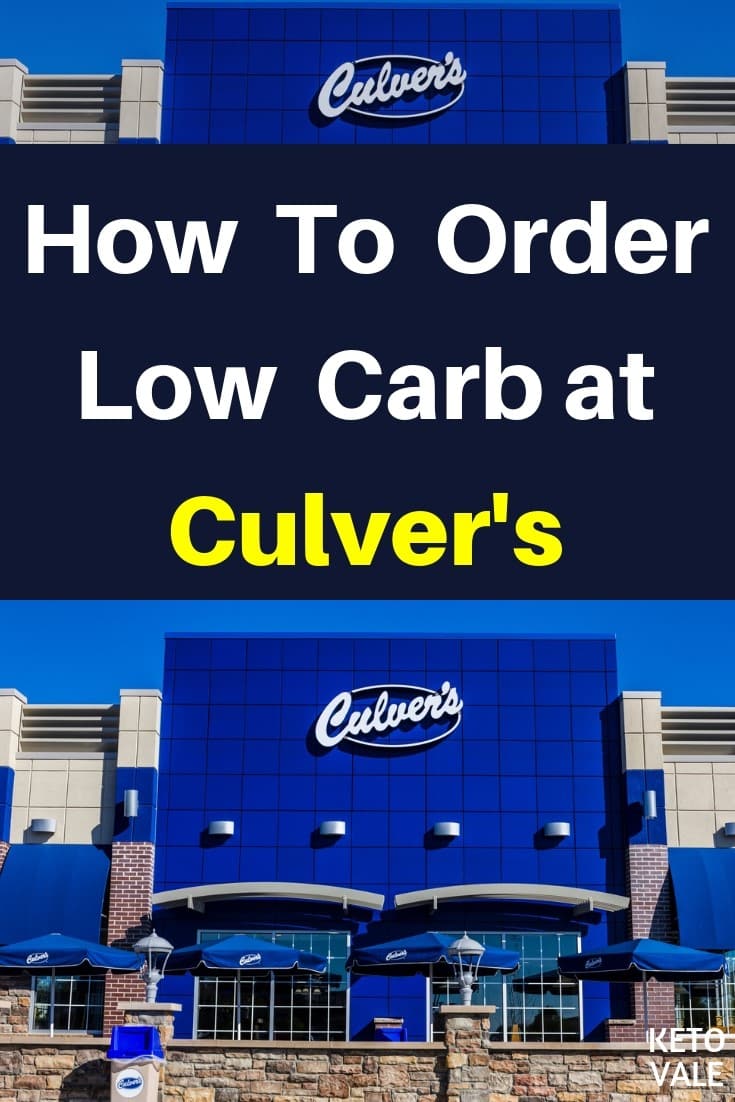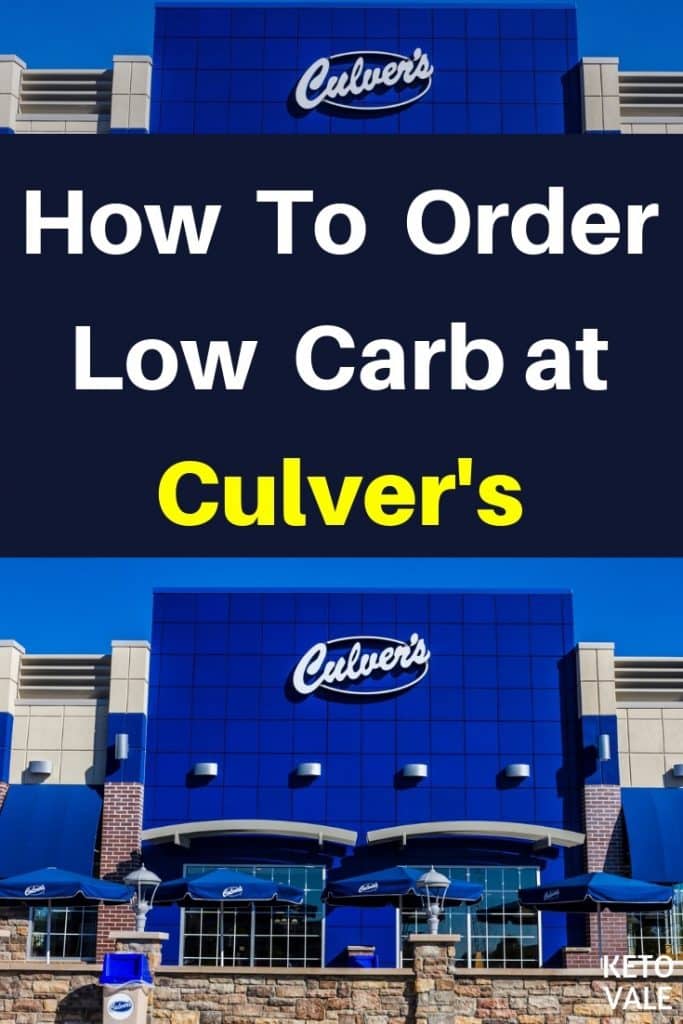 Photo credit: jetcityimage2/Depositphotos.com