Like most American chain restaurants, Applebee's caters to a lot of different palates. While they have a lot of high-carb options, they also have some great meal choices for those on a keto diet.
Some of our favorite recommendations for eating keto at Applebee's are the blackened Cajun salmon, grilled chicken, or sirloin steak, with a side of steamed broccoli.
We do have to caution that there are some very misleading options for eating low carb at Applebee's. You might be surprised that most of their salads are actually not recommended if you eat keto.
Don't worry, we're here to help you customize a delicious keto Applebee's meal to keep you right on track.
Tips For Ordering Low Carb at Applebee's
If you're on the ketogenic diet or even a low-carb diet, then it's always best to prepare your meals at home so that you have complete control over your ingredients. But that doesn't mean that you can't ever enjoy a meal out. You just have to know what to order.
The good news is that you can find the nutrition data for all of their dishes on the Applebee's website before you venture in.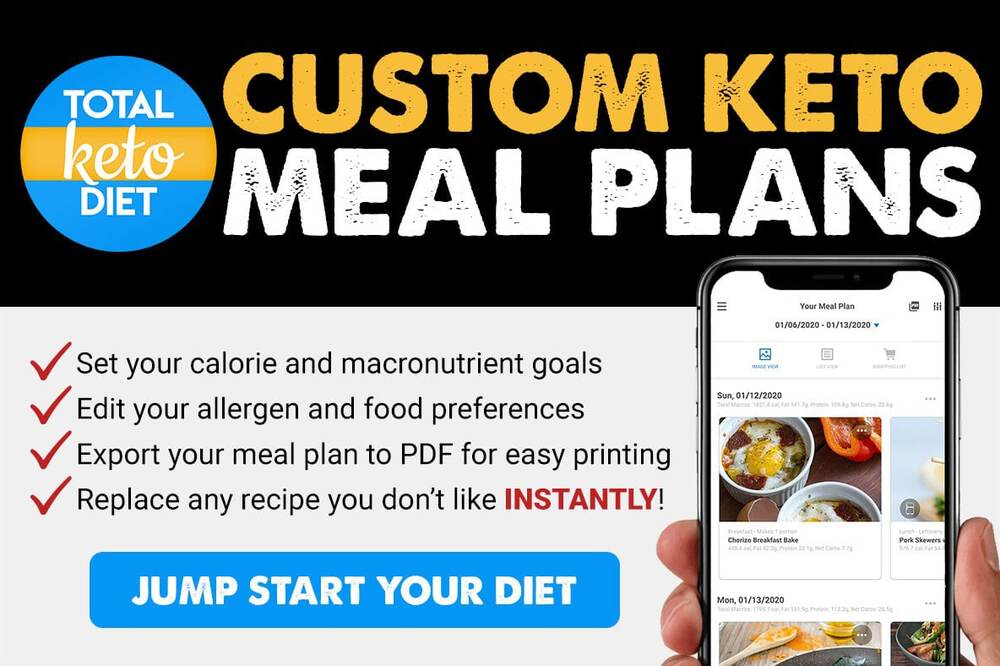 Additionally, because Applebee's is a sit-down restaurant and you'll be assigned a server, it's easier to customize your meals than it is at a fast food place.
We recommend using the following tips to ensure you're eating low-carb.
#1. Skip the appetizer
Applebee's is a popular place to hit up for lunch with your co-workers or even your boss during the week. If that's the case, then someone might suggest sharing an appetizer.
But with options like nachos, mozzarella sticks, brew pub pretzels and beer cheese dip, you'll definitely want to politely decline.
Instead, order a side salad ahead of your meal so you have something to munch on if everyone else in your party is stuffing their face with chips and salsa.
Applebee's has a small Caesar salad on their appetizer menu for 220 calories. Order this without the croutons.
Or you can get a house salad for 120 calories and hold the croutons and dressing (ask for oil and vinegar instead).
#2. Watch out for hidden carbs
Applebee's and other chain restaurants hide a lot of unhealthy ingredients in their dishes that you can easily avoid if you're aware of them.
For example, a half rack of baby back ribs may only be 430 calories, but it's coated in BBQ sauce that is full of nothing but sugar and carbs.
Their chicken wonton stir-fry would be a good low-carb option, but it's topped with wonton strips and a sweet and spicy sauce that you'll want to avoid.
Even their salads are packed with ingredients that take them off the low-carb list.
The southwest steak salad comes with black bean corn salsa, tortilla strips, and ranch dressing, and the grilled oriental chicken salad has rice noodles and oriental vinaigrette dressing.
Be on the lookout for dishes that contain any added sauce, dressing, or crunchy toppings.
#3. Go with meat and vegetables
Low-carb dieters take note. This is a good standby dish for you to order no matter where you go: a piece of grilled meat and steamed vegetables or a side salad.
Applebee's offers a grilled chicken breast for 190 calories or grilled shrimp for 110 calories. They also offer steamed broccoli. Put the two together and you have the perfect low-carb meal.
If for some reason your Applebee's runs out of steamed broccoli or only offers starchy vegetables such as potatoes or squash, then ask for a bed of lettuce with oil and vinegar. Put your grilled meat on top.
Ask to top it with other low-carb ingredients and keto-friendly foods, such as cheese, a hard-boiled egg, and bacon. Customize your own dish if you must!
#4. Don't ruin your diet with a cocktail
It's tempting not to order a cocktail or sweetened drink with your meal, especially if everyone else at your table does.
Alcohol and other sugary drinks count toward your total calorie and carb count, and these numbers add up quickly because they go down fast.
Stick with coffee and cream, unsweetened hot or cold tea, or good old water when you visit Applebee's and don't even look at their drink menu!
#5. Consult the nutrition guide
Applebee's has an online nutrition guide that you can use to calculate your meals. They have both an online nutrition calculator and a nutrition facts page that you can consult.
Here are some of the lowest carb options at Applebees, per these resources:
6 ounce top sirloin with steamed broccoli: this meal contains 300 calories, 15 grams of fat, 6 grams of carbs (3 grams net carbs), 3 grams fiber, and 37 grams of protein
Grilled chicken breast with steamed broccoli: this meal contains 290 calories, 11 grams of fat, 6 grams carbs (4 grams net carbs), 2 grams of fiber, and 43 grams of protein
Blackened cajun salmon with steamed broccoli: (340 calories, 18 grams of fat, 10 grams of carbs (6 grams net carbs), 4 grams of fiber, and 39 grams protein
What To Order at Applebee's
Applebee's offers pasta, tacos, and seafood dishes, but you'll want to avoid most of these because they are breaded or contain too many carbs, such as rice and heavy sauces. Instead, stick with a burger and order it without the bun and sauce.
You can also get a steak at Applebee's, which is a great low-carb meal. Get it with a side salad or double vegetable in place of the traditional potato that it comes with.
We've gone through the entire menu at Applebee's and put together a list of how to order low-carb there. Just follow these directions.
Salads
Salads are all served with a breadstick. Ask to hold the bread if you do decide to order a salad. Be aware that many of the salads at Applebee's are not suitable for a ketogenic diet without some customization. Croutons, crunchy noodles, fruit (strawberries), black bean and corn salsa, breaded chicken, and dressings are all going to throw off your ketogenic diet. When ordering any of the below salads, ask for lemon olive oil vinaigrette instead of the salad dressing.
House salad with bacon (minus the croutons and dressing)
Strawberry balsamic chicken salad (ask for oil and vinegar instead of balsamic glaze; hold the strawberries if you're strict keto)
Small Caesar salad (no croutons)
Grilled chicken Caesar salad (minus the croutons)
Grilled chicken salad (hold the honey Dijon mustard dressing and get oil and vinegar instead)
Blackened shrimp Caesar salad (hold the croutons)
Tuscan garden shrimp salad (hold the edamame and dressing)
Chicken
Grilled chicken breast (get it with a side salad or steamed broccoli)
Steak, seafood, and ribs
Eight ounce top sirloin or six ounce top sirloin (hold the potatoes or French fries and get double steamed broccoli)
Double-glazed baby back ribs and half rack double-glazed baby ribs (ask for dry ribs and hold the sauce and French fries; get a side salad or steamed broccoli instead)
Shrimp and parmesan sirloin (get steamed broccoli in place of potato side dish)
Signature bourbon street steak (hold the crispy red potatoes and get a side salad instead)
Bourbon street chicken and shrimp (hold the crispy red potatoes and get a side salad instead)
Cedar salmon with maple mustard glaze (hold the glaze and get a double order of steamed broccoli as your side dish)
Blackened cajun salmon (order this with double broccoli and hold the mashed potatoes)
Sandwiches and burgers
Clubhouse grille (minus the bread and mayo as it may contain sugar and vegetable oil (you can ask for mustard instead); get a side salad in place of fries)
Whiskey bacon burger (minus the bun, onion rings, and whiskey sauce; get a side salad in place of fries)
Brunch burger (minus the hash browns, bun, and ketchup; get a side salad in place of fries)
Triple bacon burger (minus the BBQ ranch and bun; get a side salad in place of fries)
Quesadilla burger (minus the ranch sauce and tortilla; get a side salad in place of fries)
Classic burger and cheeseburger (minus the bun; get mustard instead of ketchup; order a side salad in place of fries)
Classic bacon cheeseburger (minus the bun; get mustard instead of ketchup; order a side salad in place of fries)
Chicken fajita rollup (hold the flour tortilla; ask for broccoli or a side salad instead of fries)
Oriental grilled chicken wrap (hold the rice noodles and tortilla; ask for broccoli instead of fries and hold the oriental sauce; make sure the chicken is grilled and not crispy as shown on the website's picture)
What To Avoid at Applebee's
Some dishes at Applebee's just aren't worth the trouble of trying to make low-carb.
We recommend staying away from the following dishes and sticking with ones that make our list of safe foods to eat at Applebee's instead.
Build your own sampler (there are no low-carb appetizers offered at Applebee's, so you won't be able to build your own sample there)
The classic combo appetizer
Mozzarella sticks
Chicken and brisket quesadilla
Boneless wings (unless you can get them grilled and without any sauce)
Double-crunch boneless wings (these are twice battered and fried, so we doubt you can get them without the breading)
Brew pub pretzels and beer cheese dip
Chicken tortilla soup
Tomato basil soup
French onion soup
Chips and salsa
All nachos
White queso dip and chips
Fiesta lime chicken
Chicken tenders platter or basket
Chicken wonton stir-fry and shrimp wonton stir-fry (you can order this minus the rice and sauce and ask for more veggies)
Southwest steak salad and southwest chicken salad
Thai shrimp salad
Oriental chicken salad and grilled oriental chicken salad
Crispy chicken tender salad
Double crunch shrimp
Hand battered fish and chips
All pasta dishes
Zesty chicken sandwich (unless you can get it grilled and without the sauce and bun; also ask for a side salad in place of fries)
BBQ brisket tacos
Chicken fajita roll-up
All desserts
All potato sides (French fries, baked potato and mashed potatoes)
Corn dogs
Irresist-a-bowls
Conclusion
If you're a ketogenic dieter, you'll be happy to know that there are some decent low-carb options at Applebee's, but you have to know how to order them. Applebee's sets a lot of "traps" by covering its food in sauces and adding crunchy toppings, so be on the lookout for those.
We recommend going with a six or eight-ounce steak and pairing it with a side of steamed broccoli or a side salad with oil and vinegar dressing. You can also get a burger with cheese and bacon and ask to hold the bun and any BBQ sauce that might be on there.
Stay away from all pasta and taco dishes. Even their stir-fries and salads have rice or tortilla strips. Finally, don't ruin your dish by adding a cocktail or sweetened drink, even if it's only a buck. Stick with coffee, unsweetened tea, and water.
Up Next: The Ultimate List of Restaurants for Low Carb and Keto Dieters
Enjoy this post? Share to save for later!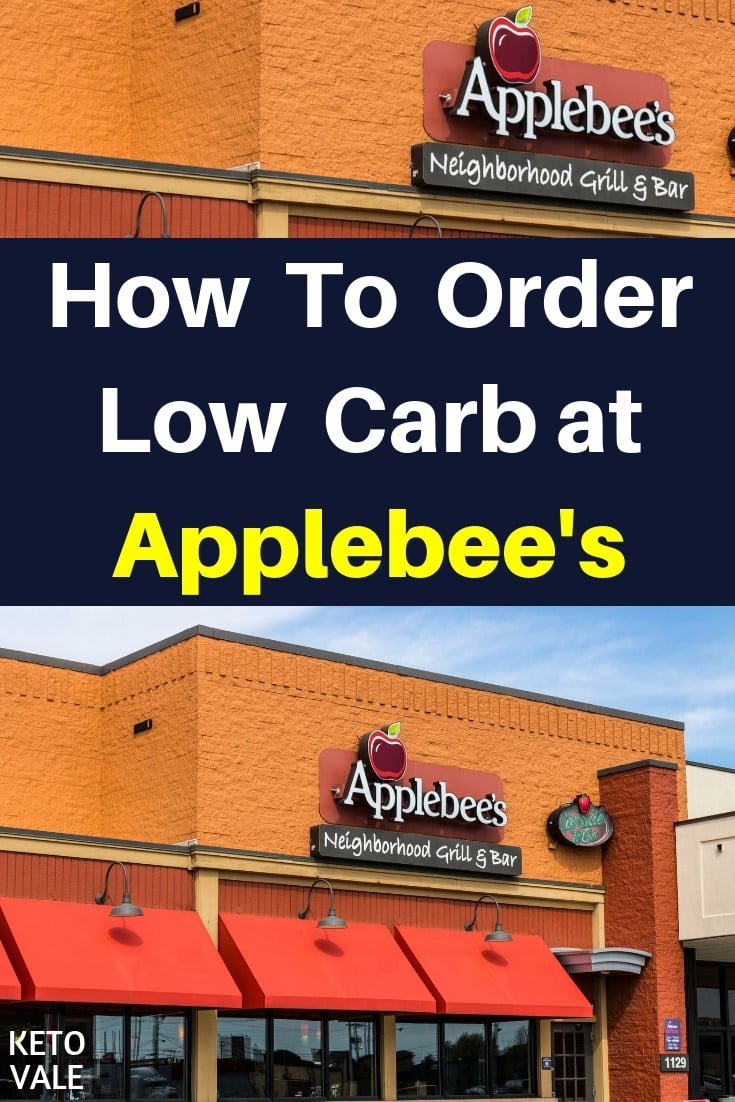 Photo credit: jetcityimage2/Depositphotos.com