The keto diet is all about managing your carb intake and limiting it to a very low number, typically 20 to 25 g net carbs per day.
In order to make sure that you're staying within that limit, and also that you're eating at a deficit (if your goal is weight loss, of course), you need to track your macros accurately.
This needs to be done for all of the food that you're eating. It is essential to be as precise as possible and to not eyeball food.
For that, you need 2 things: a food scale and a good tracking app.
You can find great food scales at a local store or on Amazon.
You can try this EatSmart Digital Nutrition Scale. It tracks calories, carbohydrates, fiber, total fat, saturated fat, cholesterol, protein, sodium, magnesium, potassium, calcium, and vitamin K levels of thousands of different foods.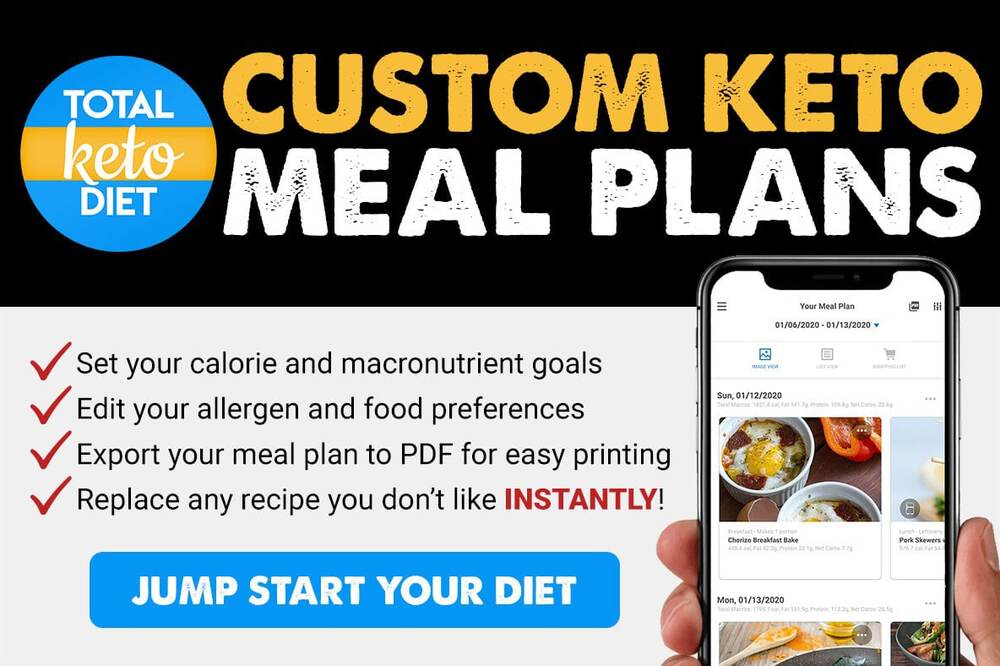 As far as apps are concerned, there are plenty of them and most are free. Some of them requires payment to access premium features. These apps are best used on mobile phones, but can also be used on desktops.
Here you'll find a list of our favorite apps and trackers below:
#1. Total Keto Diet
The Total Keto Diet is a 100% free app, available on both Android and iOS. It's developed by Tasteaholics, Inc., one of the leading keto websites.
Free web version available at: https://www.totalketodiet.com/
This app has a macro tracker to help you stay on track. It's created by keto experts and designed for keto dieters to succeed with this way of eating.
Moreover, this app also has many amazing resources such as:
Hundreds of low carb recipes in the existing database as well as many new recipes added weekly.
Offline reading available.
Keto resources for beginners such as guides, shopping lists, meal plans, etc…
The company also offers a Free 7-Day Keto Meal Plan Trial which you can sign up here!
#2. MyFitnessPal
Free basic version; premium at $9.99 / month
App available on android Google Play & iTunes & web version available at https://www.myfitnesspal.com/
MyFitnessPal is extremely popular among keto and non-keto dieters alike, and for a good reason – it is super user-friendly, has a very large database of different food items & brands, and allows you to set up your own macro goals.
These can be set up in percentages from Home -> Goals -> Change Goals, and in the free version you can change them by increments of 5% (while this is not super precise, it will give you a good overview and you'll easily know if you're over or under a specific macro).
Additionally, you can track dietary fiber, which will allow you to know your net carb count for the day.
As a reminder, net carbs are calculated by subtracting the grams of fiber you've consumed in a given day (or meal) from the total grams of carbs.
MyFitnessPal allows you to track body measurements, such as neck, waist, hips, chest, and so on, and these can be very useful when tracking your progress. The number on the scale is just that, a number, and it's better if you have different ways of assessing your progress.
#3. Cron-o-meter
App available on Google Play & iTunes for $3.99; premium account: $5.99 / month.
Free web version at https://cronometer.com/
Cron-o-meter's database of processed foods is not as large as MFP's. However, most of what you'll be eating on keto will be whole foods, so this shouldn't be as much of an issue.
It gives you a very good breakdown of the micronutrients that you are consuming, so you can easily see if you're not consuming enough of anything.
Cron-o-meter seems to be slightly less user-friendly than the other apps on this list, so there will be a learning curve when you first start using it.
However, many keto dieters love it for its precision and the details it gives, and once you figure it out, it becomes quite intuitive. Moreover, it automatically tracks net carbs, which is exactly what you need on keto.
#4. FatSecret
Free, available on Google Play & iTunes
Free web version at https://www.fatsecret.com/.
FatSecret is super flexible and is one of the most popular free tracking apps.
It has regional versions and allows users to create their custom entries, meaning that if you live in Germany, most of the products that you can find in a German supermarket will already exist as entries on the German version of the app.
It has an enormous database of virtually all basic food ingredients, and you can add a new product easily. As a bonus, you can create your own recipes, select the number of servings they make and add a single serving to your daily macros.
You can track total carbs and net carbs with it, and you can set your own goals for each macronutrient. Additionally, it tracks sodium and potassium, so you'll know where you stand on these.
FatSecret can show you a detailed overview of your daily, weekly and monthly calorie & macro consumption, which is quite useful when fixing weight loss stalls and checking what is or isn't working for you.
#5. Carb Manager
Free app available on Google Play & iTunes, premium account costs $39.99 / year
Web version available at https://www.carbmanager.com/
Carb Manager is one of the tracking apps specifically targeted at people doing a low-carb or a keto diet.
It has a large database and allows for barcode scanning or data input via text, voice or camera, which is a great feature. Tracking meals at restaurants seems to be simpler than with other apps, because of its large image library, and it's always super easy to check your remaining net calories for the day – you can even see them in the notification bubble, if you wish.
The free version of the app is rather limited, so in order to use its full functionality, you'd need to pay for a premium account. However, it is one of the most popular keto/low-carb apps, so you could give the free version a try and see how you like it.
#6. The KetoDiet App
Available on Google Play & iTunes, the basic version costs $3.99, and the regular version costs $6.99 for Android and $8.99 for iPhone and iPad.
Website: https://ketodietapp.com/
The KetoDiet App is an app that has specifically been designed for keto dieters, and therefore caters to their specific needs & requirements. You can easily track macros and net carbs in particular, which is one of the most important features you need in a tracking app for keto.
It has its own built-in calculator, but you can also manually set your goals, if you prefer using another one (or have already figured out your ideal macros).
It contains hundreds of meal recipes and snack ideas, which can be very useful when you're just starting out and are unsure about the foods you can and cannot eat. You can create your own custom meals too, and track these via the app.
Additionally, it allows you to track your progress by logging your weight & measurements, which serves as a great motivational boost.
The KetoDiet App team responds quickly and tends to take into consideration the feedback of its customers, which is great, as new features get added often.
#7. FitStack
FitStack is a macros calculator that can be used by anyone, not just those on a keto diet. It promotes weight loss by proper carb balancing.
In addition to tracking your carbs, the app will also determine your BMR and BMI. The app is a lightweight offline app, which means that you do not need to connect to the internet to use it.
The app provides basic charts to help you get rid of body fat. You can use them to compare your mass-height ratio and learn more about what foods are suitable to help you lower your BMR.
Other features include nutrition advice, calorie and carb counter, BMI and BMR explanations, and a low-carb diet menu.

#8. Keto Manager
Keto Manager is a health and fitness app designed by Pixster Studio. It features a macro counter tool that you can use via speech recognition.
You can use the search tool to enter your foods or simply talk right into the app and it will find them for you. You can also take a picture of your food's barcode to look up the macronutrient ratios and add them to your personalized food list.

The app can be used to track your ketones and blood sugar. It contains low-carb articles, recipes, and a customizable meal planner. Most features are offered for free.

This app appears to be best suited for someone who is new to the keto diet. It includes a guide to help you sort through any confusing information.

All food intake is kept in a personalized journal. We like that you can enter your data and goals and the app will help you reach them.

---
7 Quick and Easy Tips for Maximum Tracking Accuracy
Now that you know what the best tracking apps are, we want to give you some quick and easy tips for tracking your food accurately – which is necessary on keto, as carbs tend to hide in everything. Plus, you still need a deficit to lose weight.
#1. Always weigh your food – do not eyeball & do not use measuring cups.
When eyeballing, you're prone to overestimating serving sizes and underestimating calorie consumption. For calorically-dense food ( many keto-friendly foods are), the differences can be in the range of 100 calories or more.
#2. Always measure your meat and veggies raw.
When you cook your food, it loses water weight (and some nutrients), but it doesn't lose calories. Weigh it raw.
#3. Plan meals in advance.
You don't need to juggle with your macros day after day and always end up frustrated that they're not exactly where they should be. Plan your meals in advance for the best results in regards to your macros, if you're meal prepping, you can pre-log your food.
#4. Stick to a few simple meals that are easy to track.
Diet adherence is so much easier if you stick to a few meals that are simple and have a few ingredients. Meat plus low-carb veggies is an excellent combination, and there's plenty of ways to cook them.
#5. Track everything & be honest with yourself.
If you're cheating on your diet, you're actually cheating on yourself. Track everything, including these higher calorie days that you don't feel like tracking. Like this, you'll know precisely where you're standing in terms of nutrition.
#6. When in doubt (f.e. when eating out), overestimate.
When eating out, it's easy to lose track of what we're eating, or to underestimate the amounts. To prevent this from derailing you, always overestimate when tracking. You think that steak was 5 oz? Log 6.
#7. Be mindful of hunger signals & when you're the hungriest.
If it's easy to skip breakfast but you're always hungry in the evening, save some additional calories for dinner. If you're usually hungry around lunchtime, get a big, satisfying lunch, and have less food for breakfast & dinner. Try different strategies and see what works best for you.
---
Our conclusion
There are plenty of tracking apps available besides the ones listed above, and the most popular ones usually also have the best food database, which is essential.
When choosing a tracking app, make sure that you pick one that tracks your macros and allows you to set macro goals for the day. Ideally, you should also track your sodium, potassium and magnesium intake to make sure that your electrolytes are in check.
Ultimately, the best tracking app is the one you use. In order to properly manage your diet, you need to use it consistently, without skipping meals or "forgetting" snacks.
The keto diet is one of the stricter diets out there, and you need to make sure you're logging your food properly in order to achieve the best results.
We'd love to hear from you about the tracking app(s) you are using – share your experience with us in the comments below!
Also, here are other resources you might want to check: