Imagine diving into a bowl of lush, creamy coconut milk ice cream that you've made yourself, without needing any fancy equipment!
In my latest recipe creation, I'm sharing a delectable Keto Coconut Ice Cream recipe that's not only easy to make but also perfect for anyone following a keto lifestyle.
The best part? You don't need an ice cream maker to whip up this tropical treat! This recipe is a simple blend, freeze, and enjoy process, ideal for those warm days when you're craving something sweet yet healthy. So, grab your favorite bowl, and let's get ready to create some coconut magic in your kitchen!
The coconut is one of the best fruits to make ice cream with, especially if you follow a ketogenic diet. Coconut oil contains special fatty acids called medium chain triglycerides (MCTs) that have many incredible health benefits.
For example, MCTs have been shown to increase diet-induced thermogenesis, which can help boost metabolism, suppress fat accumulation, and burn more calories (1).
MCTs also help support heart health by decreasing cholesterol levels (2). Research shows they can also be used to help improve symptoms of gastrointestinal disorders (3).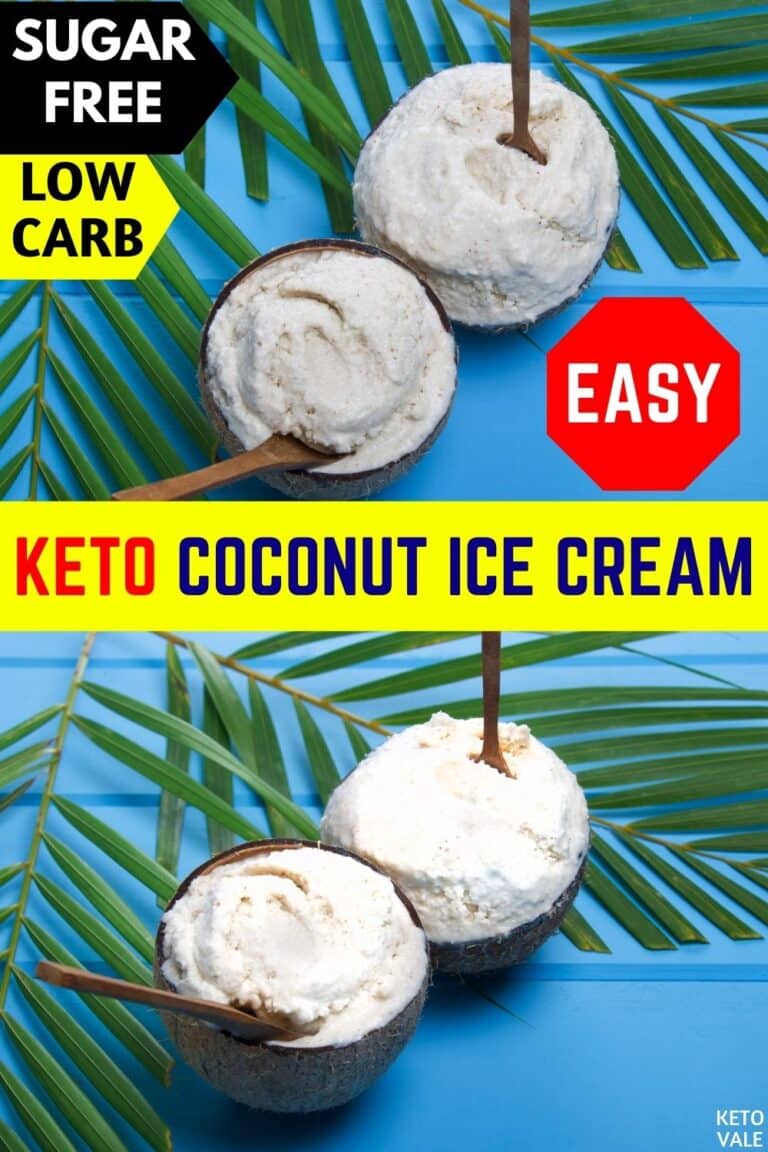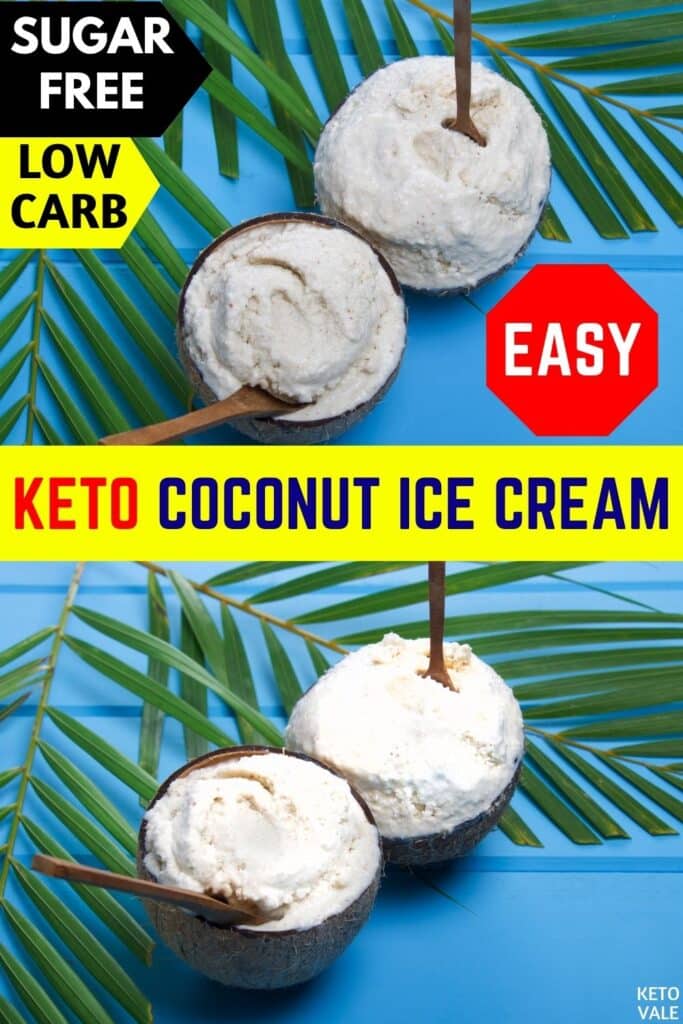 Additionally, research shows that MCTs improve cognitive function under hypoglycemic conditions without provoking a hyperglycemic response (4). They also improve fasting insulin levels in people with type 2 diabetes, which indicates that they have an antidiabetic effect (5).
When talking about coconut products, I am referring to coconut milk, coconut cream (no added sugar), coconut oil, and coconut flour or shredded coconut flakes, which are derived from coconut meat. We don't want coconut juice (water) as it contains quite a lot of carbs for keto standards.
This low carb, healthy, and keto-friendly ice cream recipe is pretty simple and easy. For the main ingredients, I only need egg yolks, full-fat coconut cream, and heavy cream. The reason you want to use full-fat coconut cream is because it creates the thick ice cream consistency. Regular full fat coconut milk will not make it unless you add guar gum or xanthan gum to thicken it.
When choosing coconut cream, make sure it's full-fat, sugar-free, and gluten-free with no preservatives. The ingredients should be just coconut extract, water, and maybe guar gum (a thickening agent). A good brand to choose is Thai Kitchen's Coconut Cream.
For taste, I added a little bit of vanilla, cinnamon, keto-friendly sweetener and some desiccated (shredded) coconut.
How to Make Low Carb Coconut Ice Cream
You don't need an ice cream machine. Simply beat the egg yolks and the sweetener in a bowl with the mixer until they are creamy. To make this sugar free coconut ice cream, I suggest using erythritol as a keto-friendly sweetener. You can also try stevia and monk fruit.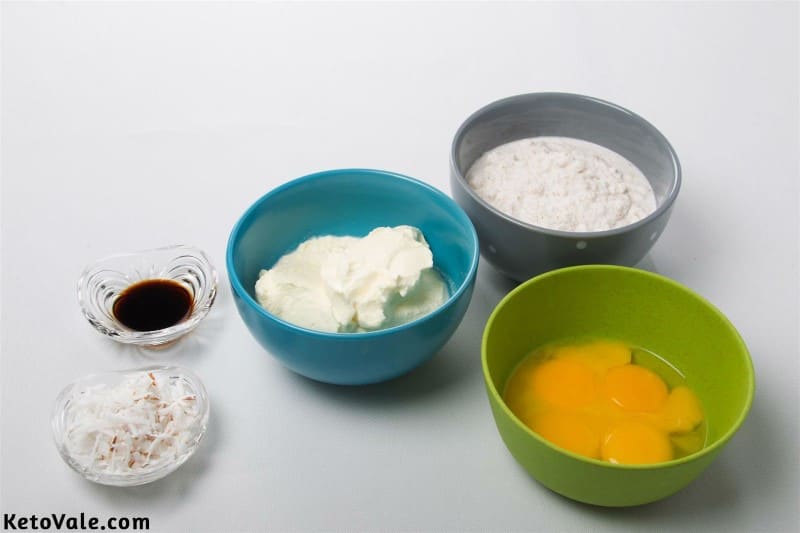 In a medium pot over low medium heat, put the heavy cream in then the egg yolks mix, cinnamon, and vanilla. Stir constantly until all the ingredients are well integrated. This process helps to cook the egg. As soon as you notice it is bubbling around the edges, remove from the heat to avoid overcooking. Add the coconut cream and shredded coconut (if using) and stir to thicken to a custard consistency.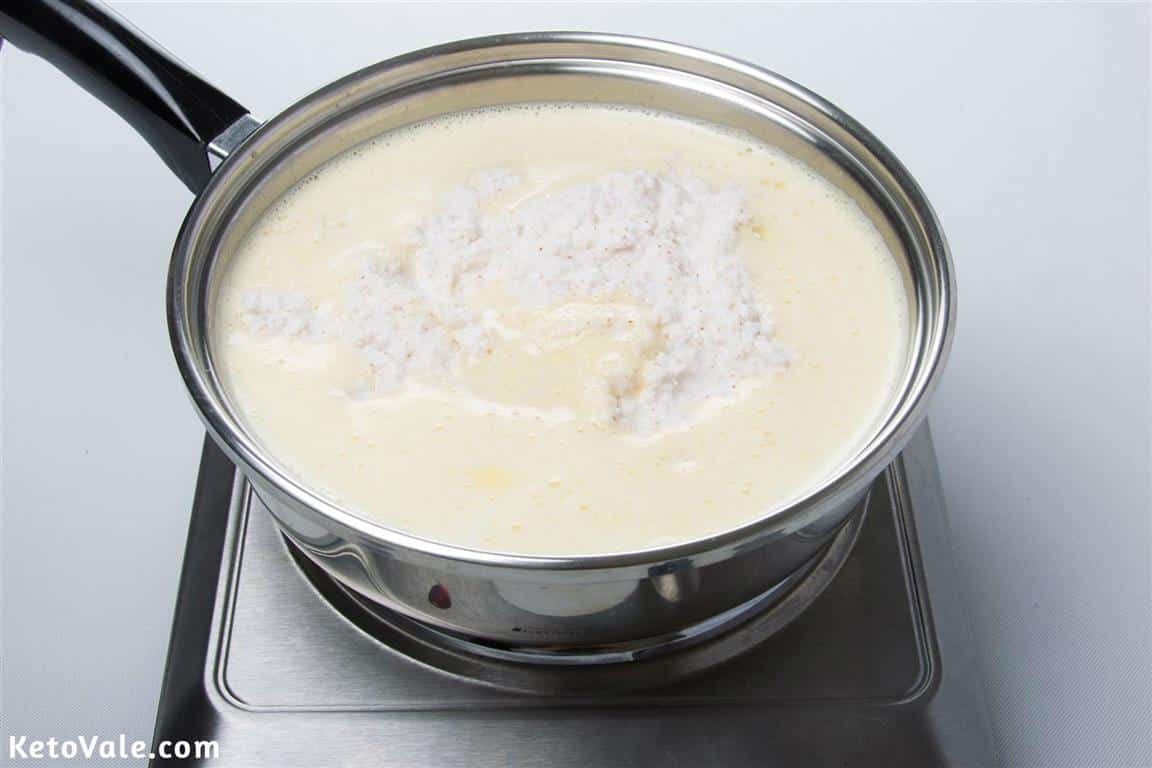 When the ice cream mixture is at an ambient temperature, store in the freezer. Remove every two hours and stir to break up any ice crystals. This process must be repeated at least twice to ensure that the ice cream is creamy and without crystals.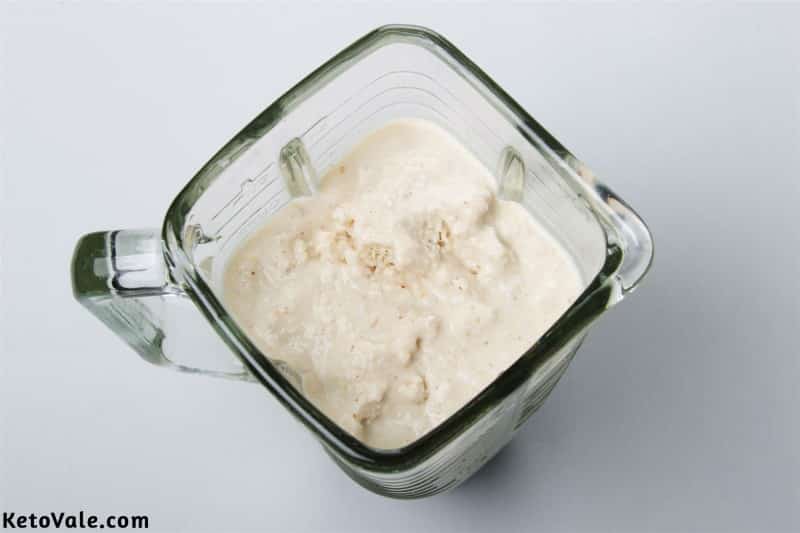 Serve the ice cream in a glass, bowl, cup or mug with some grated coconut on top. I use the coconut shell just to make it look cool and organic!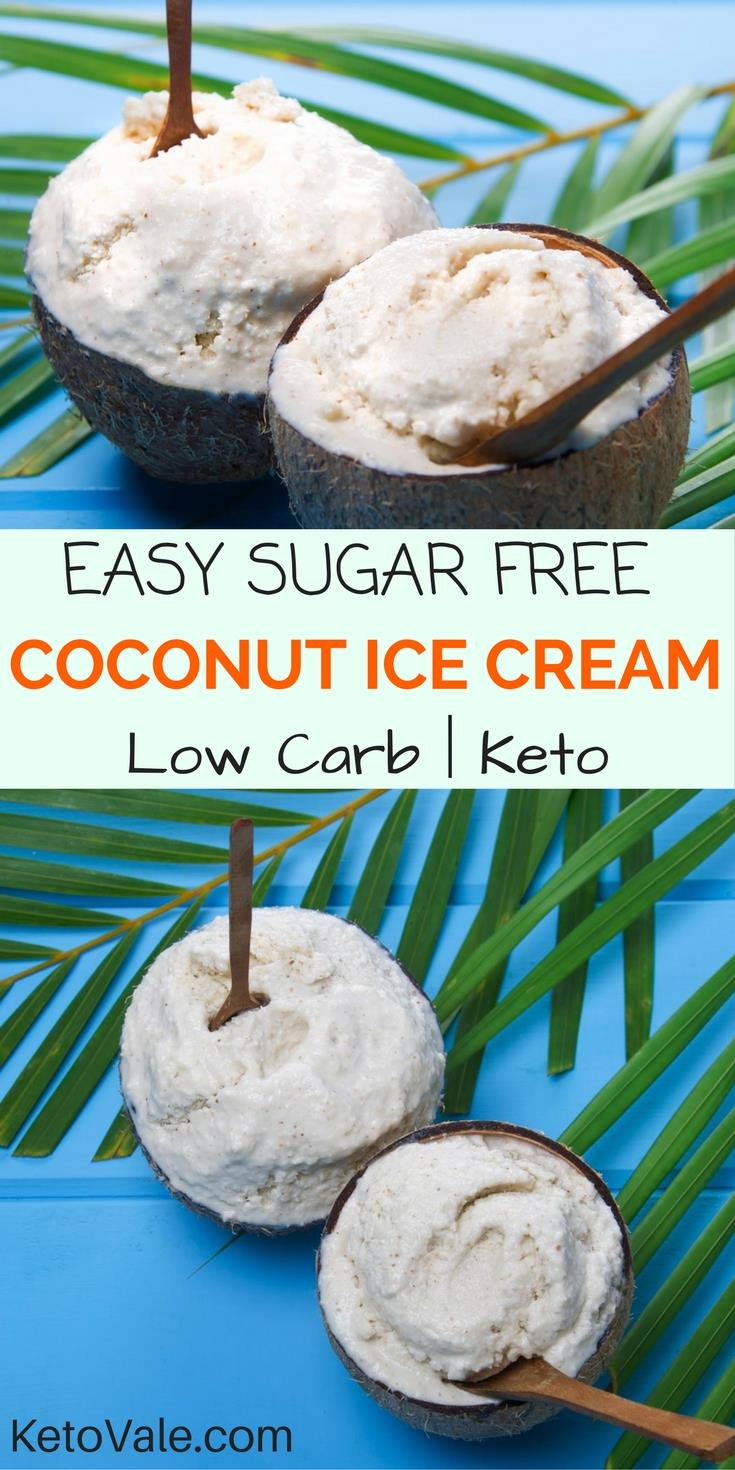 Related:
Save this recipe by pinning this to your Pinterest board for later use!
Keto Coconut Ice Cream
Try this super creamy and sugar-free coconut ice cream recipe for your dessert.
Instructions
Start by beating the sweetener and egg yolks together in a mixer. Blend until homogeneous and creamy.

Pour the beaten egg mixture into a medium pot over low medium heat. Add the vanilla, cinnamon, and heavy cream. Keep stirring until the ingredients are fully combined. This helps cook the egg yolk. Once the edges of the mixture start bubbling, turn off the heat so as not to overcook. Stir together with the coconut cream and some shredded coconut if preferred. Fold continuously to make a thick, consistent custard texture.

When the mixture cools down to an ambient temperature, freeze for 6-8 hours. Take out of the freezer once every two hours. Mix with a spatula to dissolve any ice crystals formed. Repeat for at least two times for a creamy and crystal-free ice cream.

Remove from the freezer once ready to serve. Top with some grated coconut.
Nutrition/Macros
Nutrition Facts
Keto Coconut Ice Cream
Amount Per Serving
Calories 318
Calories from Fat 297
% Daily Value*
Fat 33g51%
Cholesterol 150mg50%
Sodium 17mg1%
Potassium 224mg6%
Carbohydrates 6g2%
Protein 4g8%
Vitamin A 506IU10%
Vitamin C 2mg2%
Calcium 38mg4%
Iron 2mg11%
* Percent Daily Values are based on a 2000 calorie diet.
Pin To Save This Recipe