Pork Rind Chicken Schnitzel
Chicken schnitzel is a classic and delicious dish. It's a crowd-pleaser and your family and friends will love it.
We use 3 small pieces of boneless and skinless chicken breast. If you use one large breast, you might need to cut it in to 3 pieces lengthwise. For this low carb version, we made the coating using pork rind. You can buy the regular unflavored pork rind and crush it into crumbs using a sealable bag, or you can also use the premade pork rind breadcrumbs (pork dust).
This chicken schnitzel dish is exquisite. It may seem a bit complicated at first but it is actually quite easy. We like to serve with fresh salad. It makes a perfect and healthy meal.
Feel free to save this recipe by pinning this picture to your Pinterest board for later use!
Related: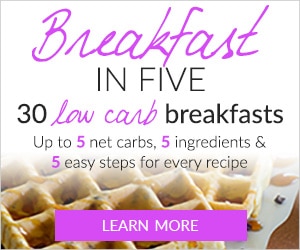 Receive Our Free 7-Day Keto Meal Plans + Weekly Recipes
Preheat the oven at 375 F

In a mortar, crash garlic with salt, pepper and powder. Pour the mixture over the chicken breast and rub to marinate it.

Crack eggs into a bowl to make batter.

Put the pork rind crumbs on a flat dish.

Place each chicken breast into the egg mixture and coat it evenly. Shake off excess liquid then place it onto the pork rind crumbs to coat all sides. Repeat with remaining chicken.

Transfer to a baking sheet and bake in the oven for 20 minutes until cooked. You can also fry this in oil instead of baking.

After the chicken is cooked, remove from the oven then add marinara sauce and cheese on top and bake for another 10 minutes until cheese is melted or golden.
Macros (per serving): Calories: 290 – Fat: 14.9 g – Net carbs: 1.9 g (total carbs: 2.4 g, fiber: 0.5 g) – Protein: 35 g