Low Carb Mousse Cake with Blueberry, Strawberry and Vanilla Layers
This cake is an absolute gem. Don't be intimidated by its look, it is easy to make and it would be a show piece on your table. It has airy and light texture and very refreshing since served chilled. Note: just make it a day before the occasion so it could be chilled overnight in a fridge.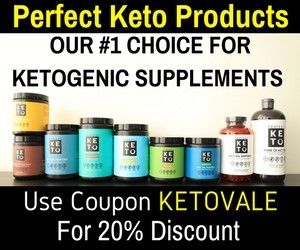 Receive Our Free 7-Day Keto Meal Plans + Weekly Recipes
| | |
| --- | --- |
| | |
Mix all dry ingredients in a bowl. Melt butter and add to dry ingredients. Add an egg. Mix well. You should get a crumbs-like mixture.

Take a cake form (spring form is preferred; it is easier to remove it once your cake is done). Press down crust mixture to the bottom and make a side border.

Put in a preheated 350 F oven for 10 – 15 min or until you see the border starts getting a nice brown golden colour. Time in the oven also depends on the thickness of your crust.

Once it is done, let it stand and cool completely.

Puree blueberry. Whip 2 cups of heavy cream, don't make it very firm, it should have some volume but still be runny. Add softened cream cheese to whipped cream, don't over beat it, we are not making butter. Add blueberry puree (you can run it through a sieve to remove seeds and extra pulp, but it is optional). As the last step add prepared gelatin mixture (make it according to instructions on the package). Your final mixture should be a bit runny, not stiff picks of whipped cream. Pour mixture over the crust (make sure cake form and curst is completely cool). Put it in a fridge for a few hours to firm up.

Whip heavy cream with vanilla and sweetener of your choice. Mixture should be a bit runny, not firm. Add prepared gelatin. Pour on top of the blueberry layer. Send it for a few hours to the fridge to firm up.

Note: before adding every next layer make sure bottom layer is fully hardened to hold the next layer. You don't want them to be mixed. Be patient and you will be rewarded with a nice cake.

Step 4: Strawberry Jello Layer

Pure Strawberries, add boiled cooled water, mix well (adjust amount of water to make sure it would fully cover your cake) Run it through the sieve to remove pulp and seeds. Add prepared gelatin. Mix well. Pour on top of vanilla layer.

Send the cake to the fridge to chill.

After 6-8 hours, the cake is ready to be served.

Here's a closer look of the layers.

Here's a single serving (you can cut the cake into 10 pieces)

Enjoy with your tea/coffee.
This cake can be cut into 10 pieces. Make sure you keep it in the fridge.
Macros per serving: Calories: 470 kcal – Fat: 46.4 g – Net Carbs: 7.4 g (Total Carbs: 10 g, Fiber: 2.6 g) – Protein: 6.1 g