Low Carb Lemon Mousse
This creamy and fluffy low carb lemon mousse can be a great dessert after dinner. You can make this and share with your family and friends. It can be made with 2 main ingredients heavy cream and gelatin. To add flavor, you can use sweetener and fresh lemon juice.
Be sure to save this recipe by pinning this picture to your Pinterest board for later use!
Side note: Some people might be comfortable to use sugar-free Jell-O for this recipe. However, if you are diabetic, you might not want to use Jell-O because it contains maltodextrin which is high on the glycemic index (GI) and aspartame that might not be ideal for your blood sugar, even though they are FDA-approved. You can replace Jell-O in this recipe with 3 tbsp of Grass-Fed Collagen, a few drop of natural food coloring and lemon extract.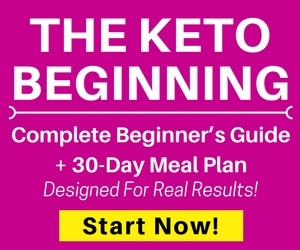 Receive Our Free 7-Day Keto Meal Plans + Weekly Recipes
In a bowl, whip one cup of heavy cream to firm peaks.

In a separate bowl, prepare Gelatin according to instructions. Let it cool for about 10-15 min.

Start adding Gelatin mix to whipped cream and constantly mix it with an electric mixer till both are fully incorporated. Continue mixing for additional 3 min.

Adjust sweetener and lemon juice to your liking.

Distribute between forms and put it in a fridge 2-3 hours to firm up.
Macros (per serving): Calories: 109 – Fat: 11.1 g – Net carbs: 0.9 g (total carbs: 0.9 g, dietary fiber: 0 g) – Protein: 2.7 g