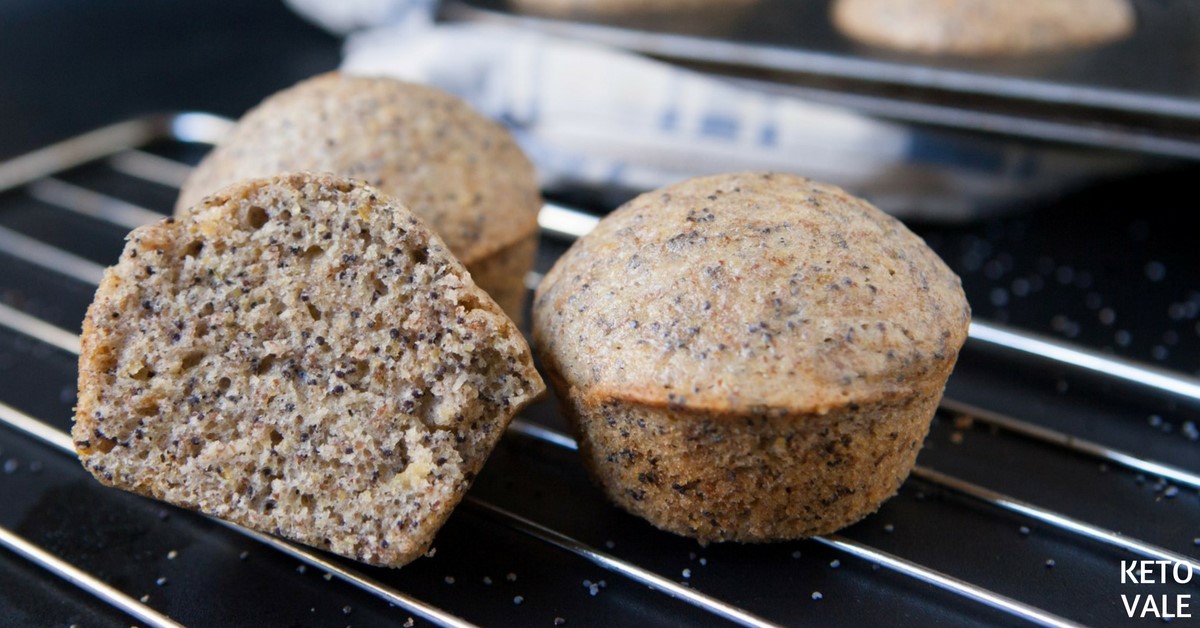 Keto Lemon Poppy Seed Muffins
Poppy seed is a tiny kidney-shaped seed that is produced from dried seed pods from a flowering plant called poppy. Poppy seeds are crunchy and they add great color and texture to baked goods.
1 tablespoon (8.8 g) of poppy seed contains 46 calories, 3.7 g fat, 2.5 g total carbs, 1.7 g dietary fiber and 1.6 g protein.
Making low carb and healthy lemon poppyseed muffins from home is much better than buying it from the store.
Ketogenic diet is not just about cutting sugar and keeping your meals low carb, you must also always check the ingredients of the low carb, gluten-free and sugar-free muffins that you buy from stores.
This keto-friendly lemon poppyseed muffins recipe is very easy to make. You can alternate this recipe by adding berries or nuts instead of poppy seeds.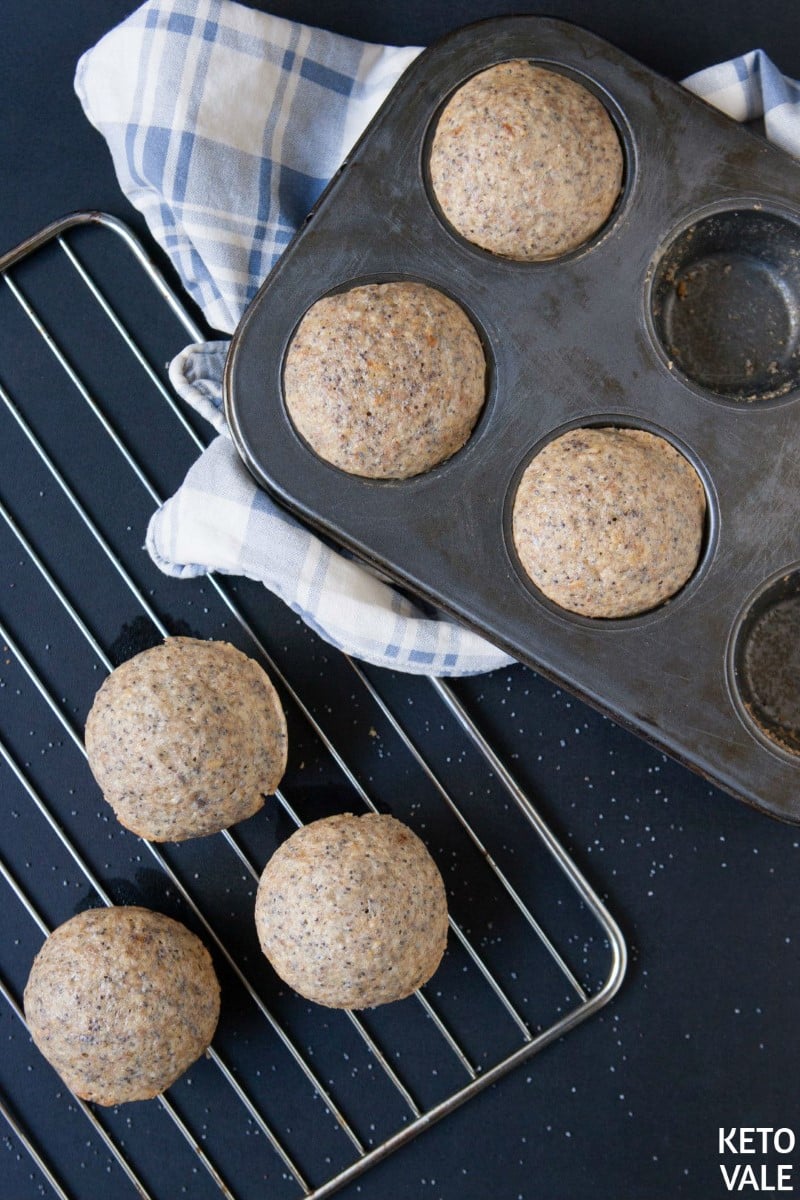 In the summertime, this kind of lemon muffins would taste more refreshing with a hint of mint on top of the cooked muffin.
If you don't have a cupcake muffin pan, that's okay, you can still make this muffin in an oven-safe mug.
You can eat these muffins as it is cut muffins horizontally in half and smear it with dairy cheese or any other topping of your choice.
Let's Ketofy It!
Pre-heat oven to 350F. Mix almond flour, flaxmeal, sweetener (type and amount of your liking), and poppy seeds together in a bowl. The amount of poppy seeds used is up to you. We suggest between 1-2 tbsp for the texture and crunchiness. You can also use coconut flour in place of almond flour or as an addition to the existing ingredients, but make sure to add it in slowly and adjust the amount to obtain desired consistency.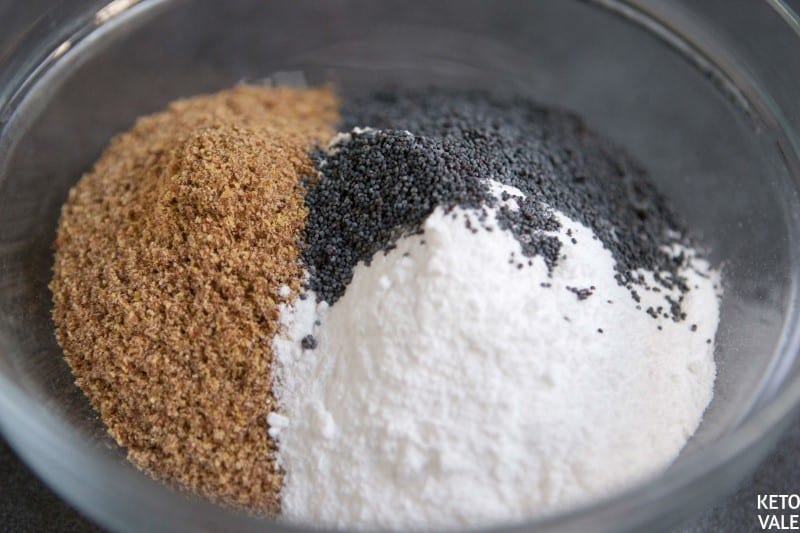 Next, add melted butter (or coconut oil or olive oil), eggs, and heavy cream and stir using a spoon or fork until smooth. Then add the lemon zest & juice, baking powder, vanilla, stevia liquid (or monk fruit) and mix until you obtain a homogeneous mixture.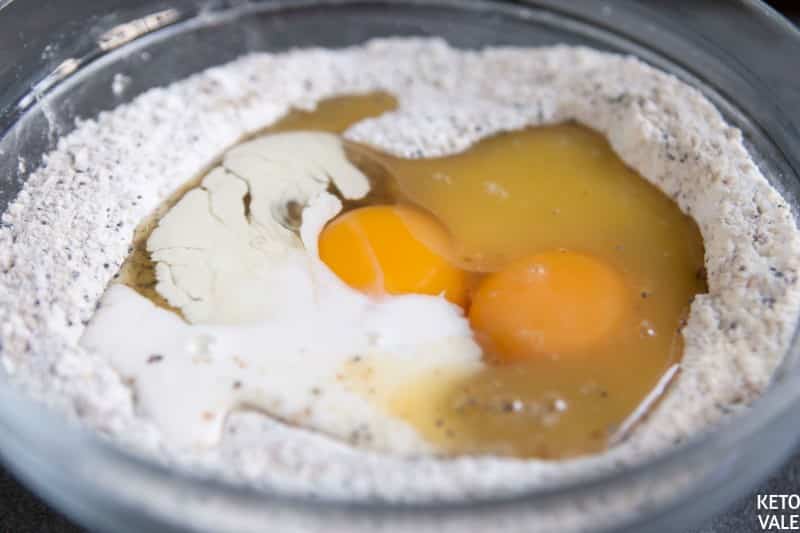 Divide the mixture evenly between the muffin molds. We made 6 muffins but yours might be different depending on the size of your pan.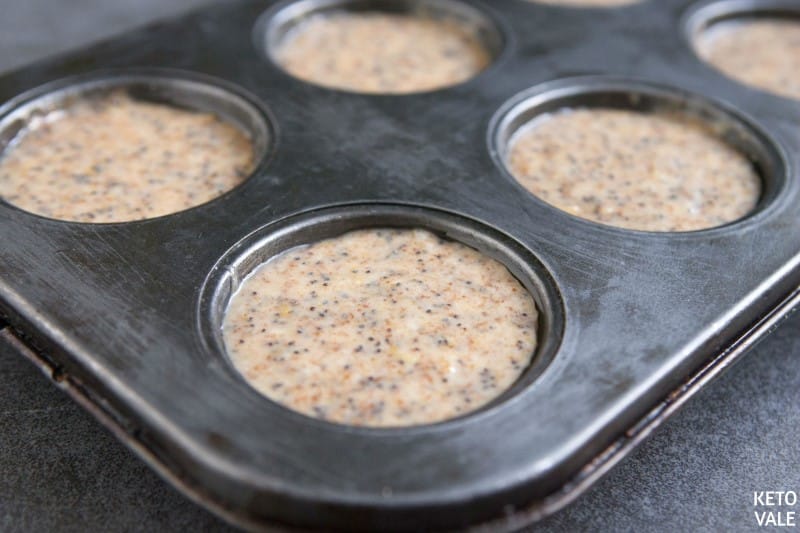 Bake for 20 minutes until the muffins rise and turn slightly golden brown. Remove and let it cool down and serve.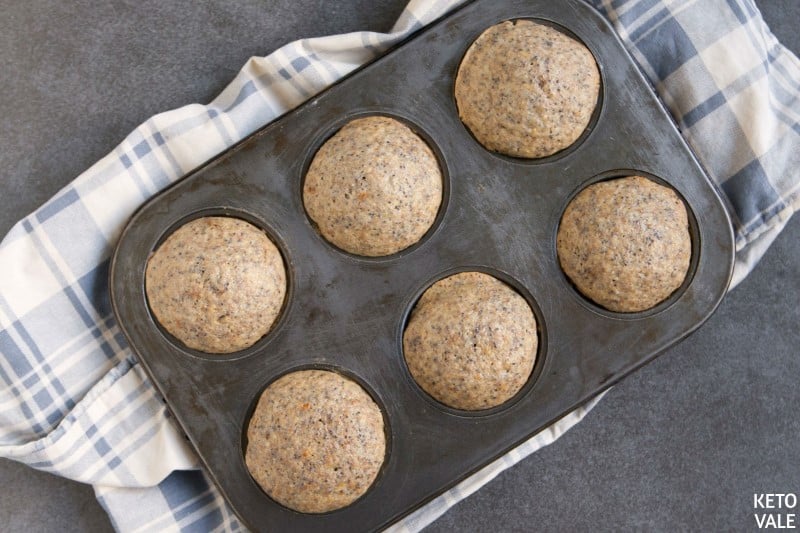 Watch how we made this here:
Save this recipe by pinning this picture to your Pinterest board for later use!
Related: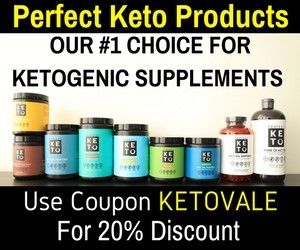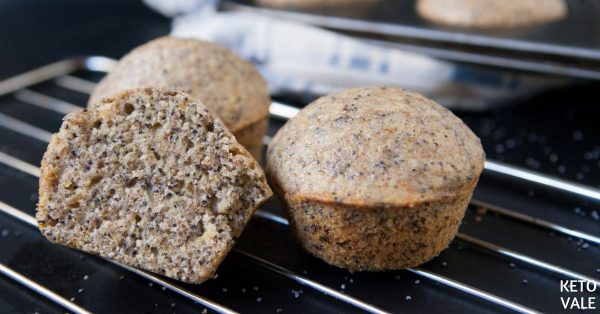 In a bowl, add almond flour, flaxseed meal, poppy seeds and erythritol. Mix together using a spoon or a spatula.

Melt butter then add it in the same bowl. Add heavy cream and eggs then mix all together until smooth. Then add the vanilla, baking powder, lemon zest, lemon juice and stevia liquid (if using). Mix well.

Distribute the batter between cupcake molds. Bake for 20 minutes until you see the muffins rise and turn slight brown. Check to make sure they don't burn. Once cooked, remove from the oven, let cool down and enjoy!
This recipe makes 6 muffins. Here's the nutritional information for each:

Macros (per serving): Calories: 177 – Fat: 15g – Net carbs: 2.9g (total carbs: 6.4g, fiber: 3.5g) – Protein: 6.1g