Keto Lava Cake
You will surely love this low-carb lava cake that combines the elements of a chocolate cake without flour. This is a really good option if you are going on a low carb high fat diet. Make sure to get the right ingredients to make this perfect and delicious dessert.
Be sure to save this recipe by pinning this picture to your Pinterest board for later use!
You can sprinkle cocoa powder and stevia on top to garnish. You can also serve with strawberry or raspberry and use different mould shapes to make it more interesting. Life without desserts is boring. Let's get started!
Related: No Bake Chocolate Peanut Butter Cups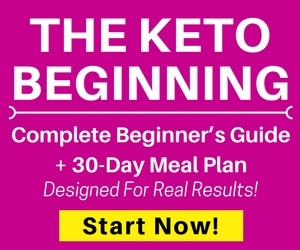 Receive Our Free 7-Day Keto Meal Plans + Weekly Recipes
Preheat your available oven to 350°F.

Combine together the stevia and cocoa powder. Put the bowl aside.

Prepare another bowl to beat the eggs in. Whisk until soft so that the lava cake will rise when baking.

Pour the beaten egg into the stevia and cocoa powder. Include the baking powder, vanilla, and cream into the mix as well. Stir together then flavor with salt.

Coat 2 muffin cups with cooking spray. Gently distribute and pour the batter into the cups. Let it bake in the oven for 10 minutes. Remember not to overbake the lava cake to obtain the soft consistency in the center.

Remove from the oven and serve on a plate.
Note: The ingredients are enough to make 2 servings. You can make 2 small cakes or 1 big cake and cut in half to serve.
Macros (per serving): Calories: 119 kcal – Fat: 9.5 g – Net carbs: 3.7g (total carbs: 7.3 g, dietary fiber: 3.6 g) – Protein: 5.6 g