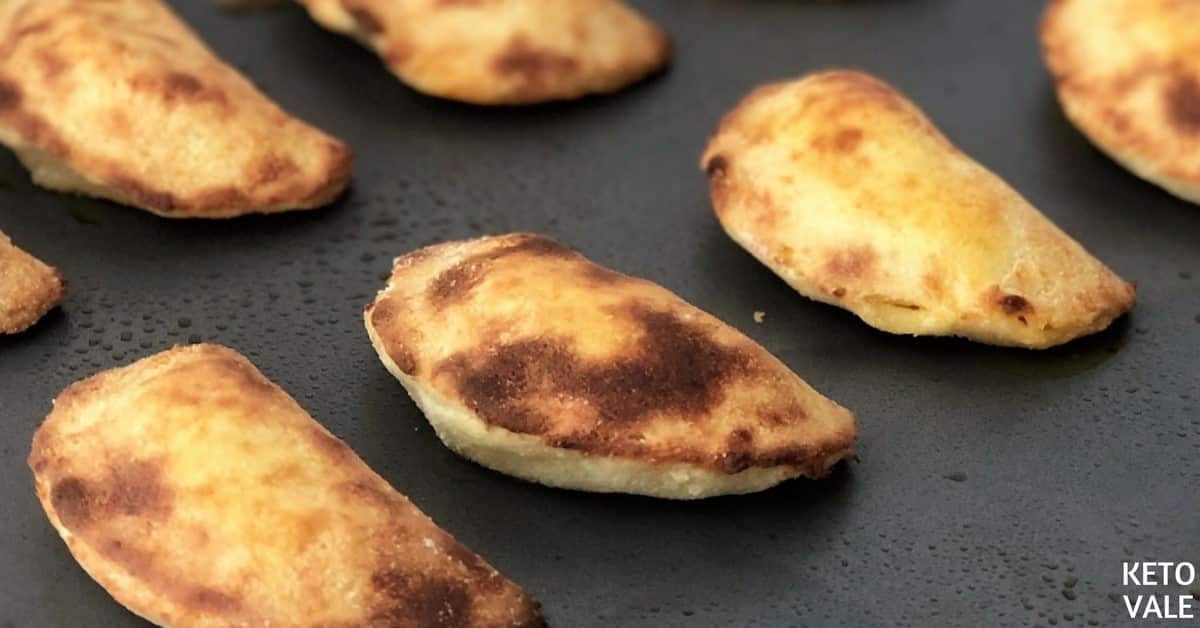 Keto Buffalo Chicken Empanadas
There is nothing like a good low carb snack to keep you on track on your diet, when you feel like indulging yourself it is always nice to have options and be able to do it without breaking the rules.
This particular low carb empanada dough is made of mozzarella cheese, cream cheese, egg and almond flour. The filling is made of shredded chicken. You can try different filling types that you like. We season chicken with butter and hot sauce. If you don't like hot sauce, just simply sprinkle some salt and pepper.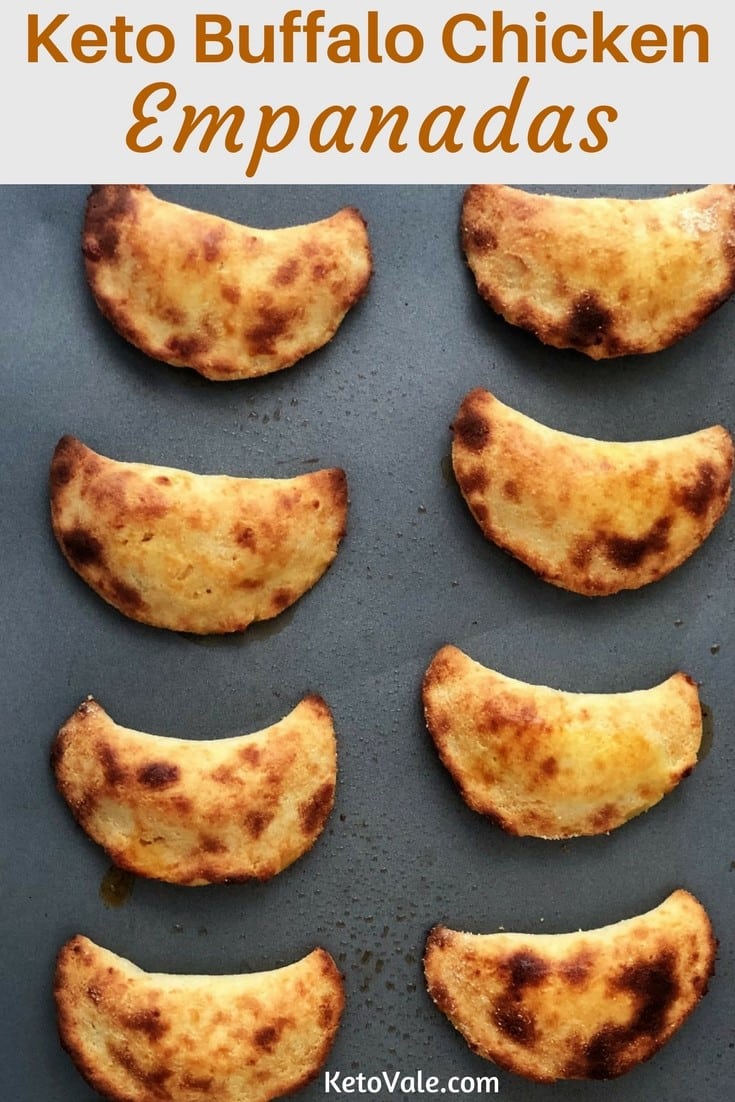 This recipe will yield 10-12 empanadas, but I would definitely recommend making a bigger batch, freeze it and just pop it into the oven when you feel like eating a delicious snack.
If you decide to freeze it I would recommend following all the steps until you place the empanadas into a greased baking sheet.
Once you do that, move the baking sheet to the freezer for about 1 hour and after that place the empanadas in regular freezer bags. This will ensure they don't stick to each other allowing you to bake only the amount desired at the time.
When baking the frozen empanadas make sure to add a few extra minutes in the oven to ensure it is properly cooked.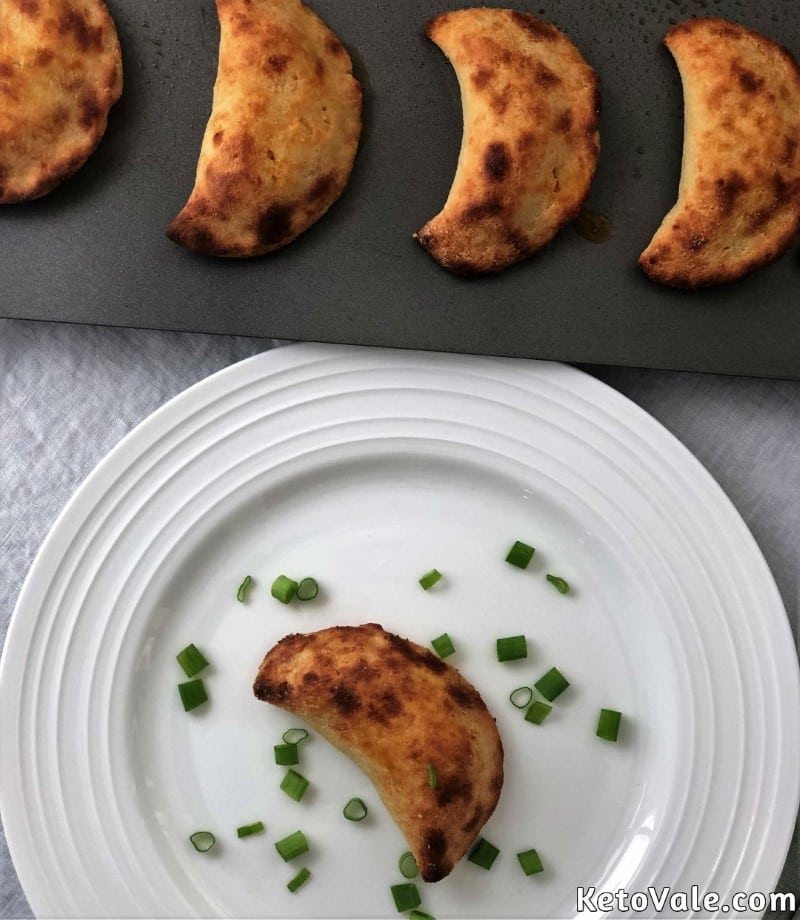 There are many ways to modify this gluten-free empanada recipe. You can use beef instead of chicken or even venture using shrimp or crab (I bet this would be delicious).
I like the idea of adding crunchy elements such as celery or even adding extra cheese to the filling if your diet can spare the calories. But really what I like the most is eating this delicious snack without any guilt!
Watch how we prepared this here:
Save this recipe by pinning this picture to your Pinterest board for later use!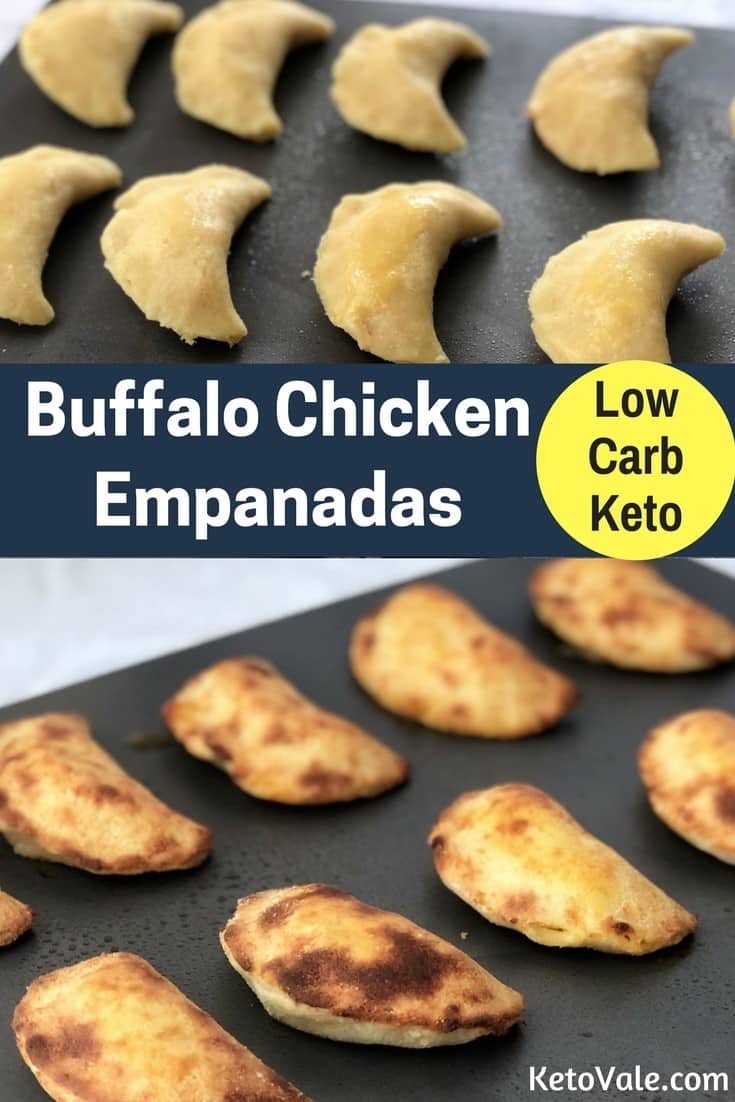 Related: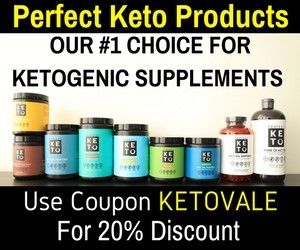 Receive Our Free 7-Day Keto Meal Plan + Weekly Recipes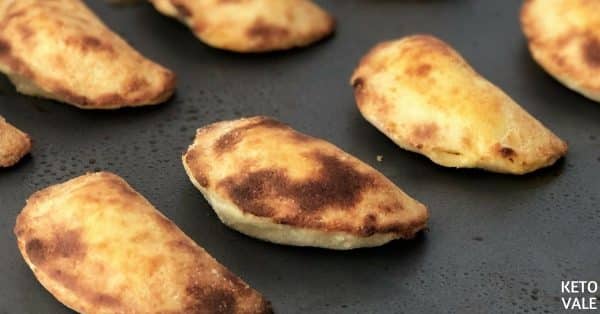 | | |
| --- | --- |
| | |
Preheat oven to 425 degrees F.

In a microwave safe bowl add the mozzarella and cream cheese. Take it to the microwave for one minute, stir. Put in the microwave for another minute and stir well until all combined.

Add in almond flour and egg. Mix to combine well and add any additional almond flour as needed for consistency (until stops sticking to your fingers). Set aside.

In a bowl, mix shredded chicken with buffalo sauce and Reserve.

Cover a flat surface with plastic wrap or parchment paper. Sprinkle with almond flour. Spray a rolling pin with coconut oil and roll the dough flat. Once you've rolled it flat, about ¼" thick, use a cookie cutter or a cup to cut circle shapes. For excess dough, form into a ball then roll out again and repeat the process until all the dough has been used.

Place a spoonful into each circle on one half and then fold the other half over.

When forming the empanadas, make sure to press down firmly on the edges. You can also slightly roll the edges to make sure they're combined well.

Lay on a lightly greased cooking sheet and cook at 425 degrees for 8-10 minutes until starting to turn golden brown. Enjoy!
This makes approximately 12 empanadas. Here's the nutritional information per serving of 2 empanadas.
Macros (per serving): Calories: 437– Fat: 33.7g – Net carbs: 4.6g (total carbs: 8.1g, fiber: 3.5g) – Protein: 28.8g