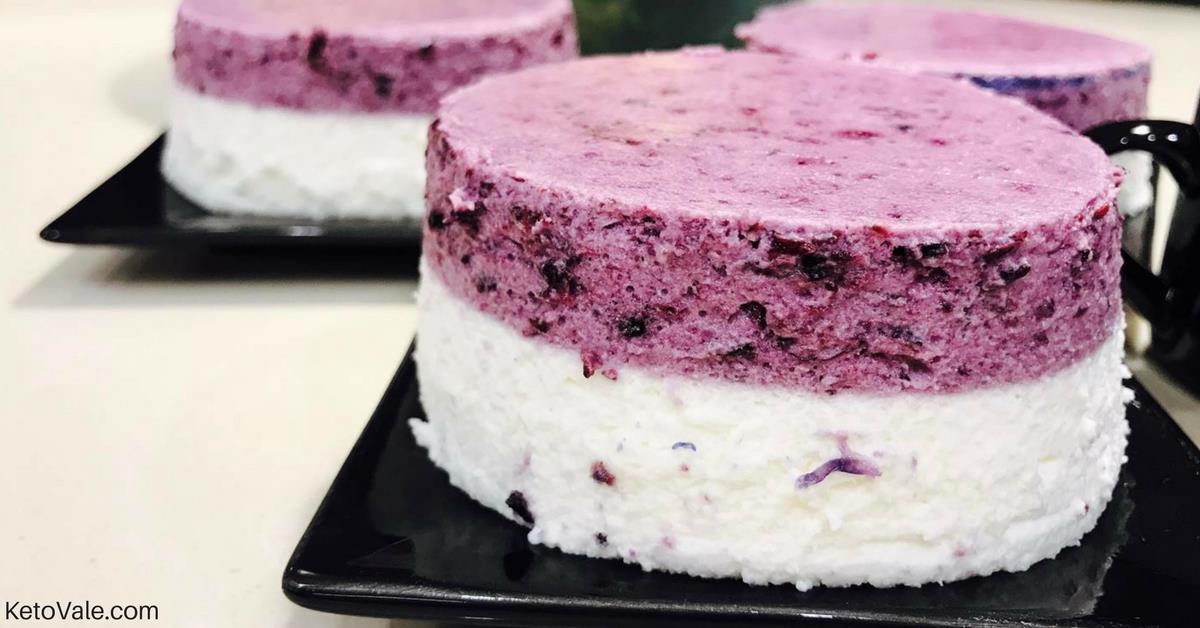 2-Layer Blueberry Vanilla Mousse Cake
Today we take this double-layer Blueberry Vanilla Mousse Cake to another level of indulgence. This cake is perfect for any special occasion. With the amazing aroma of vanilla and blueberry, this enticing low carb dessert is sure to please the cake lovers without breaking the daily carb limit.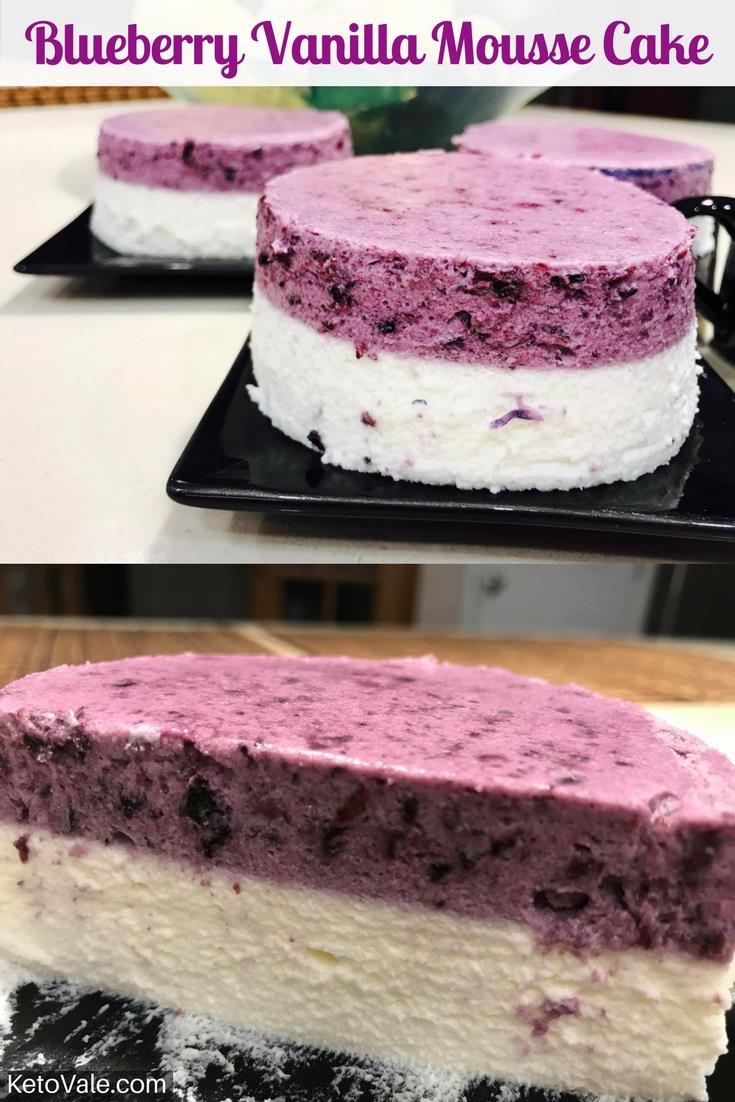 The ingredients we use are enough to make 3 4″ cakes as in the photo below. The serving size is 1/4 of a cake so there will be 12 servings in total. You can use a bigger springform pan and pour all the mixtures in to make one big cake. It's totally up to you.
Feel free to save this recipe by pinning this picture to your Pinterest board for later use!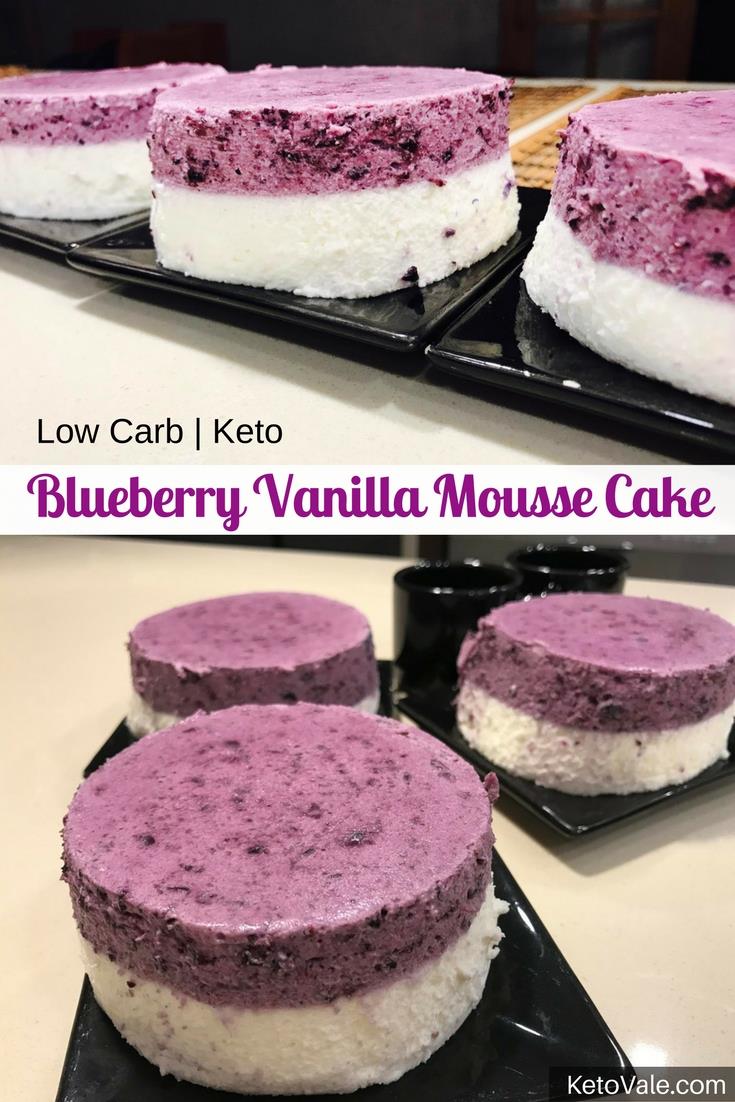 Related: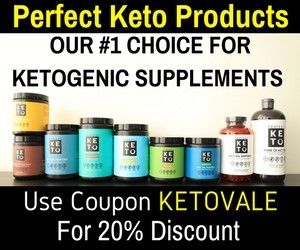 Receive Our Free 7-Day Keto Meal Plans + Weekly Recipes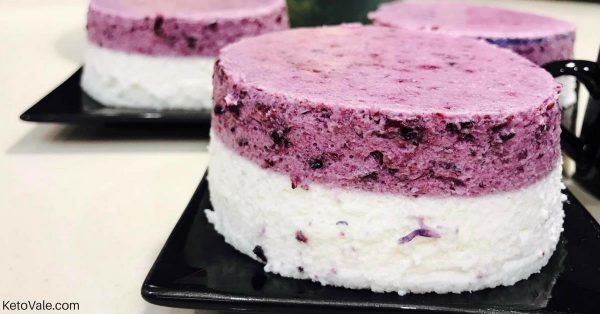 Take a cup of frozen blueberries and warm them up in a pot on light heat. That will give blueberry mousse nice rich color. Don't cook them otherwise color won't be that vibrant. Do the same if you are using fresh berries. Mixing up fresh berries pure would give grayish color. Let warmed up berries to cool. Blend it coarsely, leaving chunks of berries. (50% of berries into smooth pure, 50% into chunks) Set aside.

Prepare one packet of Knox gelatin according to instructions. Set aside.

Whip up one cup of heavy cream to firm peaks, combine it with the blueberry mix, add gelatin and sweeten it to your liking. Mix well with a handheld blender.

Distribute among serving cups. Put it in a fridge for a few hours to set.

Once the blueberry layer is set, whip up a remaining cup of heavy cream with vanilla extract and sweetener of your choice to firm peaks.

Prepare one packet of Know gelatin according to instructions, let it cool.

Combine prepared gelatin with whipped vanilla heavy cream. Mix well.

Distribute vanilla layer on top of blueberry layer. Put it in a fridge to set.
Macros (per serving): Calories: 74 – Fat: 7.4 g – Net carbs: 1.2 g (total carbs: 1.4 g, dietary fiber: 0.2 g) – Protein: 0.8 g