Almond Milk Panna Cotta
Panna cotta is an Italian dessert. It has sweetened cream thickened with gelatin. For our low carb version, we use almond milk, heavy cream, full-fat Greek Yogurt and keto-approved sweetener. The cream is aromatized with vanilla. You can infuse heavy cream mix with other flavors such as cinnamon, mint, lemon, etc…
You can serve this panna cotta dessert with berry puree, strawberry puree or chocolate sauce or even a small piece of dark chocolate without sugar. It will take a few hours to set in the fridge so be patient, you'll enjoy it very soon.
Feel free to save this recipe by pinning this picture to your Pinterest board for later use!
Related: Low Carb Lemon Mousse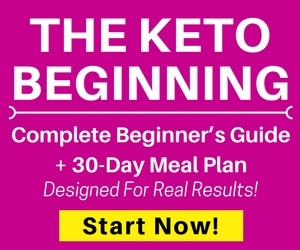 Receive Our Free 7-Day Keto Meal Plans + Weekly Recipes
Heat heavy cream, almond milk, and sweetener in a saucepan. No need to bring it to boil. Once sweetener is dissolved and you see first signs of bubbles remove it from heat and add vanilla or flavor of your choice.

Prepare gelatin according to instructions.

Combine gelatin mixture with heavy cream mixture and stir it well to avoid any gelatin lumps.

Add Greek yogurt to the mixture and stir it constantly. (I put yogurt in a separate bowl and was pouring heavy cream mix thru the sieve into it by small batches stirring it after each heavy cream batch was added)

Distribute the mixture between your forms and chill in the fridge for 4 hours until firm.
Macros (per serving): Calories: 75 – Fat: 6.8g – Net carbs: 1g (total carbs: 1.2 g, fiber: 0.2 g) – Protein: 1.8 g