If you enjoy having a piece of fat bomb every once in a while then this chocolate almond butter fat bomb recipe is ideal for you. You can make them and store in the freezer and eat when you want to.
For this recipe, you can use unsweetened chocolate or dark chocolate with at least 85% cacao. For the almond butter and peanut butter, it's best to buy the freshly made ones from the health food store or you can make them from home. There are many great tutorial videos on YouTube for this.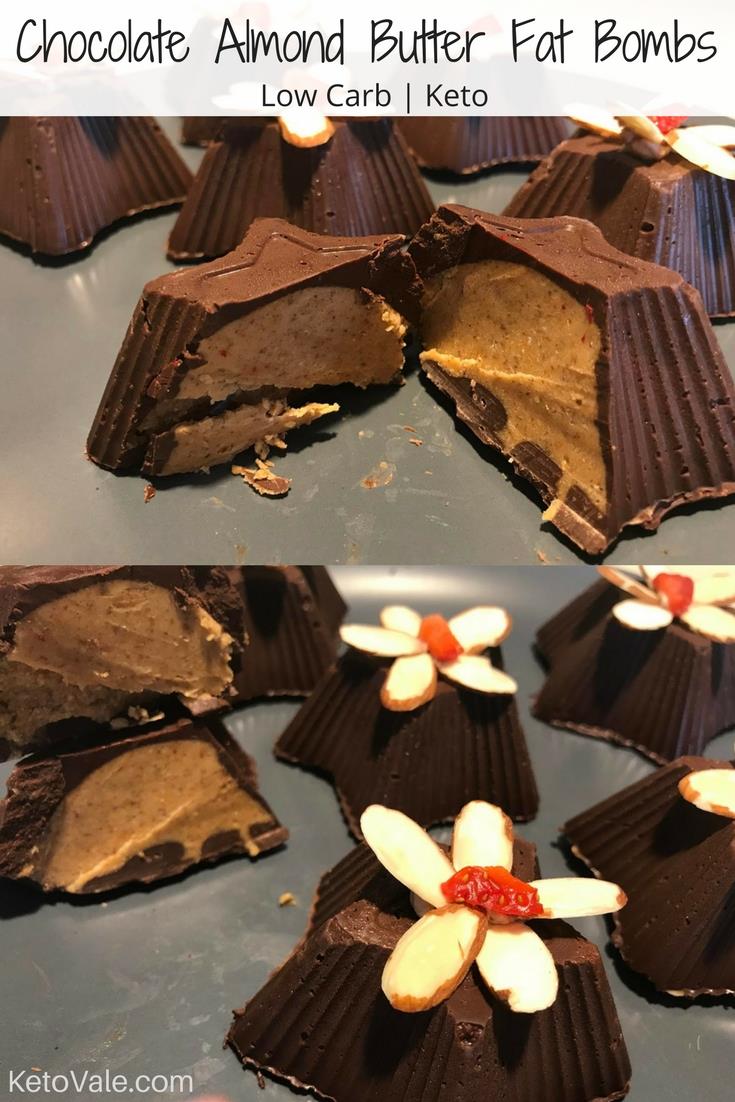 You can add a little bit of sweetener and a few slices of almond to increase the taste. For sugar-free sweeteners, you can use stevia, erythritol, or monk fruit.
---
Let's Do It!
Melt chocolate using water bath or in a microwave. Stir it to make sure it doesn't burn.
Cover you forms with melted chocolate and put in a freezer for about 15 min.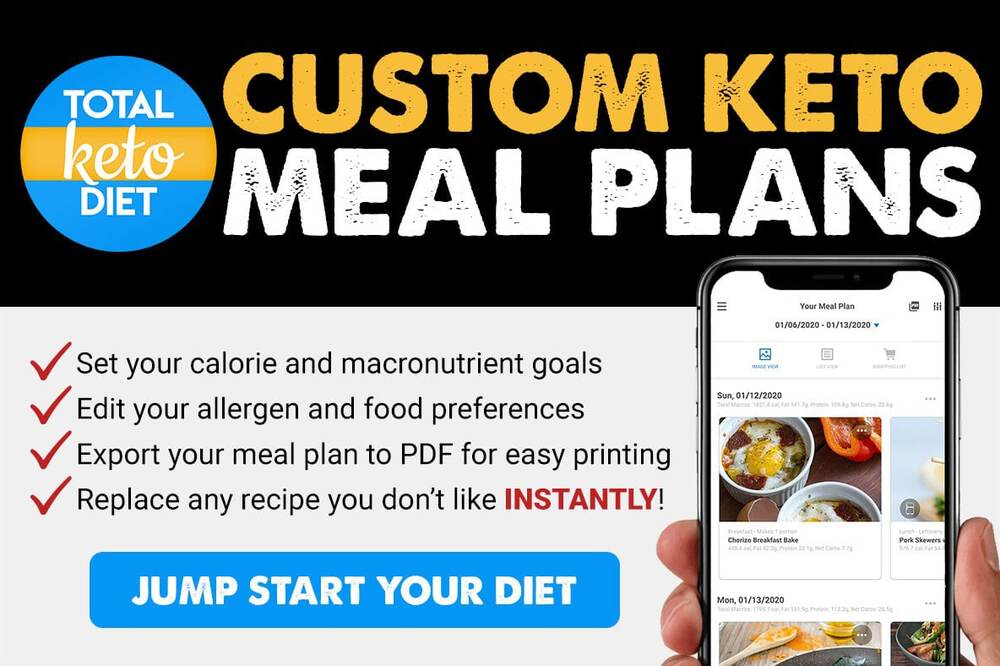 To make a filling in a separate bowl combine almond butter, peanut butter, coconut oil and butter.  Mix it well with an immersion blender. Add sweetener of your choice if needed.
Take forms out of the freezer and distribute filling leaving space for the top chocolate layer.
Warm up melted chocolate if needed and spread on top of the forms sealing filling inside. Put in a freeze for about 40 min or till filling and top layer is set.
Once time is up remove from the forms.  You can keep them in the freezer till you ready to serve.
Save this recipe by pinning this picture to your Pinterest board for later use!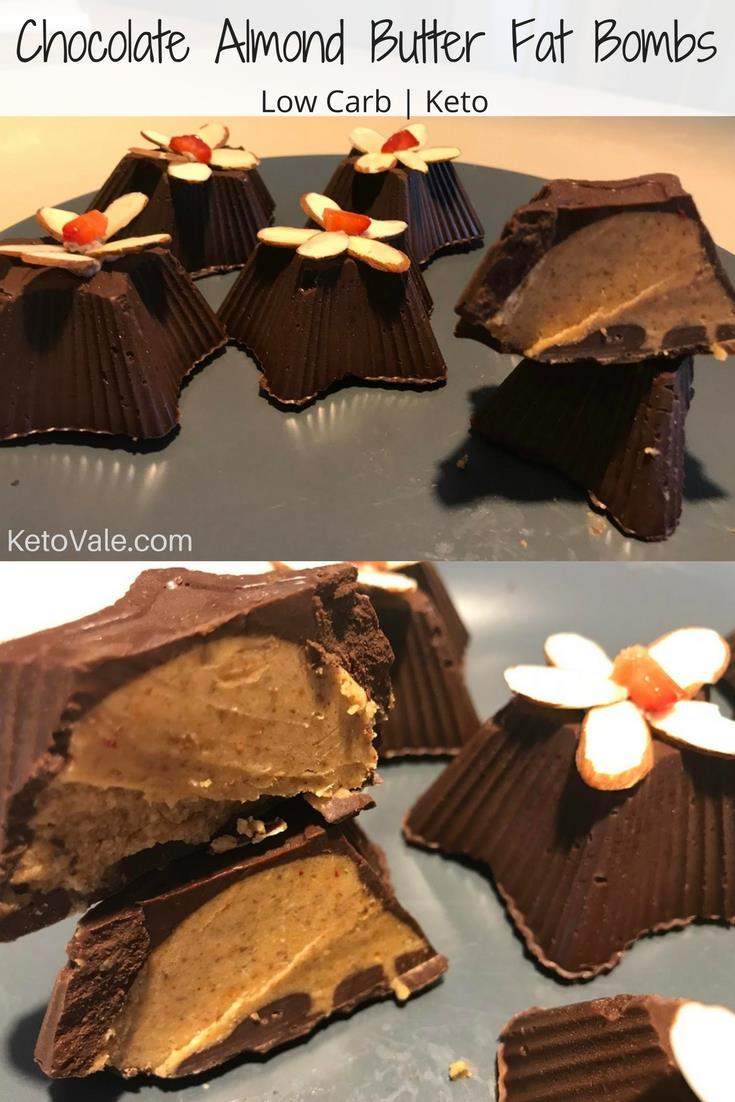 Related:
Keto Chocolate Almond Butter Fat Bomb
These keto-friendly chocolate fat bombs with almond and peanut butter inside will satisfy your sweet tooth.
Instructions
Use a water bath or a microwave to melt the chocolate, stirring continuously to avoid burning.

Spread half of the melted chocolate in the silicone molds and let it chill in the freezer for 15 minutes. Remember to cover the sides of the molds.

Start making the filling of the fat bombs. Toss in all the ingredients in a mixer. Put in a decent amount if sweetener just to taste. Blend until creamy and uniform.

Prepare the silicone forms and pour the filling in. Leave enough space for the top layer of chocolate.

If necessary, heat the remaining half of the melted chocolate. Seal the fat bombs with the melted chocolate by pouring it on top of the filling, covering it completely. Freeze for around 40 minutes until fully set.

Simply unmold and enjoy cold.
Notes
If you use a 12-hole silicone mold, this will make 12 pieces of fat bomb. Nutrition facts per each piece.
Nutrition/Macros
Nutrition Facts
Keto Chocolate Almond Butter Fat Bomb
Amount Per Serving
Calories 118
Calories from Fat 108
% Daily Value*
Fat 12g18%
Cholesterol 10mg3%
Sodium 42mg2%
Potassium 100mg3%
Carbohydrates 3g1%
Protein 2g4%
Vitamin A 118IU2%
Calcium 30mg3%
Iron 1mg6%
* Percent Daily Values are based on a 2000 calorie diet.
Pin To Save This Recipe